If you have never seen an episode of the show "Gilmore Girls", you are surely missing out. I cannot tell you of a better show out there that has everything you would ever want. It's got drama, action, sarcasm, romance, comedy, hot guys and cute, adorable, sassy girls that will surely make your day better. The best part is that it's not just a "chick" show as many people think it would be. It's really a well rounded show that would appeal to many people out there.
The show is focused on Lorelai (the mother) and Rory (the daughter) Gilmore. The show goes through their lives from the start of Rory's high school career to when she graduates college. The show is focused on their small town lives and the people that live with them. There is always something going on whether it is the latest gossip, the newest festival or some other weird tradition that makes Stars Hallow as unique as you could imagine it to be.
The best part about this is that there is going to be a "Gilmore Girls" revival sometime towards the end of this year! That's right! For all of you out there who have already watched it all and loved it - there will be 4 new hour and a half long episodes coming that will hopefully answer all of the questions that we still have!

So here are some reasons why you should watch "Gilmore Girls" before the revival comes out in (hopefully) the next few months!
1. Rory and Lorelai's banter


There's something so pure about these two. Sure, they fight and try to out sass each other but c'mon. What mother-daughter duo doesn't fight every once in a while? Not to mention the more memorable moments, like the more famous line "Oy with the poodles already!" I mean, if that doesn't intrigue you, I don't know what will.
2. The town meetings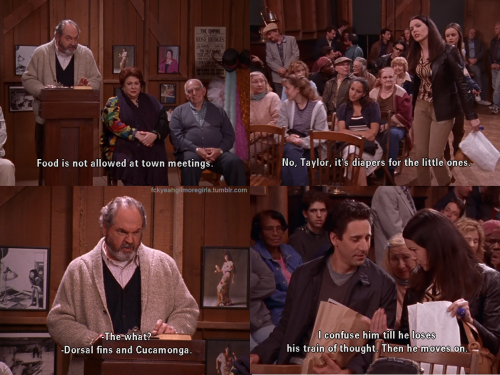 I have to say that one of my favorite parts of the whole show is when they go to town meetings. They are always really fun to watch and seeing Taylor (the guy at the podium) get flustered because no one is paying attention to him gives me life. It almost makes it so you would want to see what would happen at a town meeting in your town.
3. The boyfriend debate


One of the most important debates among those who watch the show is: who is the best boyfriend for Rory. There are the three pictured above. From left to right: Logan Huntzberger, Dean Forester, and Jess Mariano. It's a very adamant debate too. There are people who love Dean because he was Rory's first boyfriend, but then people love Jess because he is the bad boy type that every girl wants and he's gorgeous, and then there is Logan, who was the daredevil college boyfriend that challenged Rory and tried to make her a better version of herself. It's heated and it's important to know who's side you're on. So you're just going to have to go out and give it a try and see who your favorite boyfriend is.
4. The food places


I mean, you really have to know people to get the most disgusting but adorable Christmas burgers in town. There are quite a few wonderful places in Stars Hallow to dine at. There is the famous and wonderful Luke's Diner which is a staple in all of the town's peoples diets. There is Al's Pancake World, which does serve pancakes. And there is Weston's Bakery that has the most wonderful cakes and other pastry type foods. I don't know what it is about this show but you really fall in love with the food places even though you have never gone there. it's weird but it's still pretty cool.
5. The Love


I mean, come on, look at these adorable people. They are so cute and they all love each other so much. I'm so proud of them for coming together to make a couple more episodes for the fans so that we can get the closure that we have needed for nearly 10 years. They are so great and I love them so much. They make the show amazing and if they didn't have great chemistry, then it would be obvious.

This show was my favorite thing to come back to after school and it is still my favorite thing to binge watch when I'm bored. I really hope that you give it a chance because the revival will be amazing and everyone needs to see that when it comes out.