The March to End Rape Culture (formerly called the Slut Walk or Take Back the Night) is an empowering movement, even just by the name. It was created so anyone of any gender, age and race could help end the stigma surrounding rape and why it happens. It should be a sensitive subject to everyone and that was definitely true that day.
Even though I'm a college freshman with some serious social anxiety, I decided to attend this event and convinced my closest friend to go with me (though it did not take a lot of convincing since we share the same passion for this tough subject). We decided to make a poster since this walk is infamous for its posters with slogans that are unique and memorable. Here is a picture of my friend holding the sign.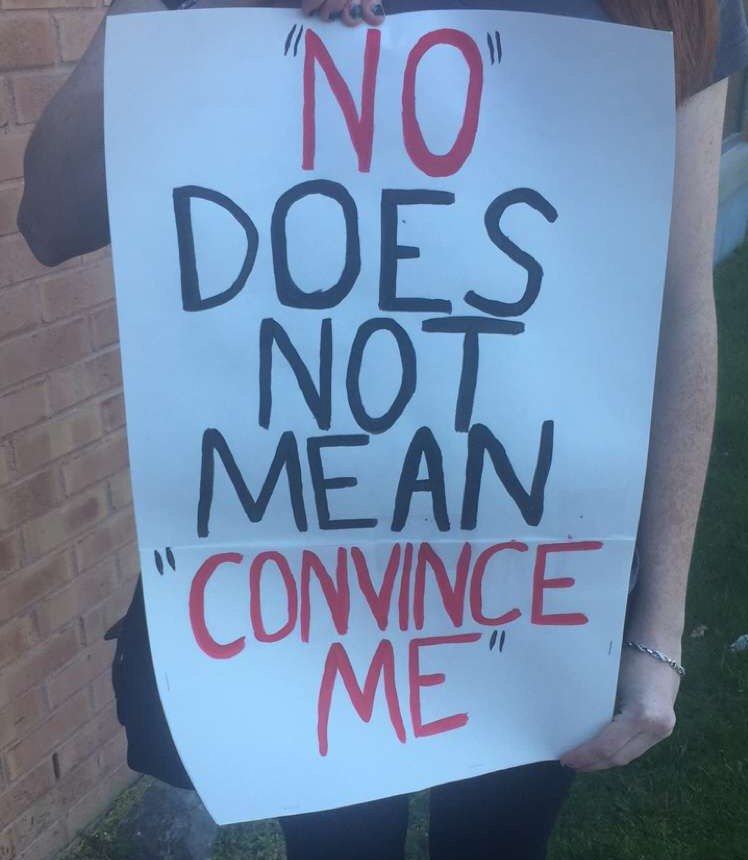 The first time I heard about this event was actually the day before it, thanks to some random poster in the hallway and my constant need to check out the environment around me. I was hoping there would at least be 20 people participating in it. When I arrived and saw the actual amount of people there, I was blown away at the amount of support.
There were definitely more than 20 people there, maybe even 50 or so. The immediate pride set in and I realized how prideful I really was of Stockton University, even more than I usually am. Before the event kicked off, everyone gathered outside with the signs they made. People went around and took pictures, handed out pins, took volunteer signups for the local women's center, etc. I felt like I belonged among this group of strong, powerful people and the message they believed in.
Once the flyers were handed out showing what chants we were supposed to say during the walk, everything was set. We began marching around outside right in front of the school, which was filled with students since it was a beautiful day out. The chants were said loudly and proudly, we got different looks from people; whether good or not. I really felt like we made an impact that day, and I'm positive other people joined in on the walk once they realized what it was about.
After the walk, some speeches were given by women who were directly affected by rape culture and the myths surrounding it. Many tears were shed. Once the survivors finished speaking and inspired us all to continue with whatever happens in life, I felt like I had to share their message of survival, no matter what.
Experiencing this changed my views on our community. I realized how everyone came together for a good cause and how much support is readily available for anyone going through a rough patch.
I hope that colleges across the U.S., or even other places around the world, can see how beneficial a campaign like this is. It was easy to tell that everyone attending the march that day would hold onto what they learned and spread the message to end rape culture.