In 2002, Marvel studios graced the world with the first superhero blockbuster film; "Spiderman." Following suit with "Spiderman 2," "Spiderman 3," and two spin-offs of the series, Marvel went on to create one of the largest Hollywood franchises in the world, telling the stories of a hand full of the comic book company's most popular heroes. Today, amongst the many Iron Man and Avenger films, one hero in particular has recently been added to the mix; the Black Panther. It may not sound that exciting or important to the general public, but the introduction of the Black Panther is a momentous event for the Black (and comic-lover) community. Not only is he a bad ass superhero, but he's one of 10 or so major Marvel characters who identifies as Black, something that would've been unheard of back in the day. Making his first appearance in the 52nd issue of the Fantastic Four comic books, Black Panther has shifted back and forth in the limelight, falling behind other heroes such as Captain America and the X-Men. Fortunately, Marvel has decided to push Black Panther more into the centerfold with the rest of his comrades by giving him a cameo in the newest "Avengers: Civil War" film and announcing the "Black Panther" film's release in 2018. With that said, I thought it appropriate to list a few reasons as to why the Black Panther character is so important not only to me, but to my community. He's a symbol of more than justice; he's a symbol of pride, hope, and so much more. Here it goes…
1. He's one of the only black superheroes in the Marvel universe
I know already mentioned this, but when you really look at the ratio of Black superheroes to non-Black superheroes in Marvel comics, there are about 10 that I can think of right off the bat. Blade, Storm, Black Panther, Nick Fury (who's not even a superhero), Cyborg, Miles Morales (the newest Spiderman), War Machine, Misty Knight, Isaiah Bradley, and Luke Cage are the main heroes that come to mind for me, but that's about it. Sure, there are African American spin off versions of heroes such as Captain America and Green Lantern that have come and gone, but these 10 heroes are the few that are original, Black characters who've steadily stayed the same since their creation. With that said, the Black Panther (with the exception of Storm, War Machine, and Nick Fury) is the only Black superhero who's apparently worthy enough to be featured as a member of the Avengers (an all White superhero group) and have his own movie. That in itself is extremely momentous. It's not every day we see Black superheroes on the big screen, let alone as the main character.

2. Representation matters
This is an obvious one, but the fact that we're just now being represented and seen on screen in heroic roles such as Black Panther, Jackie Robinson ("42"), and Jesse Owens ("Race") is excitingly frustrating. For so long, Black actors have been forced to usually play roles like the comic relief, the ghetto best friend, or the thug villain (with the exception of actors such as Denzel Washington and Viola Davis). But with the introduction of the Black Panther in the film industry, it's proof Black actors can play more than the stereotypical roles we've been reduced to. We can play heroes, we can play kings, we can play the role of one of the most important members of the biggest Marvel superhero coalition, and so much more. Needless to say, we can play dope roles.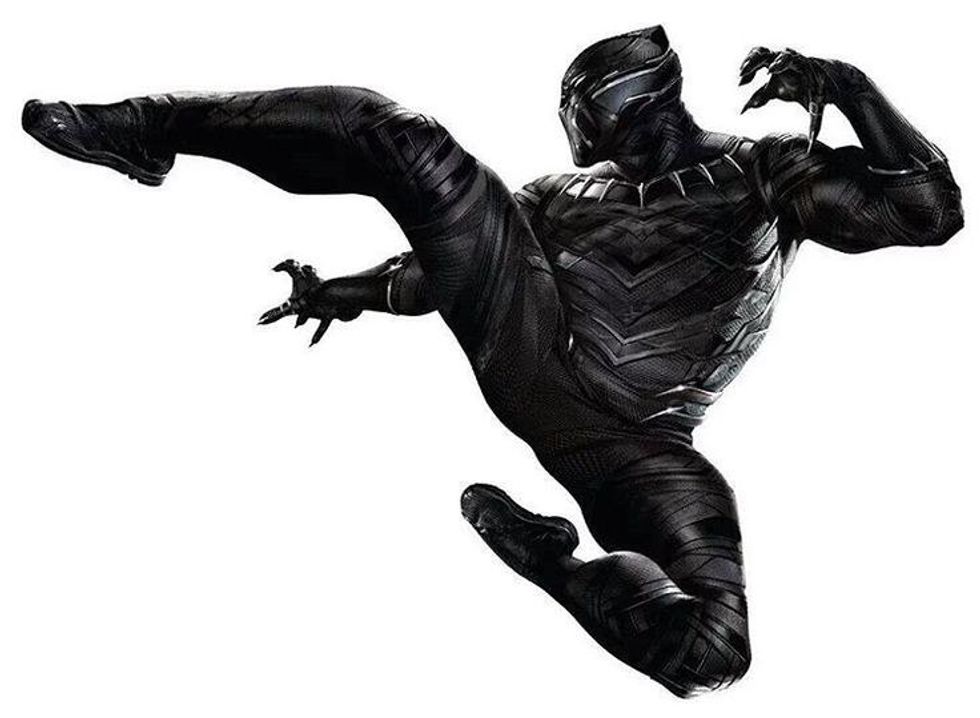 3. It's a new opportunity for young, black actors
On top of being an introduction for the Black Panther's character within the Marvel franchise, the Black Panther film itself will provide an opportunity for young, Black actors to make their mark in the film industry. Chadwick Boseman (Black Panther), Lupita Nyong'o, and even Michael B Jordan are a few established actors who have been confirmed to be part of the film.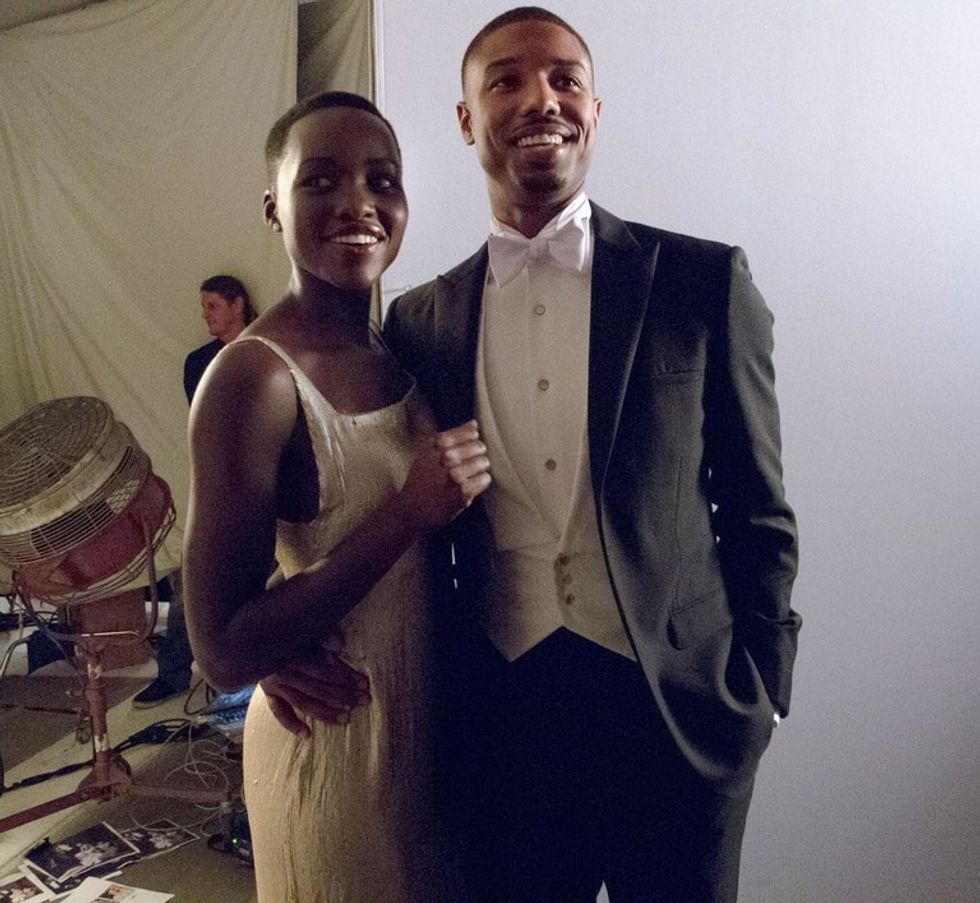 4. He puts Africa into a more positive light
Though the country of Wakanda (where Black Panther hails from) is imaginary, it's meant to equate an African country in the comic books. This choice in itself is revolutionary, seeing that Americans tend to lump all African countries into a category of "developing, poor, and starving" places with people who are in need of a savior. Granted, Wakanda has its own issues, but the way that Marvel presents the country is much more positive than what one might typically think.
[rebelmouse-proxy-image https://media.rbl.ms/image?u=%2Ffiles%2F2016%2F06%2F03%2F6360057456769406271917159782_6360016895448866451423759192_download%2520%283%29.png&ho=https%3A%2F%2Faz616578.vo.msecnd.net&s=102&h=1597b2fd826327c77544ad0fc9f4bbe77948488b2ffcc5565e4c625911c1a68d&size=980x&c=1231382110 crop_info="%7B%22image%22%3A%20%22https%3A//media.rbl.ms/image%3Fu%3D%252Ffiles%252F2016%252F06%252F03%252F6360057456769406271917159782_6360016895448866451423759192_download%252520%25283%2529.png%26ho%3Dhttps%253A%252F%252Faz616578.vo.msecnd.net%26s%3D102%26h%3D1597b2fd826327c77544ad0fc9f4bbe77948488b2ffcc5565e4c625911c1a68d%26size%3D980x%26c%3D1231382110%22%7D" expand=1 original_size="1x1"]

5. He's a rhetorical symbol of anti-racism and international relations
Black Panther is also a symbol of hope for Black communities all over the world. From his first comic book appearance during the Civil Rights Era, the Black Panther has always been considered a fictional character who serves as a form of rhetorical justice for those suffering from bigotry and racism. For instance, in one of his early comic book issues, Black Panther actually fights the KKK, both a figurative and literal push back against the klan in real life. Today, Black Panther serves once again as a symbol of hope or the hundreds of Black and Brown bodies being mistreated in our world. In addition, as the king of Wakanda, Black Panther dabbles in international relations, as some of his comics revolve around the relationship between the West and "developing" countries. Along with fighting against the KKK, the tackling of international relations makes Black Panther unique in his efforts as a leader.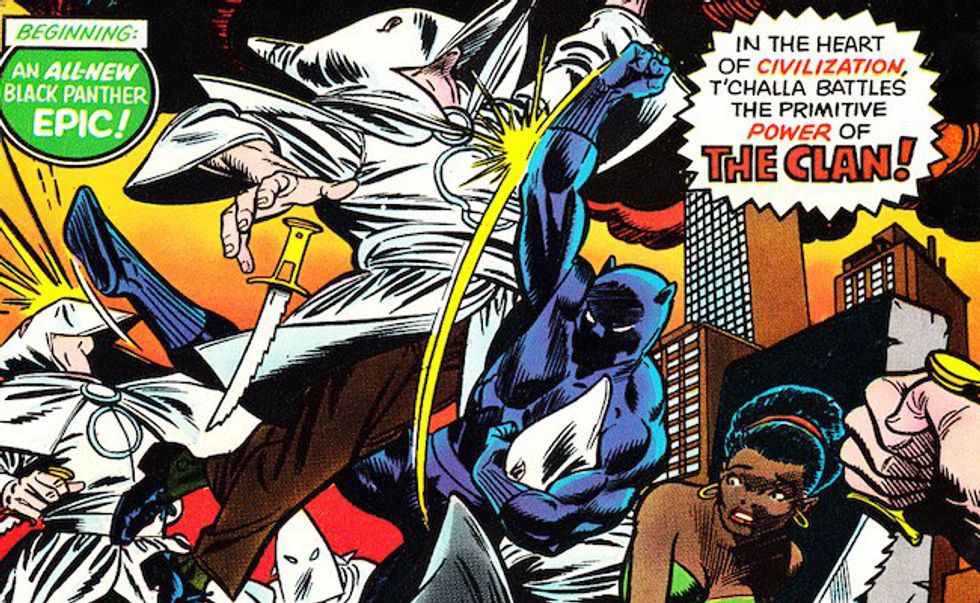 6. It only gets better from here
And finally, it only makes sense that once Black Panther comes into theaters, there will be a demand for more black superheroes to make appearances on the big screen. Who knows? Maybe this will lead to a Luke Cage, Storm, or Nick Fury movies in the future…