Welcome back
Sign in to comment to your favorite stories, participate in your community and interact with your friends
LOG IN WITH FACEBOOK
I love dogs
I love corgis
I love labs 
I love pugs
Report this Content
This article has not been reviewed by Odyssey HQ and solely reflects the ideas and opinions of the creator.
Subscribe to our
Newsletter
Sports
It's more than just a sport.
626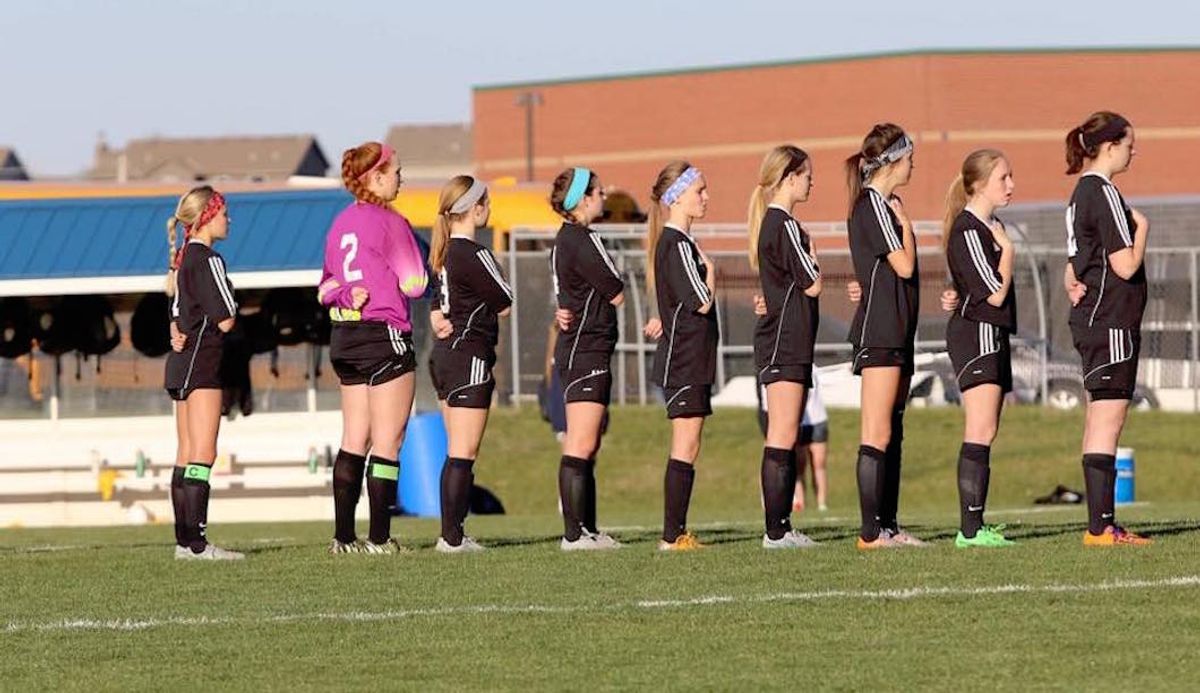 Cassie Nichols
We made it so far together, 16 years to be exact. I started out as a little four-year-old girl and our relationship only grew from there. Although it hasn't been mentioned for quite some time now, I still remember the endless nights of practicing how to dribble, pass, and shoot in the backyard as the light was fading.
I remember my first all-girls rec team. Those goofy practices with ten other nine-year-old girls gave me my first set of friends. Everything was so innocent and simple back then. I was surrounded by orange slices at halftime and smiling faces. I had no idea what was ahead of us, soccer.
It seems like in the blink of an eye my childhood-self was transformed into someone who was more than just a soccer player. I found a passion in my life. I established a dream and the soccer field taught me that with hard work and dedication, I have the power to be whatever I want. I can face anything that life throws at me.
I felt invincible.
In the summer of 2007, I tried out for my first competitive team. The thought was scary, but it was the first test in life that you threw at me. I ended up on the third team and at the time, I wasn't completely sure what that meant. Eventually, my competitive spirit kicked in and I knew I wanted to be on the best team.
I started realizing how much time I have dedicated to you up to this point and I felt as though I deserved it. So this is when you taught me that hard work can get me anywhere I want to be. Halfway through the season, I got moved up to the second team, and by tryouts of next year, I was on the top team.
That's when I decided that I loved you so much, I gave up my other two sports, swimming and volleyball, so I could focus on improving my game.
From here on out, the stakes only got higher for us.
In middle school, I started learning the minor aspects of the game and where I fit best on the field. At this point, soccer began to feel like an occasional job for me. At times I felt lost; I had never had a negative thought about you before.
Some of my teammates couldn't take the pressure and many of my dearest friends quit during this year, I couldn't help to wonder if that would be best for me too. I'm sorry for doubting you because through it all, I still had a great love for you, the game itself. You taught me to have perseverance even during the toughest times.
By high school, the tables had turned. By persevering through the tough times, I got four years of amazing memories in return. I was on a team with 18 best friends who I wouldn't trade for the world and a supportive coach who wanted us to succeed both on and off the soccer field. This group of girls and I accomplished a lot together, and we share a bond that can't be broken. We were a family. Even though we all went separate directions, I feel as though I can count on these girls for anything. I have you to thank for that, soccer.
You were always a constant in my life and as much as I love thanking you for the gifts you gave me, I definitely had unanswered questions along the way. Why did my grade school team get stung by a swarm of bees? Why did my high school club soccer team lose in State Cup finals our senior year? Why did I tear my ACL during junior year of high school? Better yet, after working hard and coming back from an injury, why did it happen again ten months later?
The only answer I can come up with is that you tested my character from day one. Not being able to play made me appreciate the time I had with you. It's a level of appreciation that not everyone can relate to. I can't control everything that life throws at me, but I can work hard and become a better person from it. This applies to all aspects of life.
At times toward the end of my soccer career, I wondered, "Why me?"
Yes, it's true that at one point I loved playing you. But after facing physical challenges and coming to terms with hanging up my soccer cleats, I love the other aspects you gave me even more. And I have learned that whether I am playing or not, those aspects of you don't disappear.
I love that you have taught me self-discipline, perseverance, and responsibility. I wouldn't be the person I am today without learning them. I love being part of a team, whether it's in the workforce, in the classroom, or extracurricular activities. Finally, I love that you have given me my best friends.
Life is unpredictable, but no matter what happens, I would not be the girl I am today without the 16 years we had together. So thank you, soccer, for blessing me with extraordinary opportunities.
Keep Reading...
Show less
Featured
These thoughts will drive you mad.
5173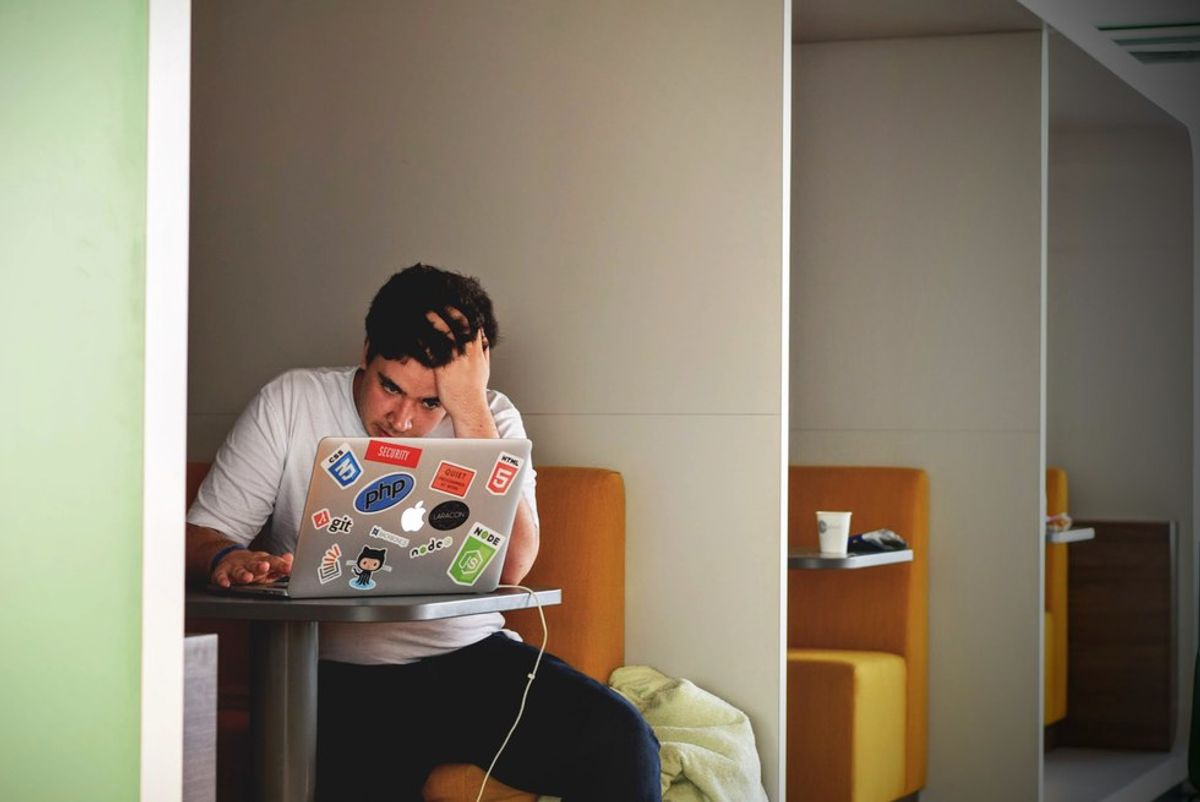 pexels
Life is hard, and is even harder with a mental illness. Even if you aren't clinically diagnosed with depression or anxiety, in the hardest times of your life you can probably associate with several of these thoughts. Fear not, everyone else is thinking them too. Maybe we just need a big, loving, group therapy session (or six).
1.
The Lie: Everyone is watching me.
You feel like society is ready to pounce as soon as you make a single mistake. From walking up the stairs and the task of holding doors open for others, to the way lipstick smears while eating and the way you pronounce your vowels. You live in a world of judgement, and everything you do or say becomes an opportunity to face ridicule.
The Truth: You aren't that important.
In reality, everyone else is so caught up in their own insecurities and doubts that they hardly notice anything you could have done. Those who ARE judging you are only doing it to pass the time. It won't matter to them in an hour. If it does, they have more pressing issues than the way your shirt was buttoned wrong. When it comes down to it, you aren't a celebrity, and while people may disapprove of you being less than perfect, it is not the end of their world and it shouldn't be the end of yours either. Give yourself the grace to release the daily struggle with stage fright and drop the act. Your mind will thank you.
2.
The Lie: I'm annoying them, I'm too needy.
Do you find yourself in need of company but hesitate to pick up the phone lest they have less enthusiasm about social interaction as you? Do you refrain from dining or talking with the same people for more than a few days so that they don't get bored of you? Maybe their text messages have less emojis than they once did, or they don't call anymore. You think about drifting away, furthering the separation they clearly desire.
The Truth: They can't do what you need until you tell them what you need.
If you want to have coffee with someone, ask them to coffee. If you would like to join them for lunch, ask them. It is ludicrous to expect those around you to read your mind and to know the right thing to say the exact time you need them to say it. As much as you think everyone can see your intentions in your actions, they don't pay close enough attention to realize what's going on (see Truth Number One). Speaking up about your needs and desires will help strengthen the relationships you have, allowing you more reason to trust their company.
3.
The Lie: They don't need my help.
There's a project that really interests you, but there's a lot of people already working on it, so you don't speak up to join. The blood drive comes to town, but there's a long line. A job opening comes up but you feel under qualified and regrettably let the application due date pass. You do less than your share of work, because you think the quality of other's work is better than yours and you don't want to hurt the team.
The Truth: You're devaluing yourself as a result of self-deprecation.
There are just as many run on sentences in the other writer's article. Half of the volunteers on the project that you have a passion for were dragged there by a friend of a friend who thought they would be interested. Over and over again society puts less value on the average citizen and more value on the beautiful, social, wealthy and talented citizens. As a result, average citizens are reminded day after day that we are not important. On the contrary, the monstrous beehive in the ancient oak in the backyard reminds us that a society of only queens does not survive, and without the workers, the queens would have no one. You, little worker bee, are more important to the survival of our species than Kim Kardashian. So go for that promotion and speak up with all of the wonderful ideas you have things to give.
4.
The Lie: I'm alone.
Social media scrolling has surely brought you to this conclusion before. Seeing all of your friends living exciting lives with exciting people; while you sit in the dark, the light from your screen casting ghoul-like shadows upwards over your face at an unnatural angle. Just after a huge fight with your best friend, with tears drying on your face as you wonder who you're going to talk to for the next three days before reconciliation is possible. Late nights into early mornings when you pause Netflix just long enough to hear the creak of the building and envy the people in the next room who were not stirred by the lonesome noise.
The Truth: You are more relatable than you think.
With all of the billions and billions of people on this earth, it is extremely unlikely that you are the first to feel the way you do. It is nearly impossible that you alone have experienced your thoughts before. On the contrary, the great number of people who have been on this planet and are currently on this planet should be the giant group hug you need for comfort. You and so many others are each experiencing life in your own unique way, yes. However, everyone else on this world who has gone before you probably felt the way you are feeling now. They lived, they survived, they thrived. So will you.
5.
The Lie: I'm too emotional, and over-dramatic.
Whether you wear your heart on your sleeve or hide it deep down inside an invisible hole within yourself, you fear the vulnerability that comes with exposing your emotions to the world. Feelings hurt and when you are sensing more Mr. Hyde instead of Dr. Jeckll, it's easy to panic and hide from the world. It's also easy to assume that you are more soft-shelled than everyone else, when you can't see the daily struggles they are going through.
The Truth: You are relatable.
Just like you are swallowing your troubles so that your neighbor doesn't think anything is wrong, so does your neighbor swallow their own strife so that you have no reason to worry. It is scary to be vulnerable, but much like crying with your best friends at the heart-breaking movie, it takes vulnerability to understand the things we share with one another. Memories and emotions go hand in hand and when we see each other as the same instead of different, we can become more sympathetic to one another and less afraid of estrangement.
6.
The Lie: I'm not enough.
In life. At work. As a parent. As a friend. For your lover. For yourself. Guilt at letting someone down, disgust at weight gain, hurting someone's feelings, losing touch with an old friend, failing to make the deadline, burning dinner. The nauseating horror that someone else is better at what you have tried so hard to be the best at.
The Truth: There will always be someone better.
No one's success determines yours. You will probably not participate in the cooking show you watch every week on Food Network. You will probably not win the lottery. You will probably not make the olympic team, or sell your artwork for tens of thousands of dollars. That doesn't mean that you have not accomplished anything. Your best is your best, and it is vital that you celebrate it. Even if your best is only getting out of bed in time to do a single load of laundry today, it is your best and you deserve recognition. Everyone has different storms plaguing their life and it is up to no one except you to determine how successful you are in the face of them.
Hold your head high, you are succeeding in the very difficult journey that is life. You deserve the best party life can offer. Or at the very least a piece of cake.

Keep Reading...
Show less
Featured
It will be okay, eventually.
7260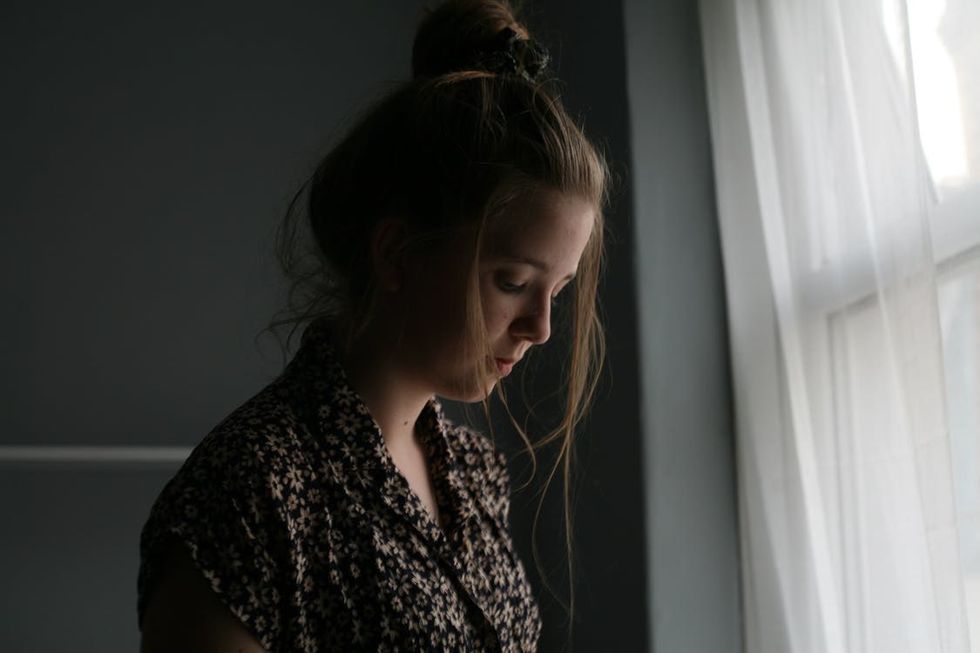 Pexels
Breakups are hard. There's nothing comparable to the pain of losing someone you thought would be in your life forever. Someone who said all the right things at the right times. Someone who would give you the reassurance you needed, whenever you needed it. And then one day, it just... stops. Something changes. Something makes you feel like you're suddenly not good enough for him, or anyone for that matter.
But instead of crying, you plaster a smile on your face and keep yourself busy to "be happy" when in reality, you're breaking. You're hurting. You feel like the world is a bad place. You look up the heartbreak playlists on Spotify and cry to them at night. That's when it hits you. Nothing is the same anymore. You're alone. The one person who promised you the world is coming back into your life in the weirdest ways: the dreams, the certain songs you listened to together, being unable to watch your favorite movies because they remind you of him... it all hurts. It feels like part of you is missing. Part of you just... vanished.
You continue to write about him in your notes on your phone, and it feels better, but nothing feels like how he made you feel. He quickly became everything. He quickly became your go-to, and even was verging on being your best friend. And then one day... it just wasn't enough.
You want to be okay, you want him to message you. You want him to ask you how you are. But in reality, he won't. He won't reach out to you. It's time to let go. But how? How do you delete the 547+ pictures from your phone? The videos? The memories? How can you just let that go? When does it stop hurting? When do you start healing?
You're doing everything you can to feel better, you're trying to keep yourself busy, you're back in counseling, you're trying your hardest. But what happens when you can't move on? What happens when you realize that no one can be him? How do you move on and forget how amazing he made you feel? How do you get past the memories, the laughs, and the great times? How can you go into a store that you went to on your first date as a couple, how does that work?
Some days it feels so fresh. Like it just happened, and you have to remind yourself that it's been almost a month since he broke up with you and it shouldn't hurt this must. You've tried to be patient. You've tried to be realistic with yourself. But it still hurts like crazy.
Crying doesn't make it any better because you learned when you were younger that crying is a sign of weakness (when you know it's not true). You can't make another TikTok of you crying, but it just seems to be the only thing you do these days. You're hurt. You don't exactly know what to do from here. You want to be happy, you do... but everything reminds you of him. Every. Little. Thing. And suddenly, you're wishing that you're were eight again, and your biggest worry was what outfit to put on your American Girl Doll.

Your feelings are valid. You can feel this way, yes. But you're getting in the way of yourself. You're confused. You don't know what to do. And that's okay, your feelings are valid. You are valid. You are worthy of someone who loves you unconditionally, someone who never stops choosing you. And as much as you wanted it to be him, it's okay that it's not. It's okay. It doesn't seem that it's okay, and it doesn't seem like it will be okay. But it will be.
You're in a hurry to be happy with someone, but you need to truly focus on yourself. You need to find something that makes you happy. You need to just do you. YOU WILL BE OKAY. You need to be patient, and that will be difficult. You need to have faith that everything will come together and you will be happy. After all, you said yourself that happiness is self-produced. So maybe rather than pitching advice and how to be happy to others, you take your own advice. You put yourself first. You will be happy. You will find someone. Someone who knows they want you from the start. Someone who makes you laugh. Someone who wants a future with you. It will come. It just takes time and you know that. You know that everyone deserves happiness, so why don't you just... believe it for yourself?
It will get easier, and it will get better. You just need to allow yourself to feel these emotions. Allow yourself to feel angry. To feel hurt. It's all part of the process. Although it may seem easy for him, maybe it's not. Maybe he's great at hiding things. Maybe this is really hurting him, although unlikely, maybe, just maybe-- he's feeling a lot too. You know that contacting him is probably not the best thing you can do right now, so maybe try just focusing on you. The only thing that you can do is breathe, move forward, and focus on what makes you happy.
In regards to deleting everything, it will get better. Give it time. Give yourself time. It hurts, and you know it. It's okay. And I know this is the last thing you want to hear, but... if it's meant to be, it will find a way to happen. You shouldn't have to second guess anything. When it's love, you'll know it. When it's love, it shouldn't hurt this much. When it's love, you shouldn't cry yourself to sleep. When it's love, he will know he wants you. There won't be anyone else to worry about. When it's love, it will be easy. It will be natural.
You need to remember that maybe you're the bad guy to his family now, or maybe not, but you shouldn't stop caring about them just because this happened. You did the best you could to make a great impression on them. But I know what you're thinking, and maybe reaching out to them isn't the best thing to do. Maybe just give that time, too.
I want to end this with a few reminders: your feelings are valid, no matter what they are. You are not a bad person. It was just a bad situation, and no one is in the wrong here. Yes, your feelings were hurt, but you need to imagine how he's feeling about this too. It will be okay. Everything happens for a reason, and just remember that you are becoming stronger, even when you don't feel it. You're getting to be so strong. Just imagine how great it's going to be when the right person comes into your life and shows you endless love and support. You will get that. So just be patient with yourself. Keep praying. You've got this.
Keep Reading...
Show less
Featured
For the first time since 1994 the United States will host a world cup (for men's soccer)
7972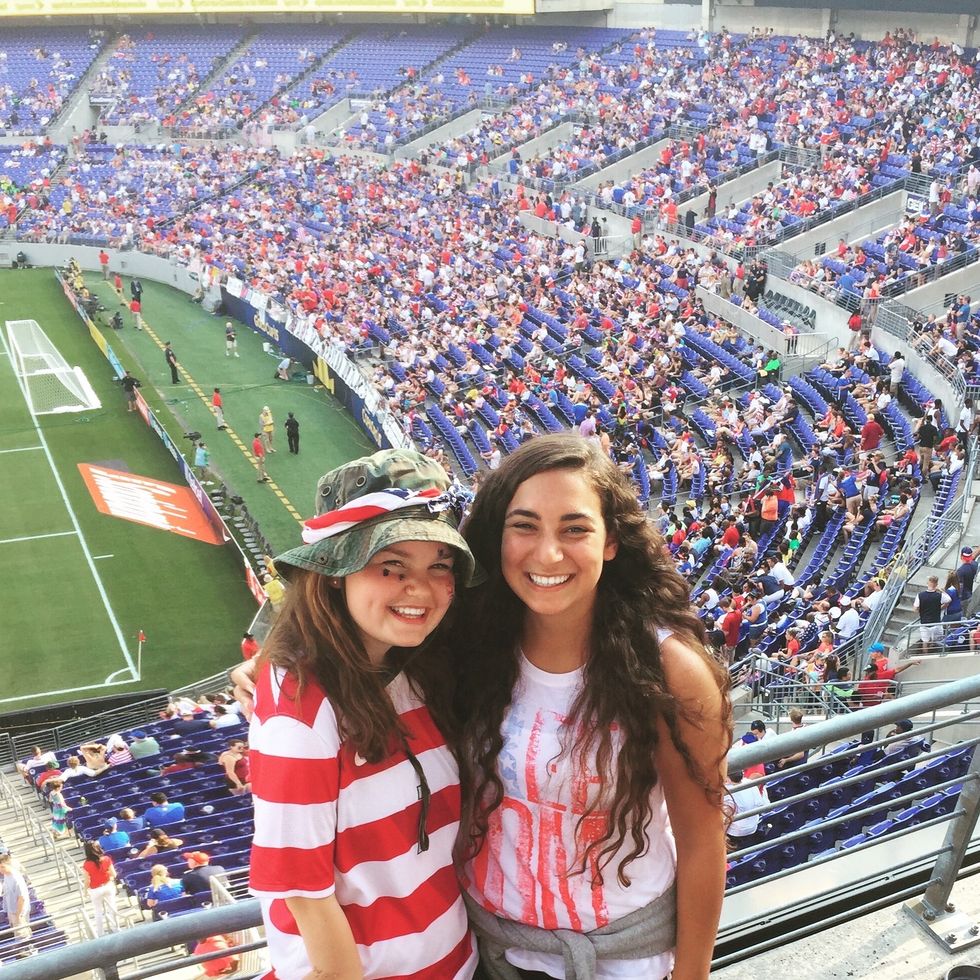 Skylar Meyers
The FIFA World Cup is coming to North American in 2026!
On Wednesday June 13th 2018 it was announced that the Fifa World Cup would be returning back to North America in a joint bid between the United States, Mexico, and Canada. It was a landslide vote and will be the first time since 1994 that the USA has hosted for men's soccer. For women's soccer, it was 2003.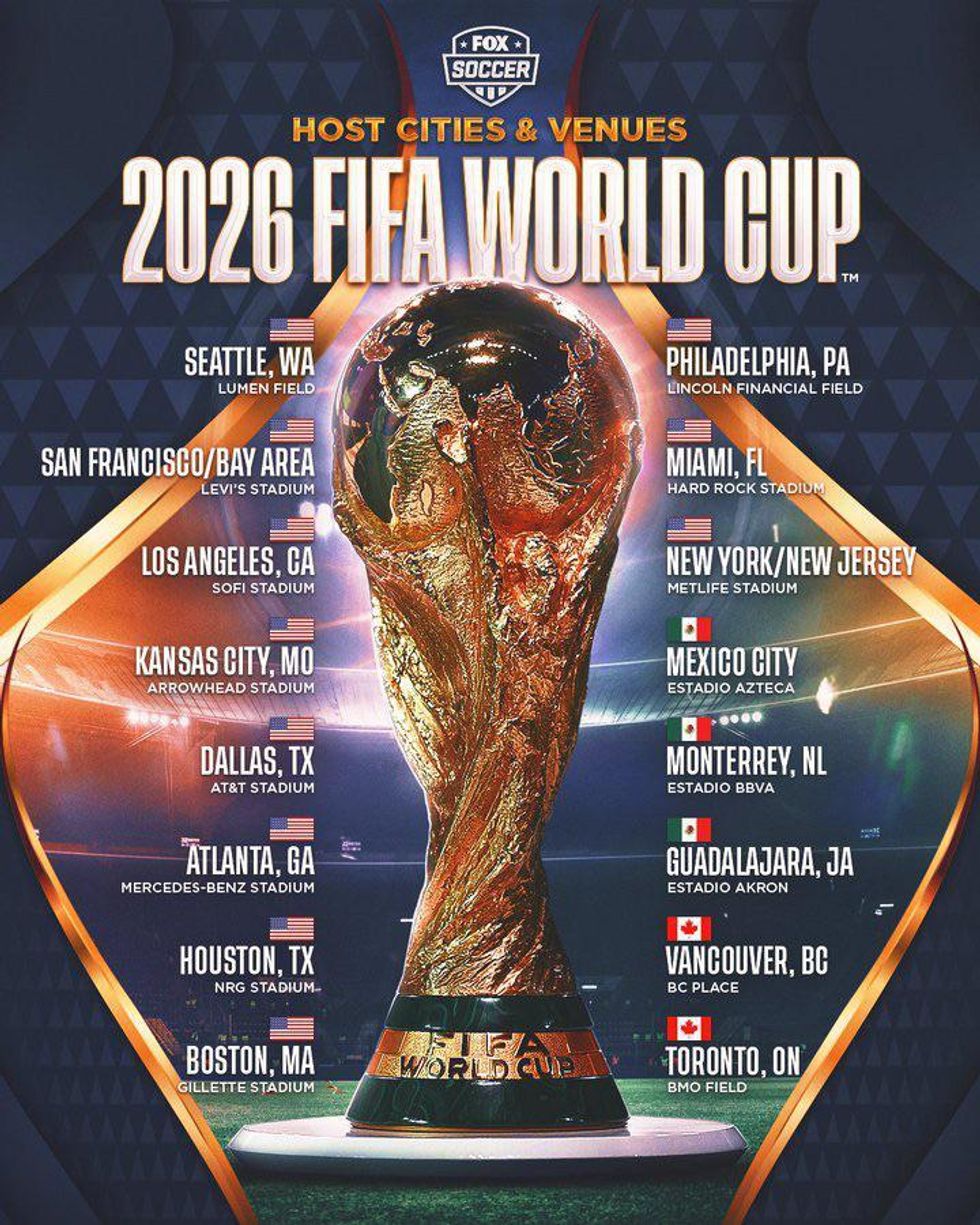 i.redd.it
These are huge stadiums. It's going to big and loud. Bring your vuzuvelas and your beer. The US will also be celebrating 250 years of its birthday right in the middle of the tournament. What odds for USA vs England on July 4th 2026?
Keep Reading...
Show less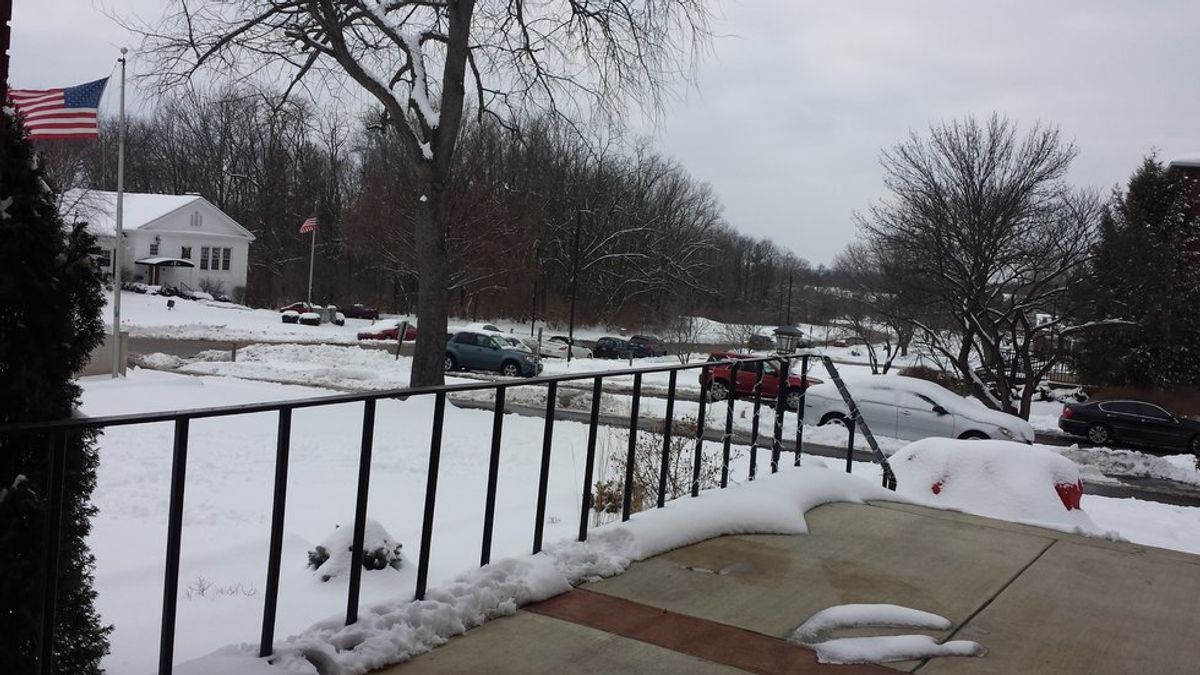 Hi. I first wanted to let you know that when you hit my beloved college town with the first snowstorm of the season, it was extremely delightful. However, it was only delightful for about two days. Consistently being asked if I "wanna build a snowman" (a reference to Frozen) became a little too much for me. I am writing this as I sit in my frat castle looking out the window in late February. and you are still here and refuse to leave. You are beginning to take on the face of a stage five clinger. I am sorry, but you need to go.
Sadly, I cannot seem to remember what the warm weather and the sun on my skin feels like. That is a definite sign that your stay in good ol' Bloomington has lasted much longer than you are welcome. I understand that breakups are hard for everyone, but know that we will see each other again. 
Instead of hanging our heads, let's just think of all the wonderful things we will be able to enjoy in the warmer weather. One of the main things that sticks out in my head when I think about the spring at IU is darty season. It practically speaks for itself. Darties are a common tradition, here, and we just cannot have one with you around. A short break from darties might be okay, but would we students really want to go through an entire school year without one? See, partying outside in the warm weather is just more fun. This leads me into my next two points -- Quals and the Little 500.
Since you are not usually around for this (thank God), let me explain. Quals is a lead-up to the famous Little 500 bike race in which all of campus is wide awake in the wee hours of that Saturday morning pouring unknown amounts of cheap alcohol down their throats (I swear that the only people who do this are over 21) in preparation for the two-minute time trial. 
Before we know it, the day in April finally arrives --  the Little 500 race day. I need to break this down for you because snow and Little 500 get along about as well as IU and Purdue (ew). Urban Dictionary defines the Little 500 as "a week of mind-blowing, wasted-beyond-your-wildest-dreams, non-stop parties where class shuts down and drunken students stumble from bar to bar, frat to frat, street to street, drinking everything in sights and no amount of alcohol poisoning can stop them." That is a lot to take in all that once, I know. And, yes, this really happens. Oh, and there is a bike race, or something like that, that happens, too, I think. I mean, they don't call it the world's greatest college weekend for nothing, right?
I really hope that by now you have started to get the picture. The warm spring weather simply brings out the best in everyone and you do not exactly always do that. In life, sometimes, we just have to pick and choose, and I am going to have to pick darties, Quals, and the Little 500 over you. I'm sorry, but that is just the way it is. Well, this is where we say goodbye, so I guess I will see you when I see you.
Warm regards,
Josh
Keep Reading...
Show less
Subscribe to Our Newsletter