If you've been following me for a while you know I wrote an article once about the advantages YouTube Music has over other music streaming platforms like Apple Music or Spotify. Well recently, I was given an opportunity to try out Apple Music for a bit. Pretty much this past semester has been me figuring out the app and the functions it has compared to YouTube Music. And while I did enjoy some aspects of the music playing app, at the end of the day I had to part ways with it.
It all started around December 2019 and January 2020, a time when apps like to create discounts for students. For me particularly I was scrolling through twitter when I saw that Apple was giving out a student discount for their Apple Music service. I shied away from the subscription in the past due to the ridiculous price of $10 to listen to new music and radio. I remember a time when I would just listen to music without a subscription with iTunes but then Apple wanted to make money. So at this point, I was like, "Whatever, it's a good deal" and paid for the three-month free trial before it would turn to like $5. At the time YouTube Music was having a few bug glitches and a software patch wasn't on the horizon at the time.
Over the next couple of weeks I would get used to streaming music through Apple Music. I would enjoy the quality of life features that made listening to new music easily. One example of this was with the app Shazam, and the fact I could connect it to my Apple Music and already have that new song in my playlist. This feature is found in other apps like TikTok and it definitely came in handy. I also enjoyed how I could customize a custom playlist and album covers for my songs. Really added to that personalized experience, making it feel like my Apple Music playlist is different from others. Add that to the fact that Siri actually can play a song if I tell her instead of having to open YouTube Music and doing it manually made me feel like Tony Stark, especially when I was controlling my music through my Apple Watch. All was good and grand until about a month or so ago, at this point, I was starting to notice the shortcomings with Apple Music.
One of these things was the overall UI got annoying. It was not pleasing to the eye to have all these tabs to access your music instead of Apple Music knowing which songs you commonly listen to like YouTube Music. It also was annoying how the app would freeze up when trying to search or enter new songs. One thing I noticed when comparing the two apps recently is that YouTube Music loads and plays my music faster then Apple Music, regardless if the wifi is turned on or not. The final straw of the situation came down to when I was cleaning out my phone a few weeks ago, I was trying to connect my music on my phone to my computer but what ended up happening was an overload of sounds.
I edit a lot of videos, and that requires me to download songs and sound effects from the internet. When I began to connect and download my music on my phone to my Macbook, I started getting wacky sound effects in my Apple Music app. To me, this was very annoying just because I don't want these sounds I use for editing like character voices or car horns interrupting me when I am trying to listen to Green Day. And while yes I could just make a separate playlist, like I mentioned before the UI is atrocious. The Music app on my phone would also lag and take 20-30 seconds to play a song. That was the last straw. I canceled my subscription, wrote down all the names of the songs I wanted to remember and downloaded the YouTube Music desktop app. And it has been working great ever since with no lag, and a quality UI that is not confusing at all.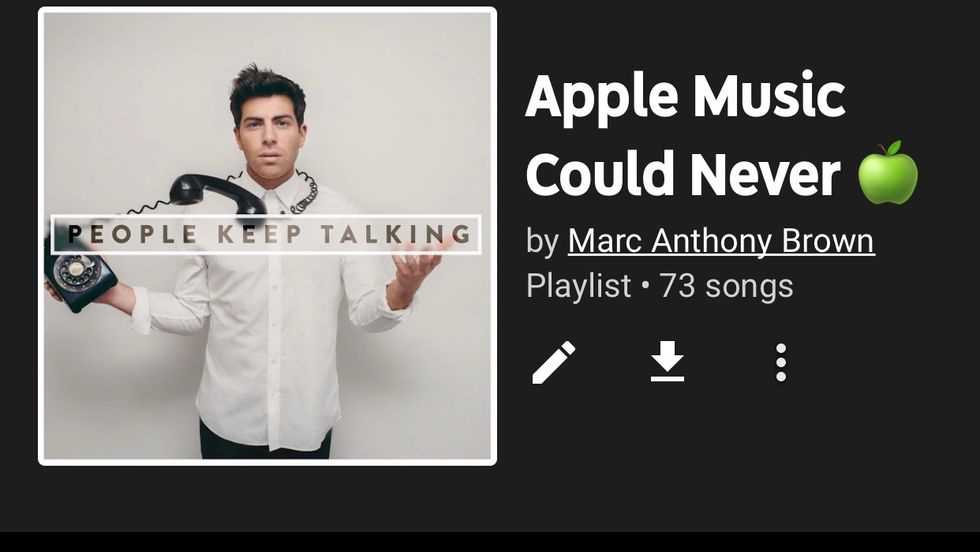 Marc Anthony Brown
At the end of the day, I realized I was wrong for betraying my YouTube brethren. It truly is a great deal to pay for YouTube Premium just because of the added bonuses included with the package. I can play music and YouTube videos in the background of two separate apps, never have to worry about advertisers interrupting my music, and I can download them for later with an offline mode. All for the same price. So that's my experience with Apple Music again, and I would hope I am not in the minority with this.