Lately, there have been a lot of posts on social media and even articles about how people, particularly older people, find the trend of using the hashtag "adulting" annoying.
This annoyance arises mostly because it's something that is used in reference to people completing activities that are considered to be pretty normal and mundane, like doing the dishes and laundry. I would, however, like to make case that honestly- it's a pretty great trend to start! #Adulting is positive and validating, and it reinforces responsible behavior. On top of that, it celebrates learning and accomplishment of even the smallest goals, and is one of the most harmless trends that could have possibly been started.
So today, I did my dishes, my homework, my laundry, swept, made lunch, dinner, a snack, AND added six inches to the blanket I'm crocheting. That's a lot of stuff! And a lot of it is really just... chores. It's boring. Mundane. Things everyone does (or at least, should do). There's nothing special about it, besides the fact that I just proved to be... responsible? I guess?
But here's the thing: Even though it's so boring and mundane, there's a certain amount of pride that comes with marking everything off your checklist and feeling like you truly deserve to binge watch Stranger Things on Netflix while eating ice cream out of the pint. When you do all your boring mundane chores, you suddenly have time. Do you know what time is for a kid (yes, even though I'm an "adult" I am still a child in mind and soul) who's balancing classes, finding a job/working, and being healthy and alive? Time is a luxury.
And I'm sure most adults would agree! There's so much satisfaction that comes with getting things done! And as Christopher McCandless once said, happiness is only real when shared. And in a world of social media where we as a generation have grown up doing just that, of course I'm going to want to share my happiness! Of course I want to share my success, and of course, I want validation. Human beings are creatures who live off validation and reinforcement of behavior from other humans and our environment. I want my peers to tell me that they think I'm super responsible for doing the things I need to do. It makes me feel accomplished, even if in the smallest of ways. And maybe, just maybe, that's a good thing.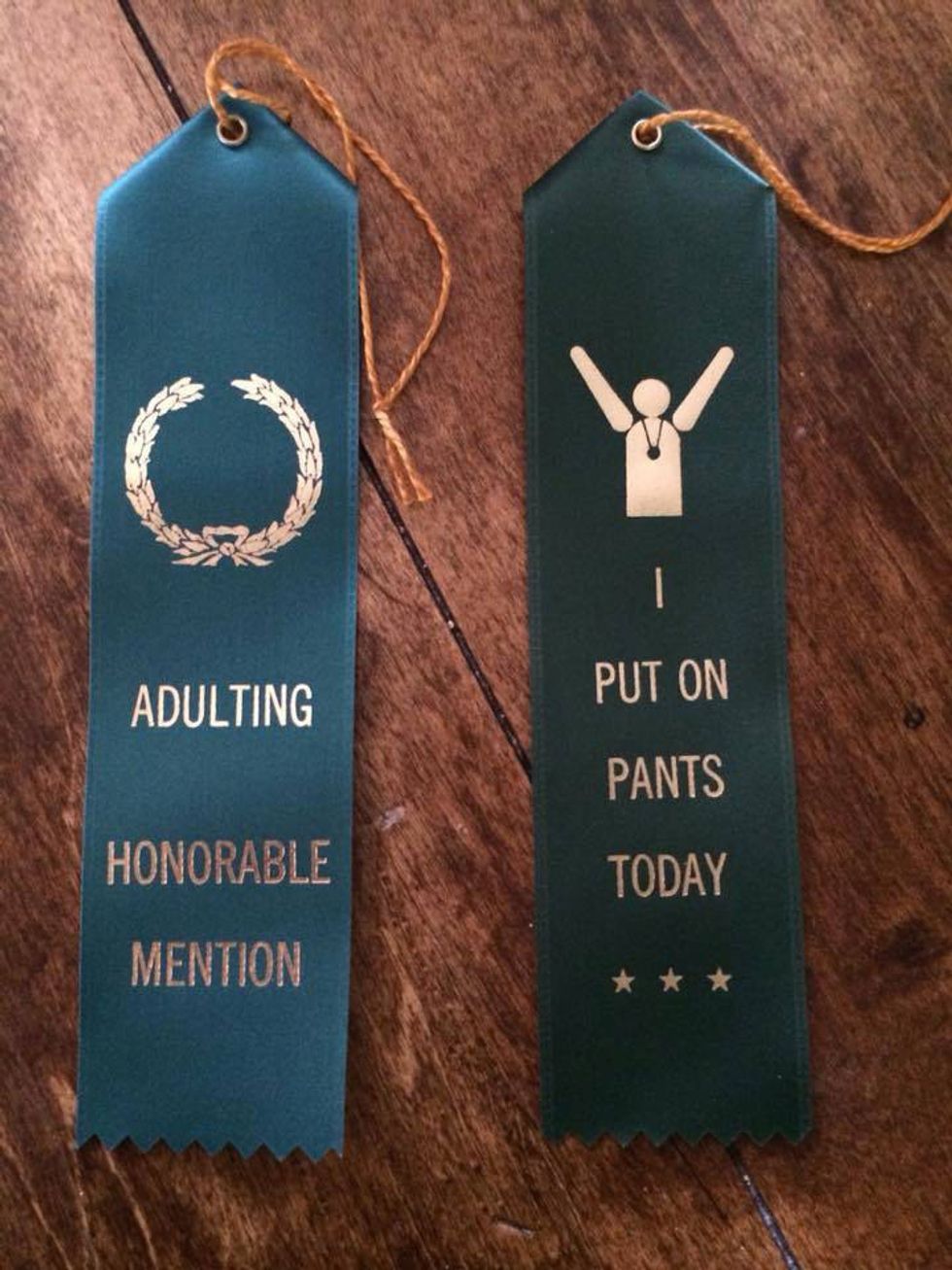 Behavior that is reinforced is usually behavior that is repeated again and again. And even if you don't get validation every single time, repeated behaviors become habits, and doing your chores in a timely fashion is a pretty great habit to have. Watching other people get positively reinforced for behavior also makes people more likely to behave similarly, hoping for the same sort of reinforcement, which may or may not come from other people, but often times with something like completing tasks, will come with built in reinforcements, like the aforementioned mystical thing called time. Or the other mystical thing that's, get this, not being stressed out all the time. It's pretty great, if I must say so myself!
In the end, #adulting is a trend that's far more helpful than harmful. Nobody's getting hurt because someone did their laundry or paid off their rent on time. Nobody's limbs are falling off because I felt proud for getting stuff done that isn't always my number one priority, like work and school are, but is still pretty important for a smooth and functional life. Being proud of the completion of tasks, however normal and mundane they might be, hurts no one. Rather, it spreads positivity and happiness, two forces that this world doesn't seem to have enough of lately. Let young people do what they want to do, and let young people find their happiness in the small things.They're #adulting, and it's pretty great.