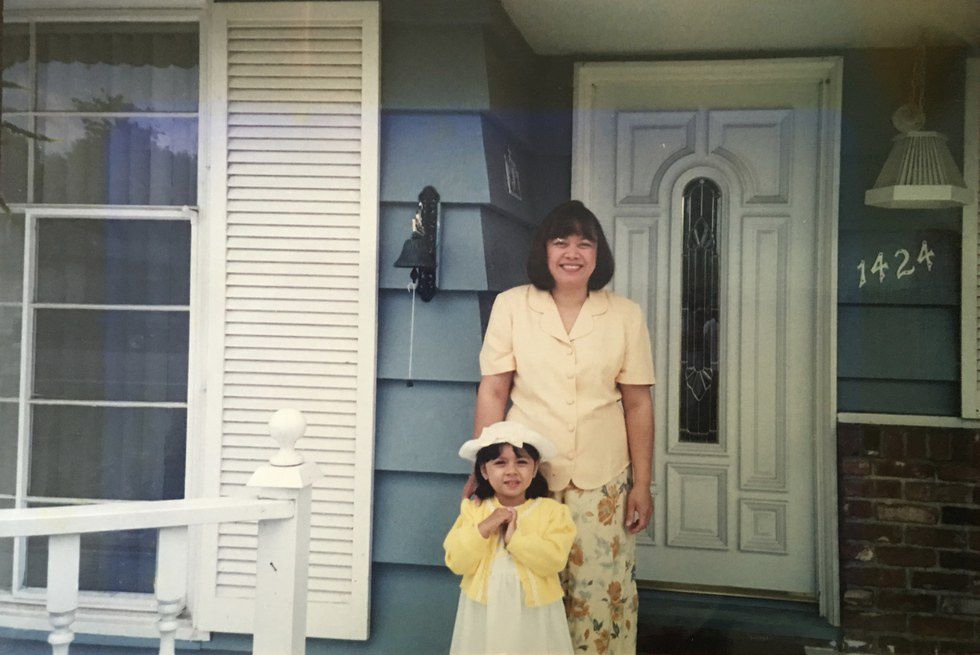 I always forget that my mom was once a 19-year-old girl. I remember looking through old photo albums with my cousins at pictures of our moms in their stylish outfits of the 70s, 80s and early 90s, times before they had to worry about colorless, shapeless, maternity clothing. Looking at these pictures were like looking at today's Urban Outfitters catalogues. I mean just beautiful, young women in floral maxi dresses, listening to records, and curling each others' hair. My mom would boast about being the most fashionable woman at the bank she worked at back in the Philippines. "I never wore the same dress twice," she told us smugly from the other room.
"What happened?" I asked.
"You and your brother," she replied with a laugh.
That was a couple years ago when my brother and I were still young and mom traded stilettos for tennis shoes so she could run around with us. Now we're a lot older and I've noticed a change in the clothes my mom wears, but not just any change...
The other day I visited home, and just like every time I visit home, my mom began to pull out clothes from her closet to show me all the new "looks" she's pulled off since I last saw her. Once it was a bright peplum top, grey joggers and strappy sandals, an outfit I could see myself wearing. This time though, my mom pulled out a muted, teal, off-the-shoulder dress. A dress identical to this Forever 21 one I've been eyeballing for quite some time now. Did my mom and I just have a "Freaky Friday" moment?

It occurred to me this weekend that the change I found in my mom's clothes was in the same direction as my own clothes and that is slightly terrifying, but not in the way one would think. I wasn't scared of my mom trying to become some kind of "cool mom," but rather that I will change my look completely so I don't dress like my mom. After years of hiding behind clothes that didn't fit right, I finally found a look that worked for me and have been styling myself according to that look. Although to be so prideful that I would compromise a part of myself in fear of dressing like my mom is ridiculous.
Why can't parents and their teenage sons and daughters dress alike? Could it be because the expressive nature of clothing separate child from parent, what's hip from what's unhip? Does my mom and my shared fashion taste mean I am unhip?
No, and now that I think about it, I'm flattered to be able to share fashion tastes with my mom who is one of the most well-dressed (and knows it) women I know. I can trust that if my mom and I had a real "Freaky Friday" moment, I would at least look good, both with her in my body and I in hers.
The thing is though, many of today's fashions trends for both men and women are reminiscent of fashion trends of previous decades. With the rise of hipsters and their glorification of all things vintage, the resurgence of bell bottoms is logical. In addition to that, many of the clothes available for our parents run the course of being very similar to what our generation is wearing. It is not as uncommon to see a person in their late-40s wearing skinny jeans or even jeggings nor is it uncommon to see a person in their early-20s wearing their grandmother's circle skirt.
Are we becoming our parents or are they becoming us? More importantly, does it matter?