At only five years old, my world was rocked. September 14th of 2004 would be a day to forever haunt me. A day I could have never seen coming. I had always wanted to be a big sister. I was so excited when I found out I'd be getting a baby brother. It was absolutely a dream come true. As soon as my brother was born, my happiness didn't stop.
I loved being his big sister. I loved to help with feeding, bathing, changing, anything to be close to him. I loved him. I loved him so much. I can't remember the 14th perfectly, but I hope I kissed his little head goodbye on my way out to the door to school. Unfortunately, it would be the last time.
The day was confusing from the start. Why was my mom's friend picking me up from school? Why couldn't I go home? Why couldn't I go play with my baby brother? And later, why are my parents in tears? And finally, why did this have to happen? That one had no answer. My mom had been holding my beautiful brother when all of a sudden, he stopped breathing. There was no warning. There was no way to help him. The next few months, years even, were a blur. All I remember was sadness. But the years after? I remember hope.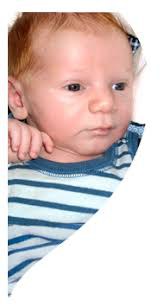 The Ryan Wolfe Kossar Foundation was founded to prevent this tragedy from happening to more families. While unknown to many, Sudden Infant Death Syndrome (SIDS) takes the lives of over 2,000 infants a year. Infants just like my brother. Infants with loving families just like mine. So, I will continue to share his story - through the foundation, through word, and now through my writing. I will share until no other sibling has to come home from school to find out they were an only child again.
And to my baby brother, I love and miss you every day, Ryan. It's surreal to me you would be a teenager today. I wonder what you'd be like. I like to think you'd love baseball like me and your daddy. I like to think you'd look like me, with big green eyes and a big smile. I like to think we'd be so close. I know we'd be so close. We are so close.
I can still talk to you. I can still thank you for being my guardian angel. I can thank you for giving me strength through struggles and guiding me through life. I want to make you proud. I want you to smile down on me. I hope you do. I'm proud of you. I'm inspired by you. I live for you. And I love you.