No matter what job you wish to pursue or where you'll end up in your career, writing will always be an invaluable skill.
Just ask Julia Waterbury, a former Odyssey creator and college graduate with a business degree, for whom this couldn't be more true! Though she began by using Odyssey as a creative outlet, she quickly learned it was so much more and soon was able to include her articles and skills (from writing and editing to SEO and social media marketing) to up her resume game.
I had the pleasure of chatting with her to get the full scoop on her Odyssey creator journey from when it all began to where she is now. Read the full interview below to learn exactly how she leveraged her voice on Odyssey and her advice to others on how to do the same.

Q. When did you write for Odyssey?
"I started as a content creator for the Miami University team in July 2016, the summer before my sophomore year of college. I became a contributing editor in August 2017, and then served as president of the team from April 2018 until I graduated in May 2019."
Q. What was your favorite part(s) about writing for Odyssey?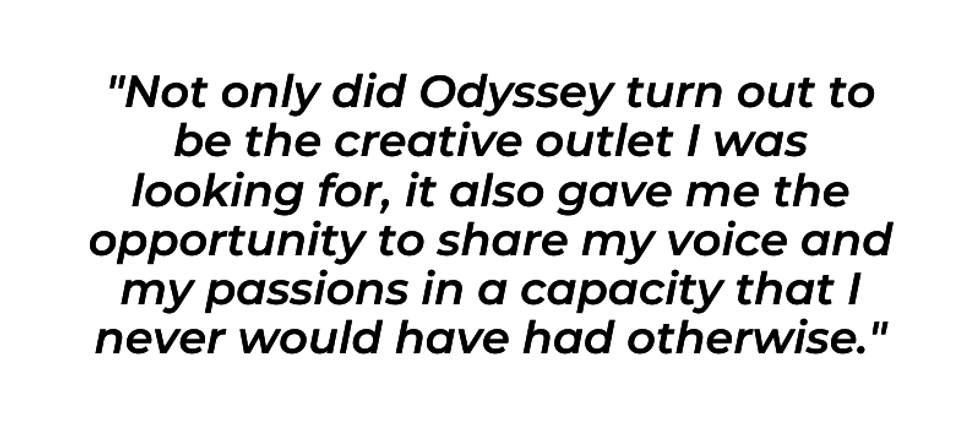 "As a business major who has always loved to write, I joined Odyssey because I was looking for a bit of an escape from the rigid structure of my classes. Not only did Odyssey turn out to be the creative outlet I was looking for, it also gave me the opportunity to share my voice and my passions in a capacity that I never would have had otherwise. It was incredibly rewarding just knowing that people were reading my words, and even more rewarding when my readers told me how my writing impacted them."

Q. Can you share a little about what you currently do for work?
"Since graduating, I've worked as a marketing coordinator at The McShane Companies, a commercial real estate and construction firm in Chicago. In my role, I'm primarily responsible for running our social media accounts, designing graphics for social media, and writing press releases, award submissions, and newsletter articles."
Q. Did you talk about Odyssey in your interview for your current role?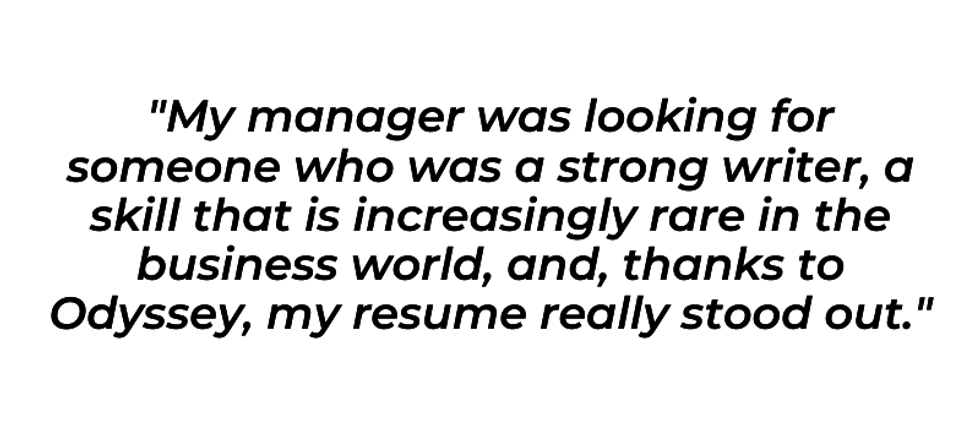 "I was fortunate enough to be offered a full-time position after completing a summer internship at my company, so while I didn't actually interview for my current role, Odyssey was a big topic of conversation in the interview for my internship. My manager was looking for someone who was a strong writer, a skill that is increasingly rare in the business world, and, thanks to Odyssey, my resume really stood out."
Q. Do you feel Odyssey helped prepare you for your current job and other roles you've held? If so, how?
"When I joined Odyssey, I thought it was going to be something I did 'just for fun,' but it helped prepare me for my job more than I ever could have imagined. Not only did it improve my writing and editing skills, it also gave me my first hands-on experience in search engine optimization and social media marketing—which are skills I now use on a daily basis!"
Q. What would your biggest advice be for anyone looking to use Odyssey as a way to pad their resume and/or portfolio?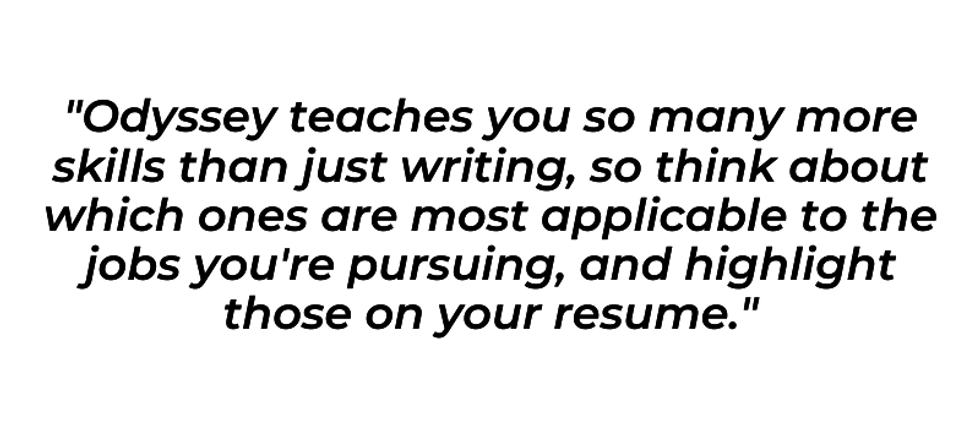 "Odyssey teaches you so many more skills than just writing, so think about which ones are most applicable to the jobs you're pursuing, and highlight those on your resume. Make sure to also include stats on your articles, like the number you've written and the total number of views you've received. Including measurable accomplishments will make your resume stand out, and will give you talking points in interviews. I also recommend pursuing leadership opportunities within your Odyssey community if they arise. While I learned a lot as a writer, I learned even more as an editor and president. A progression of roles not only looks impressive on your resume but will also show potential employers that you're committed."