It's a generally accepted fact that everyone is unique. There are no two people in the world who are the exact same. However, even though everyone agrees that no one is the same, there are many different theories about the "types" of people in the world.
Now, when I say people "types," I don't mean different religions, ethnicities or genders (although those qualities obviously separate people). I'm describing personality types-- whether they are outgoing or introverted, competitive or easy going.
The difficult thing about categorizing personality types goes back to the first statement I made: everyone is unique. It would be absolutely impossible to categorize everyone in the world according to their personality types with 100 percent accuracy. However, many different tests have attempted this feat, developing multiple different types of categorizations that you may have heard of.
Before I continue, take a moment to think about the personality types you've heard of or learned about. You can think about the different types of people you know and what makes them so different. If I were to think about personality types that should collide, I remember my high school roommate (I went to a boarding school), and how we were complete opposites. The cool part was that even though we were so different, we complimented each other. This allowed us to serve as partners in different leadership positions we held (as well as partners in crime-- she can make me laugh like no one else).
As far as categorizing personalities, they can be useful in all aspects of your life. By categorizing yourself into a particular type, you can learn to better manage your strengths and skills. When you have a better understanding of your communication style and personality type, you're more likely to build stronger friendships. You may also be able to better understand and overcome your weaknesses. Maybe, you need to improve your communication or empathy. Whatever the case, the purpose of these quizzes is to help you learn more about yourself.
Some of the "types" of people that I hear about most often are Type A/Type B (although this might have something to do with the fact that my friends say I have a very strong Type A personality). However, I've also learned about the Myers-Briggs personality quiz in several different contexts throughout high school and found it an interesting way to learn more about myself. I looked into two more personality categorizations as well in order to explore other ways to learn more about myself and share the results with you.
NOTE: There are often multiple locations online where you can take each of the exams, but I only listed the ones I chose, all of which can be found on Google.
---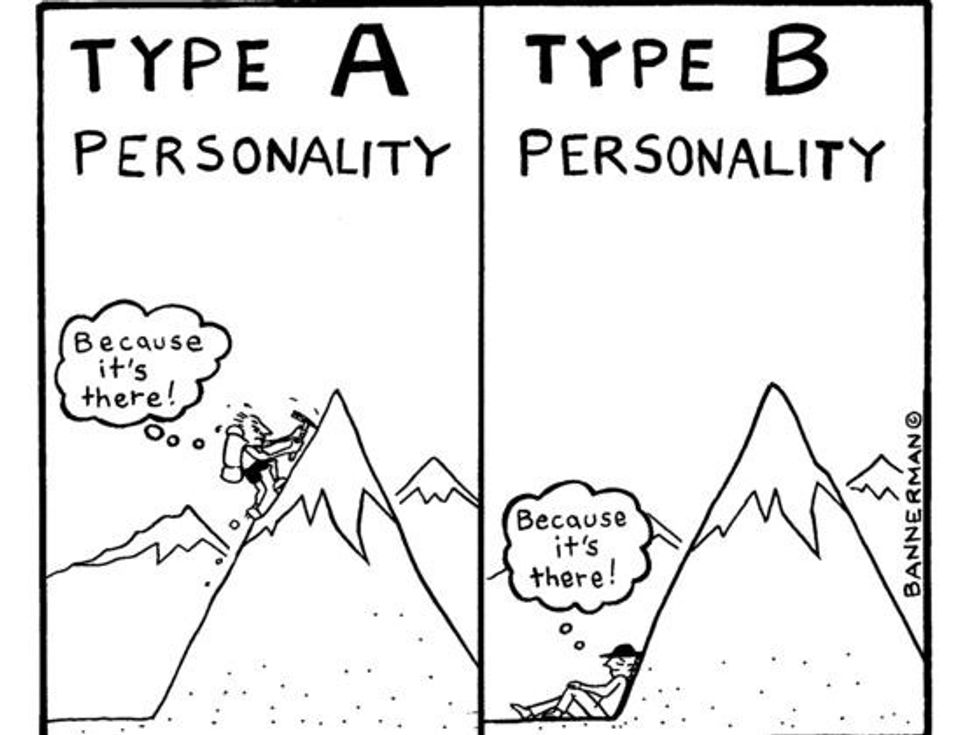 Type A and Type B Personalities
Typically a Type A personality is self-driven and competitive. They aim for lofty goals and sometimes work themselves to the point of exhaustion. This is not to say they're always busy (although they usually are), but rather that Type A personalities prefer to use their free time getting things done.
On the other hand, Type B personalities are usually more laid back and relaxed. It'll be more difficult to rile up a Type B personality because they are generally even-tempered and enjoy competition just for fun, rather than to win. They can usually be found in roles that require creativity, due to their desire to explore new thoughts and ideas.
The idea of Type A and Type B personalities first came about in the 1950s when cardiologists attempted to connect these types to a higher or lower risk of developing heart disease. However, it seems these personality types are more generally used in a non-scientific way now. You can find the personality test here.
---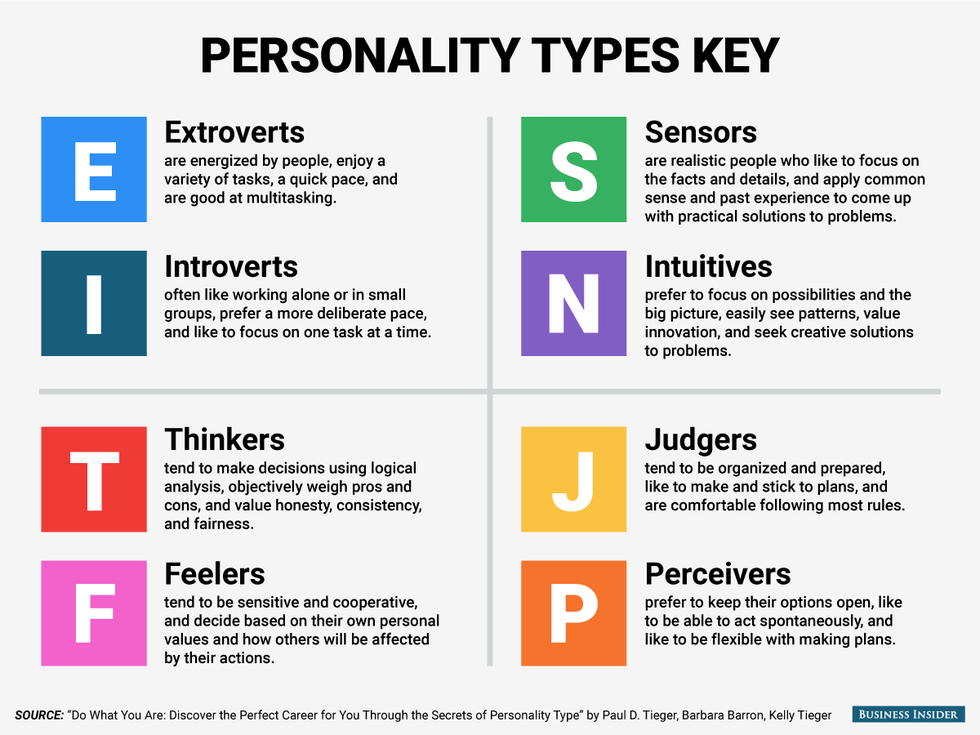 Myers-Briggs Personalities

According to The Myers & Briggs Foundation, "the purpose of the… personality inventory is to make the theory of psychological types… understandable and useful in people's lives."
There are 16 different personality types described by the test, and they result from a combination of four different preferences a user can choose between. Are you introverted or extroverted? Sensing or intuitive? Obviously, all types are equal, because each type has unique traits that are special and different. Questions guide you to a personality type that should describe you in a general way. You can view different celebrities and historic figures who had the same personality type as you, as a description of what you can expect from each personality type.
Though not on the official Myers & Briggs Foundation website, here's a link to a free version of the test. You can find descriptions of each of the sixteen personalities on that website, or you can check them out here.
---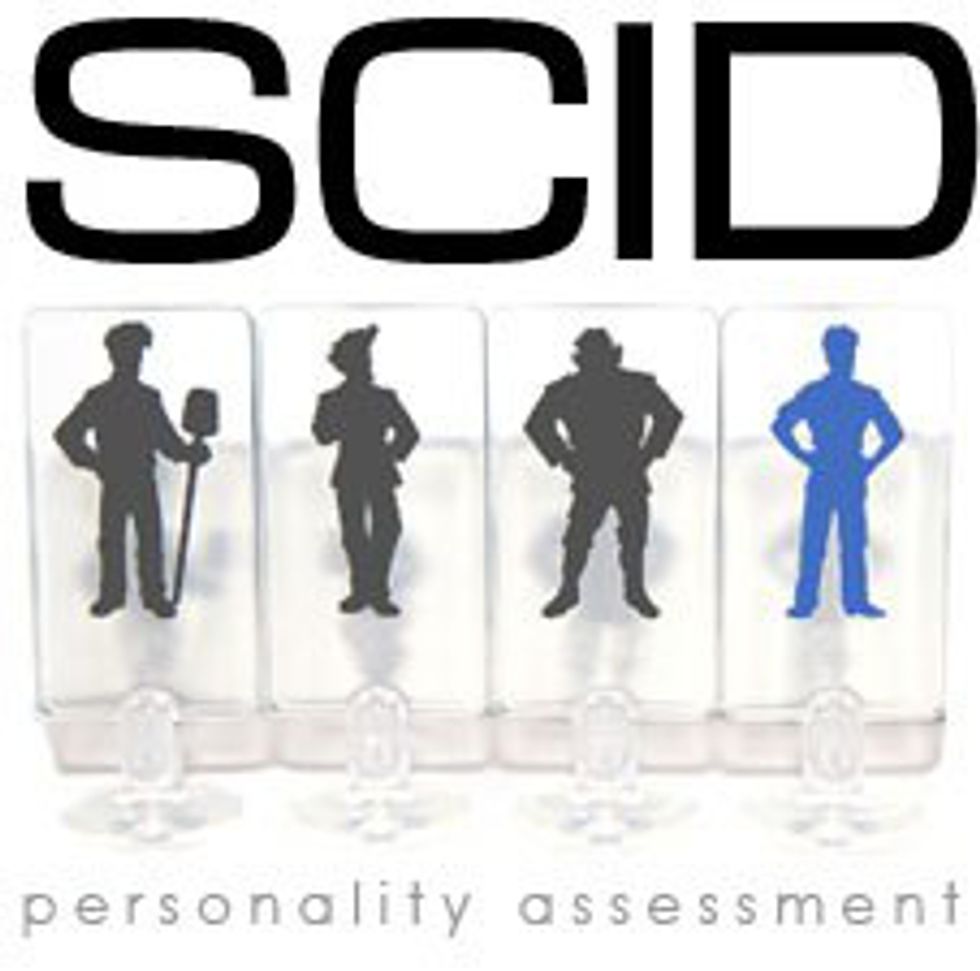 SCID Personalities
From my research on Type A/Type B and Myers-Briggs personalities, I stumbled across the SCID personality test. In this personality test, you're given sets of four words and phrases and asked to choose the word or phrase that most accurately describes you, as well as the one that is the least accurate in describing you. Your results are shown in the form of a bar chart of what the test deems as your natural behavior and adaptive behavior, based on the words and phrases that you chose. Each bar on the chart represents one of the letters in the test - S is for steadiness, C for cautiousness, I for influencing and D for dominance. There's also a nice summary at the end that allows you to learn about weaknesses that you may encounter, as well as some communication styles, emotional responses, behaviors under stress, and more.
I took the test on this website, and then I went to the Resources tab to find out more about my results. The Audio Overview and slides given allow you to read more in-depth descriptions of the S, C, I and D types, as well as real-world situations that detail how different types may respond differently.
---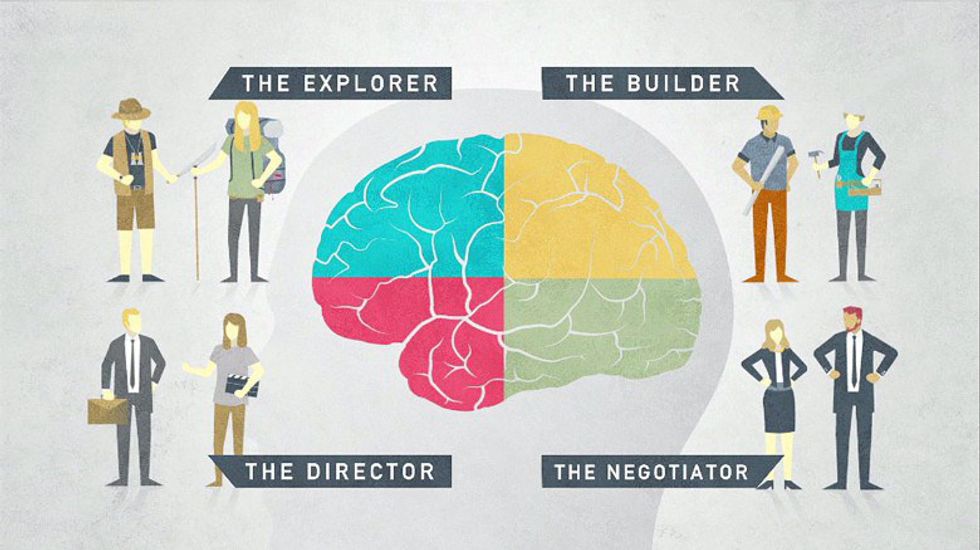 Helen Fisher Personalities
A friend recommended I check out the Helen Fisher personality test, a quiz that requires you to "know thyself". The quiz, which you can take here, is based on four different styles of thinking, and the associated basic brain system. The four thinking styles are: explorer, builder, director and negotiator. Rather than determining one specific style that you portray, the results conclude the two styles that are the most natural to you. It's used within dating websites and matching algorithms, due to its ability to determine your "personality signature."

Once you answer the questions, the results of your "primary" and "secondary" personality type come back. There, you can read a brief description of the type, as well as some famous people who show the same tendencies of you. If you continue past your initial results, you can find common personality type combinations. If you're taking this personality quiz to learn about using the results in a relationship, these combinations give you ideas of how the types work together, and what pitfalls to avoid in a relationship. There's actually a book, written by Helen Fisher, titled "Why Him? Why Her?" - it contains the fullest descriptions of each style and how to properly use yours in relationships of love and work.