Halloween has ended and the clock has struck November. And what does that mean? Cuffing season,Bonfires, No-Shave-November, Thanksgiving, Christmas, and a quickly-approaching 2018.
Currently, we're at the peak of Cuffing Season.
What is Cuffing Season? According to Urban Dicitionary, "During the Fall and Winter months, people who would normally rather be single or promiscuous find themselves along with the rest of the world desiring to be "Cuffed" or tied down by a serious relationship. The cold weather and prolonged indoor activity causes singles to become lonely and desperate to be cuffed."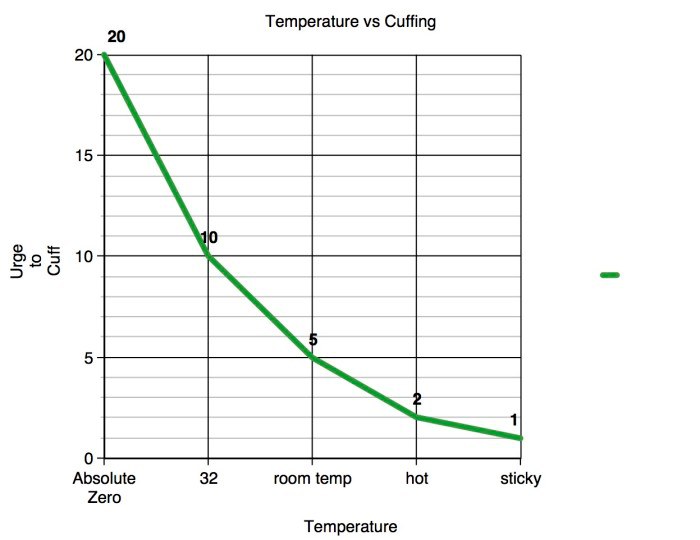 This is when we trade in our one-date-dudes to second dates. We trade our swimsuits and sundresses for flannels and hoodies. Gone are the smoothies and welcomed is the hot cocoa. The first leaf falls and the first DM is sent. This ends with a kiss under the mistletoe, followed with one under fireworks, and hopefully doesn't end with a box of chocolates.
The Cuffing Season Schedule is as follows:
Scouting: August 1-31
Drafting: September 1-30
Tryouts: October 1-31
Pre-Season: November 1-30
Cuffing Season: December 1-January 15
Playoffs: January 16-February 13
Championship Game: February 14
*This schedule is subject to change due to inclement feelings.*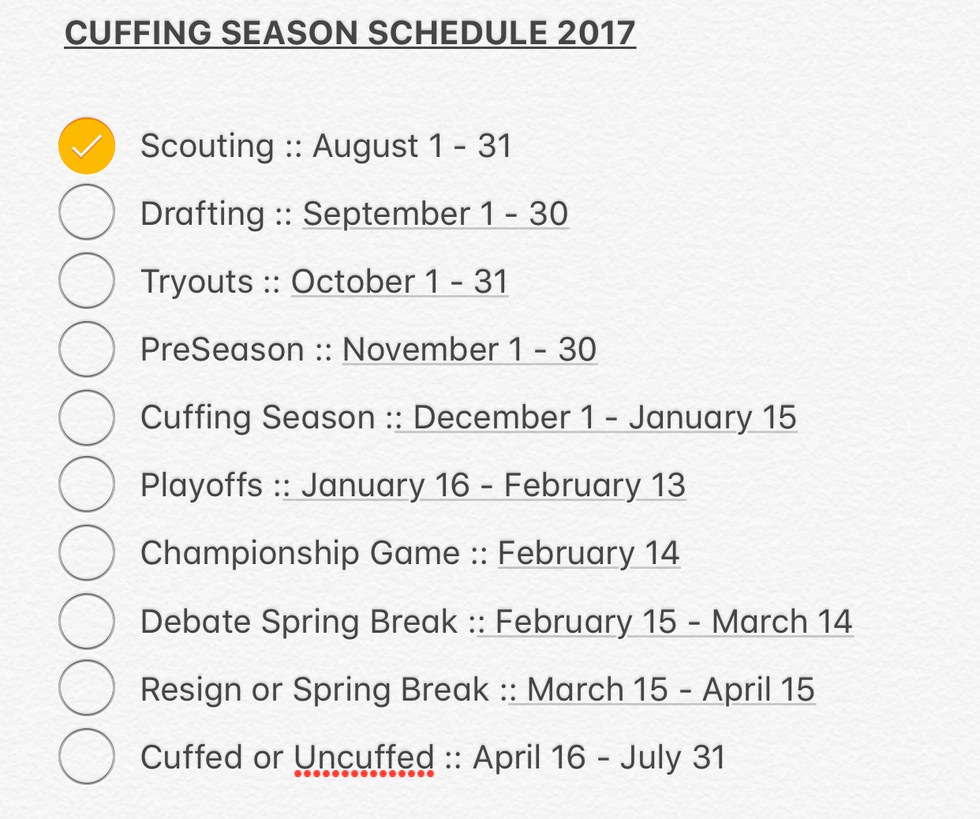 We're a little behind schedule, because of school and the way guys are, etc. . . but now that we know the schedule, we can jump in, quickly find (a) victim(s), cuff him, at least till we get our Valentines candy and flowers.
Here's a summary of the schedule:
The Scouting Period is whenever you notice the cute guy in class, the star player on the team, the boy with the beautiful smile on Instagram, and basically just noticing all the cuties that surround you. You stalk him.
In Drafting, you begin to talk to these guys: "Hey, can I take a picture of your notes? I missed the last class, and don't want to get behind," which could eventually lead to, "do you want to study together sometime?" -- "You played a great game last week! I can't wait to watch the next one." -- *likes a post from 2013* *adds him on Snapchat* *slides up on his story*
While girls have our own standards for Tryouts, guys do, too. According to a survey, here are some qualities for girls to make it through a guy's Tryouts during Cuffing Season:
1. She must smell good.
2. She must have stability.
3. She must have the "Rihanna Factor." (interesting and cool enough)
4. She can't be basic.
5. She can't be heavy on social media.
(For a full list and descriptions, visit https://www.bet.com/style/living/2017/10/17/men-co...)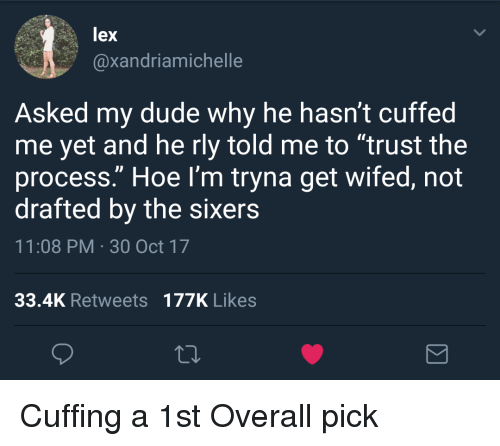 If a guy doesn't meet your standards, then he doesn't make it through Tryouts.
Pre-Season is probably one of the most important periods of cuffing season. And it's NOW. It's when you decide is second-date-worthy. Summer is full of one dates, swimsuits, and careless living, but in November, you need someone to cuddle with by the fire and roast marshmallows and sip hot cocoa with. . .which means a second date with one of the guys who made Tryouts.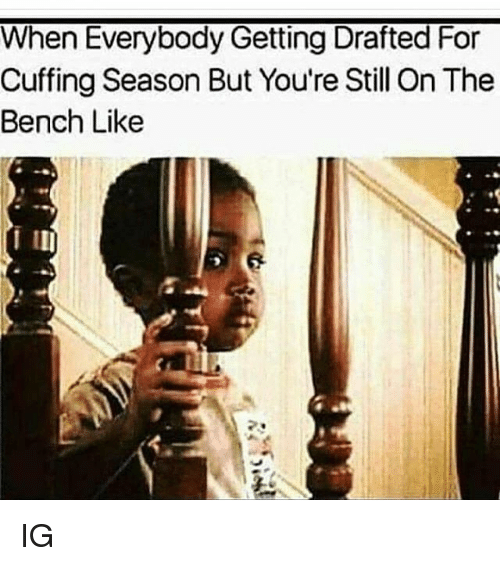 November 1 marked the beginning of Pre-Season. This is also the period in which we tend to catch the feels, introduce our friends, and begin talking to our family. This is when you text him and say, "hey, want to go to a bonfire with me?" This is when you begin to schedule your guys in. Now, you can quit leaving an open schedule for just "whoever." This is the month where you narrow your choices down and prepare for Cuffing Season.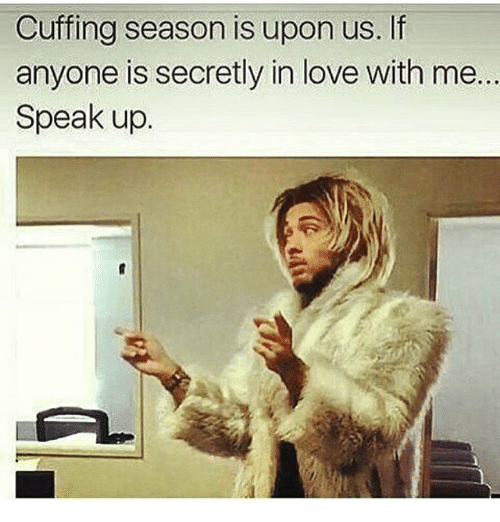 Cuffing Season is when you make your choice and cuff the guy. . . which sounds like an S&M move, but it's not. He meets your family. He hangs out with your friends. He makes social media status. He takes you to look at Christmas lights. You buy Christmas Gifts for one another. It feels serious, but you have to remind yourself that it's only for a season. This lasts until January 15.
January 16 beings the Playoffs. You watch him more closely. Does he text other people while the two of you are together? Does he Snapchat other girls? Do you find yourself watching his Snap score? Has he posted you yet? Can you see yourself with him in at least 3 months? During the Playoffs, you start checking all the boxes to ready yourself for the Championship Gama aka Valentines' Day.
This is the day you make your decision to keep him or to drop him. The decision is easier to make based on the fact of whether or not he got your flowers and chocolate, planned a date, or some other romantic gesture. Did he not think about a Valentines' with you? Drop him. Because you do have a back-up, right? ;)
Apparently, those in the North are most likely to feel the need to be cuffed because of the temperature, but as a Southerner, there's nothing like spending hours by a bonfire, listening to Luke Bryan, and talking the night away. . . even if it is 70 degrees.