On November 18, 2017, my family welcomed Luna into our lives. It wasn't a rash decision on our part - with a dog of 11 years already part of our family, we wanted to make sure the new puppy would be included in a way that made both of our dogs feel comfortable. And so, after months of thinking about the pros and the cons, we finally decided on it.

We got Luna from a cute little place in Newcastle, and by the time we brought her home, she had just turned eight weeks old.
We first introduced Dobby (our older dog) and Luna outside as to ensure they didn't feel too close to each other, and although Luna was immediately interested in Dobby, Dobby (as per her usual reactions with dogs) walked right past Luna, more interested in us than her.

It took a while for Dobby to get comfortable with Luna, but now going on about two months, they're pretty close. It's been amazing to see them get to know each other, and Luna is slowly but surely learning that it's not okay to nip and steal toys.
When our family got Dobby, I was in third grade, and now as a sophomore in college, it's interesting to understand the difference between simply getting a puppy and taking care of a puppy. I hardly remember what it was like to train Dobby so that she didn't beg for food, nip, bark, or jump on people.

Since she's been with us for so long, training seems like it occurred eons ago, and I think we may have taken for granted how easy it's been. Now that both my sister and I are old enough to actually train the puppy rather than just play with her, we've both realized that we were in for a bit of a wake-up call. Accidents, unnecessary barking, and cuts on our hands from razor-sharp puppy teeth (my nickname for Luna is Cujo because her teeth are so sharp) are all a part of our day-to-day.

But the love this little puppy brings in to our home is immeasurable. Both her and Dobby have adjusted very well to the changes, and although Dobby sometimes gets annoyed with Luna and retreats into our living room (which is all fenced off for Dobby to have alone time), overall, she seems to enjoy her time with her new little sister.
Although Luna isn't full-grown, she's gotten bigger and bigger every week. In a couple of months, she'll be Dobby's size, and it's so hard to believe that only a month or so ago she was the size of her stuffed lamb. From chasing after leaves, playing for an hour and then crashing for another two, or following Dobby around the house, Luna has definitely adjusted well to our family, and we couldn't be happier.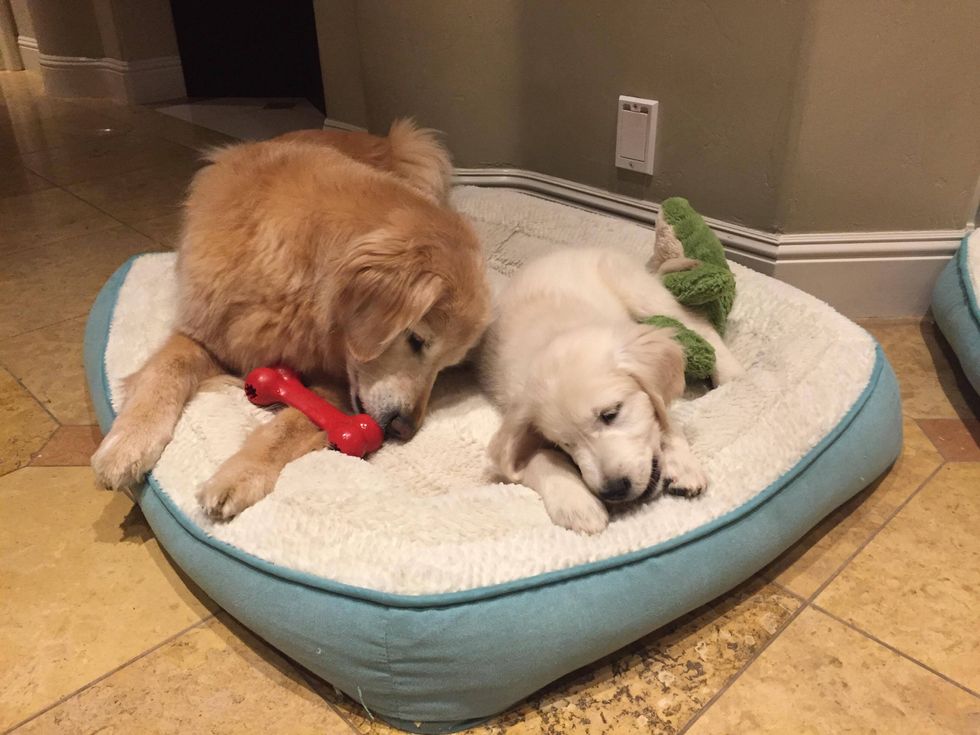 *Cover photo credit to Melissa Hoffman.