I've been an avid video gamer my entire life. So I remember the era where video games were not only looked down on, but seen as a problem in society. I remember the thinking that video games made kids more violent. People really believed that GTA and Manhunt would make kids grow up to be violent murderers, but this era has a new view on gaming as a whole. While gaming addiction is a very real thing, gamnin today is seen as a positive media in society. Many games tackle very serious issues that our society struggles with. Issues like race, religion, PTSD, and especially mental illness. The stories and worlds that people are allowed to play and explore in, show how much creativity and strength went in to take its subject matter seriously. Even if you don't suffer from a mental illness, there are games that increase your level of empathy towards those who do. Either way you should check out these games.
Celeste is about a girl called Madeline (Celeste is the mountain she is trying to climb). Why is she trying to climb a mountain? Because Madeline suffers from anxiety and has reached a crisis point in her life where she doesn't know what path she should be taking. She seeks a sense of challenge and accomplishment, and so has come to conquer the mountain
Throughout the game players Madeline will face a cruel and mocking version of herself that belittles her repeatedly. There is a game mechanic that shows her anxiety in the form of panic attacks. Once they start, the player as to balance an on-screen feather to help her inner calm.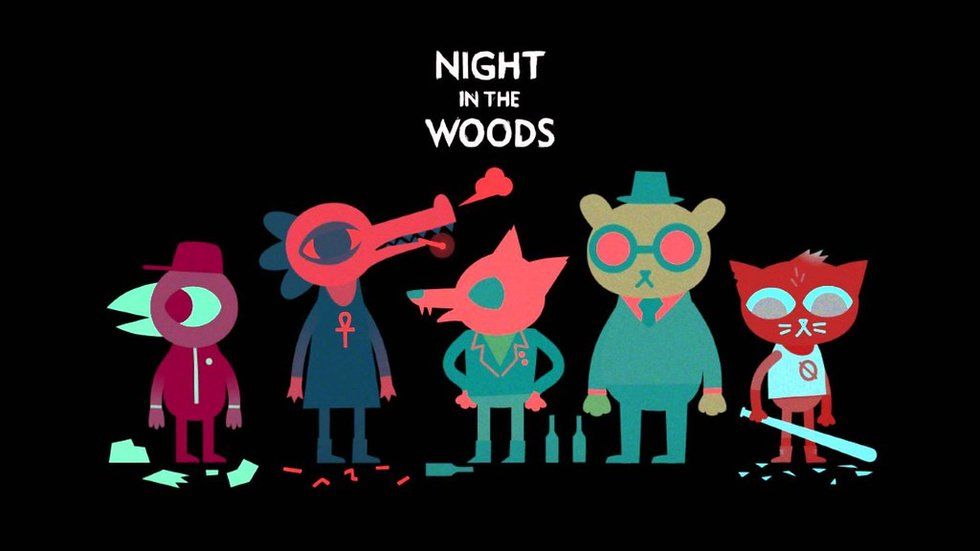 live.staticflickr.com
Despite the fact that all the characters are cartoon animals, the game does a damn good job on tackling depression and anxiety. Mae is a 20 year old college dropout who returns to her hometown – a quiet town where nothing happens. Her loss of place in the world is clear from the beginning, as she feels dislocated, lost, wandering through life without purpose, something we all can relate too. The player attempts to figure her out as she eludes us, even though we are in control of her. As the story progresses and things get weirder, we learn just how deep Mae's dissociation goes, internally and externally. It's a complicated story in which nothing much seems to be happening, much like the life of a person dealing with depression or anxiety – these people can be reclusive, avoidant, disillusioned, and somber. They need our help, but don't reach out.
I know it's strange to bring up this game. It can be viewed as just a game about killing robot Nazis in an alternate universe, but it's more than that. The game begins with the protagonist; BJ Blazkowicz reliving his childhood of fear and domestic abuse at the hands of his father. Although BJ is basically a total Nazi killing badass, he's also a withdrawn and introspective character. This part of the game shows where his PTSD came from, and why most of his lines are in his own head. If that doesn't intrigue you, then you can just kill Nazis. Who doesn't love that?
4.Hellblade: Senua's Sacrifice




live.staticflickr.com

This game was designed up to be fully true to the experiences and feelings of those who suffer from mental health issues.

Senua is a girl living in the world of Norse Mythology. She is attempting to reach Helheim and save the soul of her dead lover. From the beginning of the game, she is plagued by voices of doubt, disdain, and threat. She fights against demons and creatures that we might doubt are even real. She reaches locked doors and gates, and must search for signs and symbols hidden in the trees and the environment, examples of a paranoid mind searching for meaning when there is none. This game shines a light on the most extreme and painful cases of mental illness and does a better job than most movies and TV shows on the subject.