Last week Naomi Osaka should have played the proudest and most competitive match of her tennis career. Win or lose, headlines around the world would have named the 20-year-old Haitian-Japanese athlete the #1 or #2 female tennis player in the world after sharing a court with the G.O.A.T, Serena Williams. But through a whirlwind game of controversies, Osaka was damn near stripped of her proudest moment and was reduced to tears as she stood in front of a booing crowd after being named the victor.
For anyone who didn't watch the match, I'll go over the broad strokes of what happened.
First, Serena Williams received a violation for "illegal coaching" during the second set. According to the chair umpire, Carlos Ramos, Williams was being "coached" by her coach during the game, which is considered illegal in tennis. The accusation was both challenged by the athlete and later others who claimed that Serena's coach was behind her during that point in the match where he gave her a "thumbs up" and there's no way she was even able to see him. The penalty prompted Serena to dispute the umpires claims, saying that she has never cheated in her career. It seemed as though the umpire let it go.
What happened next shocked even the tennis world and shifted the momentum of the game. The umpire then docked Williams a game point (which is a HUGE deal in tennis) after she broke her racquet. Of course, Williams was upset. Rightfully so. And we can go back and forth all day on whether Williams was being dramatic or not by breaking a racquet in the first place, but at the end of the day, tennis players (especially male tennis players) have responded the same way in the heat of the moment and faced ZERO penalties. A reaction which should have prompted a "warning," docked her an entire point as the umpire refused to believe that Serena had been honest earlier in the game about not cheating. Williams' score went from being down 4-3 to 5-3, which ultimately cost her the game.
A visibly confused Serena again disputed this claims of being coached and demanded an apology, which the umpire would not give. Instead, he docked her a second game point for "verbal abuse," after she called him a "thief" for taking away the first game point.
"This has never happened in tennis before. I have never seen anything like it," were the exact words from a game announcer.
Serena Williams was clearly robbed of a fair game, but so was U.S Open newcomer, Naomi Osaka who was robbed of beating Williams on her own terms in a fair match. Her victory was overshadowed by the racism and sexism shown to her opponent and she was forced to stand next to Williams during the trophy celebration amidst booing as fans and other tennis players protested Ramos' treatment of Williams.

A visibly shaken Osaka was reduced to tears as she accepted her trophy and $3.8 million dollar check. The poor girl even felt the need to pull her visor down to cover her face and apologize to the audience for her win. And all of this because of a sexist umpire who refused with all of his might to treat Serena Williams with the same respect he gives to the male tennis players he shares the court with.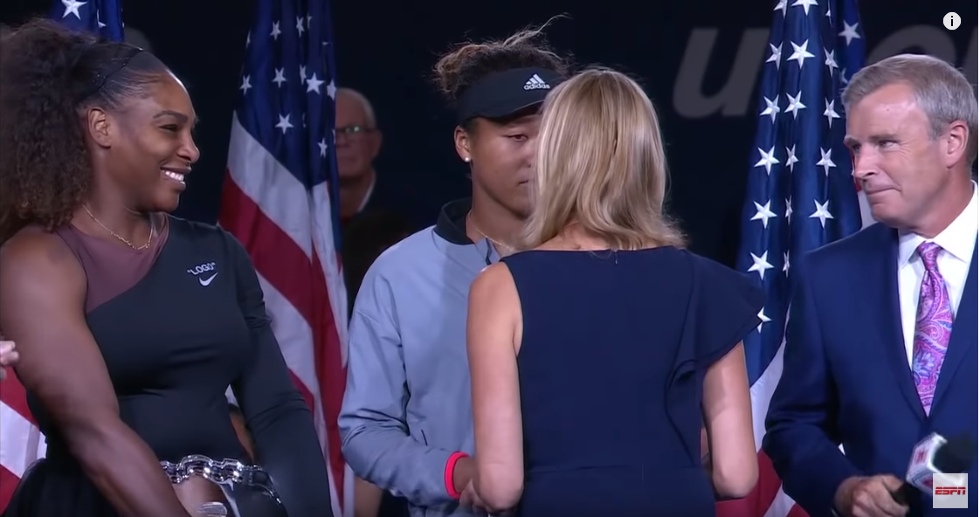 Naomi Osaka receiving words of encouragement after wiping away tears.YouTube
Now, of course, the dialog shifted how "arrogant," and childish the big black lady was, but that's an article for next time. Though rightfully upset at her treatment, Williams gracefully embraced her competitor and offered the young tennis star words of encouragement.