The Boss Baby is the latest film from Dream Works animation, which has given us fairly well made movies like How to Train Your Dragon and The Prince of Egypt, as well as all fifty Shrek movies and the creepiest animated smiles of all time.
Still, perhaps the best way to describe Dream Works would be "competent". While most of their output may not be quite to the level of Pixar, it has always been mostly pleasant.
In their latest film, however, Dream Works seems to abandoned any hints at what their best work seemed to show for their potential, and have given us... The Boss Baby.
The Boss Baby is a bad film, but more importantly, it is a confusing film. It's the sort of movie that, about half way through watching it, you begin to marvel at the indisputable fact that human beings, similar to you in many ways, somehow created this. Film is a collaborative effort, and you would think at some point, someone in power would have stopped to ask, "What exactly is this? What have we wrought?"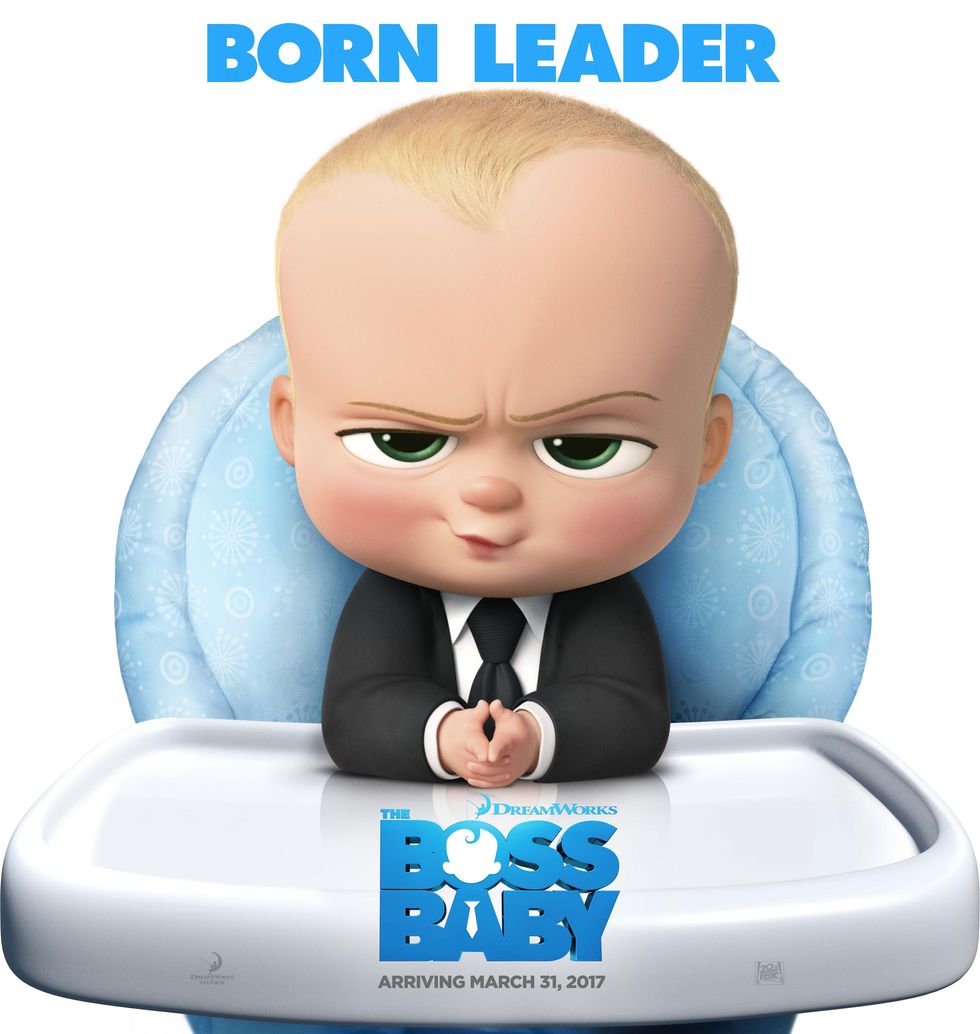 But perhaps, to best help you understand, I must take you through the emotional and psychological turmoil that is the world of The Boss Baby.
Before I can begin to explain this movie about a talking baby, we have to talk about the concept of reality.
There are not one, not two, but three levels of reality in The Boss Baby. The first is the reality where Tim is telling the story as an adult: the second, Tim is a young boy who sees his new brother as an annoying new "boss" of the family; and the third, Tim learning about the secret world of babies and BabyCo where his little brother is a corporate spy.
It is never made clear which of these are the "true" reality. The Boss Baby leaves it up to the audience to root through Tim's tortured psyche to find the truth. Even Christopher Nolan could not make sense of the what is real and what is not. So either DreamWorks is trying to challenge its audience in an incredibly complex matter, or (most likely) they just didn't give a crap.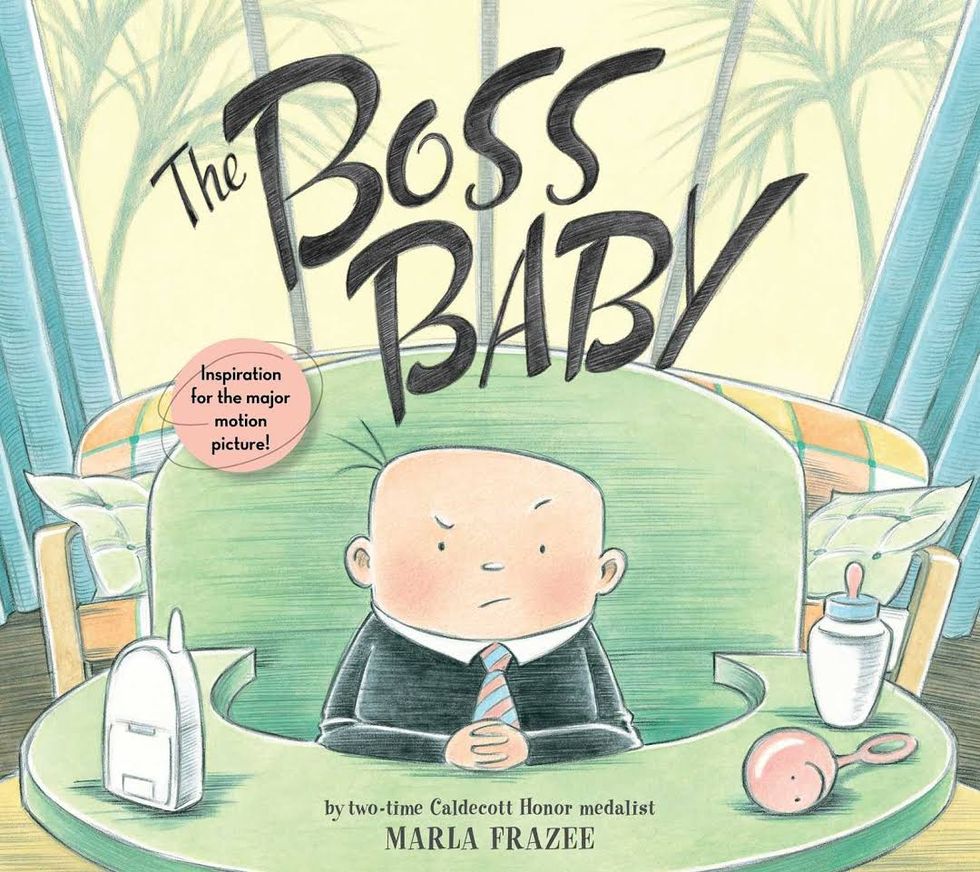 Proof of film's contempt for its audience can be seen in the way it chose adopt its source material. The Boss Baby is based on a book for toddlers that it 36 pages long. The Boss Baby is 100 minutes long, so naturally, some changes have to be made. Obviously, a more meaty plot was nessesary to get the running time up to stuff. But what Dream Works has decided to do to make The Boss Baby a proper film feels less like a story, and more like a madlibs done during a bachelorette party.
I'm going to try and make it as simple as I can: Tim's new baby brother comes from a corporation that makes babies called Baby Corp, that looks like heaven, but the film makes clear it is not, despite making it look exactly like that. Boss Baby -- yes, that's his name, it is presumable all the babies that work at BabyCo are named some variation of that -- is trying to infiltrate a rival company called PuppyCo -- I'll let you guess what they make -- who are taking away all the love from babies using genetically modified immortal puppies because love is apparently a finite thing and also a currency, even though Boss Baby carries around real money.
The mythology of The Boss Baby is so complicated that it would make even the most diehard fans of Game of Thrones confused. Oh, I forgot to mention, all the babies at BabyCo drink a special formula that keep them physically infantile, but allow them to mentally mature. So all the babies have adult minds. This raises many questions about what puberty is like for these baby-people, but the film thankfully leads this avenue unexplored.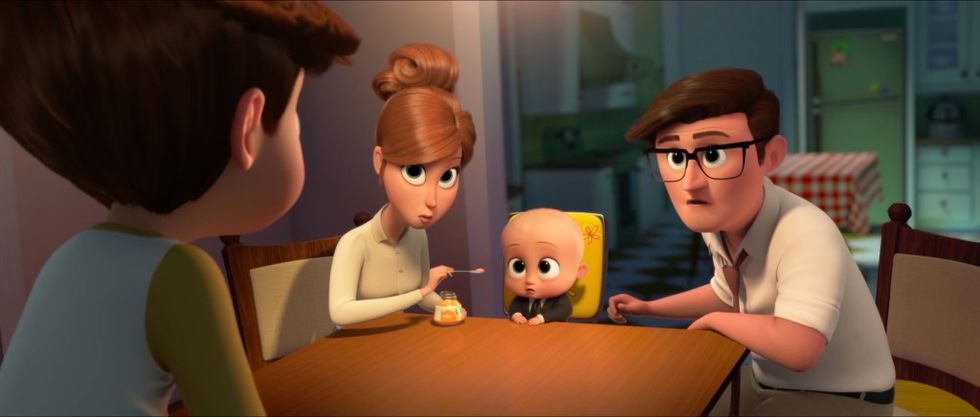 But really, let's talk about the Boss Baby himself. Voiced by Alec Baldwin, presumably to justify a Glen Gary Glen Ross joke that could be considered libel should David Mamet ever consider suing. I think that, we as a society, need to come to an agreement that having babies talk like adults is incredibly creepy and goes against all laws of nature. Babies should not talk. Rugrats could get away with this because they had the vernacular one would expect of infants, but Boss Baby talks like a forty year old Gordon Gekko, but somehow less cute.
Most of the film involves Tim boss baby trying to infiltrate PuppyCo through their corporate headquarters, and airport, and even Las Vegas, while adults never question why a grade school boy and a suit wearing baby are walking around these very un-child friendly places. This is probably because all the adults in this film are complete idiots, which may have been funny, except that the movie seems to think that there is nothing funnier than watching babies being violently abused.
This film may feature the most on-baby violence in any film in history. Babies are blown up, smashed into cars, almost dismembered by dogs, and generally smacked around more than a rattle. As someone who has watched more Kung-fu films than is healthy for a normal person, I was consistently mad extremely uncomfortable by just how much delight The Boss Baby seems to take in physically assaulting its infants. I know it's an animated film, but after watching one of the supporting babies almost being sling-shot into oncoming traffic, I wanted to call animated child services.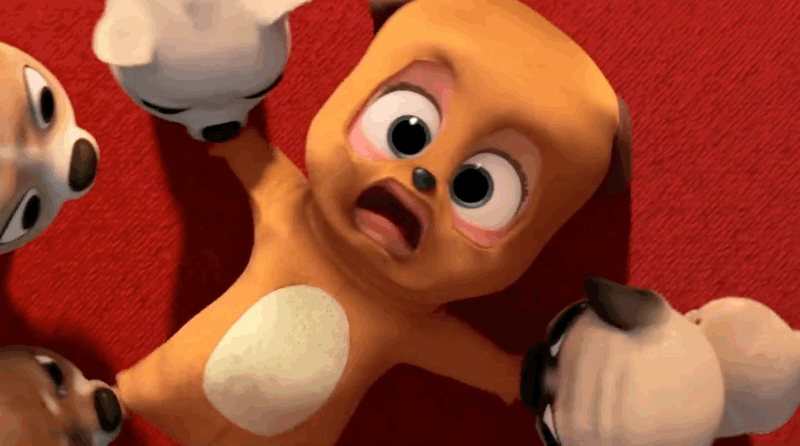 While The Boss Baby makes no qualms about its disdain for babies. The film's moral lesson is a bit more muddled. The theme is, ostensibly, about learning to deal with the arrival of a new sibling. The Boss Baby goes through all the usual emotional checkpoints as we see the brothers bond through, but while the structure is there, the actual emotions themselves are not. There isn't a single true moment in The Boss Baby, because the film is constantly raising so many questions about the morality of its main characters.
To be frank, almost every character in this film is an asshole. Tim might be a bit less of an asshole on the whole since he's a kid, but he also tries to shoot his baby brother out the window with a slingshot. Though, in fairness, Boss Baby is an even bigger asshole. I suppose the thinking was that having a baby do the usual things you see asshole corporate executives do would be endearing, maybe even satire. But it just comes off like, well, and asshole executive. Which, considering the current political climate, has an unintentional level of uncomfortable familiarity when Boss Baby throws his temper tantrums.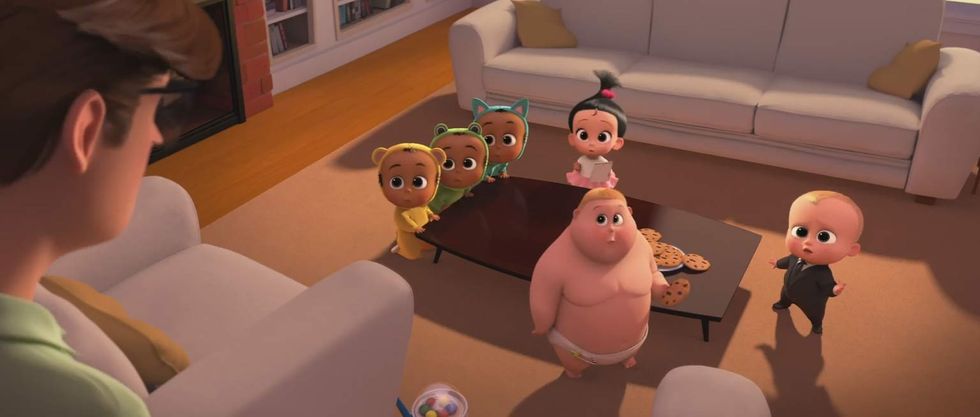 The only thing redeeming about our main characters is that they are slightly better than the villain, who the movie decides it needs a third of the way through; Francis Francis, the head of PuppyCo and a former BabyCo employee, who was fired for being lactose intolerant, and wants to make babies obsolete. That this will also lead to the demise of the human race does not seem to have crossed his mind.
I suppose that's a pretty good analogy for the creation of this film: a complicated plan that was ultimately doomed from the start. The Boss Baby is by far the strangest and most psychologically challenging animated film to come out since the psychedelic sensibilities of the Ralph Bakshi films of the 1970's. It's not a complete disaster so much as a puzzling one. It's so dense with plot, yet the story seems non-existent. The characters are unlikeable and the strangeness of the premise only gets more so as it goes on. Perhaps it's all in Tim's head as the film seems to imply. If that's the case, perhaps this was a psychological horror film the whole time.