Note: All Hale Aloha towers are identical, although some mirror the other towers. As they are all the same, these can apply to anyone in Hale Aloha regardless of which tower you're in. However, I have been told that there are some rooms that are slightly different, so if you are in one of the modified rooms, some of these may have to be slightly changed or not apply. Additionally, some of these tips are for other dorms or unspecified, so be sure to check.
Beds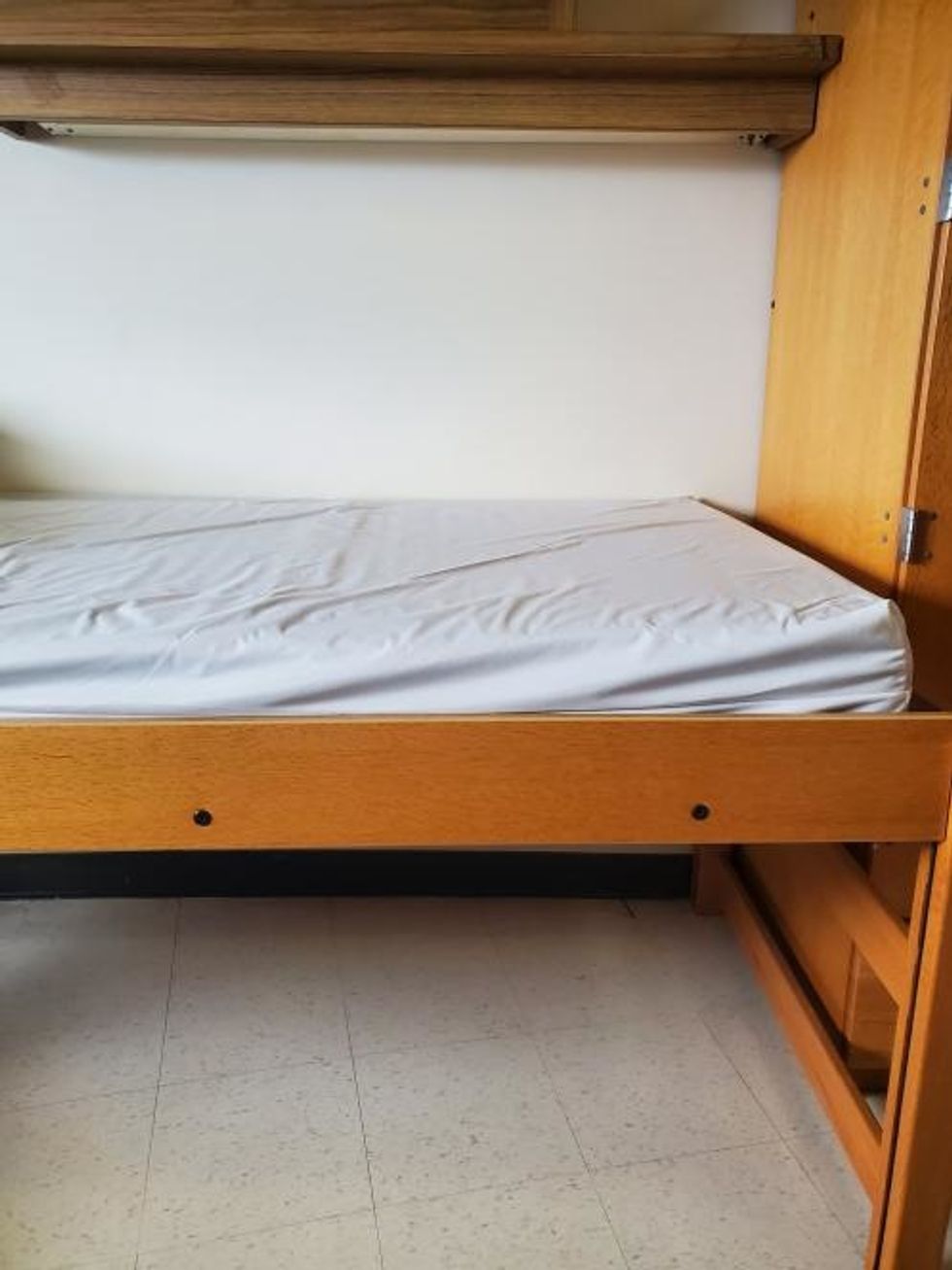 Adjustable bed at its maximum height
Erin Okada
The beds in Hale Aloha are adjustable, but to change the height you'll need to put in a service request. The beds, even at less than their maximum height, give you a lot of storage underneath. I bought a 3-drawer storage unit that can fit under the bed at its maximum height, but as my bed is not at that height I keep it out, and I use the top of it for storage as well. I suggest putting things you don't use as often, like suitcases and boxes (for shipping or moving items if you move between the dorms and elsewhere) towards the wall, and items you use more often such as tissues, paper towels, and water bottles towards the front or sides so you can easily access them.
Assigned Side
Due to COVID-19, everyone originally in a double occupancy room is now without a roommate, and those originally rooming with three other people are now only rooming with one. I had planned on moving into the right side as my roommate wanted the left side. I was only told after I had already moved in during my floor meeting with my RA that everyone had been assigned the A/left side of the room, and continuing to live on the other side could get you charged with double occupancy. I don't know how serious the school is about this, as they have not yet come by for a check, but it's better to be on the safe side. I also do not know if the pandemic will still be occurring by next year, so you may have a roommate and be able to live on whichever side you want, but in the case that it is, move in on the left side of the room to save yourself the work later. As far as I know, the only items you can keep on the right side of the room are your fridge and microwave (although its best to keep it towards the middle of the room) and items that will only be there temporarily, like your clothes for the day or your backpack.
Wardrobe
Your room comes with one wardrobe for you to use, with a top shelf, two separate hanger racks, and a pair of drawers beneath it. The wardrobe isn't huge, and unless you buy several under-bed drawer units for your clothes, you're going to need to maximize that space as much as possible. One of the things that's helped me a lot is having a cascading hanger, which takes up less space than if you just hung your clothes directly on the rail. I only hang my shirts, dresses, and jackets on the rail so I don't have much to hang, but if you have a lot of clothes that you need to hang, this could really help you maximize your space. The divider in the middle (as each door in the wardrobe opens to only one side of the wardrobe) also helps to organize your closet. I keep my shoes, jackets, and hamper on the left side and I use the right side for my clothes.
You also have two drawers under the wardrobe you can use to store additional clothes, or items you need to store. I use it for pajamas and clothes like my swimsuits. On top of the wardrobe (but still inside), you have one shelf that I personally use for my reusable bags (which are super useful for shopping, although some places may not allow you to use your own bags right now due to the pandemic, so be sure to check with the stores you visit first) and my umbrellas.
Tip: I have two umbrellas in my dorm, one smaller and one large. The smaller one is better for keeping with me while I walk around campus (or would walk around campus if it weren't for the pandemic), and the bigger one is a reverse umbrella to prevent water from getting everywhere when you close it. I also got one with a fun design on the inside to cheer up on gloomy days.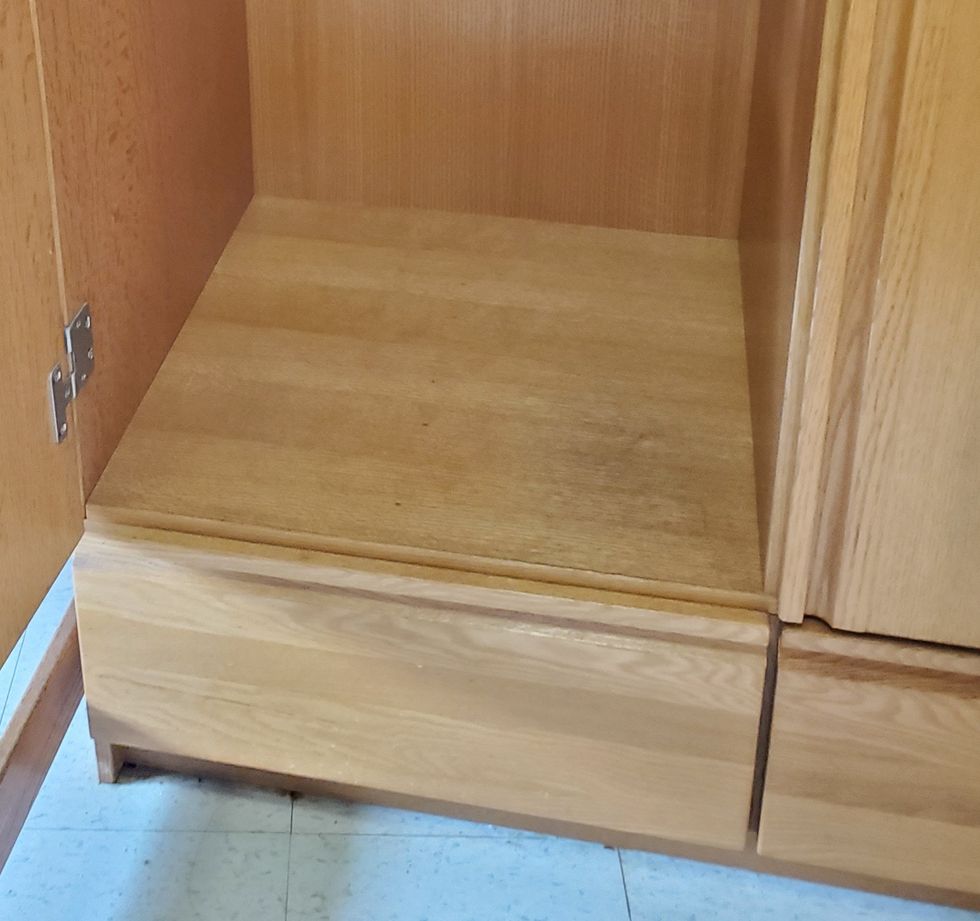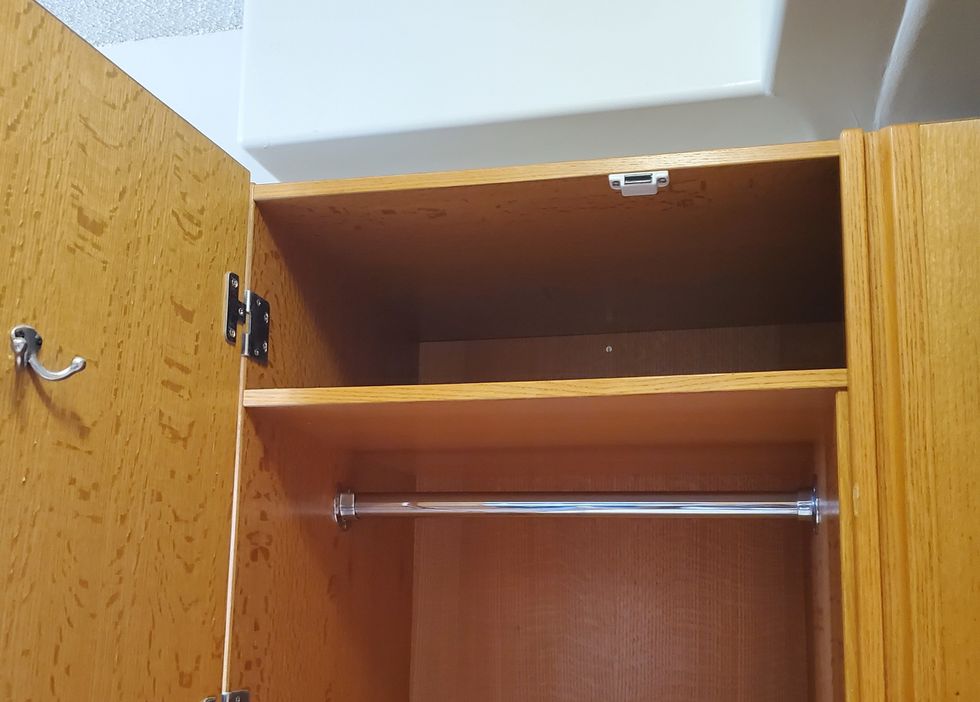 Cable Management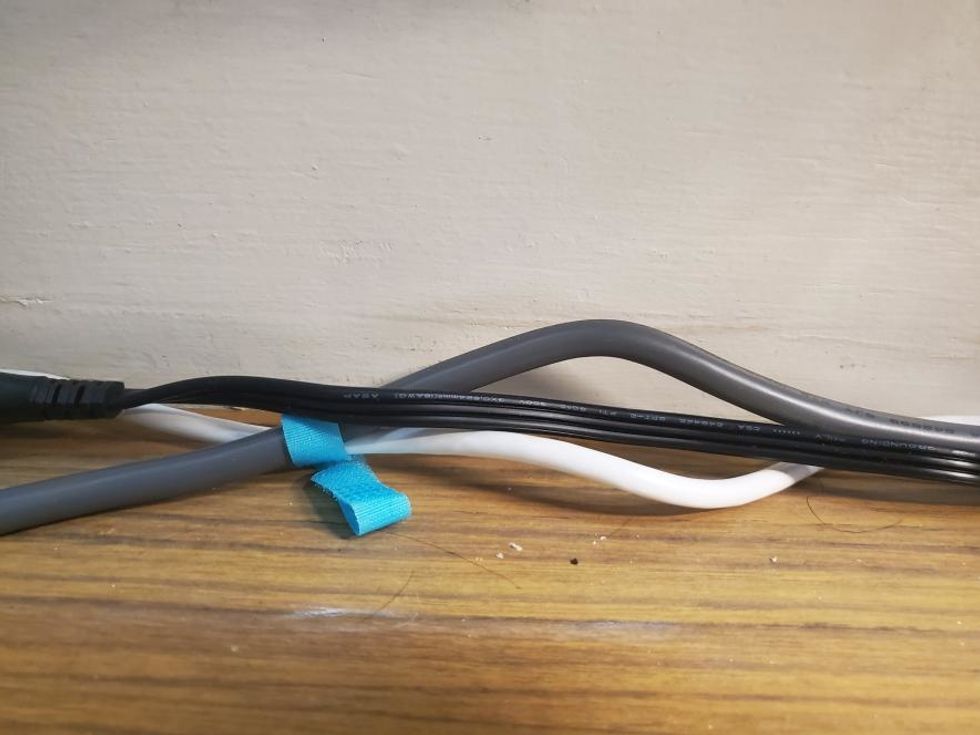 Erin Okada
There are four pairs of outlets in each room, two at each desk. One is directly in the wall, and the other is an outlet box. I've found that neither outlet box works in my room, although I'm not sure if this is the case for every Hale Aloha room. As there are only four functional outlets (in my room at least), you're going to want to purchase a power strip to plug in multiple cables. I bought one for each side, but I only use the right one for my fridge and microwave (since the cords for those are too short to reach the wall). Make sure to remember that extension cords are not allowed in the University of Hawaii dorms, so if you want to extend cords you're going to need to either purchase a longer cable (if it's a generic cord like a phone charger) or buy a power strip.
If you have a lot of cables like me, I'd strongly suggest buying some cable zipties to organize your cables and keep them together, as well as carefully arranging your cables to try and maximize your desk space.
More Desk Tips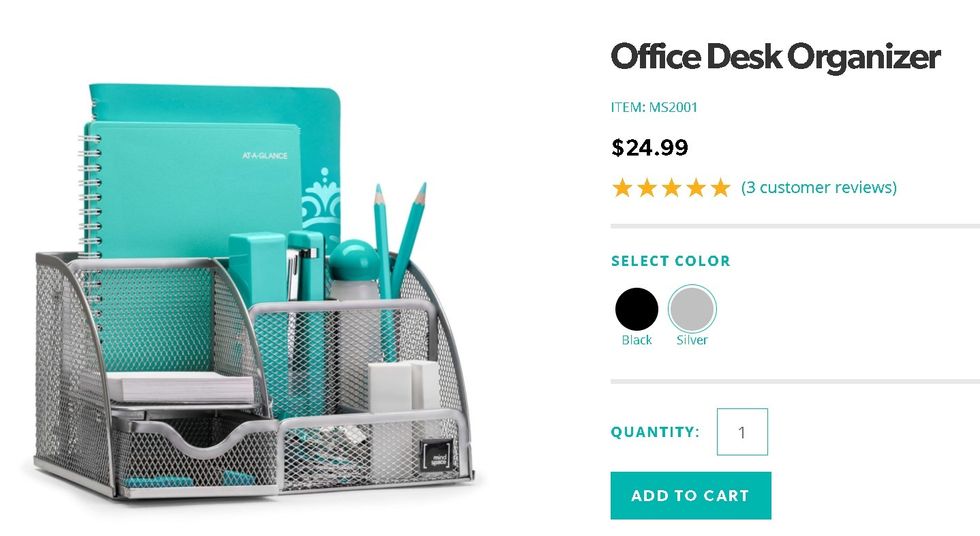 mindspaceny.com
I am planning on buying a monitor stand or two for my room as I have a monitor, but also to use the vertical space above my power strip. While monitor stands can of course be used to support a monitor if you have one in your dorm, they can be used as shelves as well to use up unused vertical space on your desk. The right third of my desk is covered by my fridge and you'll be using your desk for schoolwork (unless you use your bed or go to a lounge or library once those reopen) so you need to have some open space for that as well. Because of those facts, you need to use the limited space you have as effectively as possible. I also bought a mindspace desk organizer to organize my pens, pencils, some notebooks, and even some cute keychains since the organizer is made of wire mesh.
Your desk also has six drawers, three on either side. Keep each drawer organized and for specific items so it's easier to find things when you need them. I have drawers for food, health/beauty items (such as bandaids and scrunchies), and school items. On the other side, I have drawers for my free writing notebooks, art supplies, and one is empty but I'd advise using your hidden space as much as possible to keep the visible space as clean as possible. When you're moving in, it's better to at least put things in the right spot even if they're not organized yet so you can at least portion out your space.
Shelves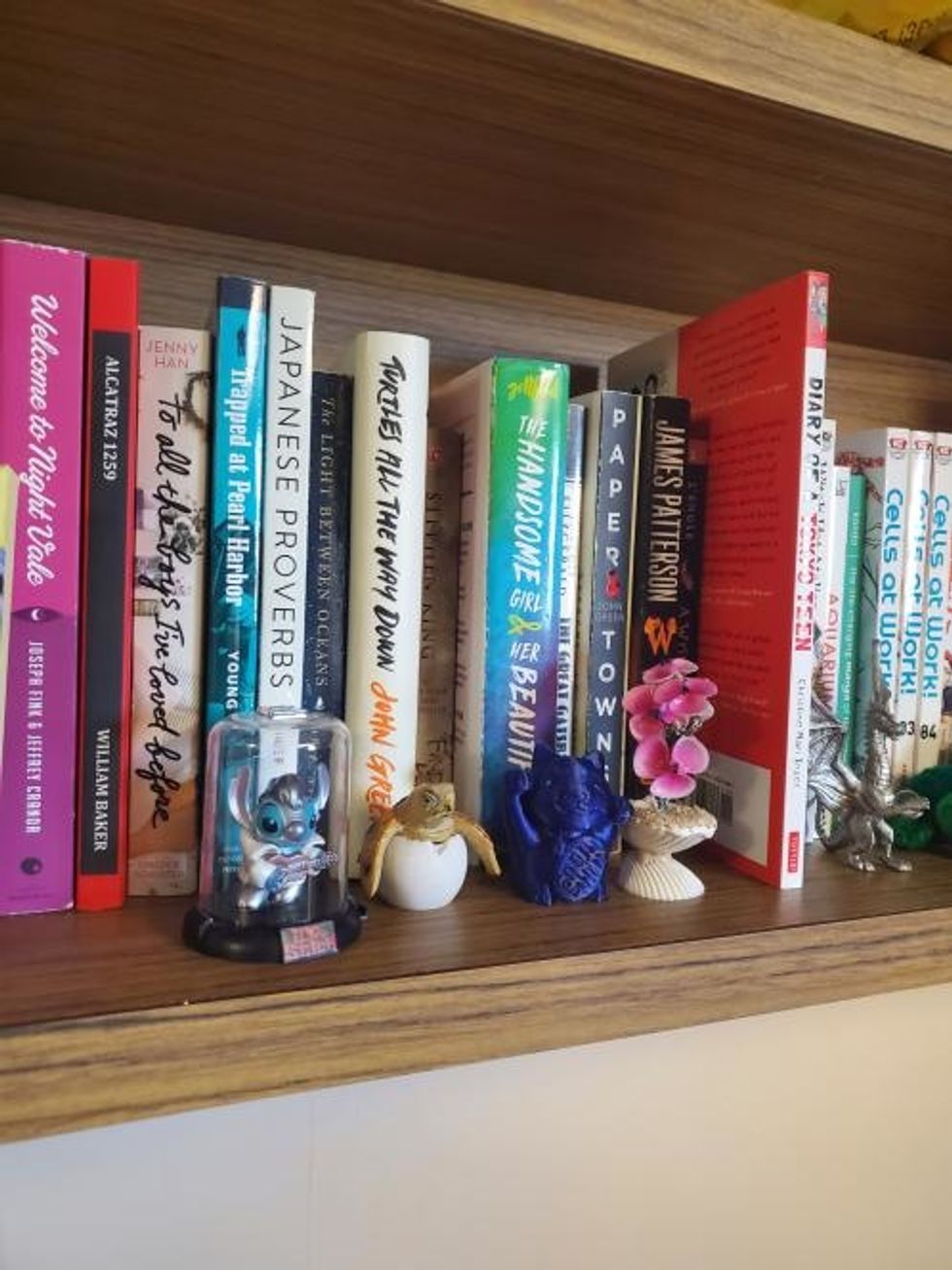 Erin Okada
Your room has two shelves on each side of the room for you to use as you like. I use my bottom shelf for books and small decorations, and as it has a wall connecting the shelves on both ends, I use those two spaces for my language dictionaries and some snacks, but you could use them for whatever you like. I use the top shelf for snacks, cleaning supplies, and some games, but I personally don't think it's suitable for books unless you have stands or something else to hold them up, as it doesn't have the walls to support the books themselves.
Some of my friends don't have books (as I am an avid reader so I have more books than most people) so they use their shelves for small decorations. I also have a lot of small things that I display in front of my books, which is another way to make your room yours, display some of your personality, while using the limited space available to you.
Containers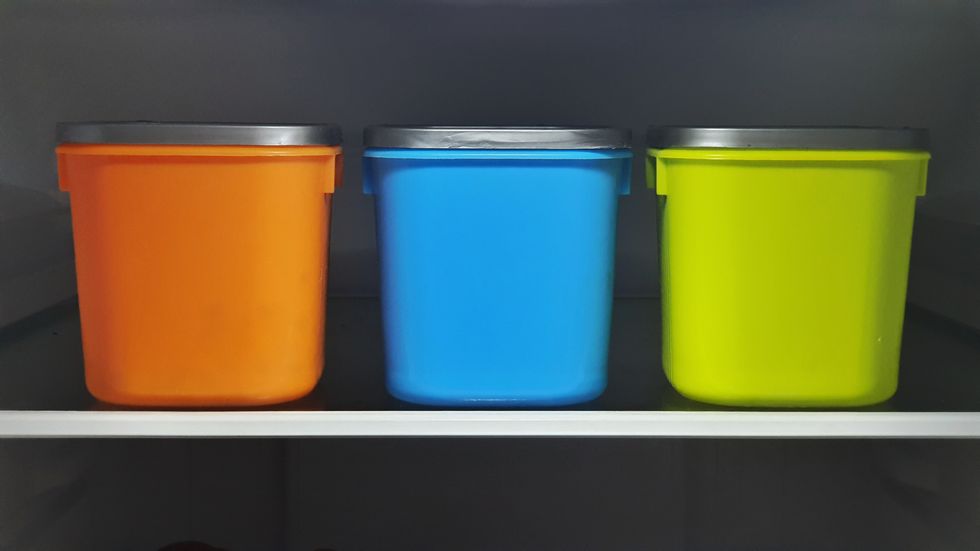 Photo by
Syed Hussaini
on
Unsplash
You're going to need containers, whether it's for storing food or pens. However if you're not actively using the containers, what do you use them for? Why, taking up more precious space, of course. Ziploc containers are good for food and while not collapsible, are stackable. I also have a collapsible washbin that I can use for washing things in my dorm (since it's sometimes too late to go out to the kitchen on the roof) or for carrying my dishes up to the kitchen. Collapsible containers are always useful as they take up less space, but if you can't get collapsible containers, stackable is good enough. Also, look into drawer organizers to keep things from sliding all over the place and to also keep it cleaner for finding things you need.
Drawer Organizers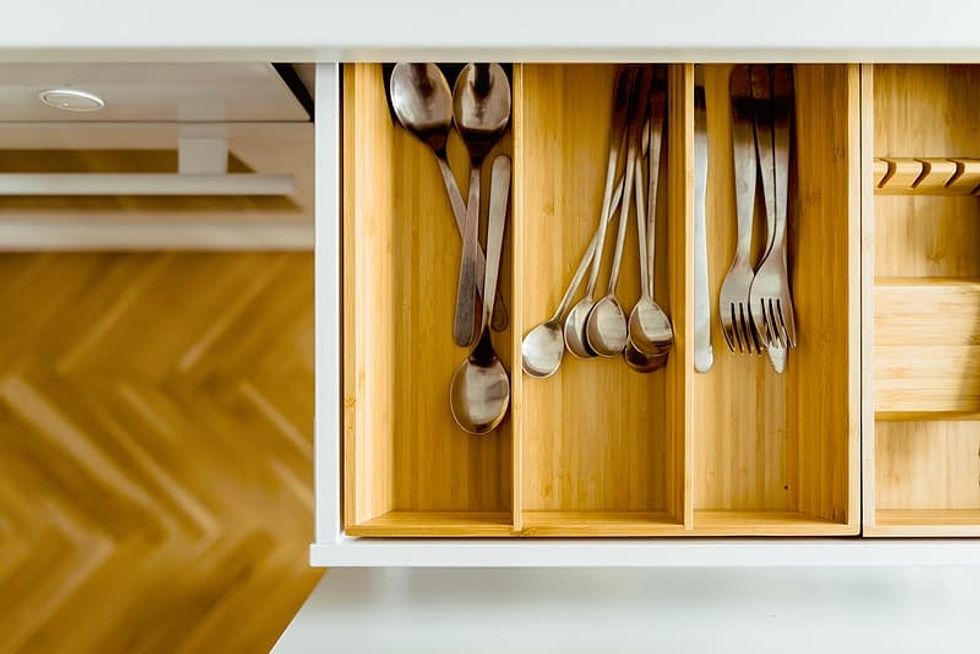 You can use drawer organizers for several things, and there's many different types of organizers. I bought a set of four in varying sizes and having a different number of sections that I use for my pants and shorts. You could use drawer organizers for keeping your desk or closet clean by using them to organize your cables, desk supplies, or other small items. I strongly suggest buying a desk organizer like the one in the photo for keeping your school supplies organized, or you could use it for your food drawer.
Over the Door Hooks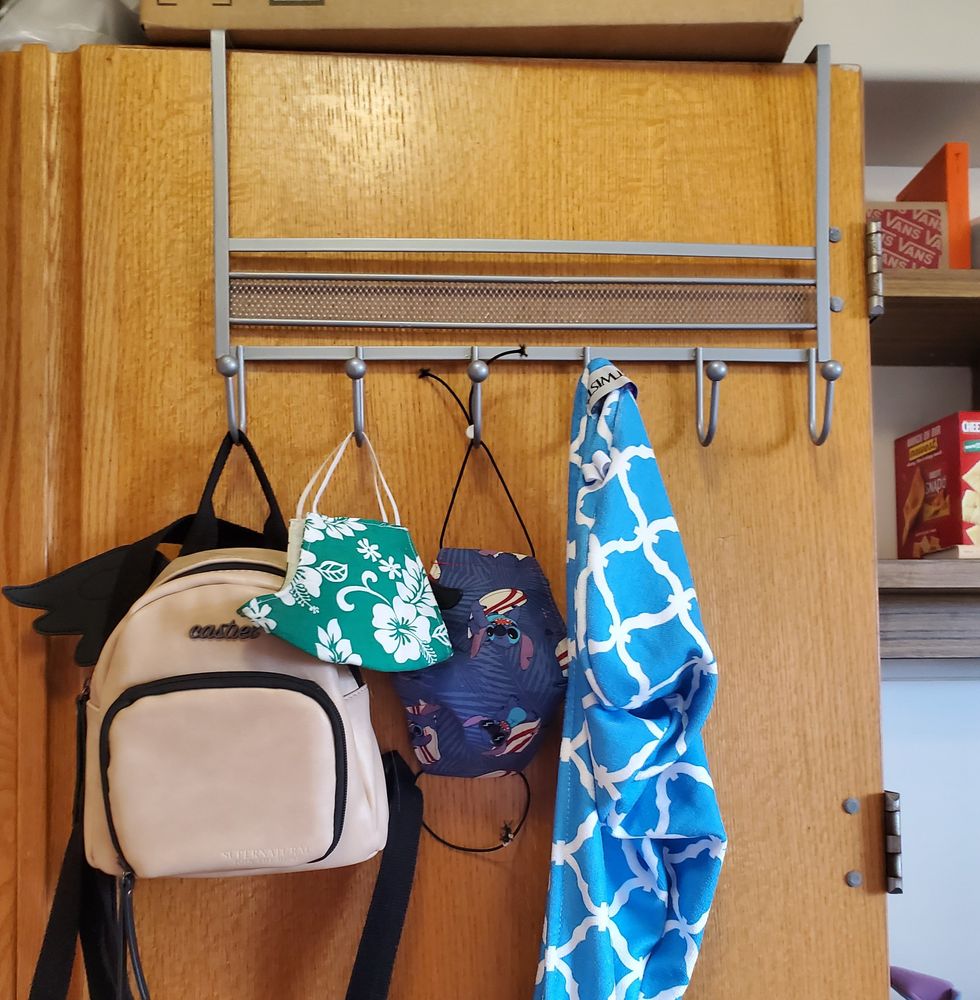 Erin Okada
Over the door hooks can help keep stuff like backpacks and masks off of other surfaces that can then be used for other items. I use mine for my mini backpack, masks, and shower cap. The hooks, if hung on the wardrobe doors, are also near the entrance to your room and can be used for items you regularly take out of your room. You could also hang up jackets here if you use those a lot.
Bedside Caddy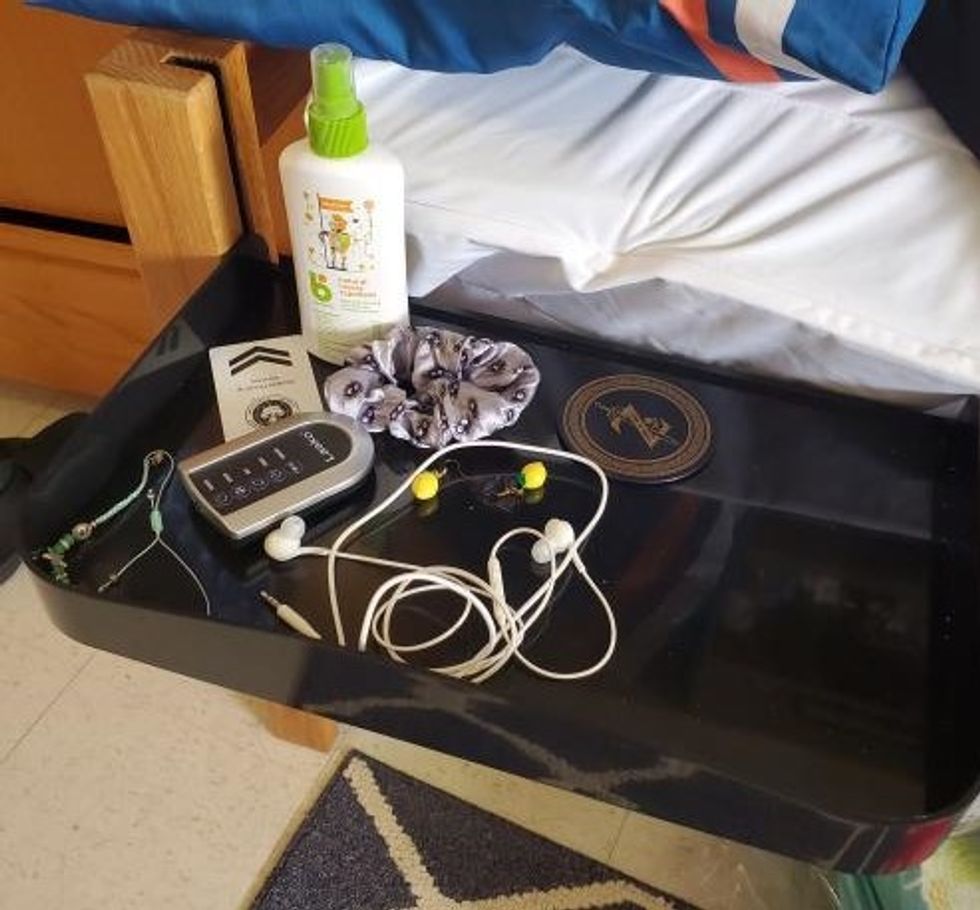 Erin Okada
Making the Room Yours!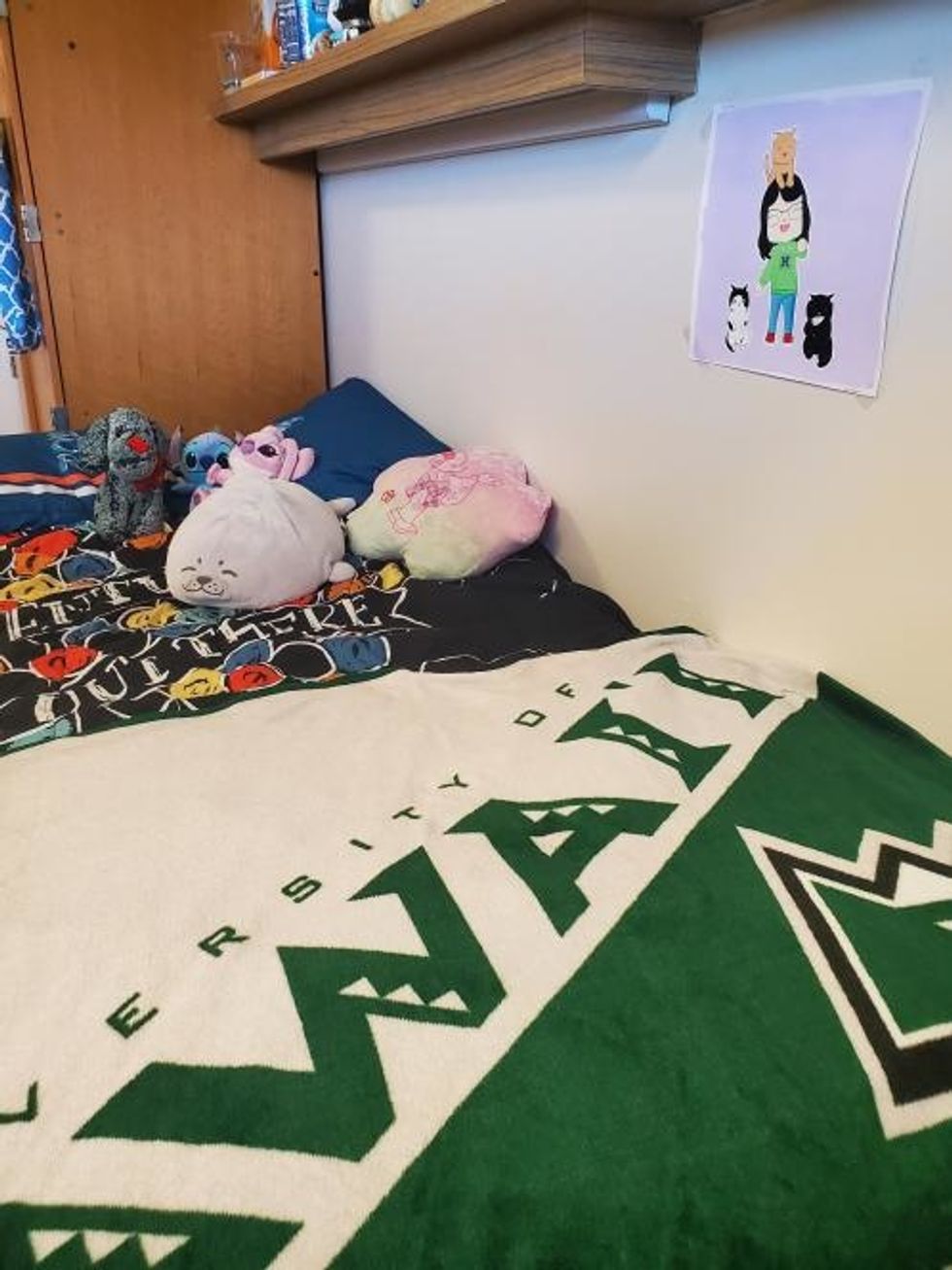 You'll be living in this room (and the dorms) for a while, so it's important to make sure that you love being in it and that it reflects who you are. Some ways you can express yourself through your decor are by using small decorations like I've mentioned before, or by using posters! You won't be using your wall space for much else, and posters are a good way to express yourself while not taking up too much space. There's a good amount of wall space between your bed and shelf, or you could always hang posters or magnets on your fridge or wardrobe.
One other good way to personalize your room is by using your bedspread, pillowcases, and overall bed area to your advantage. I have an UP comforter, Lilo and Stitch pillowcases, as well as some stuffed animals that really express who I am. You could also use a plain bedspread if that's more your style.
Check the Prohibited List!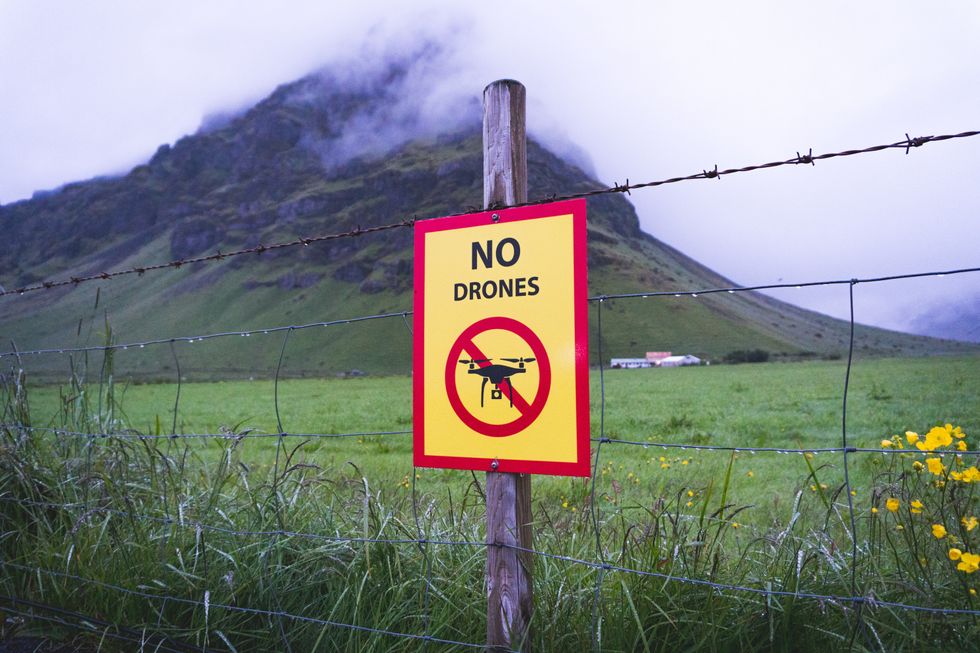 Photo by
Martin Sanchez
on
Unsplash
One final tip is to check the prohibited items list before you move in! There's some items you aren't allowed to have that you might not expect, such as string/fairy lights as these pose a fire hazard, lava lamps, and air conditioning. You are allowed to have air conditioning or a service pet in your dorm if you are approved by the KOKUA office as needing it due to a preexisting condition, but if you are not approved and do not have the proper paperwork completed, you will be charged for any disallowed items in your possession. You also are not allowed to have anything like a hot plate that could pose a fire hazard, so for cooking you will need to have food you can make in your dorm or use the communal kitchen on the roof.