For anyone who's been living under a rock, we've had the first two debates of the 2016 election in the past couple of weeks. The first was between Trump and Clinton, the Republican and Democratic nominees respectively. The second was between their vice-president nominee, Pence and Kaine; Pence for Trump, and Kaine for Clinton. These debates, while incredibly different, were also incredibly similar. Logically, it seems to make sense that these debates would be similar, but the level of similarity was somewhat crazy. Here are some of the top similarities I noticed throughout both debates.
1. "Wrong. You're wrong."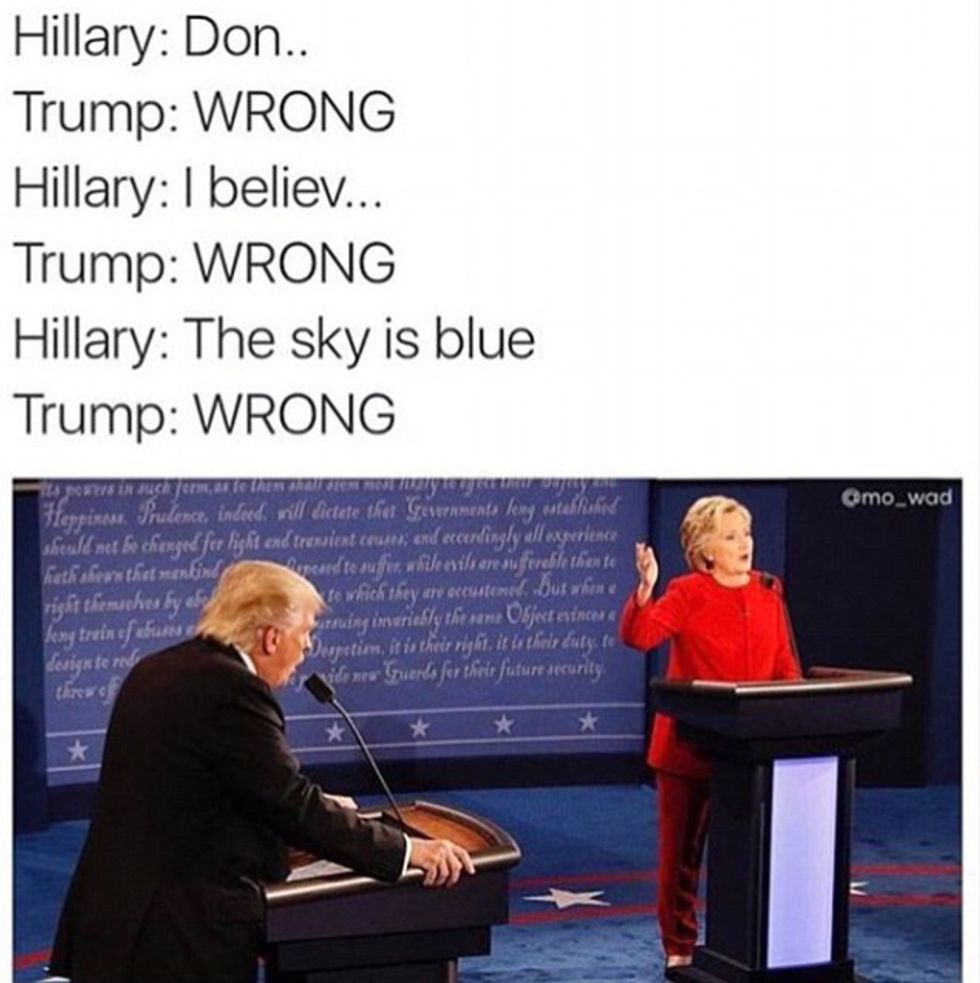 Throughout the presidential debate and the vice-presidential debate, the Republican candidates seemed to have one strategy - deny everything that they've ever said. In the debate, Kaine called out Pence on saying that "Vladimir Putin is is a better leader than President Obama," which Pence immediately declared to be "absolutely inaccurate." The truth is that yes, he did say that, in an interview with CNN. Trump also claimed that people were "wrong," notably when calling Clinton out on her statement that crime was down. He believed that it was up, when it's actually down 4.3%.
2. "Witty" one-liners.

The Democratic candidates apparently decided that their approach to the debates was going to be relatable jokes that would appeal to a younger audience. During the presidential debate, Clinton grabbed the attention of the audience with the idea of "Trumped up trickle down economics." That caught the attention of many viewers of the debate, and was talked about after which was the point, but it also made many of us groan at the cheesiness of it all. In the most recent debate, Clinton's VP nominee Kaine came out with zingers such as, "You're Donald Trump's apprentice," and "Do you want a 'you're hired' president in Hillary Clinton or a 'you're fired" president in Donald Trump?" Both of those were met with groans from most of us viewing at home and didn't land well at all, considered by CNN to be done "clumsily."
3. Interruptions galore.
Yep. The moderators were, yet again, interrupted. Poor Lester Holt couldn't get a word in edgewise during the presidential debate, and Elaine Quijanowas all but ignored. These actions came across to many viewers as childish, on both sides of the political spectrum, although it was hard for some to see their candidate doing the wrong thing. Democrats don't like to admit that Clinton was interrupting Trump, and the Republicans don't want to admit the same about Trump. The main difference, however, is magnitude. In the presidential debate, Trump interrupted Clinton a total of fifty-one times. She interrupted him seventeen. In the vice-presidential debate, they both interrupted each other about the same amount of times.
Many people like to think the candidates are both complete opposites of each other. And yes, in their views, they are. But their tactics are rather similar, which goes to show that even those with incredibly different opinions can do things in a similar way.