I've spent the past few months studying abroad in Italy, and almost every weekend I hop on a plane or train to travel. I've visited roughly fifteen new cities in eight new countries, and I think I've picked up a few tips along the way.
Cross check as many websites as possible for the best deals on flights, trains, buses, and lodging.
There are a plethora of websites that help you search the web for cheap flights and trains. It is best to search all of them and cross check to make sure you're getting the best deal. The same goes for lodging. Make sure you check multiple types of lodging options before booking what you assume would be cheapest. Also, be sure to search in an incognito tab so prices don't go up as you continue to browse!
Favorite transportation websites: GoEuro (now called Omio), Skyscanner, Google Flights, Expedia
Favorite lodging websites: Airbnb, Hostelworld, Expedia (sometimes a hotel can be cheaper!)
Be flexible with travel times
You will not find a flight that's cheap at a convenient time. The cheapest flights leave at the most inconvenient times and there is really no way to avoid it. Be more than prepared and accept the fact that your flight will probably leave at six a.m. or 11 p.m. But in those times of waking and sleeping at weird times, remember that the flight was $20. Also, sleeping in airports is 100% the move.
Learn to pack light
I'm no stranger to overpacking, but I've learned to travel with only the essentials. The budget airlines only allow a small bag, which is usually the size of a backpack. Pack outfits you know are tried and true, and be prepared to wear things more than once. Try bringing three shirts that match one pair of pants; anything you can do to de-bulk your bag helps.
Make a rough itinerary of what you want to do
Once you arrive, have a rough itinerary of what you want to do in your destination. If you go in blind, you'll probably miss out on some cool stuff. Prioritize what you want to spend money on; if you're a big art person, spend money on the art museum tickets, not the history museum. Know what you want to accomplish within a day, but leave time for meandering around the city. I'm a firm believer that the best way to get to know a culture is just by being present in it; you can't do this if you're constantly hussling from place to place.
Google itineraries are your new best friend. If you Google "Berlin in a day", or whatever city, Google generates an itinerary of the highlights of that city that can be accomplished in a day or two. It also gives you the most efficient route between the highlights and how to get there. This is a LIFE SAVER.
Pro Tip: Always ask if the place you're visiting has a student discount. A lot of the museums in the EU can be entered for free with a student visa in the EU. If not, places usually have at least a few dollars off!
Food (the wallet's biggest downfall if you're not careful)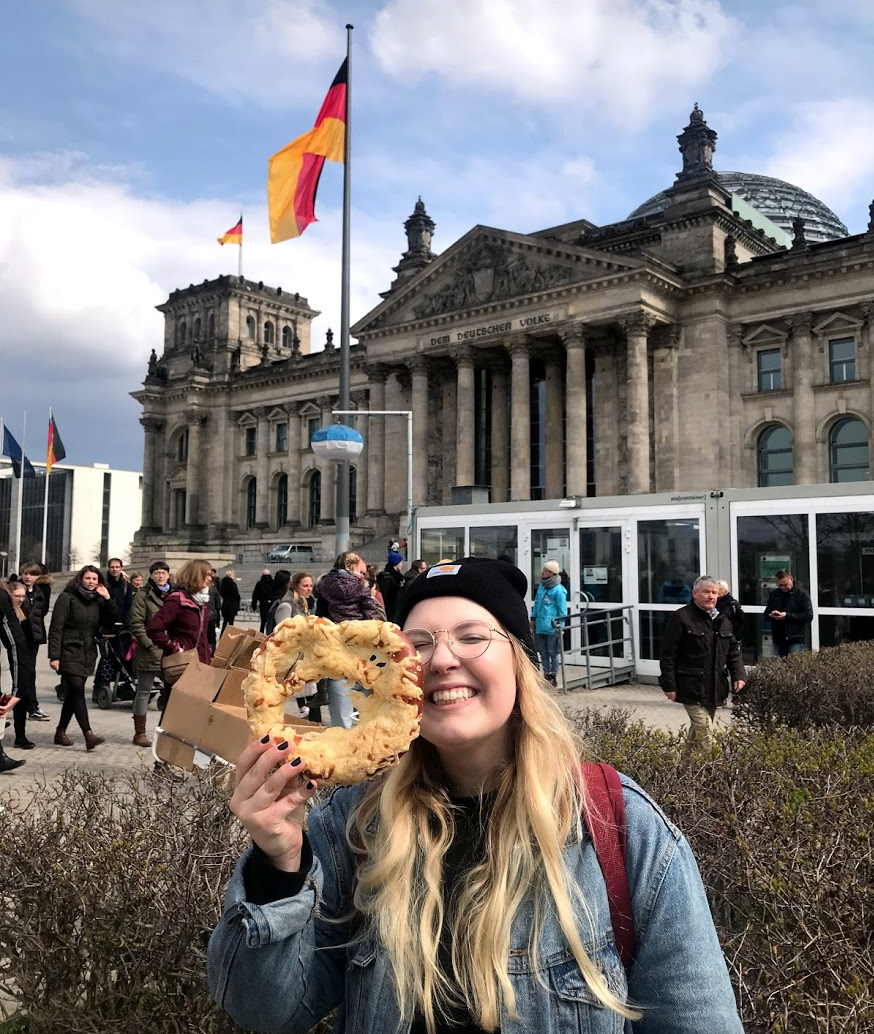 A pretzel from a street market... was around a euro.
Food is oftentimes the culprit when I'm suddenly down $20 in what felt like 20 seconds. My biggest tip is to only eat out one meal a day. Eating out can add up very fast, especially when you're doing it three times a day. For the meals that you're not eating out, check out grocery stores or markets for cheaper eating options that are still within the local cuisine (I lived off of croissants, baguettes, and cheese in Paris).
When you do eat out, make sure it's a good meal. Don't settle for the restaurants with the English menus outside in the most touristy areas. Yelp and Google are your new best friends. Even Googling "authentic Hungarian cuisine cheap" has resulted in the best meals my friends and I have had. Use the internet to your advantage.
Getting around within cities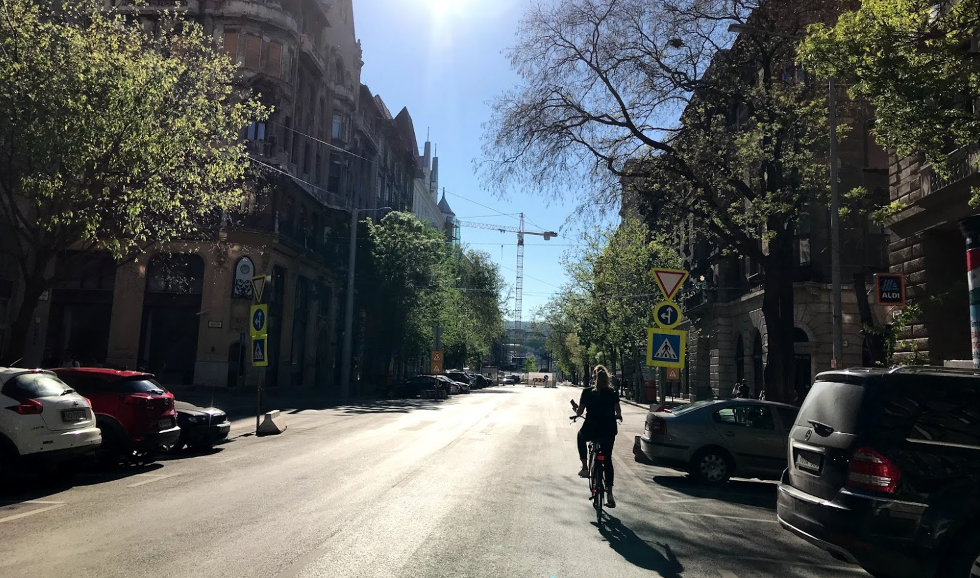 It really depends on the city whether you need public transportation or if its walkable. Smaller cities like Prague and Budapest? Definitely walkable. Bigger cities like Paris and Berlin? You definitely need public transportation. Just because its a big city doesn't mean it has good public transportation, though (*cough* I'm looking at you, Paris *cough*).
It's helpful to pick accommodations that are close to the main things you want to see in a city, but sometimes it just isn't possible. Public transportation can be unreliable, confusing, expensive, or inconvenient. What do you do then? Ubering is expensive.
Try ridesharing apps that allow you to rent bikes or scooters. We got around Paris almost exclusively by scooter and it was incredibly cheap and easy. Almost all European cities are incredibly bike lane friendly, so navigating on a bike or scooter isn't too daunting.
If you're not on board for the bikes or scooters, don't be above an hour-long walk. If it's nice out, this can actually be really pleasant and a great way to see more of the city.
Give yourself time to chill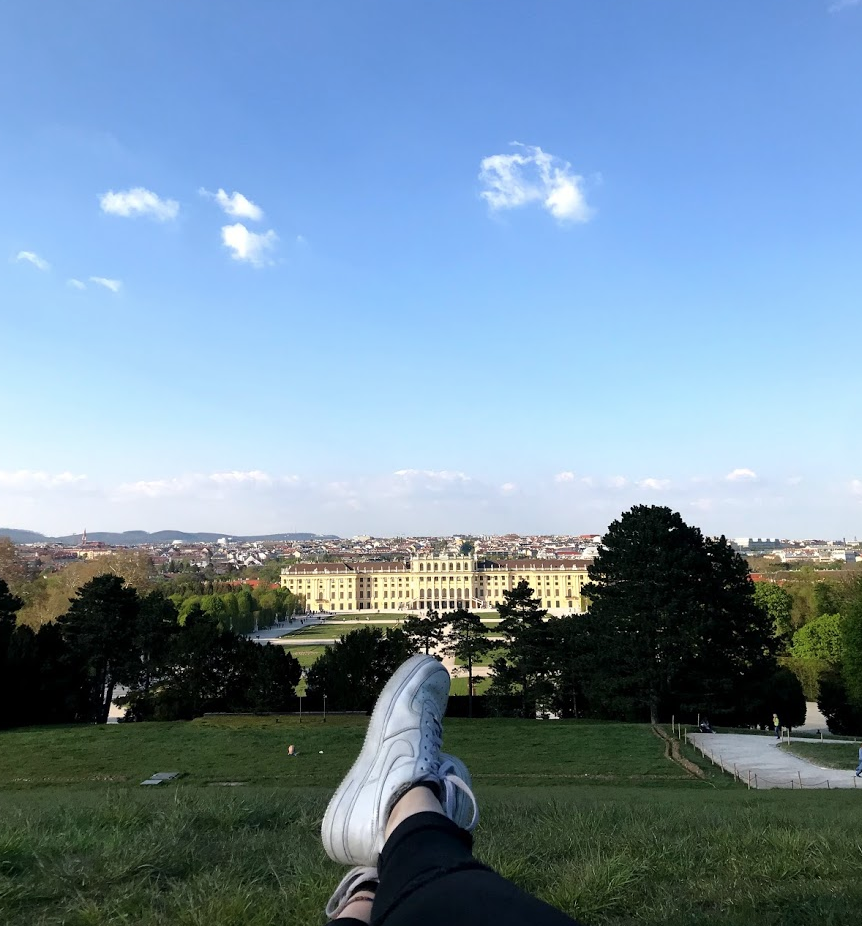 Travelling is exhausting. Especially when you're doing it in such a short amount of time with so much to do. Give yourself breathers to take in your surroundings and appreciate where you are. Don't feel like you have to be go go go the entire time. Some of my favorite memories from my travels have been sitting in parks and people watching. Give yourself a chance to take it all in.