When prom season rolled around in 2013, I went shopping like all the other seniors. I bought an underwhelming dress because I was anti-prom but still wanted to go. It was pretty and worked for me and everyone said it was perfect and "classic."
But my dress, the thing I thought everyone would get upset over, wasn't what people criticized me for—It was my shoes.
I didn't wear some elaborate heels that would kill my feet by the end of the night, instead, I wore sandals. They were plain black sandals with teeny tiny wedge ends. My friends were outraged. They said I did prom completely wrong. How could I wear sandals? Well, easily, and if I had thought to wear crocs I probably would have.

See, people put so much pressure on what you "should do" and what other people will think of what you are doing. I used to be the same way. I used to freak out if others thought I was weird or not doing it the way it "should" be done. But by 17, I was over what everyone thought. My sandals were comfy and fit my underwhelming dress. My whole outfit fit me as a person. I like being comfy and I like being myself. There is no shame in that.
So, where do Crocs come in?
There are wedding Crocs. Don't believe me? Here they are: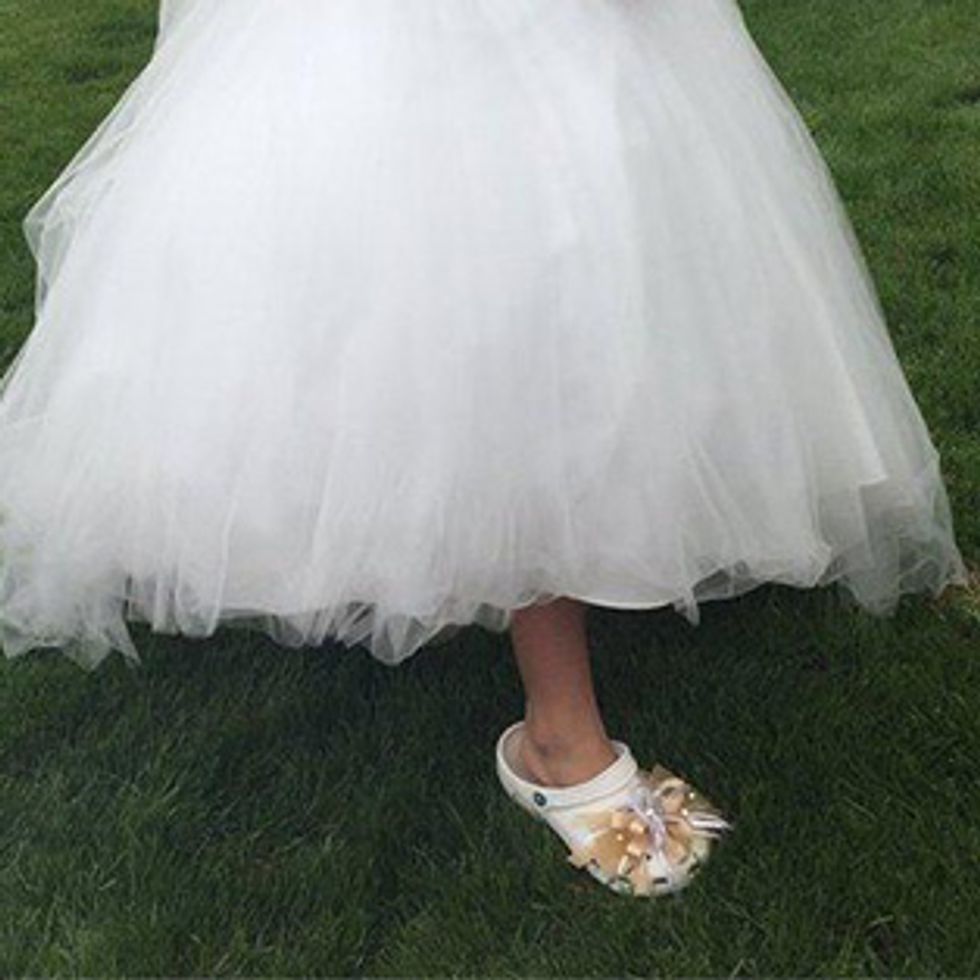 And I know what you are thinking, WHO would wear these?
Me. Well, um, I would. Happily actually because I have the same mentality now as I did for prom (that story had a point). You see, I want to be comfy and honestly, if you have a puffy dress above, no one will even see your shoes, so why risk tripping or blisters on your wedding day?
I wouldn't, so I'd wear Crocs. Just think about how much your feet will thank you and if you are worried about pictures you can bring a pair of real heels and slip them on for the pictures or slip the Crocs on after the ceremony. Either way, you win (though I'd wear them the whole time, that's just me).
I'm just saying, wear Crocs on your wedding day if that'll make you comfy...if you do, please send me pictures, I need inspiration when designing mine.
Wear Crocs on your wedding day if it'll make you happy and comfy. Conformity be damned in the name of comfy feet.