I always thought that having a knee scooter would be the bees knees. You see people cruising around on them like it's a breeze, and you think why wouldn't you want an excuse to ride a scooter everywhere? Well now that I've had surgery and I am non-weight bearing on one leg for awhile I can assure you that it is not all rainbows and butterflies.

1. Step on a crack, break your mom's back.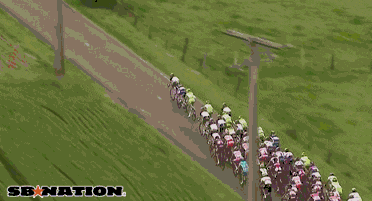 Hit a crack, a pea pod, a pothole, or a weed and you can risk crashing and falling on your bad foot, hurting yourself really badly, all while being super embarrassing in the process.
2. People are always staring.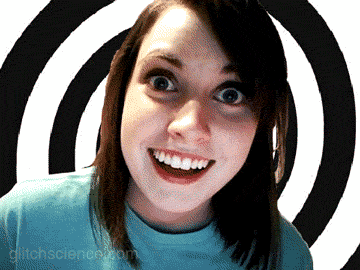 Whether they offer you help or not, they are staring. When you are struggling to go up or down the stairs, when you are trying to avoid all those cracks in the sidewalk on campus.
3. Grass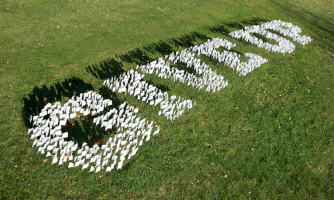 Grass gets to be it's own category, because it is painfully difficult to go through grass. So painfully slow and difficult that you'l probably just have to get someone to try and push you and your scooter to your destination
4. Driving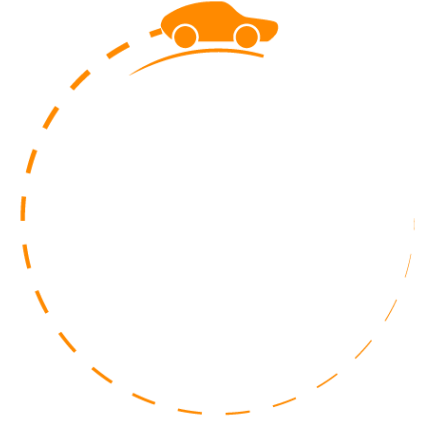 If you are lucky enough to still be able to drive, loading your scooter in and out of your car when you are alone is such a pain in the butt. You can either load it in the back and hop around to the front, or you can try and pull it through the front seat, over your lap to the passenger seat. Either way its exhausting.
5. Hills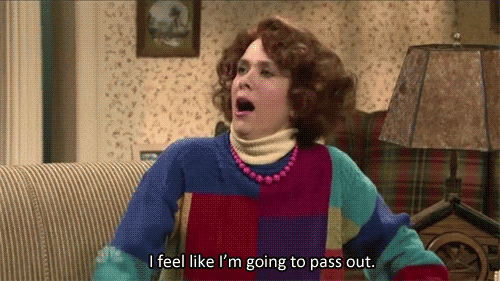 Whether you are a college student or not, you are likely to encounter some hills. They are the
worst
because you have to put in so much effort to go up them, and it is exhausting. Your good leg gets tired, and you get our of breath easily. And going down hill just gives you more opportunities to crash.
6. Sweat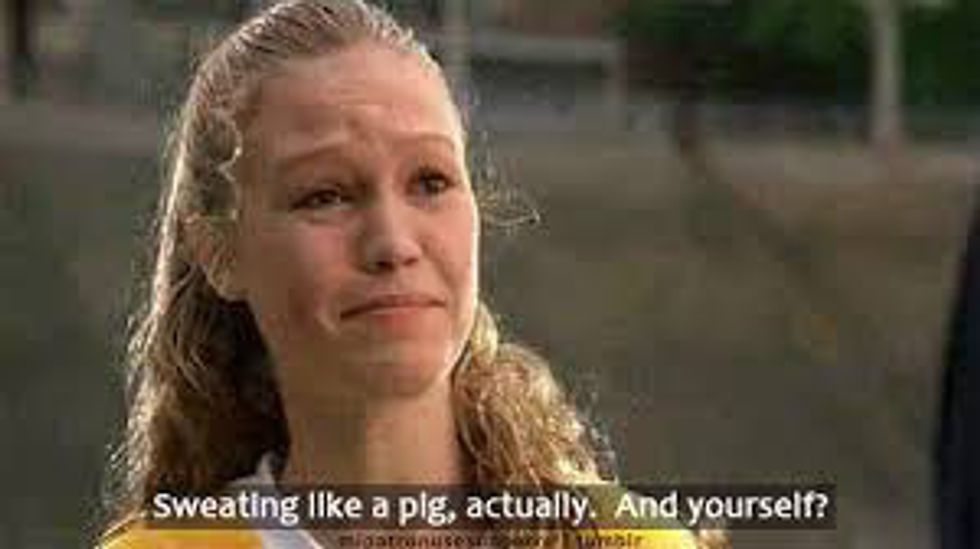 The scooter is heavy, and it takes more work than you think to lift it and make it move where you want to go. You are constantly dripping sweat, which wouldn't be as bad, except everyone is still staring at you..
7. You spend every moment thinking about when you will be able to walk on your own again.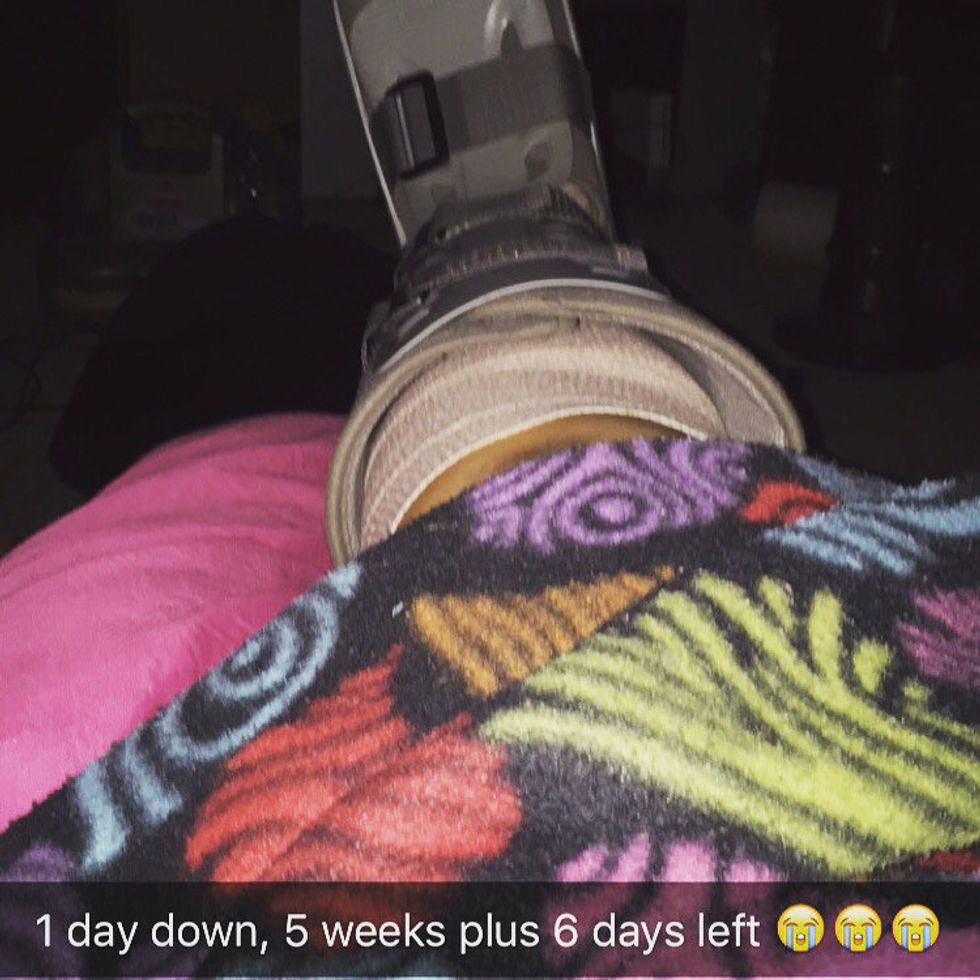 I never knew how important walking freely really was to me. I am eternally thankful for my feet. You also remind yourself every day how many weeks have passed and how many more week you have left to go.
8. You rely on your family, friends, and the cleaning lady in your dorm to help you do everything.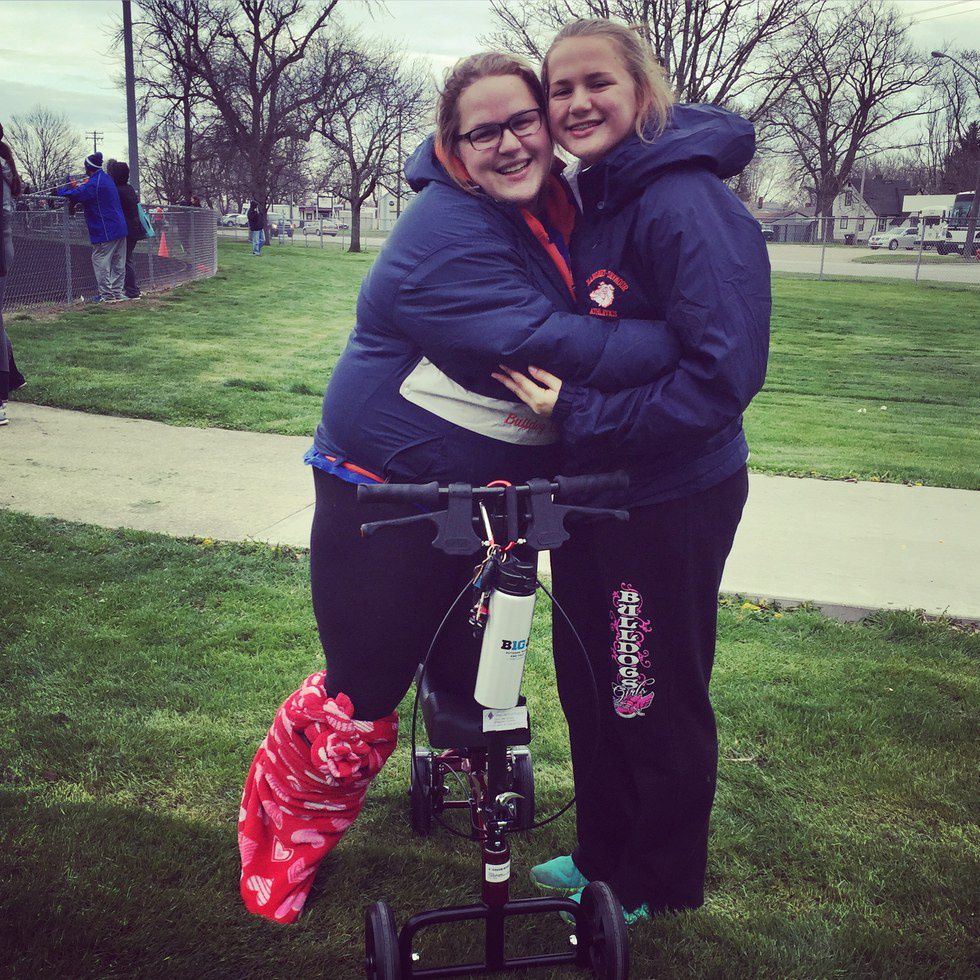 From simple tasks like getting around, to making food, doing laundry, and even to cleaning your toes (thanks mom), you need help with almost everything. So thanks to everyone who has helped make my time of being immobile so much easier.
9. You fall behind on life.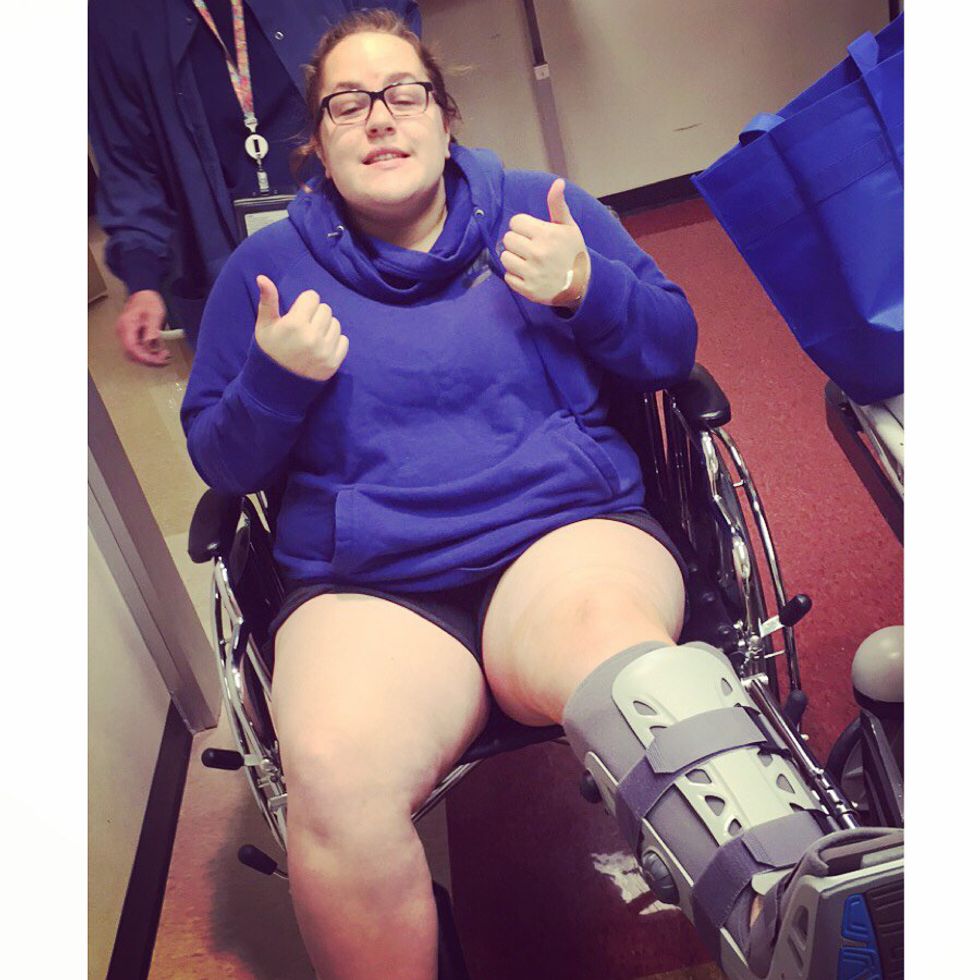 You are always behind because you are constantly exhausted. You spend most of your time sleeping when you should be in class or doing homework, but it's also a part of the healing process so you just have to hunker down and do it. You will get caught up eventually, so don't stress.
10. Even getting dressed is difficult.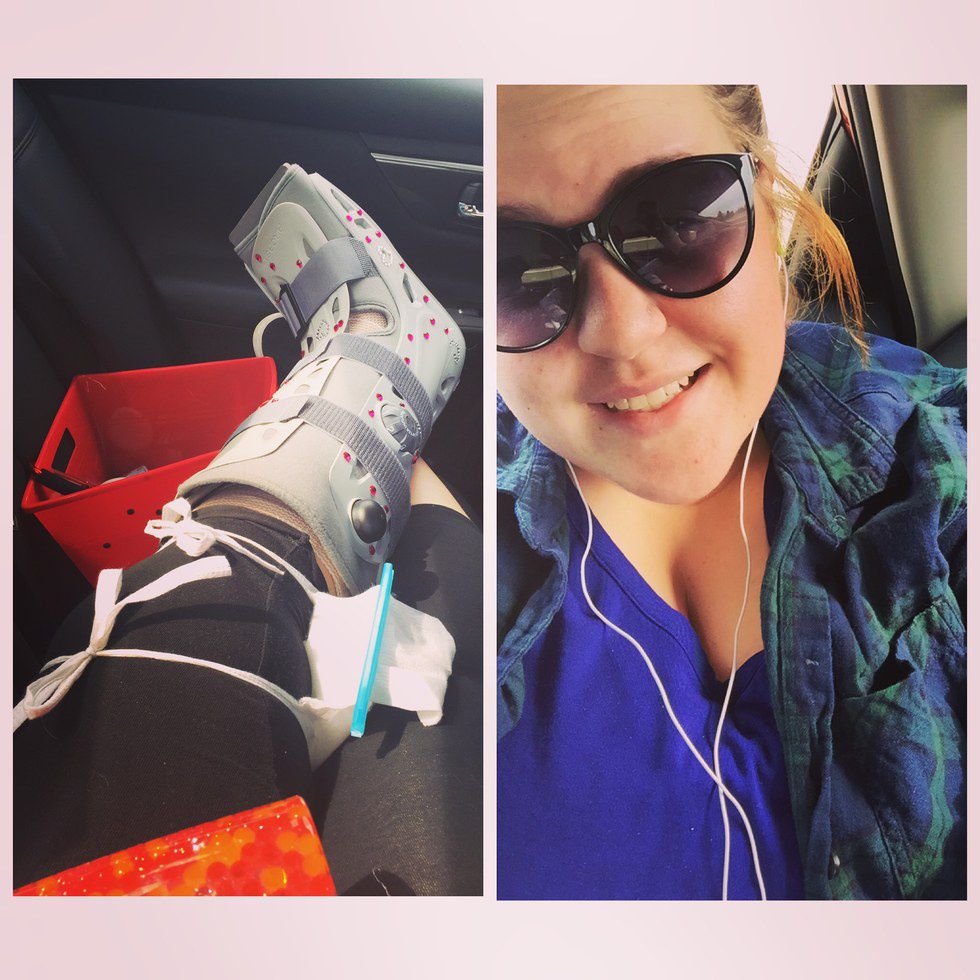 Getting dressed with your cast on with the scooter is so difficult. It's so hard that when you dress yourself for the first time you are actually beyond proud of yourself, especially when it is yoga pants. No one has to know that in order to get those on you had to lay on the bathroom floor and get into a lot of different positions.
11. Everyone wants to ride it.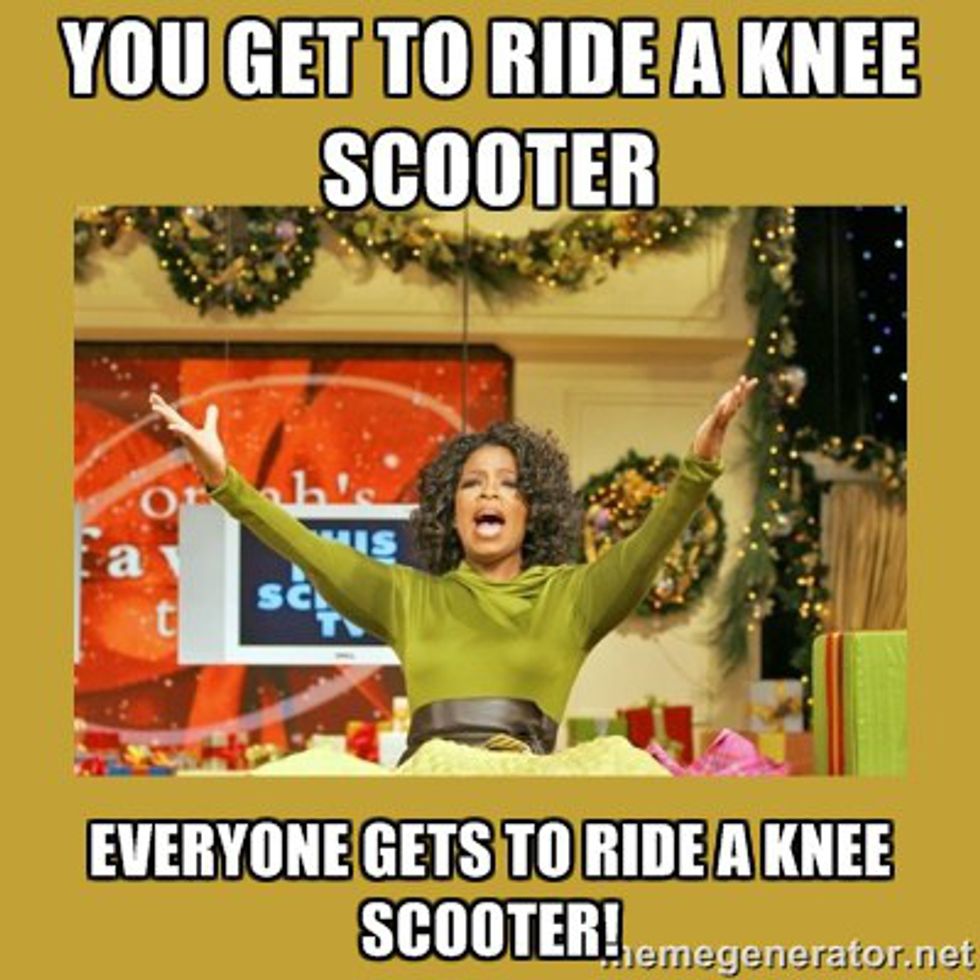 When you are on a knee scooter, everyone wants to ride it. People, especially kids will ask you all day long if they can ride your scooter. I'm left hobbling around on one foot while you take my scooter for a ride around the block.
12. Endless questions.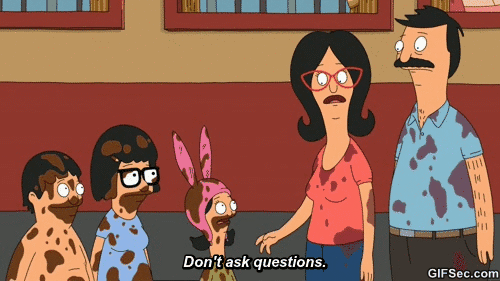 It's not just questions about if they can ride your scooter, but how did you hurt yourself? how long do you have to be on the scooter? This thing seems pretty fun, isn't pretty fun? You get around awfully fast with that thing, isn't that great?
13. Overall, you can trust me when I say that the last thing you want to do is be on a knee scooter, or to be non-bearing on one foot. Be thankful for all the two legged walking you get to do, and watch out for scout the scooter as I'm rolling around!

All in all, I'm just glad that this is gonna be over in two weeks. I'm not sure how anyone handles the struggles of a knee scooter but I'm over it. P.s, the next person who parks in the only handicapped spot by my building without a handicapped parking permit will feel my wrath.