Honestly, you're lying if you say relaxing in your bed with your favorite snacks and Netflix isn't your favorite thing to do. Everyone loves to find new movies and shows to watch, or to re-watch their favorites. Netflix has been proven by college students everywhere that when you just don't want to study your material anymore, or you just need a break from the course load, Netflix is the number one distraction. As a seasoned procrastinator/distract-ee, I'm here to open your eyes to some great finds on Netflix that I've enjoyed on more than one occasion.
---
1. "Hemlock Grove"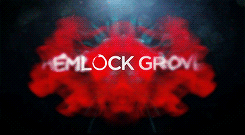 If you like werewolves and blood sucking she-demons, you'll love "Hemlock Grove." It is a Netflix original series based on the book by Brian McGreevy. It revolves around the crazy residents of the Pennsylvania steel town and the murder of a teenage girl. The two suspects – teenage boys Roman Godfrey, the rich son of a steel magnate, and Peter Rumancek, a vagabond suspected to be a werewolf – team up to solve the murder themselves, revealing the supernatural side of their town.
Number of Seasons: 2
Star Rating: 4/5
TV Rating: MA
2. "Stardust"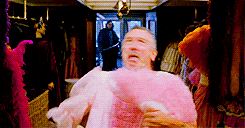 Honestly, I had never heard of this movie until it was recommended to me a few weeks ago. Since then, I've watched it four times. All I have to say is: Robert De Niro as a cross dressing pirate. The gif explains it all. 10/10 would recommend. Watch it, you won't regret it.
Star Rating: 4/5
TV Rating: PG-13

3. "Heathers"
This is one 80's movie I didn't think that I would enjoy. But once I started it, I knew that I would become obsessed. It's a fantastic movie starring the
very
talented Winona Ryder and Christian Slater. Between several psychotic breaks and a sociopath's mindset, this movie definitely kept me on the edge of my seat.
Star Rating: 4.5/5

TV Rating: R
4. "Clueless"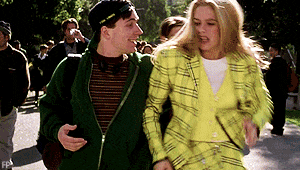 A cult classic. If you've never seen this movie, you're insane and you're missing out on one of the best cinematic masterpieces that has ever been created. Alicia Silverstone, Brittany Murphy, and Paul Rudd grace our screens with some of the wittiest comebacks that make this movie one of the most frequently quoted movies of millennials everywhere.
Star Rating: 4.5/5
TV Rating: PG-13
5. "Ferris Bueller's Day Off"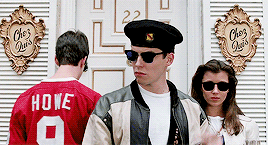 Another cult classic worth the watch. If you're ever at home sick wanting to watch some high school kids skip school and take their parents' cars on joyrides into the city, then this is the movie for you. "Ferris Bueller" is one of the most hilarious movies I've seen on Netflix. I rarely buy DVDs, and this is one DVD I had to buy. I'm obsessed with this movie, and Mia Sara is such a beauty.
Star Rating: 4/5
TV Rating: PG-13
6. "Dexter"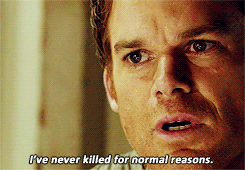 If you love blood splatter analysts who are actually serial killers, watch "Dexter." He has a sister, and a kid, and still manages to be a serial killer through eight seasons. That's honestly all I have to say. I have nothing else to say except that this show was actually great to binge-watch.
Number of Seasons: 8
Star Rating: 4.5/5
TV Rating: MA

7. "One Tree Hill"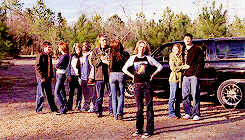 One Tree Hill is one of the most emotional, soul-crushing, gut-wrenching tv shows I've seen. These nine friends have survived so many different things throughout the show, and it's something that every cliche mom would say her "coming of age" daughter needs to watch to understand life and the things it throws at you. I mean, probably not. But I'd make my daughter watch it with me.
Number of Seasons: 9
Star Rating: 4.5/5
TV Rating: TV-14

8. "Grey's Anatomy"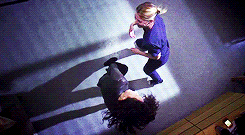 Like "OTH," "Grey's Anatomy" is one of the most emotional, soul crushing, gut wrenching tv shows I've
ever
seen. Doctors who get extremely personal with each other and don't date people outside of the hospital? There's nothing better. The synopsis says it's about Meredith, but if you think about it, it's about all of the doctors at Seattle Grace/Grey Sloan Memorial. So buckle up, kids: you're in for a wild ride.
Number of Seasons: 11
Star Rating: 4/5
TV Rating: TV-14