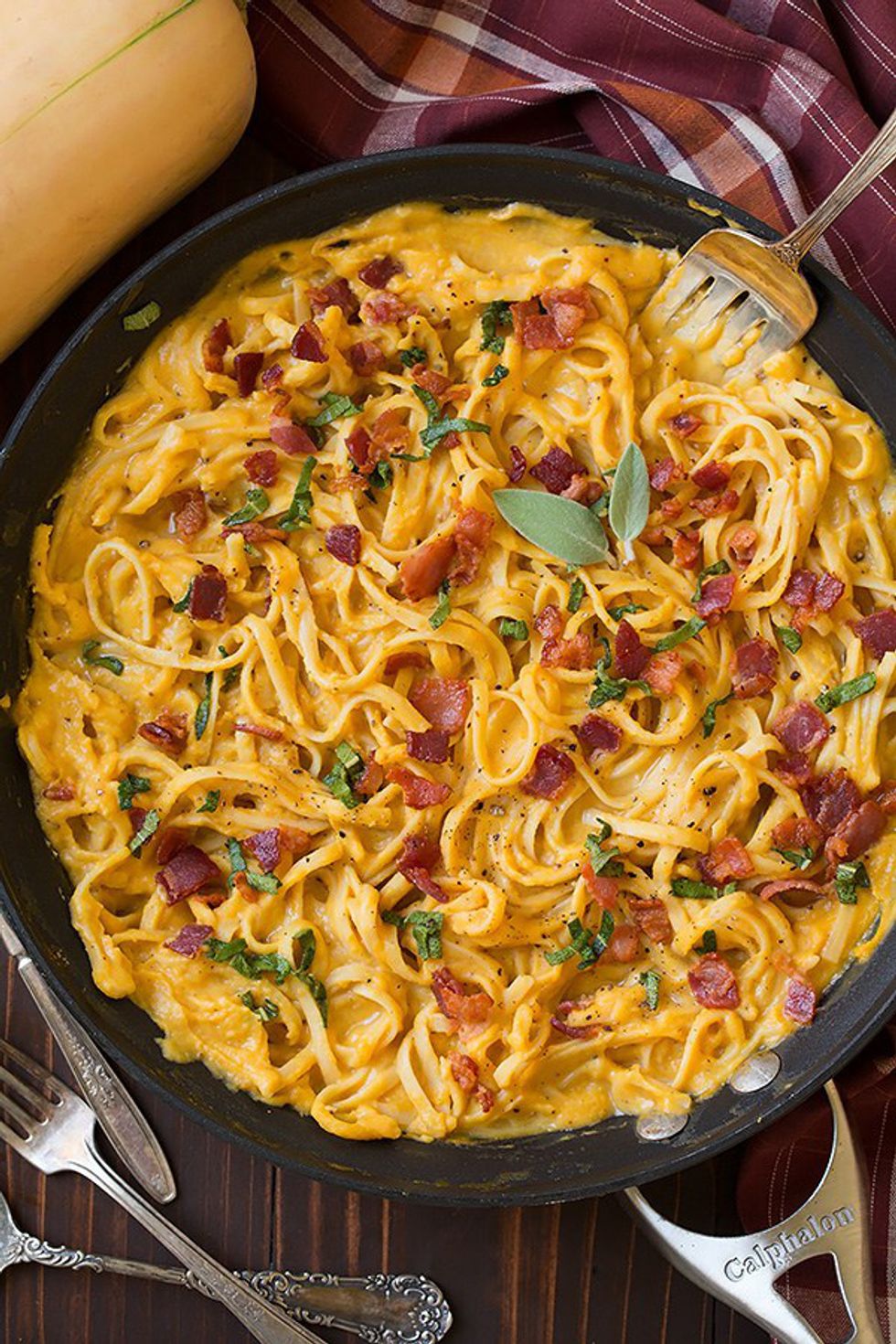 Ingredients
6 slices (6 oz) bacon, chopped
1 Tbsp finely chopped fresh sage
1 small yellow onion, chopped (1 heaping cup)
1 (1 3/4 lb) butternut squash, peeled, seeded and diced into 1/2-inch cubes (about 4 1/3 cups)
Salt and freshly ground black pepper
3 cloves garlic, minced
1 (14.5 oz) can low-sodium chicken broth
1 pinch ground nutmeg
1/4 cup heavy cream (or half and half for a lighter option)
14 oz dry linguine
1/3 cup finely shredded parmesan cheese, plus more for serving
Directions
1. Cook bacon in a 12-inch non-stick skillet over medium-high heat (reducing heat slightly if needed) until browned and crisp, add sage and toss to coat in drippings. Remove bacon and sage from skillet while leaving 2 Tbsp rendered bacon fat in skillet, transfer bacon and sage to a plate lined with paper towels, set aside.
2. Add onions to drippings in skillet and saute over medium-high heat 2 minutes, then add squash, season with salt and pepper and cook, tossing occasionally 7 minutes (onions should be beginning to brown lightly). Add in garlic and cook, tossing occasionally, 2 minutes longer. Pour in chicken broth, sprinkle in nutmeg and bring to a boil then reduce heat and allow to simmer until broth has reduced by half, about 15 minutes.
3. Meanwhile, cook linguine to al dente in a large pot of salted water according to directions on package (ideally time it so pasta finishes cooking nearly the same time as the sauce is finished in the next step below). Drain and reserve 1 cup pasta water.
4. Let simmered squash mixture cool for a few minutes then transfer mixture to a blender (reserve skillet) and add cream to blender (with hot liquids your blender should be no more than half full so if you have a smaller blender work in two batches), cover with lid then remove lids center insert. While holding a folded kitchen towel over lid blend mixture until smooth.
5. In reserved skillet combined drained pasta, pureed squash mixture, and 1/4 cup reserved pasta water. Cook over medium heat, tossing and adding in more pasta water to thin as needed, until sauce coats pasta, about 2 minutes. Toss in 1/3 cup parmesan, season with salt and pepper to taste. Plate and serve pasta topped with parmesan, bacon, sage and more pepper.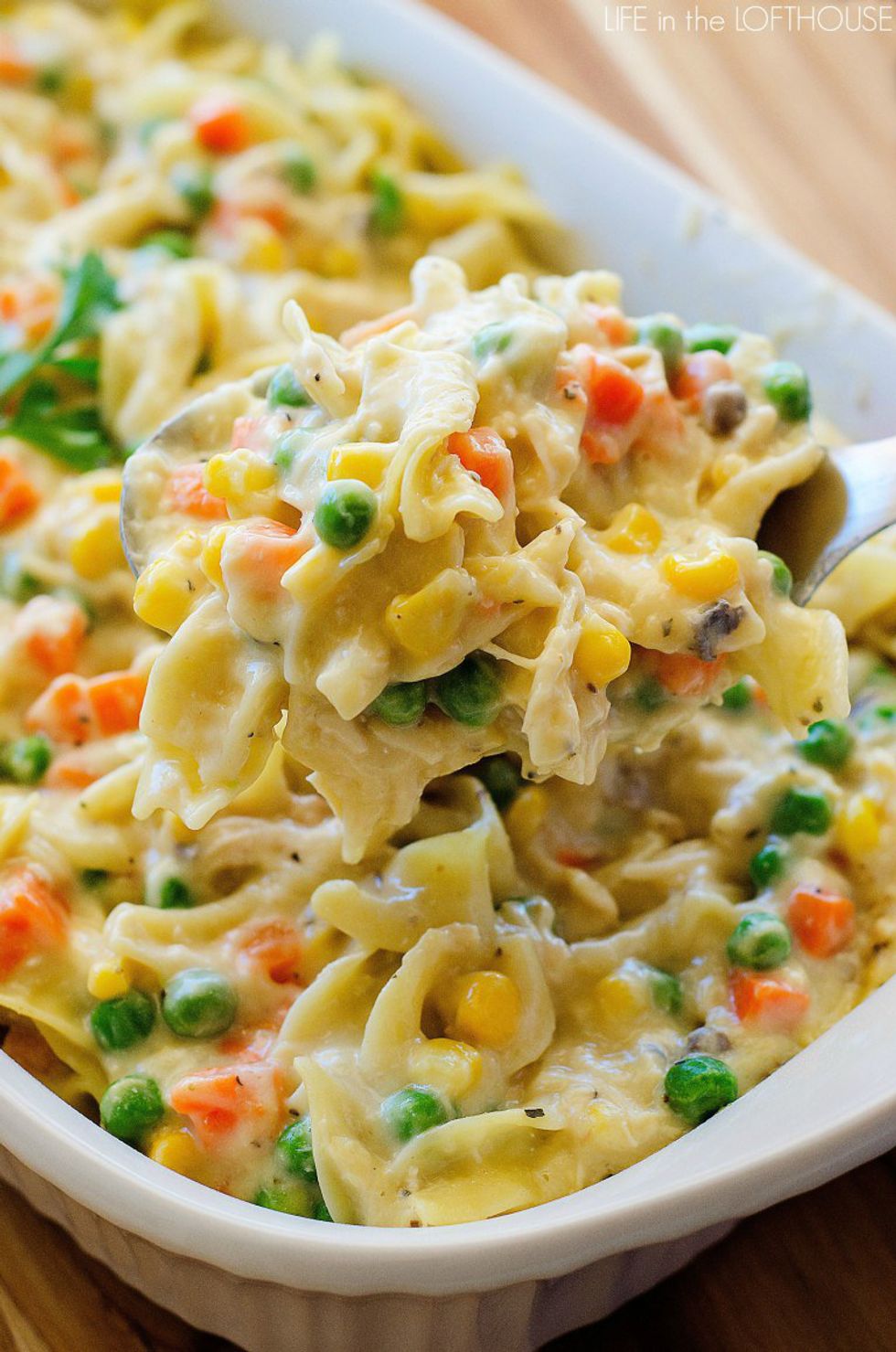 Ingredients
2 cups uncooked egg noodles
2 cups cooked, shredded chicken
1 (10 oz.) package frozen peas and carrots
1 (10 oz.) package frozen corn
1 cup milk
1 (10 oz.) can cream of chicken soup
1 (10 oz.) can cream of mushroom soup
salt and pepper, to taste
1/2 Tablespoon dried minced onion
2 Tablespoons melted butter
1/2 teaspoon garlic powder
1/2 teaspoon Italian seasoning (optional)
Instructions
1. Preheat oven to 350° F. Spray a 9x13 inch baking dish with nonstick spray.
2. Boil egg noodles according to package directions. Drain water.
3. Meanwhile, in a large bowl combine all the other remaining ingredients. Add cooked noodles to mixture. Gently stir to combine everything. Pour into prepared baking dish. Cover with foil.
4. Bake 30 minutes or until heated through. Remove from oven and let stand 5 minutes before serving. Enjoy!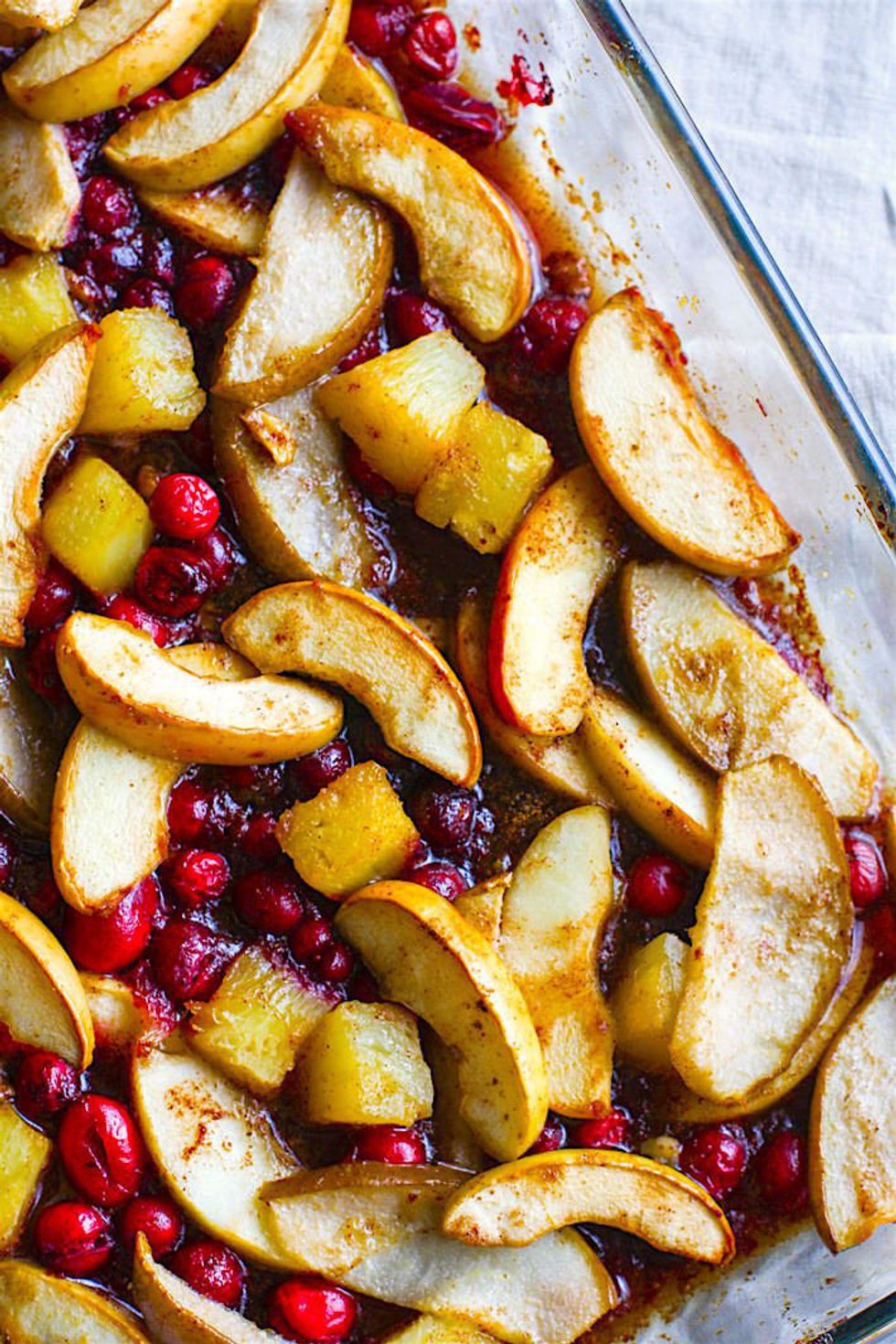 Ingredients
2 cup sliced apples
2 cups green pear slices
1 1/2 cup fresh cranberries
1 cup pineapple chunks (save the juice)
lemon juice
1/3 cup coconut sugar
1 tbsp agave or honey
1 tsp cinnamon
1/4 tsp nutmeg
1/2 stick melted butter or 4 tbsp melted earth balance vegan butter
2 tbsp melted coconut oil
1/3 cup chopped walnuts
Instructions
1. Preheat oven to 300F.
2. In a large bowl, toss your fruit and add in 1-2 tsp lemon juice. Set aside.

3. In another glass bowl, combine your melted butter, sugar, spices, and coconut oil.
4. Add in honey and a little bit of your leftover pineapple juice as well.

5. Add this sugar/butter mixture to your fruit and coat evenly.

6. Pour fruit evenly in a 9x12 baking dish.

7. Pour the leftover sugar/butter/oil mixture on top.

8. Bake for 1 hr.

9. Add your nuts last.

10. Mix fruit again and serve.

11. You can also add your nuts in the last 30 minutes of the baking time if you prefer them hot and baked as well.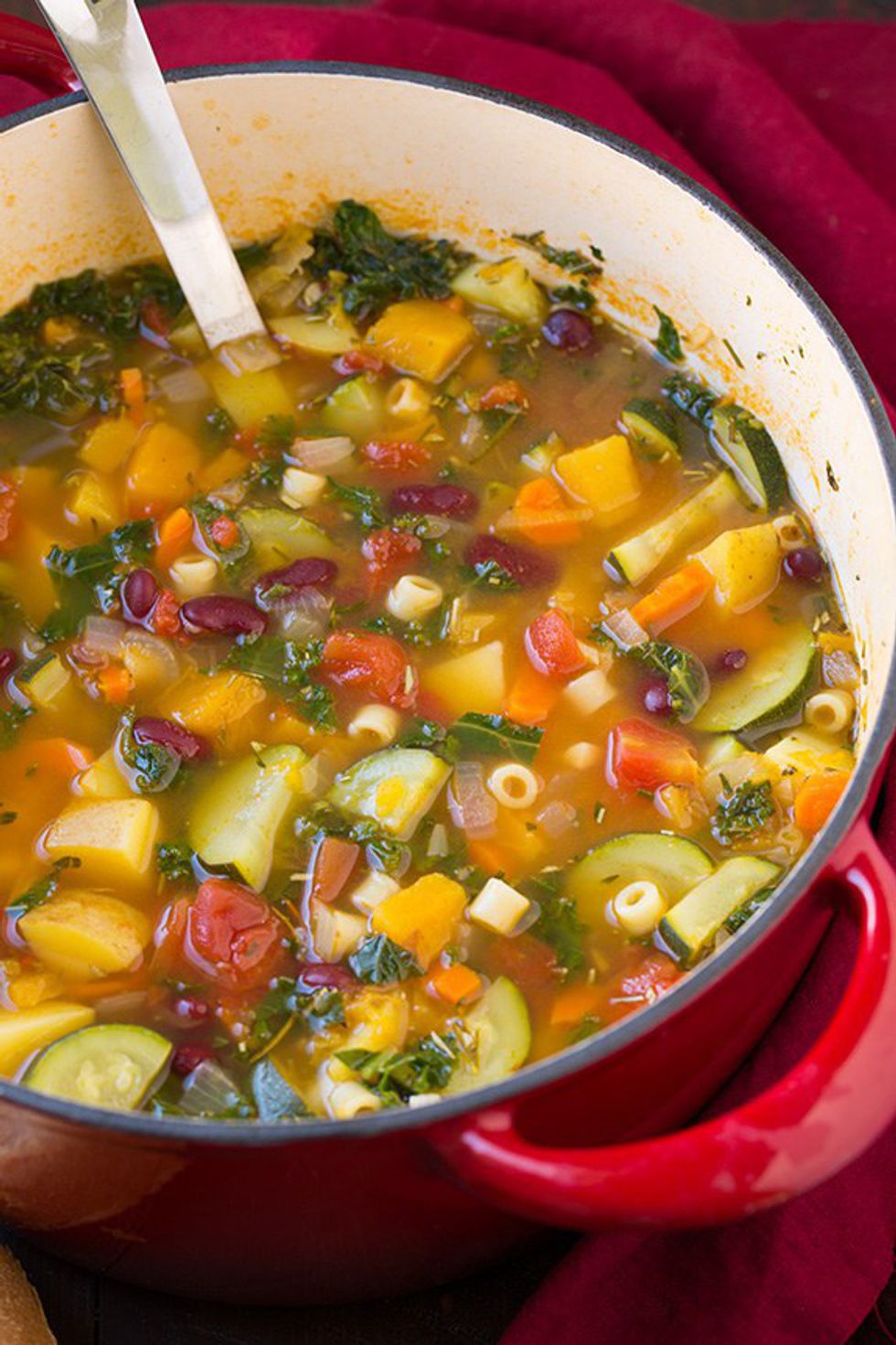 Ingredients
2 medium carrots, diced
1 medium yellow onion, chopped
1 Tbsp olive oil
3 cloves garlic, minced
6 cups vegetable broth
2 1/2 cups 3/4-inch diced yukon gold potatoes
2 1/2 cups 3/4-inch diced butternut squash (I bought it pre-cut)
1 medium zucchini, ends trimmed, sliced into half moons or quarters
1 (14.5 oz) can diced tomatoes
2 1/2 tsp finely minced fresh rosemary or oregano (or 1 tsp dried)
2 1/2 tsp minced fresh thyme (or 1 tsp dried)
2 bay leaves
Salt and freshly ground black pepper
2/3 cup dry ditalini pasta (optional)
2 cups packed chopped kale (thick ribs removed)
1 (14.5 oz) can red or white kidney beans, drained and rinsed
Shredded parmesan cheese, for serving (optional)
Instructions
1. Heat olive oil in a large pot over medium-high heat.
2. Add onions and carrots and saute 3 minutes then add garlic and saute 1 minute longer.
3. Stir in vegetable broth, potatoes, squash, zucchini, tomatoes, rosemary, thyme, bay leaves and season with salt and pepper to taste.

4. Bring to a boil then and stir in pasta if using.
5. Cover, reduce heat to medium-low and simmer until veggies are nearly tender, about 15 minutes.

6. Stir in kale and kidney beans and cook until kale is tender, about 5 minutes longer.

7. Remove bay leaves, serve warm with parmesan cheese.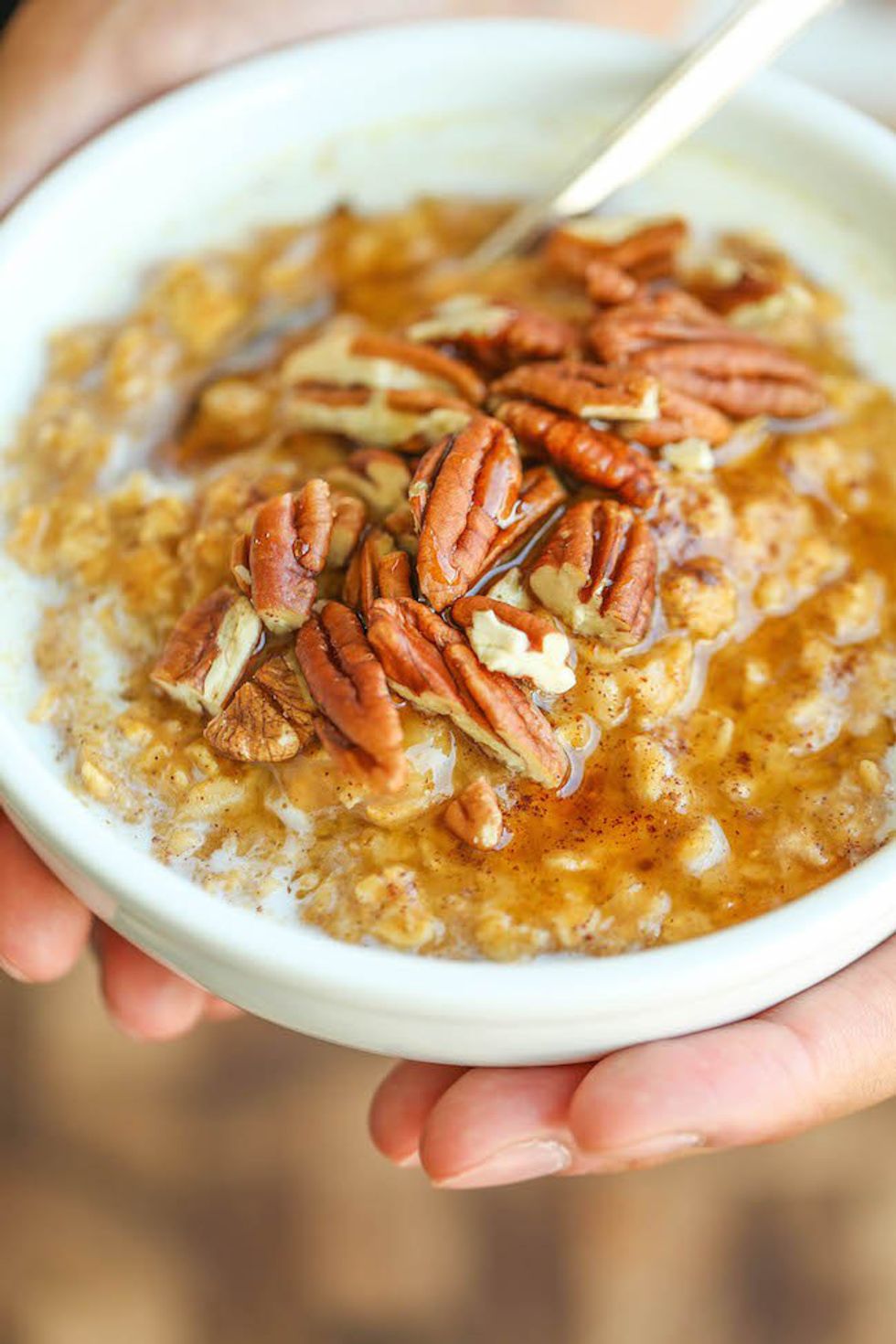 Ingredients
1 cup old-fashioned rolled oats
1 3/4 cups almond milk
1/4 cup pumpkin puree
1/2 teaspoon vanilla extract
1/2 teaspoon ground cinnamon
1/4 teaspoon ground nutmeg
1/2 cup chopped pecans
1/4 cup maple syrup
Instructions
1. Combine oats and milk in a small saucepan over medium heat.
2. Bring to a boil; reduce heat and simmer, stirring occasionally, until desired consistency is reached, about 3-5 minutes. Stir in pumpkin, vanilla, cinnamon and nutmeg until heated through, about 1 minute.

3. Serve immediately, garnished with pecans and maple syrup, if desired.
All recipes came from Pinterest, and you can follow my boards here .