Whether you're an NYC local or simply a tourist with a sweet tooth, these are some delicious options to satisfy any craving! I guarantee that these funky dessert places will give you an experience unlike any other, and definitely have you back for seconds (or even thirds!)
125 2nd Ave, New York, NY
Hours: Monday-Sunday 1pm-10pm
Bingbox Snow Cream Co. is definitely a wacky dessert place located in NYC. They put a modern take on traditional Korean shaved ice or "bingsu." They use strictly low-fat milk so this delicious dessert won't make you break your diet! With unique flavors and toppings you are sure to have an experience unlike any other!

561 Columbus Ave, at 87th street, NY 10024
Hours: Monday-Sunday 9am-11pm
From cake truffles, to cakes, to cookies, to soft serve, there is definitely something for everyone at Momofuku Milk Bar! Their signature dessert that they are known for is the "Cereal Milk Soft Serve." This consists of milk, corn flakes, brown sugar, and a pinch of salt and they guarantee that it will taste exactly like the bottom of a bowl of corn flakes! For breakfast or dessert this places will keep you coming back!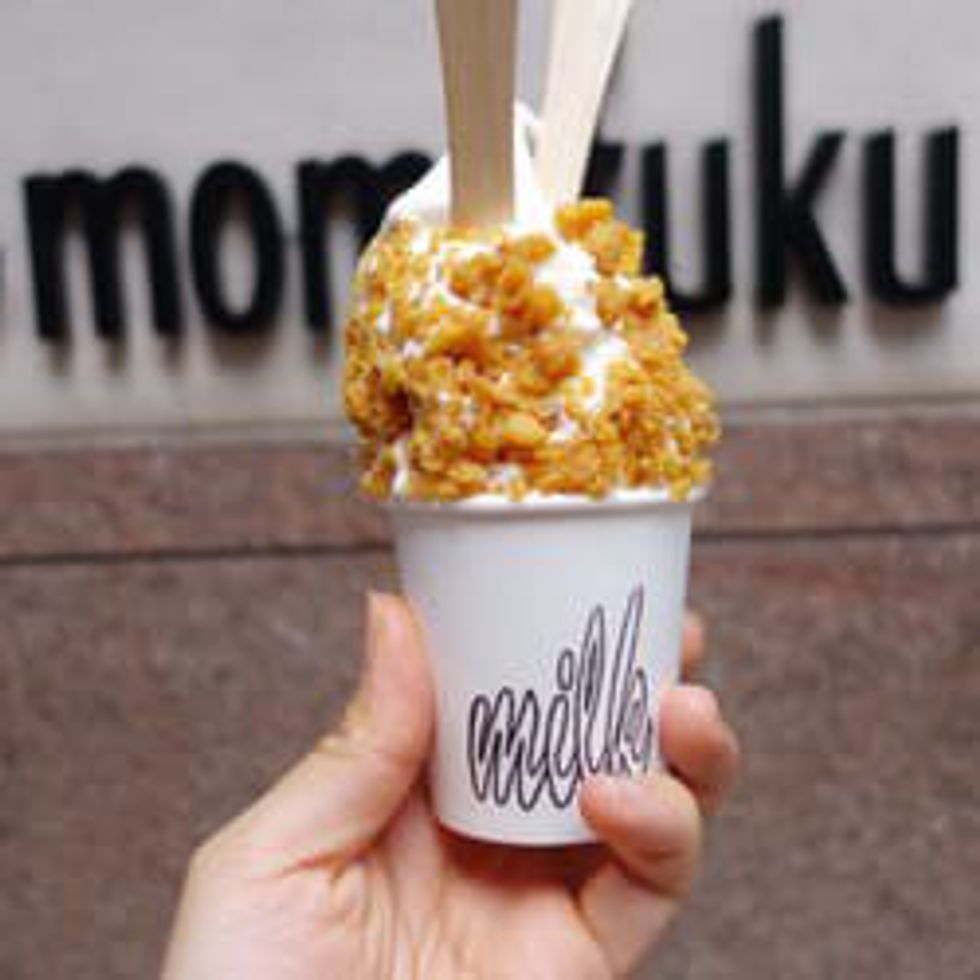 75 East 4th St., New York, NY 10003
Hours: Monday-Thursday 1pm-10pm, Friday 1pm-11pm, Saturday 12pm-11pm, Sunday 12pm-10pm
This unique twist on your average ice cream shop is definitely a must try. From their "odd" flavors to putting it into an ice cream sandwich, this is a great place to experiment with different flavors as well as different textures!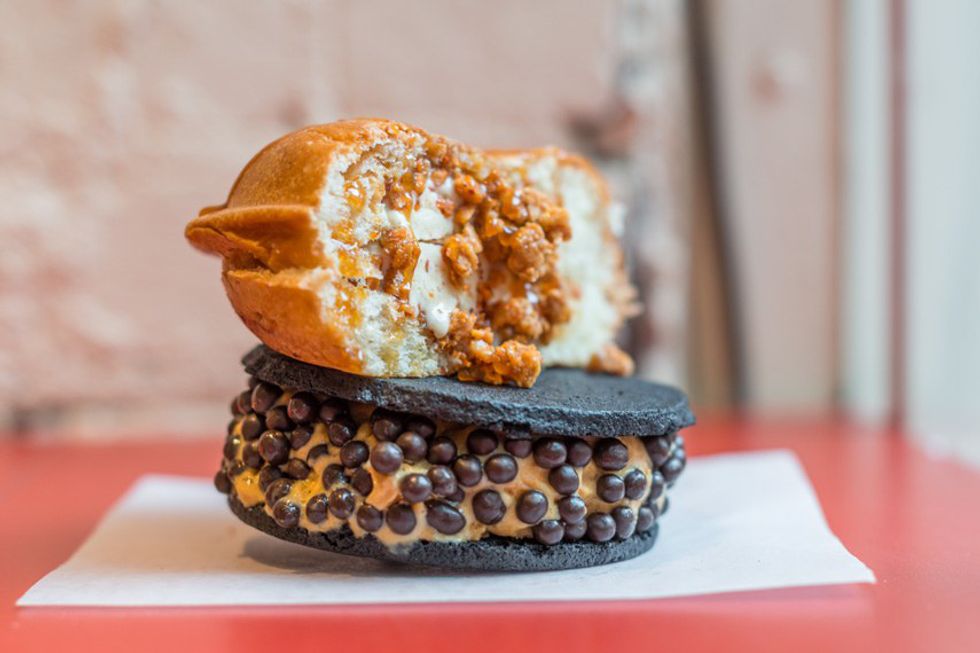 529 Broome Street, New York, NY 10013
Hours: Monday-Wednesday 11am-12am, Thursday-Saturday 11am-1am, Sunday 11am-12am
You can get a little taste of anything at this fine establishment. From burgers to beers to the incredible milkshakes they are known for. These intricate shakes consist of not only a base flavor but candy and baked goods as well. They are SURE to satisfy your sweet tooth!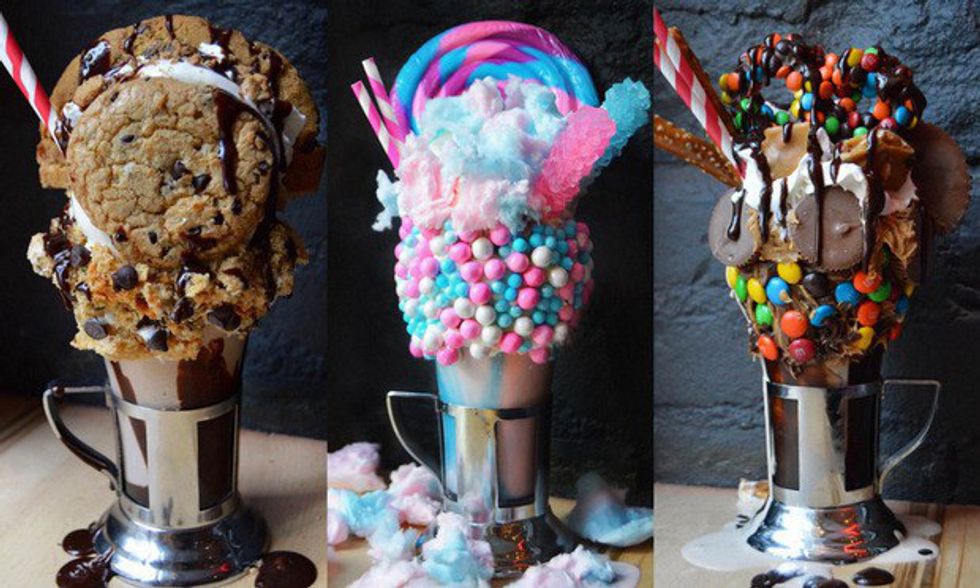 10 Morton Street, New York, NY 10014
Hours: Monday-Friday 8am-6pm OR Until Sold Out, Saturday-Sunday 9am-6pm OR Until Sold Out
I am sure everyone has had a vanilla iced doughnut with rainbow sprinkles (what a classic). But have you ever had an everything doughnut? I didn't think so! From "The All Nighter" (Espresso Milk Chocolate with Butter Cookie Crumble) to "Those Beetz Are Dope" (Beet Glaze filled with Ricotta Whip) to even "PBJ 2.0" (Blackberry glaze, filled with peanut butter whip and a kiss of house made blackberry jam) there is definitely something for EVERYONE.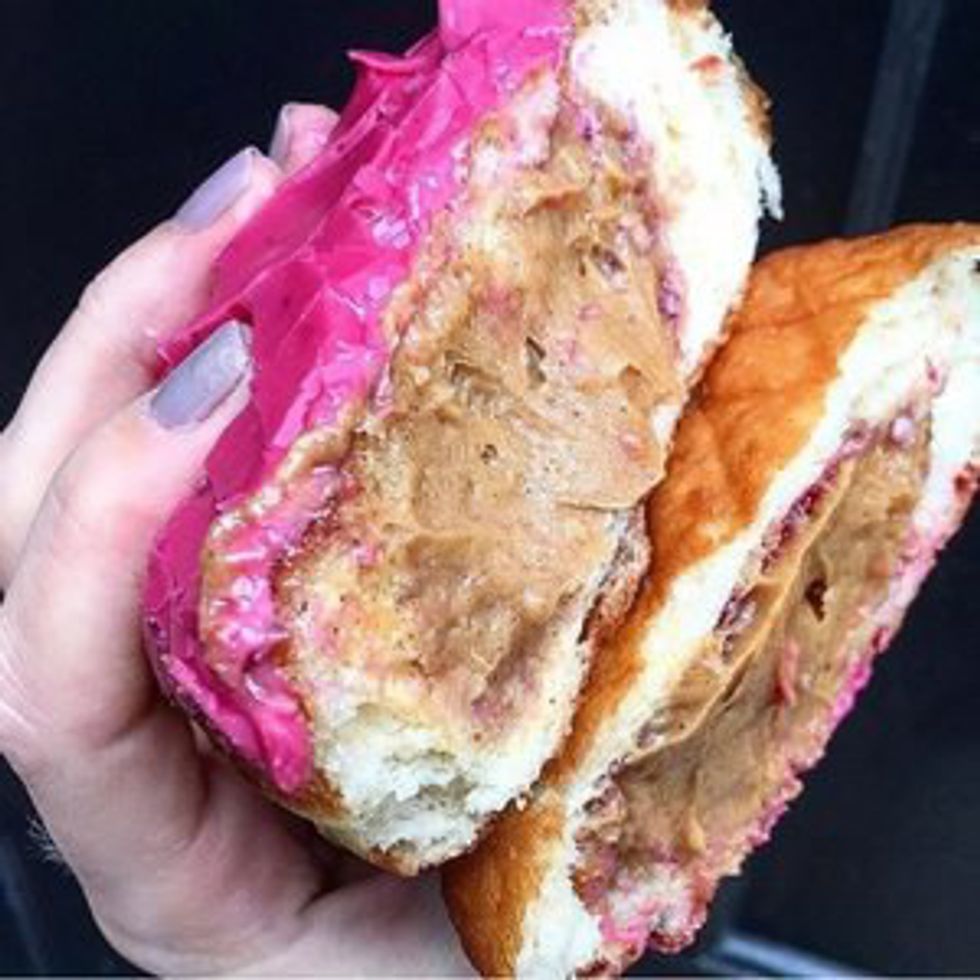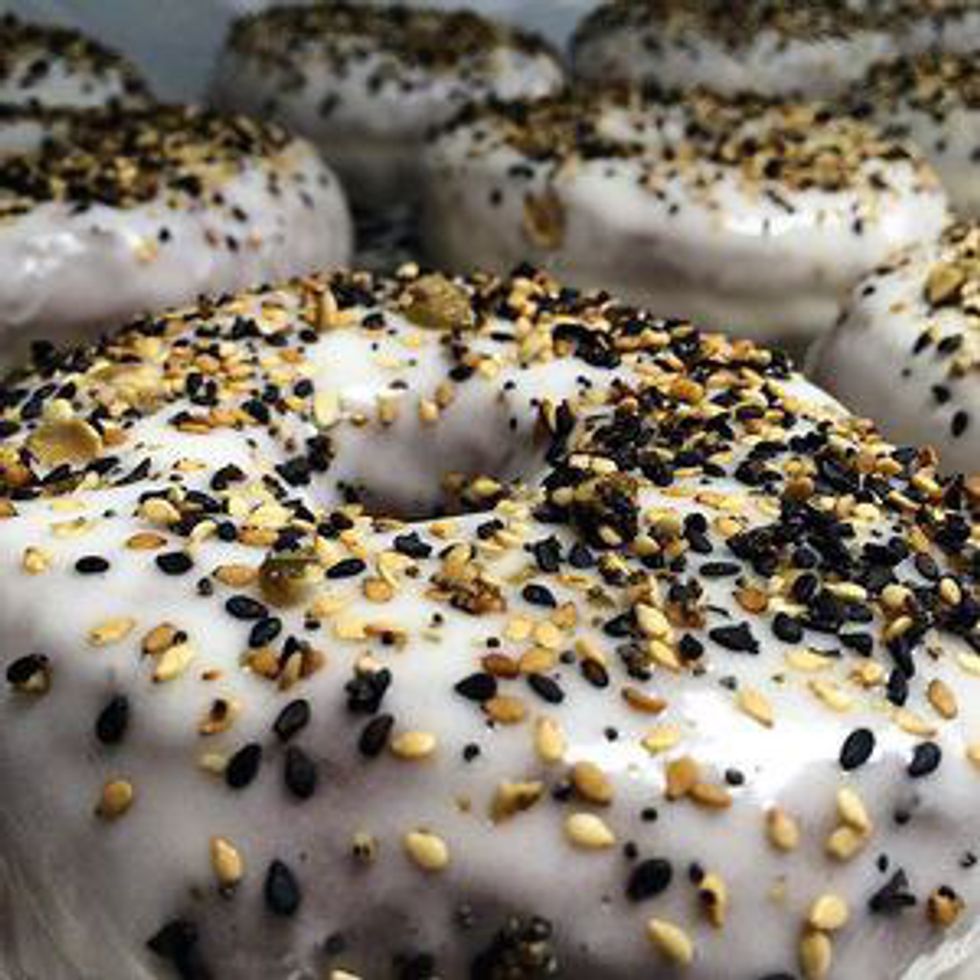 6. Snowdays Shaved Cream Co.
241 East 10th St. (b/t 1st Ave. and 2nd Ave.) New York, NY 10003
Hours: Monday 5pm-11pm, Tuesday-Wednesday 1pm-11pm, Thursday-Saturday 1pm-12am, Sunday 1pm-10pm
This establishment isn't called "Snowdays" for nothing. Their shaved ice cream actually resembles snow! From a vast array of different flavors, construct your own conception that will perfectly suit your taste buds. If you don't believe me, maybe you should check it out for yourself!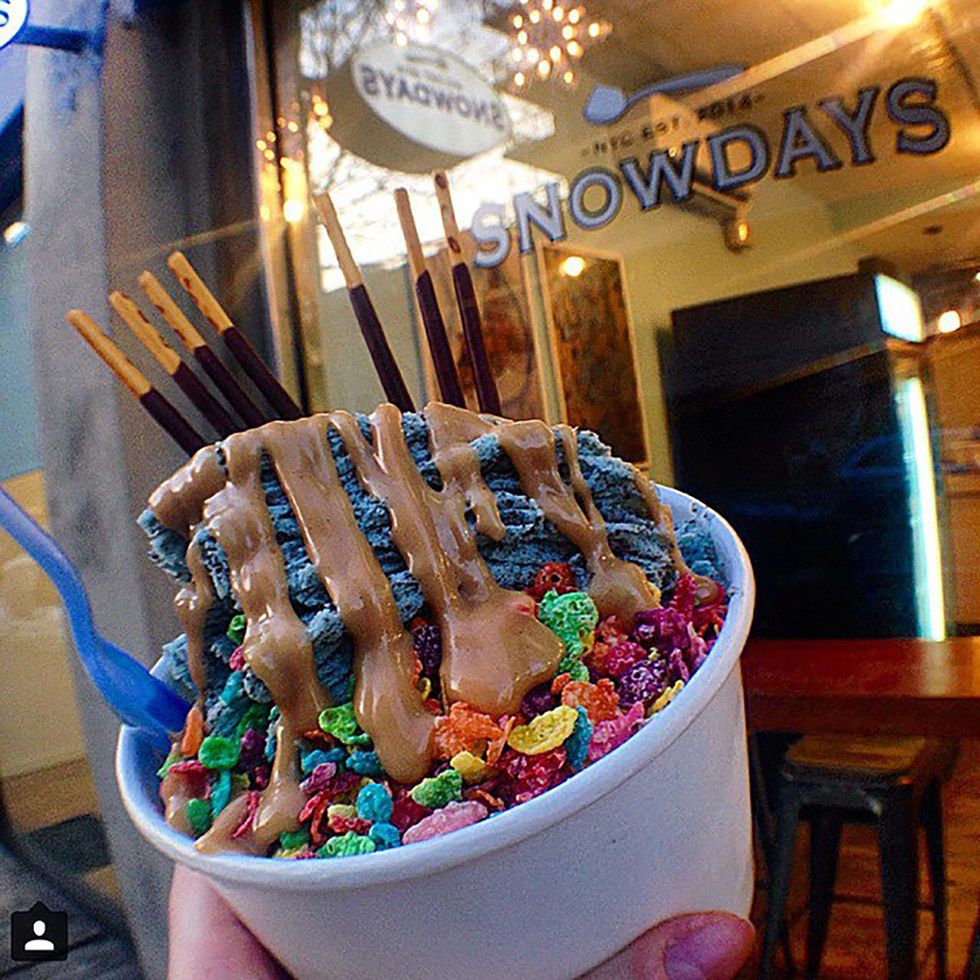 263 West 19th St., New York, NY 10011
Hours: Sunday-Wednesday 11:30am-10pm, Thursday-Saturday 11:30am-11pm
The video of these crazy milkshakes has been circulating online for some time now and for good reason! These incredible milkshakes are all the craze and I am sure you can tell why. They are coated in frosting, decorated and garnished on the inside as well as the outside with candy and various sweets. Perfect for a photo op or simply just to indulge in!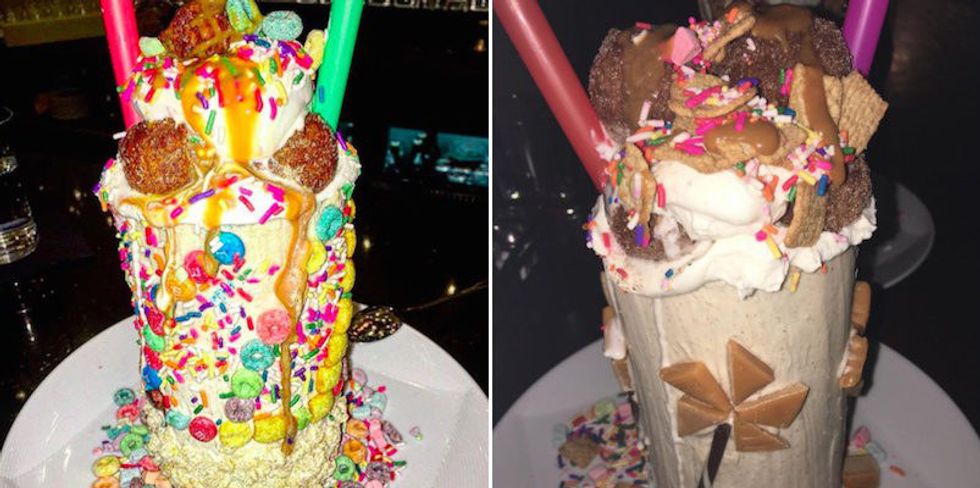 120 Saint Marks Place, New York, NY 10009
Hours: Sunday-Thursday 11am-8pm, Friday and Saturday 11am-9pm
Calling all marshmallow lovers! This is the place for you. This wonderful establishment is basically a marshmallow bar, no more of that original boring flavor. The owner has taken a new spin on the childhood classic and spiced this yummy treat up a bit. There are any flavor anyone could want, from children to adults there is a flavor for everyone's palette!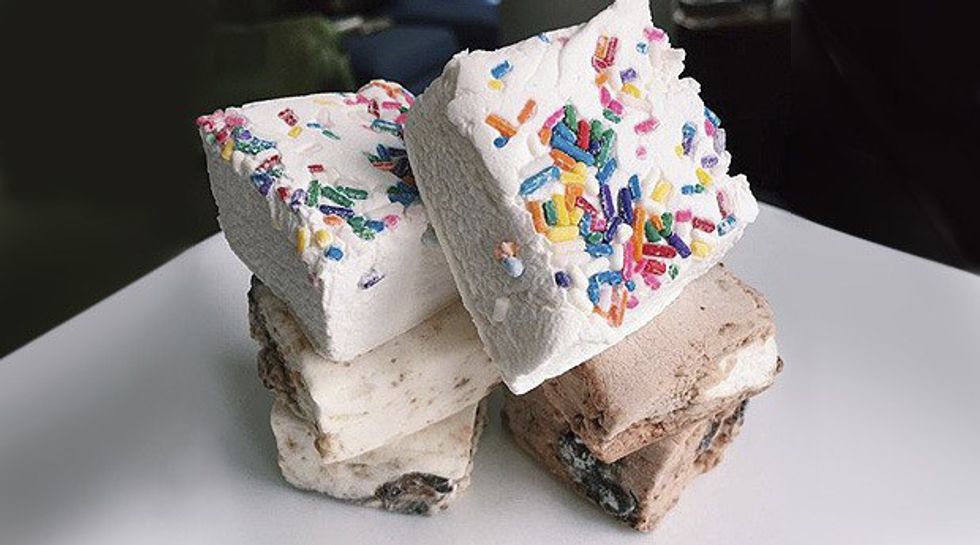 550 Laguardia Place, New York, NY 10012
Hours: Sunday 10am-9pm, Monday CLOSED, Tuesday & Wednesday 10am-9pm, Thursday-Saturday 10am-10pm

This place is every child's dream (and adults). We all are guilty of eating the raw cookie dough when making cookies but always felt bad because then there was not enough to make cookies. Then you'd end up with about 5 cookies left to bake. Here is the solution! This cookie dough bar is a unique place to get any flavor of cookie dough you'd like, guilt free! (They also have doggie do for your pets too! Wouldn't want to leave our furry little friends out!)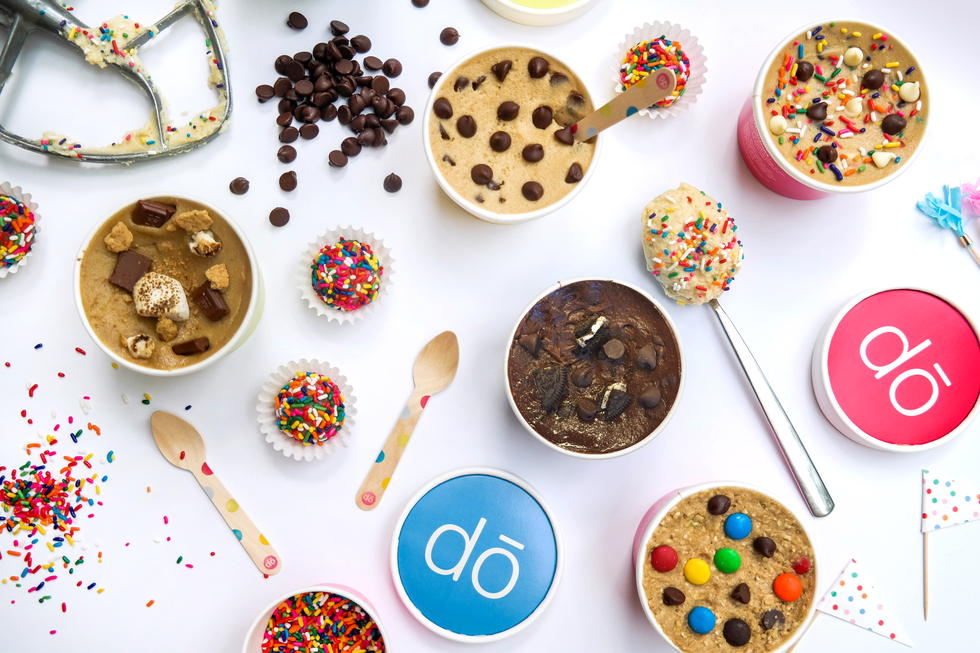 101 Macdougal St., New York, NY 10012
Hours: Sunday-Thursday 12pm-11pm, Friday & Saturday 12pm-12:30am
The original rolled ice cream shop! This is the hottest ice cream trend, smashed and rolled Thai ice cream. Not only is it fun to look at and eat, but it is absolutely delicious! You can get any flavor you'd like and pick any topping you want as well. This unique method of ice cream making and different texture will definitely have you coming back for more.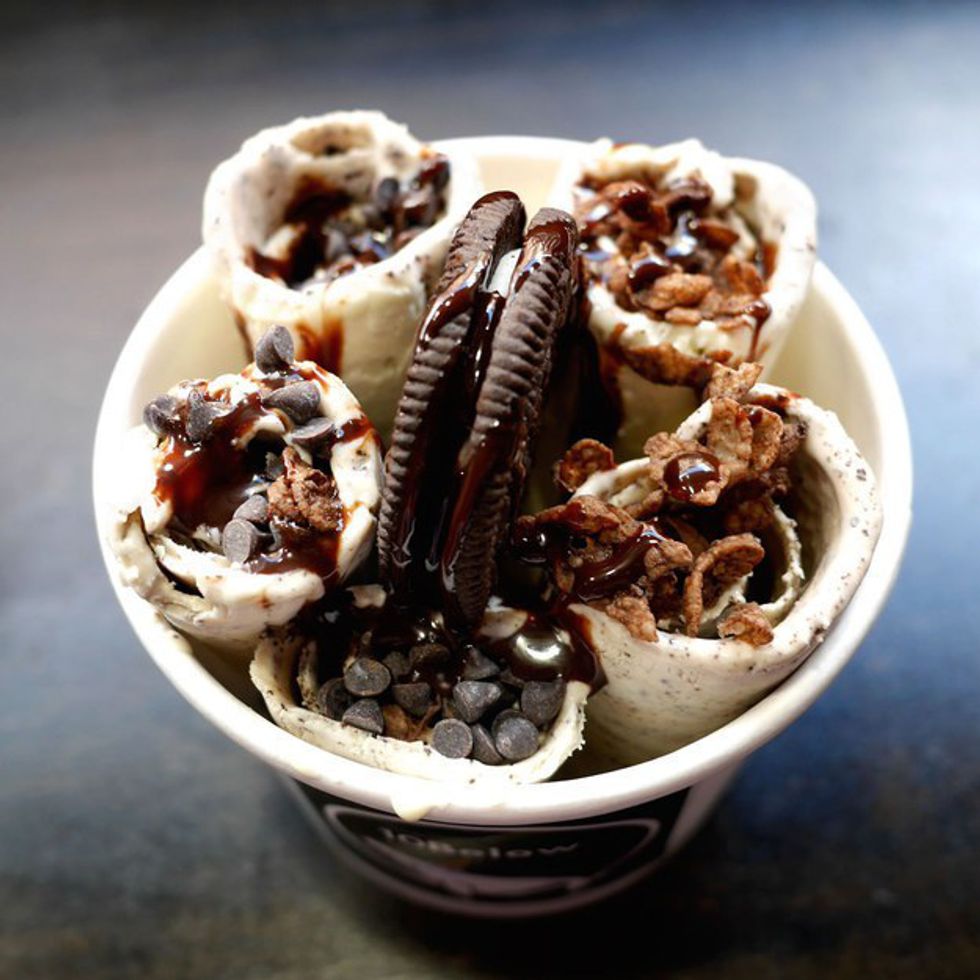 60 Mulberry St., New York, NY 10013
Hours: Sunday-Thursday 12pm-10pm, Friday & Saturday 12pm-11pm
The famous Hong Kong style egg waffles filled with ice cream as well as toppings has made its way over to the big apple and we couldn't be happier! This modern spin on Belgian waffles will NOT disappoint. Whatever flavor you are feeling I am sure will pair perfectly with a waffle!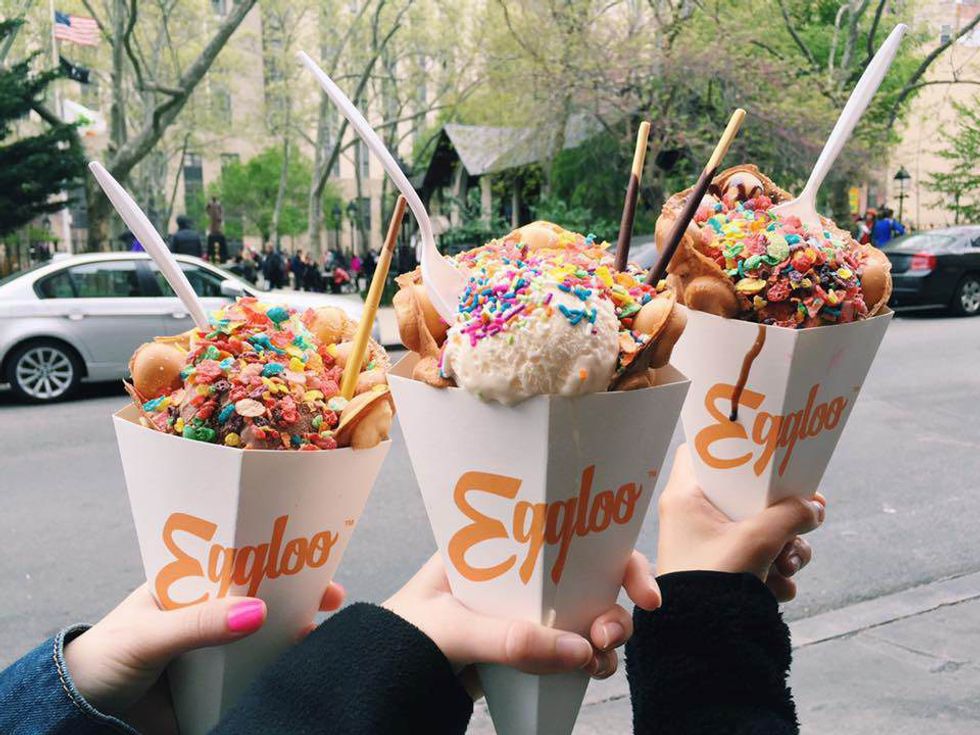 452 Amsterdam Ave., New York, NY 10024
Hours: Sunday-Thursday 10am-9pm, Friday & Saturday 10am-10pm
World's finest marshmallow and crispy rice treats but with a twist! These unique sweets are a classic rice crispy treat with a modern spin. They come in packs of smalls square rice crispy treats but what is on top of them is the best part. Each pack is unique some having emojis, holiday themes, baby shower themes, wedding themes, you name it! There is a treat pack for every occasion!