Ever since I was a little girl, I knew I wanted to be in a sorority. From binge-watching ABC Family's Greek to watching my older sister join Kappa Delta at Furman, I knew I wanted to be apart of it.
But for all the wrong reasons. I hate to admit it, but I fell in love with the idea of "Greek Life" for all the wrong reasons. I fell in love with the idea of wearing my letters around campus. I fell in love with the idea of everyone knowing which sorority I belonged to. I fell in love with the idea of throwing my letters and sharing it all over social media. I fell in love with all of these ideas of what I thought Greek Life would be.
It wasn't until I actually joined one my freshman year of college that I finally understood. Being in a sorority means much more than the letters you throw.

It means coming home to your best friends.
I remember how anxious I was walking into that Furman Hall classroom on Bid Day. As I walked in, I saw people from the same friend groups sprint towards each other. Did everyone go with their best friends? Does everyone know each other? I was definitely freaking the freak out. But then I saw one familiar face. Two. Three. They had also gone with a friend group, but this time I wasn't freaking out. I knew I wanted to be friends with them.
Within days, this friend group added me to their group text, invited me to brunch, and included me like we've been friends for forever. And, I will never forget how much that meant to me.

It means coming home to a place that lets you know just how loved you are.
From handwritten letters and trips to the mountains to deep conversations and This Is Us, these girls have made me feel so loved. It's fun to be surrounded by a group of girls with such different personalities. I have never been one to get deep and "in touch" with my feelings, but some of these girls are and won't take "I'm fine" as an answer. They really want to know how I'm doing.
They've challenged me, built me up, given me letters of encouragement, held me through anxiety attacks, celebrated with me, and continue to show me what it means to be a friend. Something that I admire about each and every one of these girls is their hearts. They seriously have some of the biggest hearts out there.
This Spring Break we all stayed in Santa Rosa Beach, Florida for the week. One night we were all talking about each other's future weddings because #whynot. One thing led to another, and before we knew it we were making home videos to each girl's future husband. Though some of it was a roast, I loved hearing what they thought of me as a friend, future wife, and future mom. And, yes. They were probably right about me meeting my future husband on The Bachelor #truelove #finalrose. But, enough about me let's get back to them.
These girls have given so much to me and have shown me what it really means to be in a sorority.
It means coming home to this. These people. These friendships. This sorority.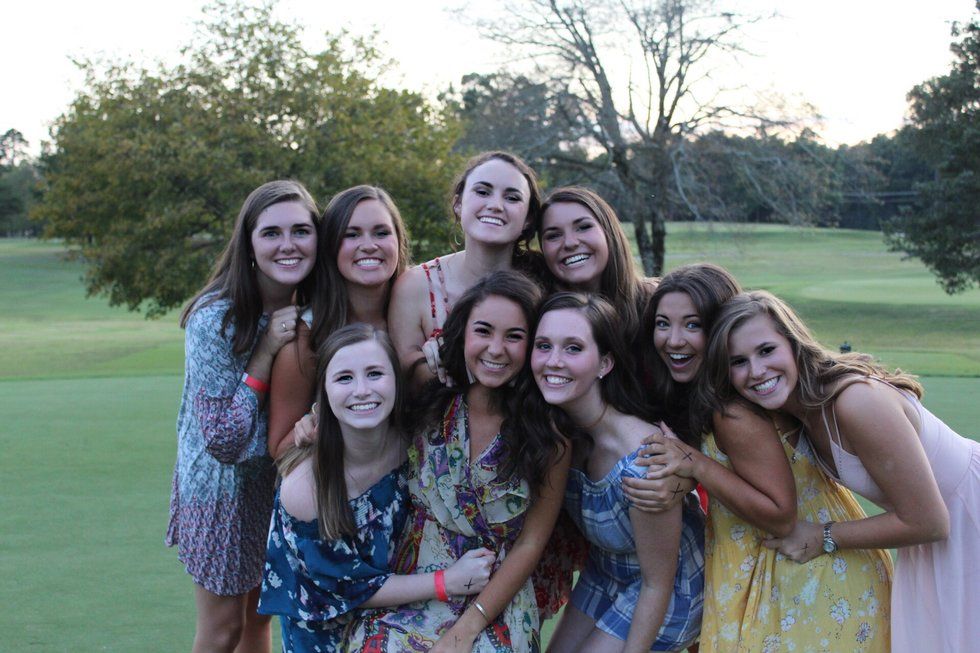 Cover Image Credit: Joanna Cotter