I have so much to say to all of you. Every single one of you. Whether we met during "Flicker Sessions" or "Flicker World Tour," whether we met for one second, or if we spent an entire weekend together at my tiny apartment in Orlando. Whether we met one day before the concert or months in anticipation. I have so much to say.
All of you have changed my life.
It could have been in the teeniest way possible. It could have been a smile, or a hug during my favorite song, or a picture at the barricade before we went to our seats.
It all changed my life.
By going into tour without any friends, I didn't expect much. I didn't expect to develop so many new friendships and to cherish so many people in my life. I didn't expect to have so much love for so many people and that I would literally have five people stay in my tiny living room all at once because I was happy to have you all around. I didn't expect to have my eyes burn with tears as we held onto each other during our songs. I didn't expect to take so many pictures. I didn't expect to laugh so much and cry even more. I didn't expect to make life-long friendships that I would cherish every single day.
I am so incredibly grateful for all of you.
I will never be able to say thank you for all that you have done for me - even if you don't think you've given a thing. It didn't have to be a lot, and it didn't have to take much thought, honestly, but the simplest of gestures have impacted my life so much because you all have proven to me that friendships have no boundaries. I wouldn't have thought I would be able to make friendships as I've made in all of you, and even if we haven't become the best of friends, I promise you, you have a place in my heart and I'll never forget it.
I have made the best of friends this year on tour. You have all been the most incredible people and have been there for me when I needed you the most. I appreciate you all more than you'll ever understand. You are the best friends I could have asked for. I love you all.
To Lyssa,

When we met in November, I never thought we would wind up traveling across the country together. We really cracked out. I would have never wanted to meet Niall with anyone else, and I am so grateful we got to experience that together. Thank you for being the best friend and for sticking by me when no one else would. You really have become one of my closest friends, and I will be forever grateful for every memory and experience we have gone through together. I am so glad Niall led us together - we have a friendship that could surely never be replaced.
To Kait,
Since we only discovered that we have been friends two months, as of yesterday, I think it's quite fitting to say that I really didn't think we'd become as close as we have so soon. Becoming friends with you has been one of the best things to come out of FWT, and I am so incredibly grateful that we started talking. We have gotten so close, and I truly think of you as one of my closest friends. I am very grateful for you, and even more grateful that you decided to pick up the phone when I was having a mental breakdown in Atlanta. Thank you for being you. You're truly one of the best.
To Marisol,
Even though we only met in Atlanta for the first time, I am so happy to have met you this tour. You are one of the nicest, sweetest, most genuine people I have ever met, and you deserve everything good that comes to you. You want the best for everyone and you could never hurt a fly (or a lizard). Thank you for sobbing with me during Flicker and mocking Niall during the band introductions. I appreciate you more than a lot.
To Sophie,
Soph, you are one of the best. I love you and I am so happy I met you in Cincinnati. You are so kind and thoughtful, and I am so happy you were able to get to Florida to kick out the final show with us, even if it was for 24 hours. I wish I could hug you a million times. Thank you for being the coolest junior I know.
To Georgia,
Having only met you a week ago, you would think I wouldn't have much to say, but it's quite the contrary. I'm so glad you decided to come to Florida after all. We all had the best weekend together. You are so sweet and always want everyone to be having a good time with you. I can't wait to see you again. I'm going to make my happy way up to you one way or another (or you can come to Orlando, again). I miss you a lot. Thank you for not f*cking up.
To Alix,
Chicago was one of my favorite cities - all because I got to meet you! We had been waiting for so long, and finally getting to hug you meant the entire world to me. Hugging my best friend after talking to you every day, hours upon hours, and getting to talk to you meant everything to me. I cannot wait to hug you again (even if it's a tiny hug), and I cannot wait to see you (with the rest of the Losers) next tour. You have my heart. I love you the most.
To my other Twitter friends,
I have loved every single second of hugging you and squeezing you and talking to you. You all mean the absolute world to me. If we haven't met yet, you bet I'm going to be hugging you even tighter next tour. I appreciate and love you all so much, no matter what. I'm always here when you need me. I literally cannot thank you all enough for being the best support system I have ever had.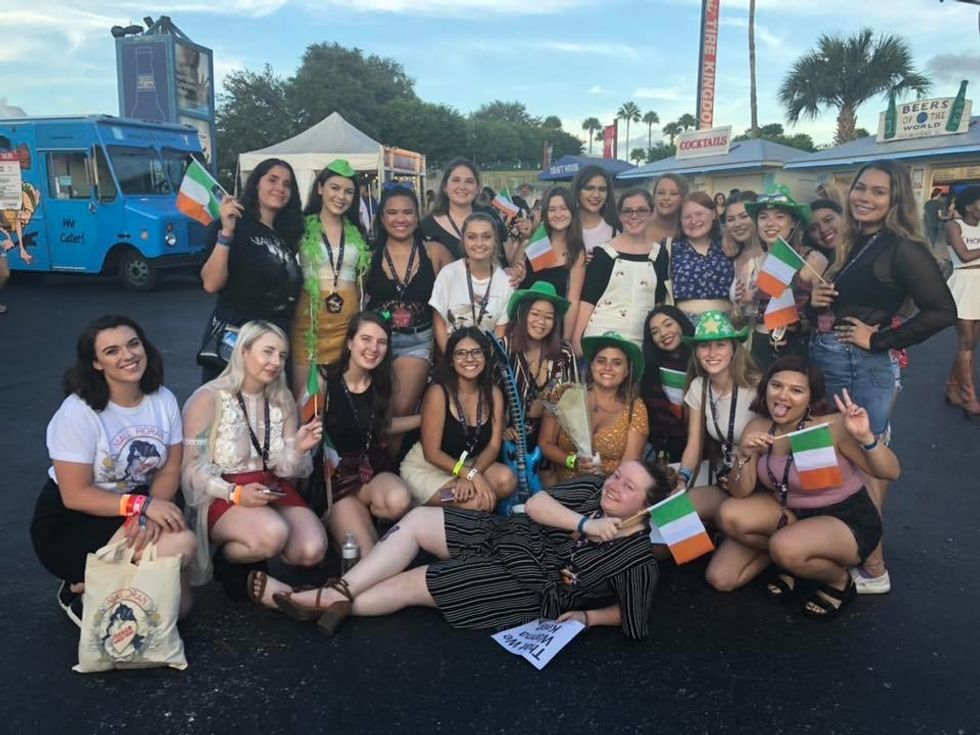 Stan Twitter cracks out in West Palm Beach.Caitlin Powers