Do you feel like you have no money to go out with your friends, shop a bit or feel as if you don't even have enough money to survive the week when it comes to food? If you said yes to any or all of these, you must be a broke college student. Don't worry, you're not alone! Being in college is expensive. Between textbooks, meal plans and other related expenses, it isn't always easy for a student to actually be a student. For some, it is not practical to only focus on your studies and not have a job, but it also isn't possible to focus only on a job and forget to study. We all know that working part-time while taking 15+ credits in college doesn't leave you with a lot of money or even the necessary amount of time to make money and study. Here are some ways for the average broke college student to be extra thrifty this year: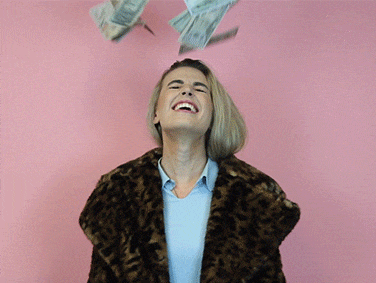 1. Get the Qapital App
Looking to save money for that trip to France this summer? Qapital can help! This app has been an absolute lifesaver! To begin saving, you link your personal checking account with your Qapital account. There are multiple ways for you to save money. You can set up different goals that you would like to save for such as a vacation fund, extra cash, etc. All of the money saved will be placed into your FDIC insured Qapital account with NO FEES! On every purchase you make, you can round the final price up to the nearest $2 dollars and the difference will be saved. This is a super quick way to earn extra bucks! There's also a Set & Forget rule that will allow you to set daily, weekly, or monthly withdrawals from your checking account to be saved into your Qapital account among a plethora of other ways to save money! You can even save money by doing other things like posting a cute selfie to Instagram, tweeting or even going for a run! I highly recommend checking out this app if you're looking to save some $$.
2. Visit the Penny Hoarder website
If you're at wits-end and need to know how to make extra money quick and easy, the Penny Hoarder website is the place for you, my friend. There are billions of articles, (that's right, billions), that can help give you guidance on how to make extra cash even while working from home! There are even articles about entrepreneurs that have made 6 figures from starting an at-home business. So hey, what starts out as a way to make extra money could be the start of your career!
3. Sell your things on Ebay
This is a super quick and simple way to make extra cash. Remember that old doll given to you from your great-grandma when you were 10? Well it could be worth some major $$$ so put it up for auction on Ebay! I know people that make over $1,000 a month just from selling items on Ebay. Give it a shot!
4. Have a hobby? Sell your crafty items on Etsy
Are you crafty? Are you artistic? Why not make money doing what you love? Whether it's making candles, hair bows, birthday cards, mugs or anything else, sell your designs on Etsy. This website gives young artists the ability to make money by selling their hard work and creations. Personally, I've bought paintings, jewelry, and an engagement mug on this website and they're all beautiful!
5. Purge your closet
Apps like Poshmark, Letgo, and thredUP are great ways for you to sell your old (but still super cute) clothes for quick cash. It's also a great way for you to clean out your closet. If you don't feel like shipping your clothes to someone across the country, you can also find your nearest Plato's Closet and sell your unwanted clothing items there. Plato's Closet is a store that will buy your cute hand-me-downs and resell them to the public. If you're lucky, on your way out the door with your newly earned cash, you might even find a cute top to reward yourself with!
6. Garage Sales can be your new favorite thing about the weekend
Have you ever heard the saying, one man's junk is another man's treasure? You can make a big sum of money from selling your 'junk' at a garage sale. If you got a group of friend's to partake in a yard sale with you, it could turn out to be a really fun day!
7. Babysitting
Babysitting is the age-old way of earning some extra money. If you're lucky, you may know a family that has a child you can watch on occasion. But if you don't, there are great websites like Care.com that can get you paired with a nice family in your area to babysit for.
8. Sell your services
Are you good at doing makeup or hair? Sell your services for events like a high school prom, first dates, parties and other events! Or maybe you're looking to sell services of physical labor like landscaping or shoveling snow. If so, put flyers around your neighborhood and watch the calls, (and the money), come rolling in.
9. Submit your poems/stories to an online publisher
If you search through Google hard enough you may come across a few websites that will pay you to write articles, poems or stories for them to publish on their page. Some websites, such as The New York Times, may even pay up to $300 for your work!
10. Tutoring
Did you take a class you did really well in? Share your knowledge with those taking the class now! Charge as much or as little as you'd like and see how many offers you get.