Do Tinder Users Really Judge Off Of Just Looks?
I was having a conversation with one of my best friends Eli last week. He was put in isolation because he came down with a fever and had to be tested for COVID-19, so he had a lot of downtime on his hands. He texted me that night saying he got Tinder as an "experiment" to see what "it would be like" and I was convinced he was actually just looking for a relationship.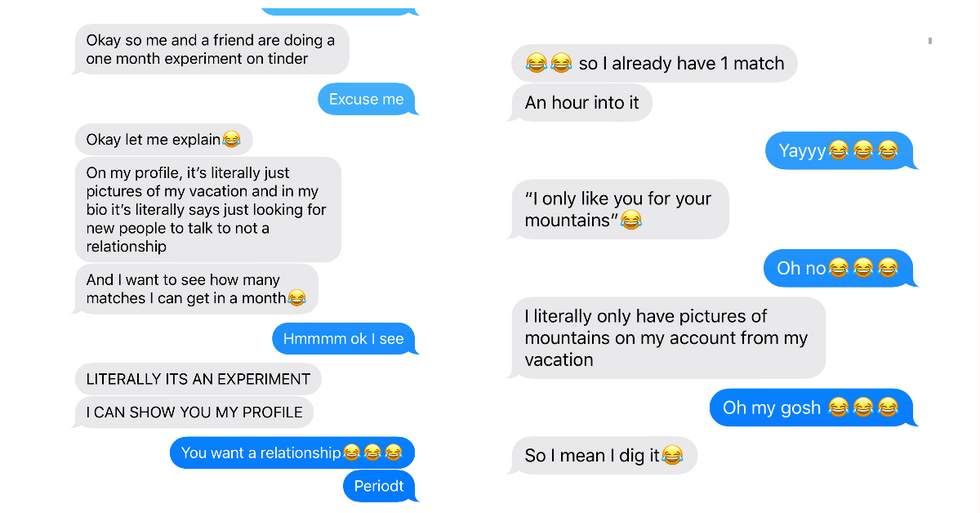 As you can see by the messages above, he still swore by the fact it was for an "experiment" (I did not buy it but just went with it at that point).
He wanted to see how many matches he could get in 7 days while he had to stay in isolation waiting for his test results. The only thing I noticed when he sent me screenshots was the fact he didn't even have pictures of himself in his profile, but pictures of mountains he took while on vacation. I told him that wasn't exactly how the app worked but he proceeded anyways.

I was very surprised to hear the amount of matches he got instantly. Many of the girls he matched with said it was because they genuinely enjoyed the mountain pictures (no joke). Apparently to some he really stood out from others because his profile appeared so different.
Other girls told him that they loved his bio and thought of him as a super wholesome and welcoming person when they read it. I'm familiar with the huge debate on whether or not Tinder bios play a deciding factor into someone actually swiping right or not, so I guess this proves people actually do judge off of personality as well!
Eli's messages were flooded from girls asking him more information on his mountain pictures or something pertaining to what he put in his bio.
By the end of the week, Eli had over 30 Tinder matches, a few new friends, and a handful of girls openly interested in him just from his personality. I guess the Tinder myth that people only judge off of looks is false!
So my good friend Eli totally proved me wrong this week when I thought people only use Tinder to judge others off of appearance. His secret was standing out with his unique mountain pictures and having a very wholesome bio.
From Your Site Articles
Related Articles Around the Web