*Insert Jaws theme song for dramatic effect*
Da-da, Da-da, Da-da! It's time to dive into every ocean lover's favorite time of the year, Shark Week!
Since 1988, Discovery Channel has dedicated a whole week to one of the most feared predators of the sea; everything is sharks, sharks, and more sharks! Each year, Discovery adds new programs that are sure to make your jaw drop, while classics, like Air Jaws, return to the surface.
One of the most anticipated events for this year's Shark Week is Phelps Vs Shark: The Battle For Ocean Supremacy. That's right; it's happening. On Sunday, July 23 at 8 p.m., Michael Phelps will kick off, or should I say swim off, the week by actually racing a great white shark. Hopefully, his 23 gold medals will give him an advantage over the ocean's most efficient predator.
This year, two classics come together: Shark Week and Sex and the City. The two specials, Sharks and the City: LA and Sharks and the City: New York, focus on the relationship between sharks and the famous cities.
You can find a schedule for the 29th edition of Shark Week here.
Shark Week is definitely about entertainment, but it is also about education. Sharks have a bad rep. Hollywood has depicted them as these terrifying monsters in movies like Jaws, The Shallows, and 47 Meters Down. Their large, razor-sharp teeth don't necessarily help out their image either.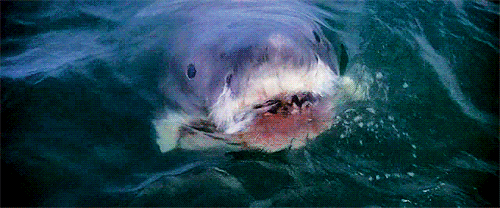 Shark Week broadcasts tons of programs educating and debunking many shark misconceptions the majority of people interpret. These programs share stories of shark attack survivors, and they test theories and rumors which help us understand sharks better. The need for this kind of education is more crucial than ever.
Humans kill more than 100 million sharks every year. According to Ocean Ramsey, a shark conservationist, "the IUCN, the main authority on the conservation status of species worldwide, has great whites, tiger sharks, and other species on the red list as being vulnerable to extinction. It's estimated that there are less than 3,500 great white sharks left worldwide. Whale sharks and scalloped hammerheads are now endangered species."
Sharks are being over-fished and finned at an alarming rate. It's getting to the point where certain species of shark may become extinct in the immediate future.
Losing these beautiful creatures would be a tragedy. Education is the key to understanding, and there are many ways to learn about sharks and the efforts to save them.
To keep up on shark conservation efforts, or just to see their breathtaking photographs, follow conservationists like Ocean Ramsey (@oceanramsey) and Juan Oliphant (@juansharks) on Instagram. You can also find helpful information here.
In honor of the beginning of Shark Week, here are some facts about these majestic creatures you can share at the dinner table:
---
1. You are more likely to be killed by an icicle, vending machine, champagne cork, coconut, dog, cow, bee, hot dog, mosquito, or jellyfish than a shark.
2. Until the 16th century, sharks were called "sea dogs."
3. Sharks can smell a drop of blood in one million drops of water.
4. Sharks never run out of teeth, if they lose one another spins forward from rows and rows of backup teeth.
---
Happy Shark Week!
[rebelmouse-proxy-image https://media.rbl.ms/image?u=%2Ffiles%2F2017%2F07%2F13%2F636355858525779268-101333660_636355847824012140-1112506489_giphy%2520%281%29.gif&ho=https%3A%2F%2Faz616578.vo.msecnd.net&s=599&h=693565629813f6f882084adeb126c830292705982588b7e2fd84a1fccbcc3d7e&size=980x&c=2136993912 crop_info="%7B%22image%22%3A%20%22https%3A//media.rbl.ms/image%3Fu%3D%252Ffiles%252F2017%252F07%252F13%252F636355858525779268-101333660_636355847824012140-1112506489_giphy%252520%25281%2529.gif%26ho%3Dhttps%253A%252F%252Faz616578.vo.msecnd.net%26s%3D599%26h%3D693565629813f6f882084adeb126c830292705982588b7e2fd84a1fccbcc3d7e%26size%3D980x%26c%3D2136993912%22%7D" expand=1]