This year was the first year that I decided to live off-campus. My best friend and I decided to room together our junior year at the beginning of our sophomore year. During our sophomore year, we were both living on campus. I was in my sorority house and she was living in the on-campus apartments, the University Flats. With her apartment having a full kitchen, I loved going over there if I ever wanted to make my own meal or just to have a change of scenery. So, I was so excited to live off-campus, where I would have my own room, a full kitchen, and my best friend around 24/7. I went into this adventure full of excitement and nerves because I was really doing it all by myself. Dorms did give you freedom, to an extent, and the sorority house allowed me to be with my friends all the time, but there is just something about living in your own apartment that is so different and exciting. I had such an idea of what I was going to do and how I was going to do it. There were three main thoughts I had about the year.
"I'll make it to the library easy to study."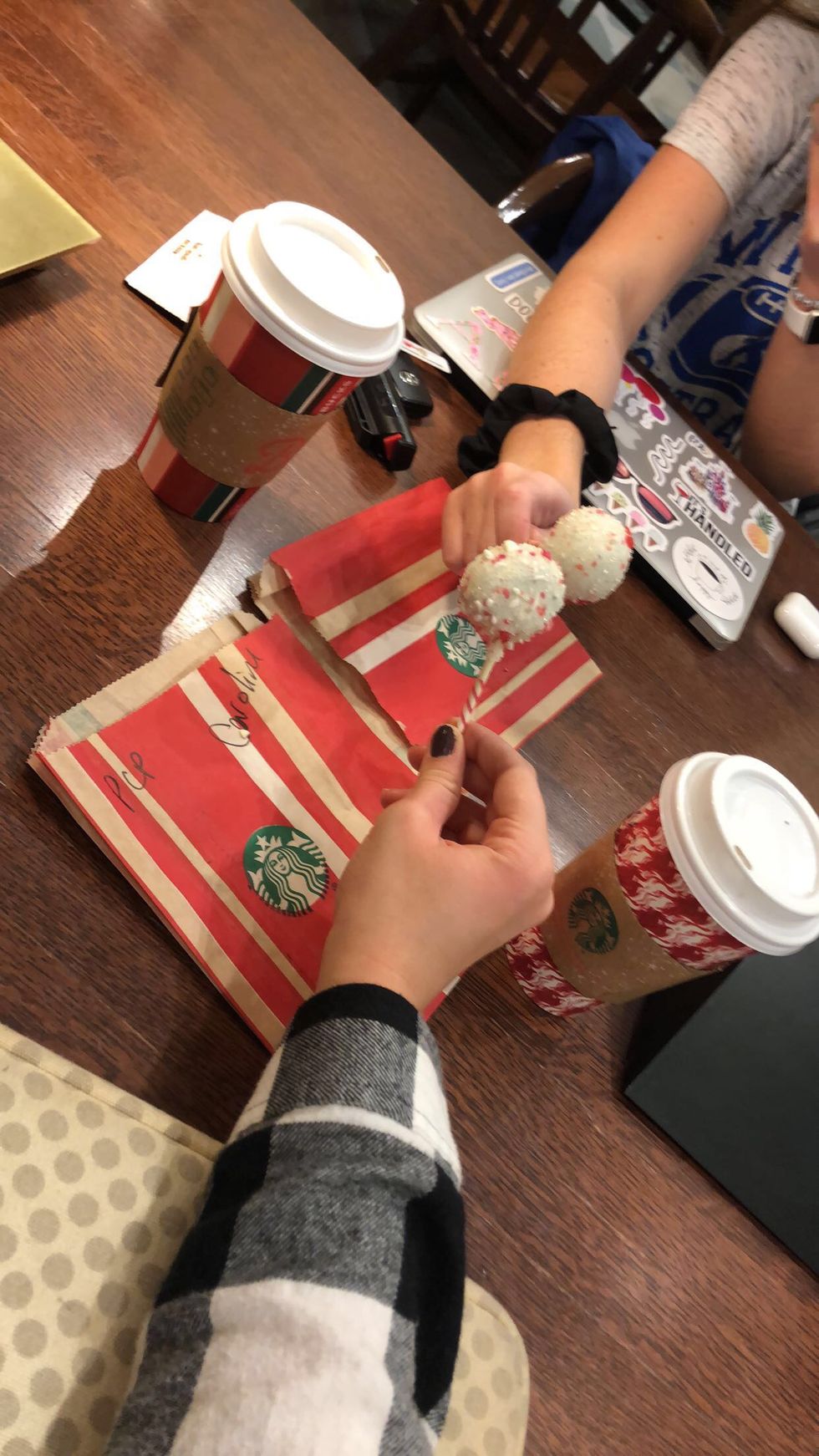 Cake pops and my friends are the two main factors that got me to the library.
I've never been able to sit in my room and study for an exam because I have the attention span of a puppy. Sitting in my room and being surrounded by things that need organizing or just all things that distract me isn't cool for my grades. So, when I knew I was going to live off-campus, I knew I had to go to the library or somewhere out of my room to study. Once I got home, I just wanted to hang out and do nothing. I finally realized that I had to just stay on-campus or go to a fun coffee shop.
"Walking to class is only 15 minutes, I can so do that."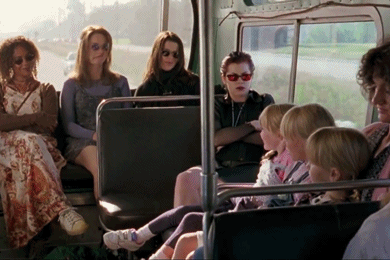 I'm all about good exercise. Being on time, on the other hand, is a different story. Walking to class seemed like a good idea and a good way for me to get moving before my day started. Having early morning classes when you're the type of person who runs late does not mean you should try to make a 15-minute walk a 5-minute walk. I had to learn the hard way. Getting to class out of breath and sweaty and late is not the best look. Luckily, there was a bus stop right outside my apartment.
"I'm going to cook for myself and not eat out every night"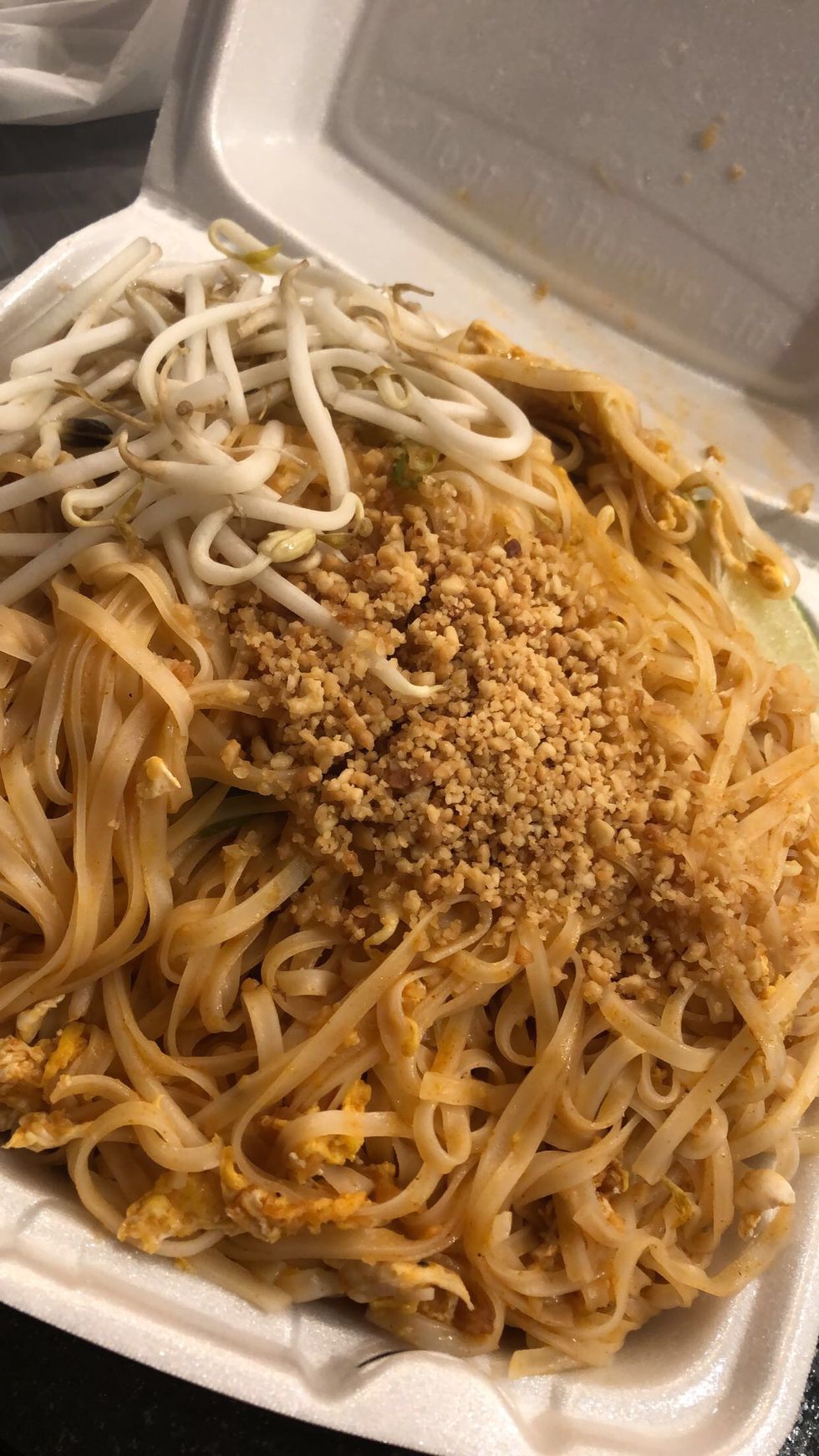 Pad Thai carry-out was a common order this year.
OK, yeah right. For a busy college student, cooking for yourself every single day is almost impossible. If you have figured out how to do that, please let a girl know. Don't get me wrong, I did cook some nights, but it was nowhere near what I thought I was going to do in the beginning. Let's just say Uber Eats and Door Dash were lifesavers. Technically, I didn't eat out because the food was coming to me. That counts for something, right?
I still had a blast living in my apartment with my bestie, even if I didn't do all the things I said. I learned to just live with it. We did a lot of cool things in our apartment that I will miss so much. We got succulents the second day we were moved in, and we ended the year getting a turtle, Titi. I'm sure living off-campus next year will be just as fun as the last. Hopefully, I can think more realistically next year.