As college kids getting ready to dip for summer break and spend a glorious three months on a beach somewhere in SoCal, there's just one thing left to do- finals.
*Cringe*
Finals are the bane of every college kid's existence and they always produce so much stress during the last week of school. Students from all majors study for days to make sure they don't flunk the last exams and final projects worth 30% of their overall grade. As we prepare to walk to class, sit down, and take the final that will make or break our grade, the same thoughts pop into each of our heads- an inner dialogue that inevitably happens every year we have to go through this pain again. Thoughts perfectly expressed by none other than Cristina Yang of Grey's Anatomy.
1. Ughhhh, chem final in an hour... stupid finals.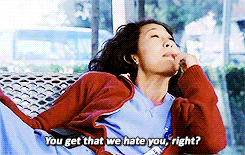 ...said as we reluctantly roll out of bed, start getting ready, and open up our notebooks for a last minute study sesh.

2. I wonder if she'll just let me skip the exam if I look depressed enough?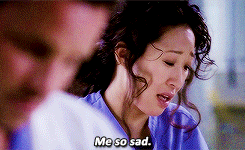 ...said as we start the journey to class, working on our best sad puppy dog face for the professor when we walk in.

3. Did she really just tell me I look like death?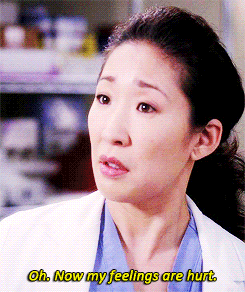 ...said as we enter the classroom and sit down- coffee in hand, bags under our eyes.

4. We only have 10 minutes to study before it starts, SO WHY ARE WE ALL TALKING, PEOPLE?!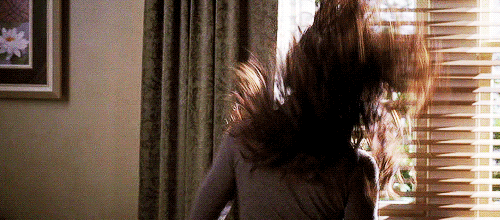 ...said as we inwardly scream, frantically pour over our notes, and look up at the professor pointing to the clock.

5. Oh no... did I say that out loud?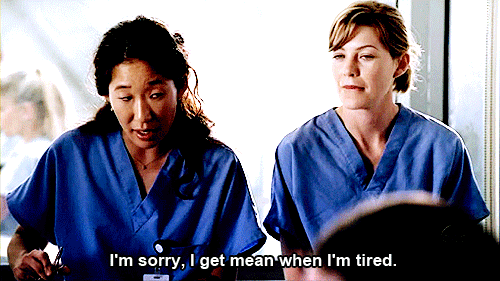 ...said as we nervously chuckle, swallow, and avert our eyes from the rest of the class who is now giving us a death glare.

6. Will she care if I eat during this?... Ehh YOLO.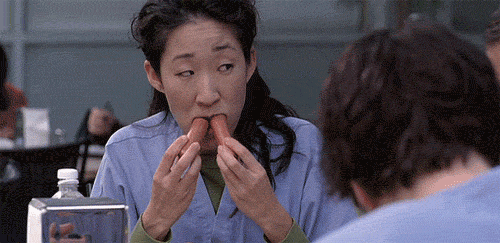 ...said as the exams are handed out and we slowly open the bag of Hot Cheetos we brought for brain food.

7. Oh, there's an essay worth a grand total of 5 points? Haha. As if.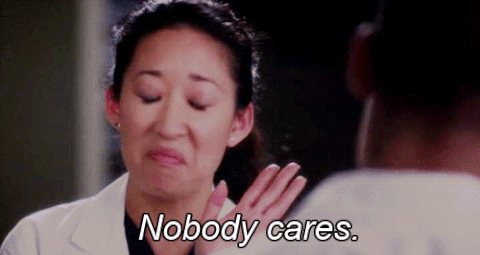 ...said as we finish the multiple choice and scan down the paper to the essay section, trying not to get Cheeto powder all over the exam.

8. Wait, WORTH 50 POINTS?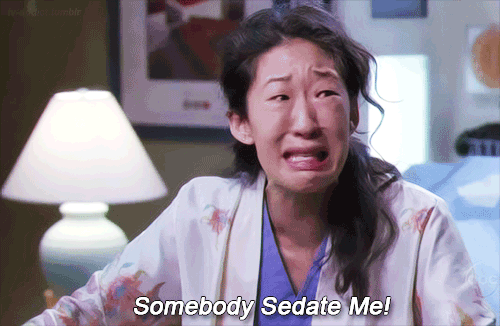 ...said as we do a double take and tears begin to form in our eyes, while we start writing our little hearts out.

9. AND THERE'S A BACK PAGE?!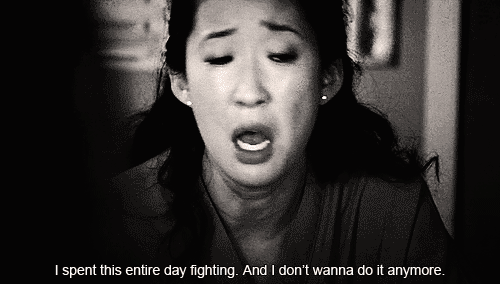 ...said as we scrunch our face up so as not to cry and prepare to tough it out all the way to the end.

10. Oh, thank God it's over... I need a hug.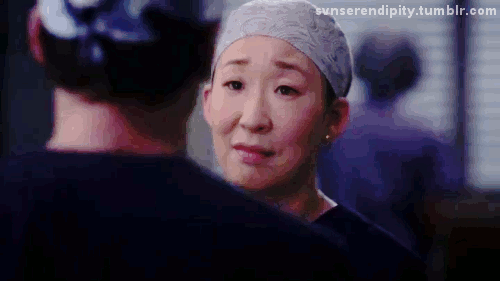 ...said as we turn the final in, rub our eyes, take a huge breath, and leave... until the next final in half an hour.

Finals are rough, my friends, but Cristina Yang survived through all her seasons on Grey's and you can survive through finals week.