Sex and the City is one of my favorite television shows of all time. It first aired in 1998 and lasted for 6 seasons, ending in 2004. We all smiled when Miranda told Big, "Go get our girl" after Carrie took off to Paris with the Russian, but if there was one thing I absolutely loved more than the relationships of the four main characters with the love interests we remember the most, it would be the fashion. Sex and the City is the show that put Manolo Blahnik on the map for viewers, and it's probably my biggest fashion inspiration. Just focusing on the show's main character, these are my top 12 favorite Carrie Bradshaw looks.
12. The Adorable Parisian: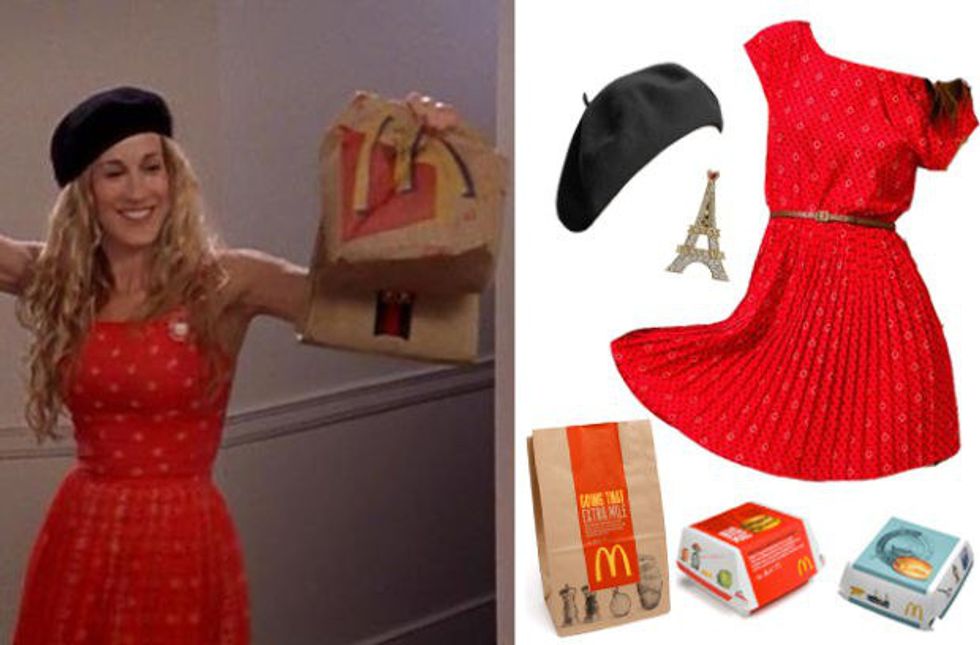 This is the look that Carrie went with when she went to Big's apartment with McDonald's. He wouldn't pay attention to her, even in this cute Parisian outfit, so she threw the greasy food at his TV.
Carrie's Look: Black Beret--Parkhurst, $24; Red Bandana Print Dress--Forever21, $24.80; Eiffel Tower Pin--Betsey Johnson, $38. Total: $86.80.
11. The "Date With The Russian":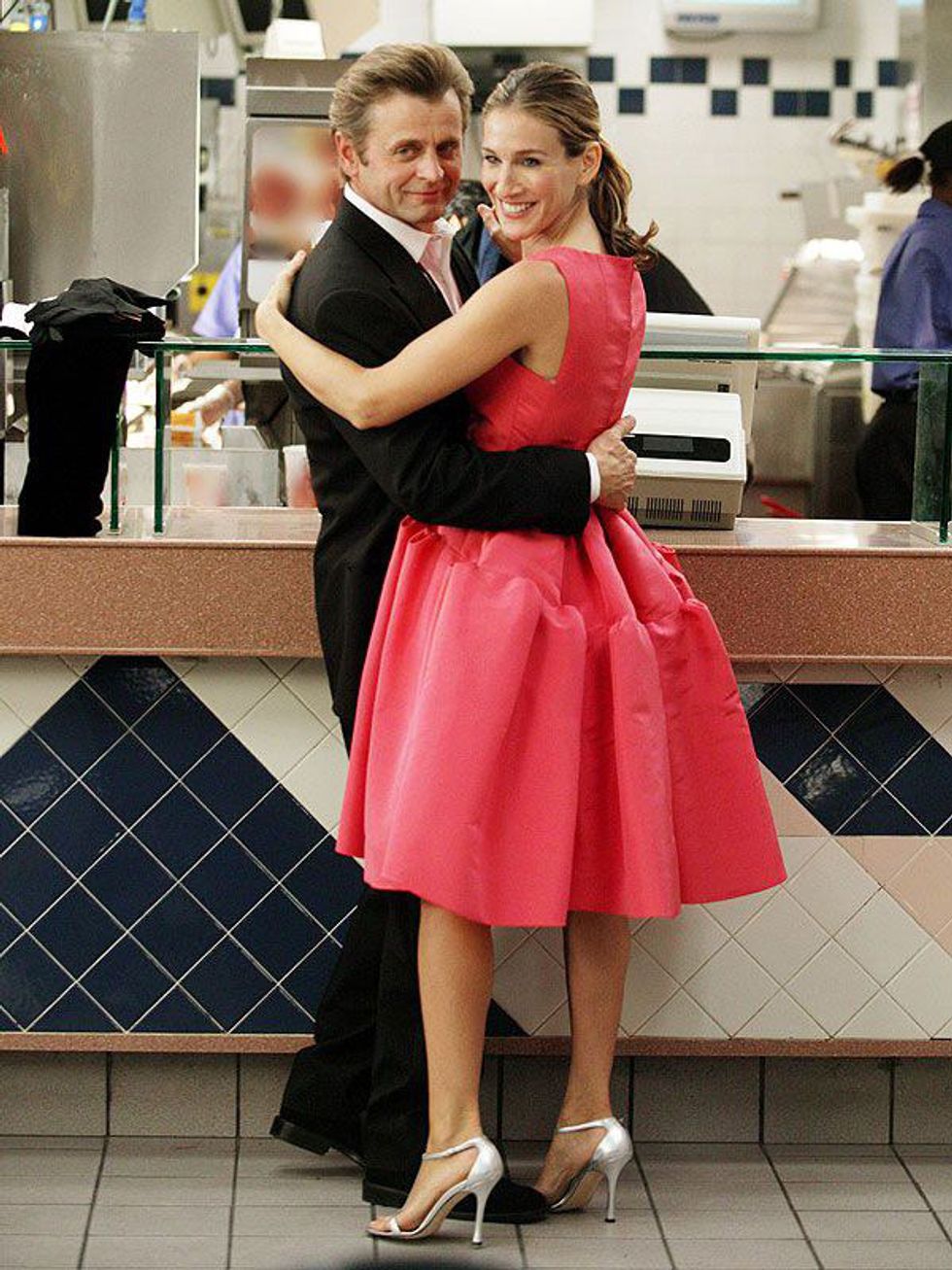 Who says you can't be all dressed up to go to McDonald's? That's exactly what Carrie Bradshaw ended up being: Completely dressed up at McDonald's. Also, who wouldn't be enamored with a Russian accent? Especially when that Russian accent is attached to Aleksandr Petrovsky? I don't blame you one bit, Bradshaw.
Carrie's Look: Pink Dress--Tibi, $525; Black Bolero--Oscar de la Renta, $890 (not pictured); Patent Black Belt--Banana Republic, $29.50; Silver Sandals--Via Spiga, $139.99. Total: $1,584.49.
10. The Prada Dress: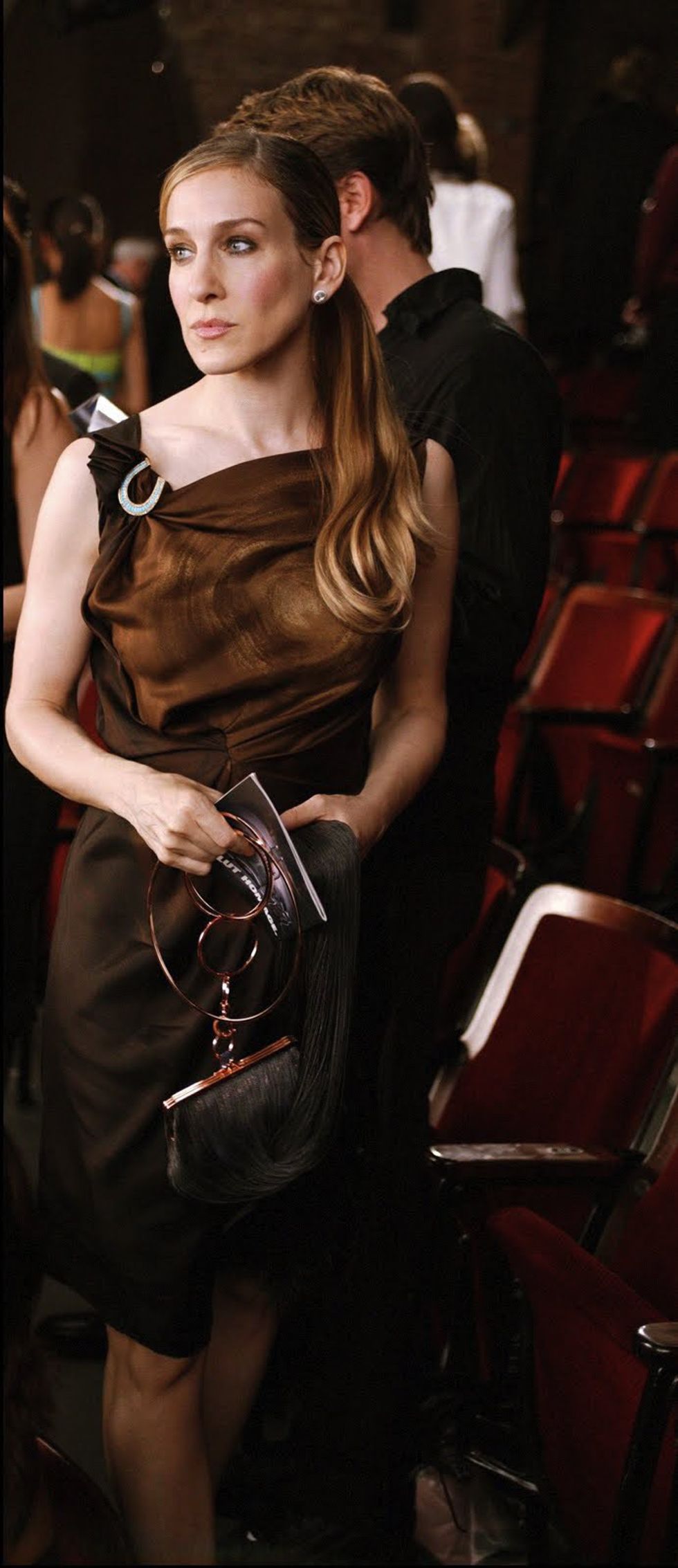 Despite its brown color, this dress is actually pretty gorgeous, especially with the way that Carrie accessorizes. Definitely adding the right bag to the ensemble pulls the entire outfit together. (I tried hunting down prices for this look as well, but couldn't find any information. The dress is definitely Prada, though.)
9. "The One":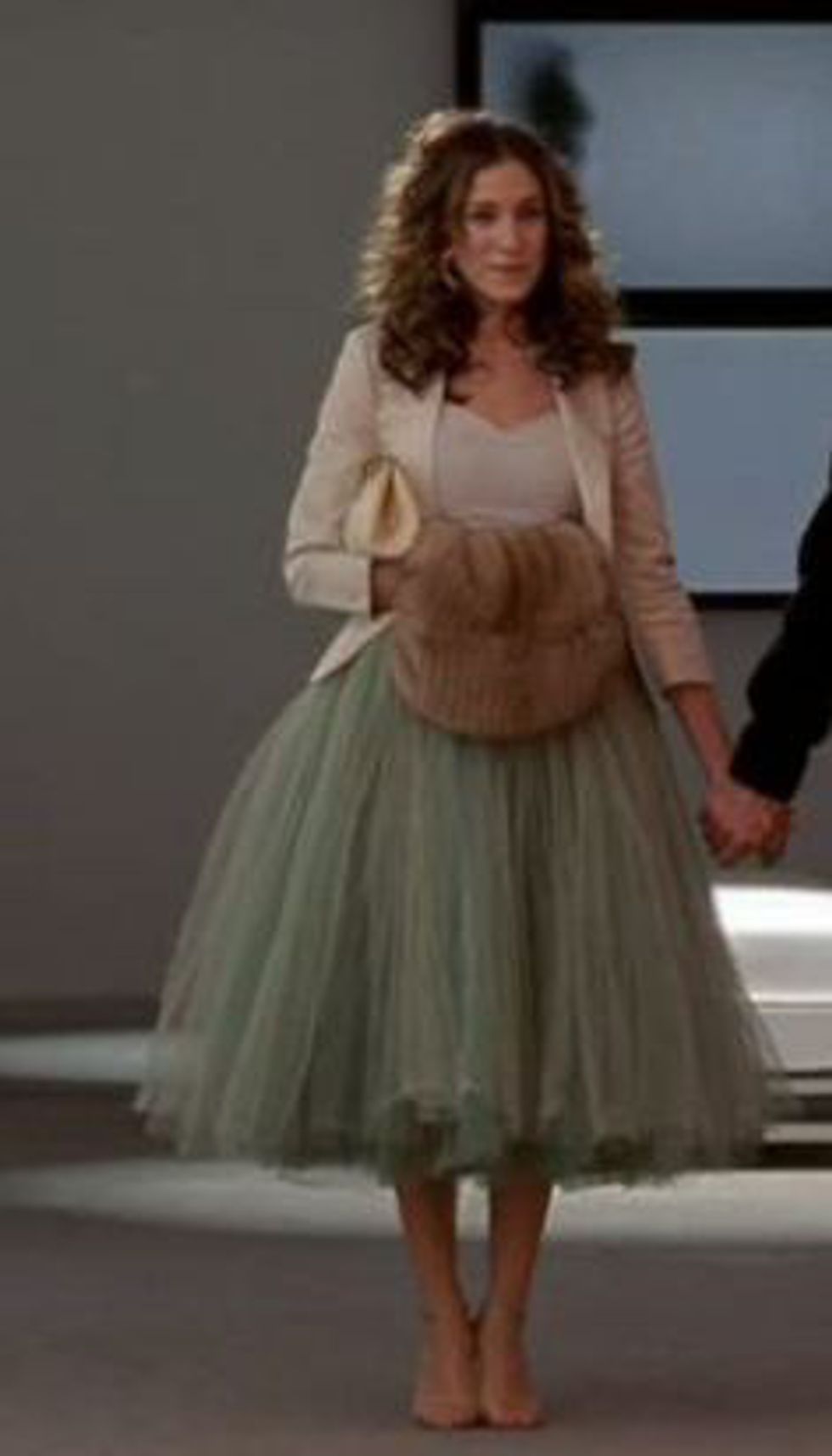 All Carrie wanted from Big was to be told that she was "the one." Sadly, it took him six seasons to figure out that she was "the one," but he goes all the way to Paris to tell her. This outfit is definitely the perfect one to be in when the man you love tells you that you're the one he wants to be with.
Carrie's Look: Dress--Donna Morgan, $178; Blazer--Emporio Armani, $215; Silver Sandals--Steve Madden, $99.95; Faux Fur Muffs--Etsy, $45; Necklace--Forever21, $3.80; Clutch--Asos, $31.66. Total: $573.41.
8. The "Very Carrie" Ralph Lauren Suit: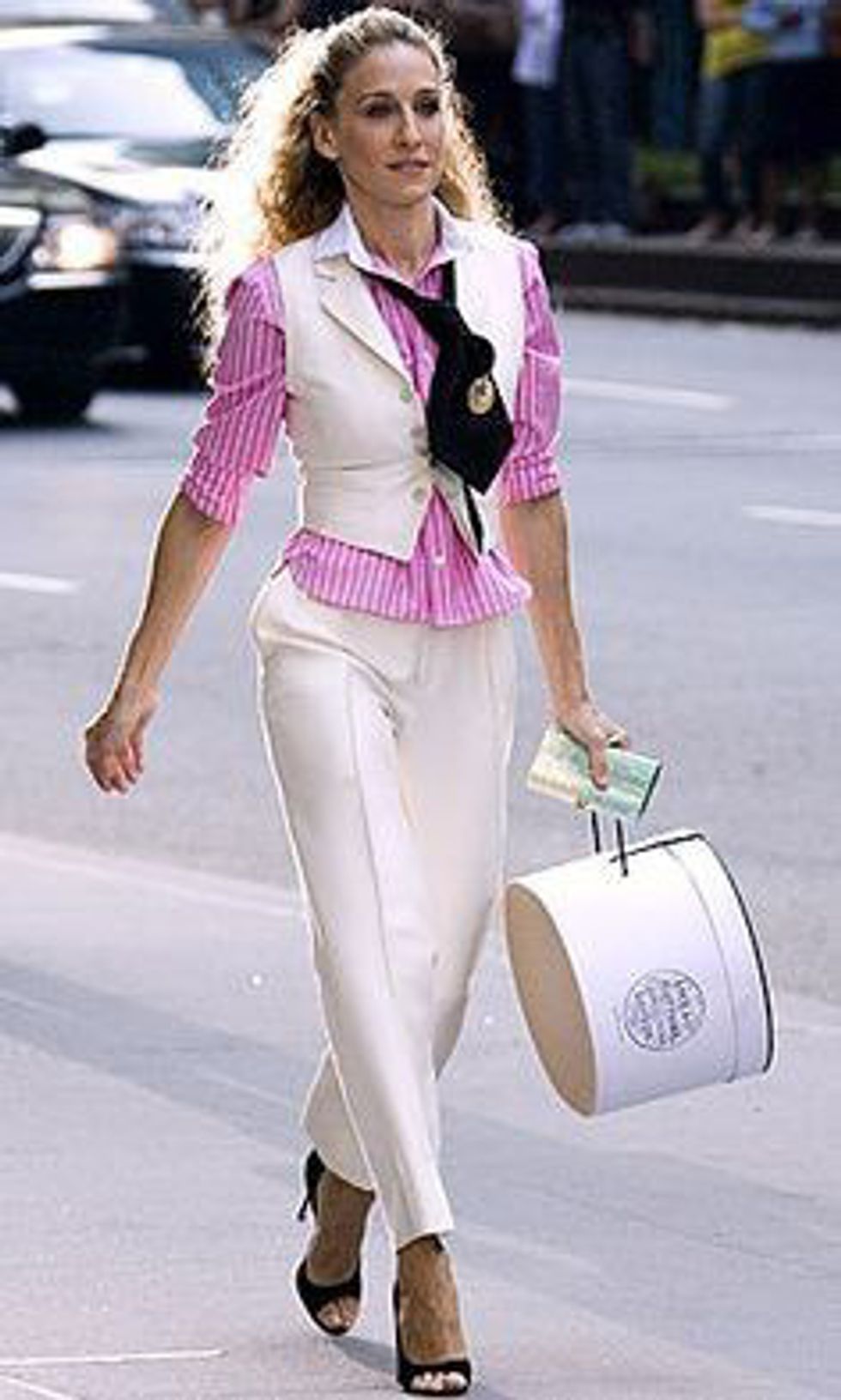 Ah. Ralph Lauren. Easily one of the best designers in the fashion industry, Ralph Lauren is one of my personal favorites. This look in particular is classic Carrie Bradshaw, and it's absolutely gorgeous.
Carrie's Look: Shirt--Ralph Lauren, $145; Suit--Ralph Lauren, $119; Tie--Ralph Lauren, $215; Shoes--Manolo Blahnik Tegna Patent Mary Jane Pump, $775; Brooch--Verdura Target Brooch in diamond and gold, $17,225; Clutch--approximately $3,920. Total (estimated price): $22,399
7. The "Pouty Parisian":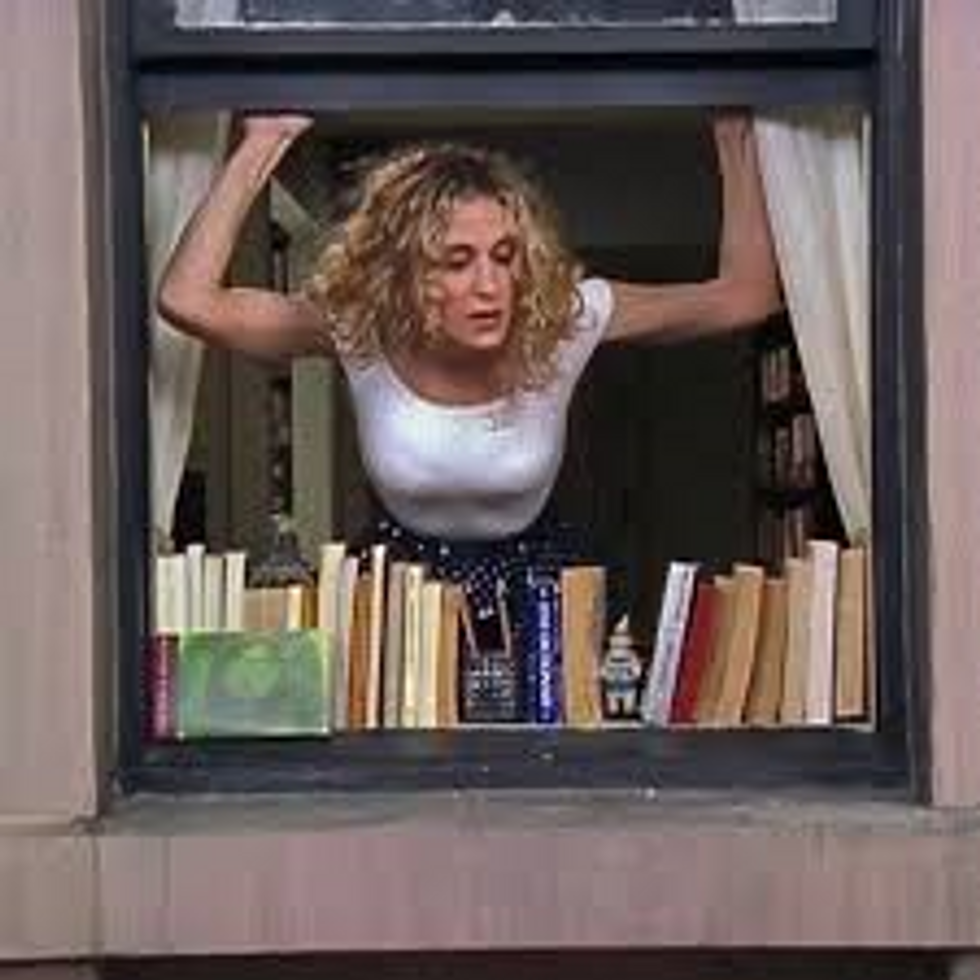 This episode kind of killed me a little inside. I mean, all that Carrie wanted was for Big to tell her she was the one, and he couldn't. It's a good thing she's dressed so gorgeously, yet tragic that the beautiful outfit was wasted. Sadly, this is another outfit I couldn't find pricing on.
6. The Post-It Breakup: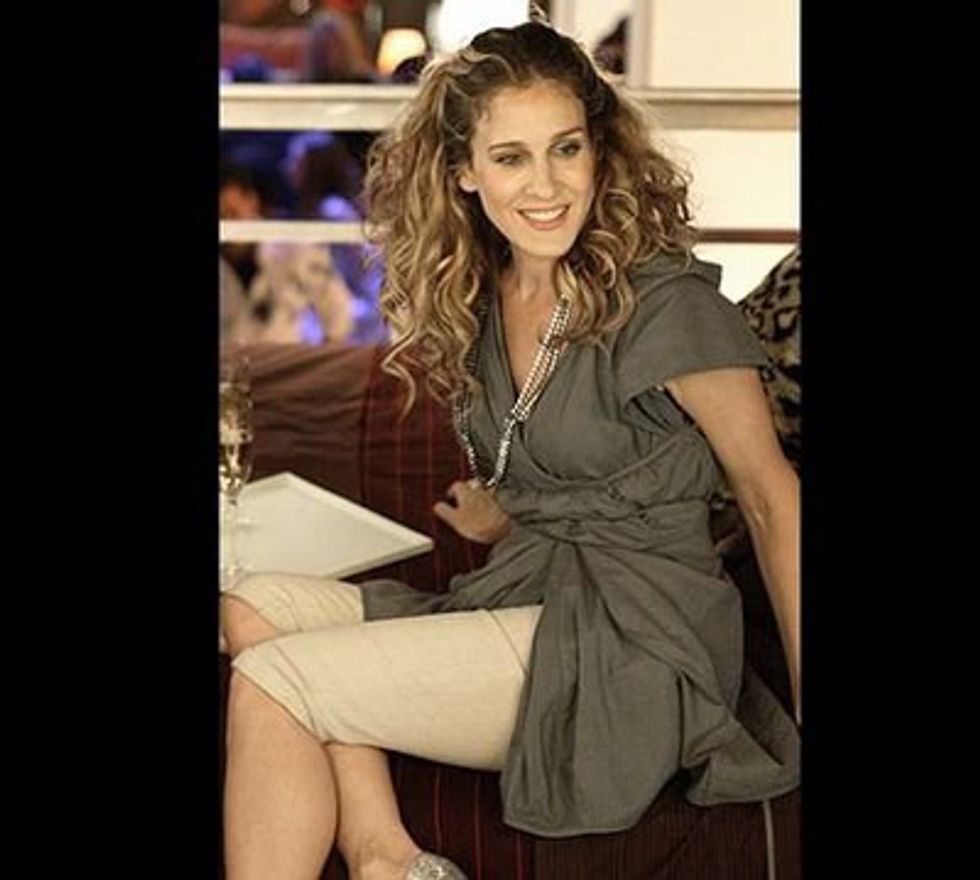 After a bad breakup, what way is there to make yourself feel better than getting dressed up in a gorgeous outfit and going out for a night on the town with your girls?
Carrie's Look: Top--Giles, $135; Pants--Vince Camuto, $79; Necklace--Giani Bernini, $220; Bobby Pins--Sephora, $5; Heels--Christian Louboutin, $3,395. Total: $3,834.
5. The John Galliano for Christian Dior Newsprint Dress: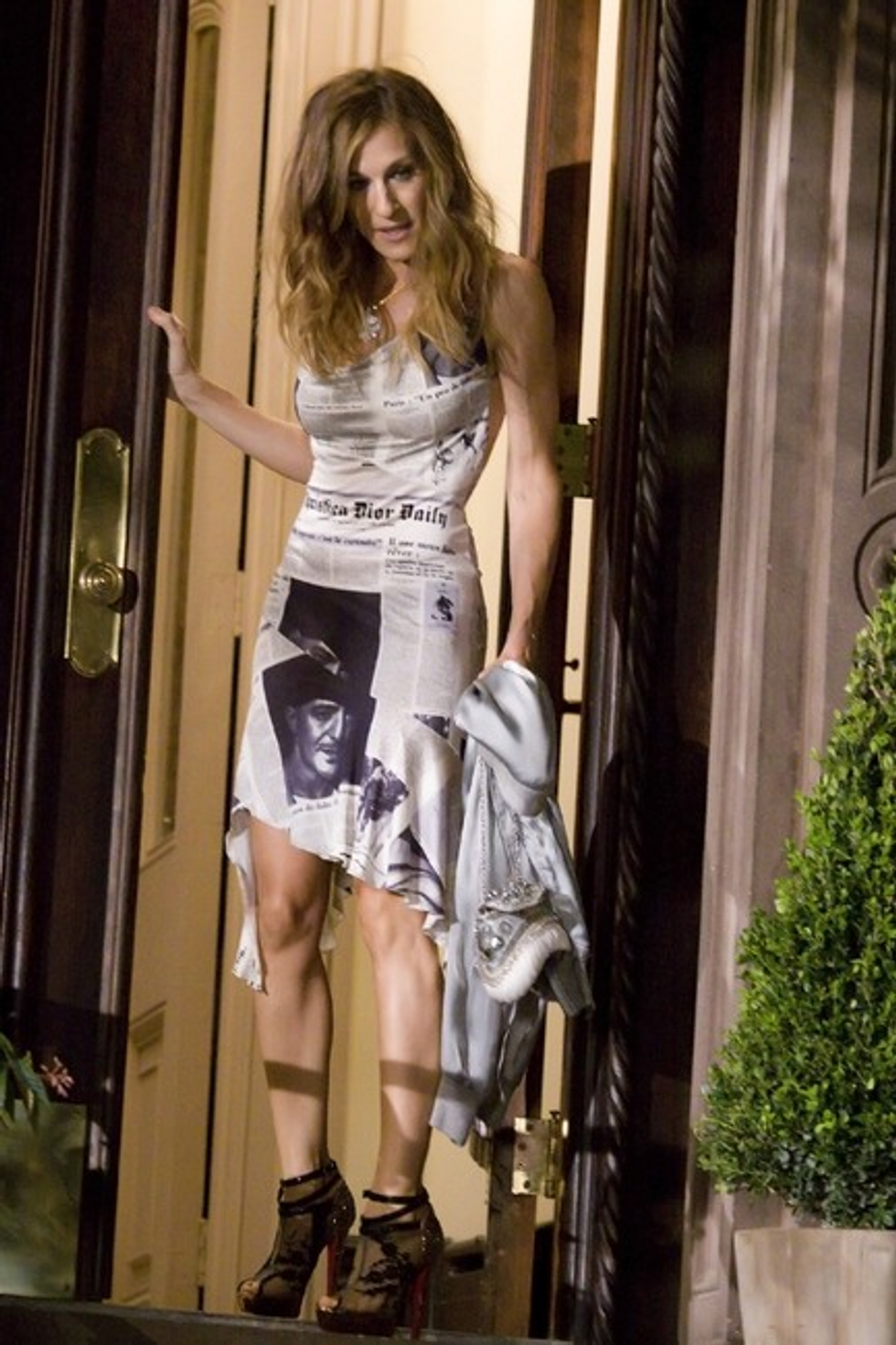 I always loved this dress. It's funky, completely off-the-wall and it's something that only Carrie Bradshaw can pull off. It's absolutely gorgeous on her.
Carrie's Look: Dress--John Galliano for Christian Dior, $2,000 [Spring Collection: approximately $1,500]; Shoes--Christian Louboutin, $3,325; Necklace--Chahan Minassian, $20,000; Bag--Bea Valdos, $4,340. Total: (without spring collection) $29,665; (with spring collection) $29,165.
4. The Famous Tutu: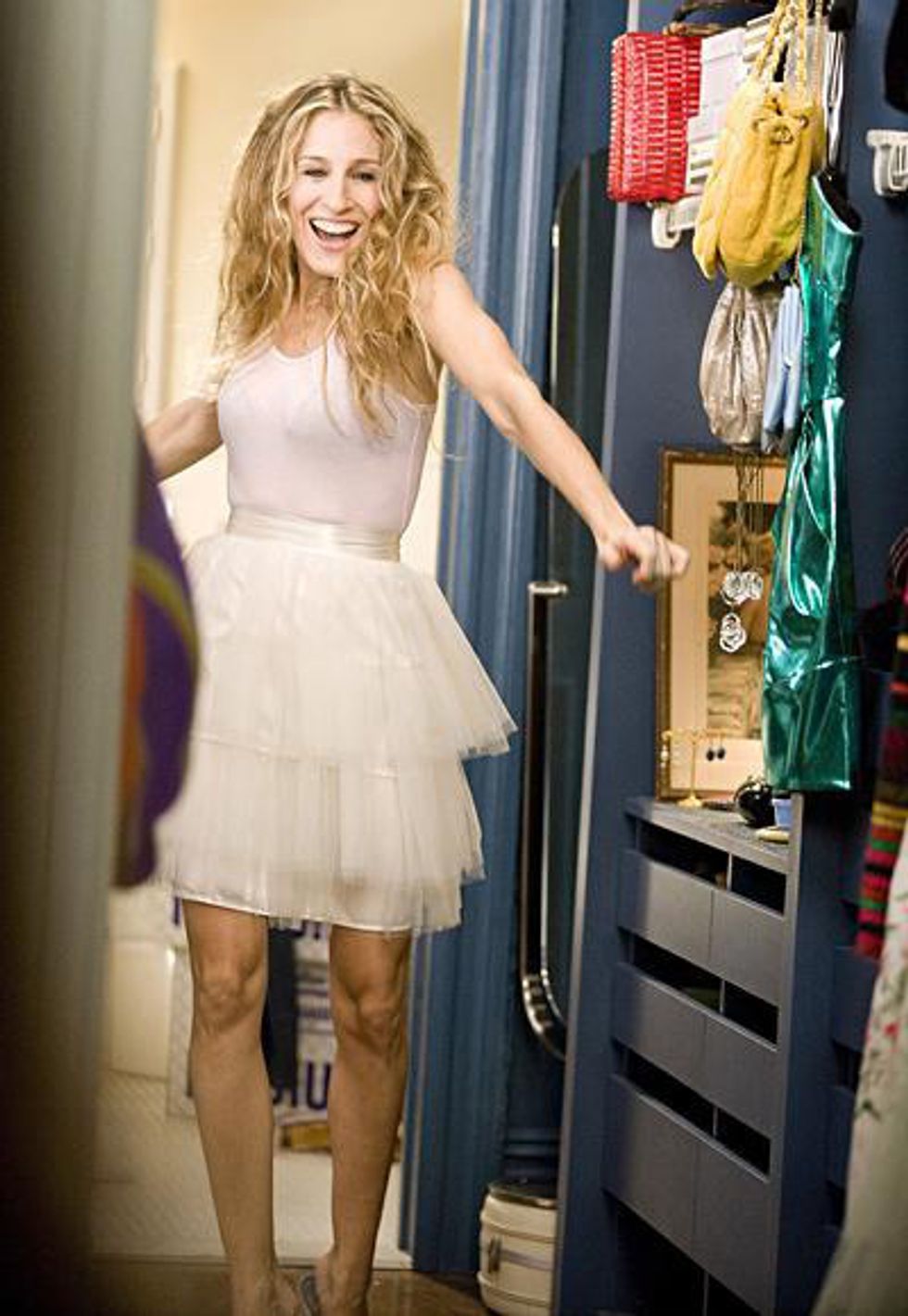 This look is classic Carrie Bradshaw. This look was used both in the first episode and in the first film when Carrie was cleaning out her closet before moving in with Big. This outfit always reminded me of fun, and I love this look. Sadly, I couldn't find any pricing on this.
3. The Downtown Hoedown: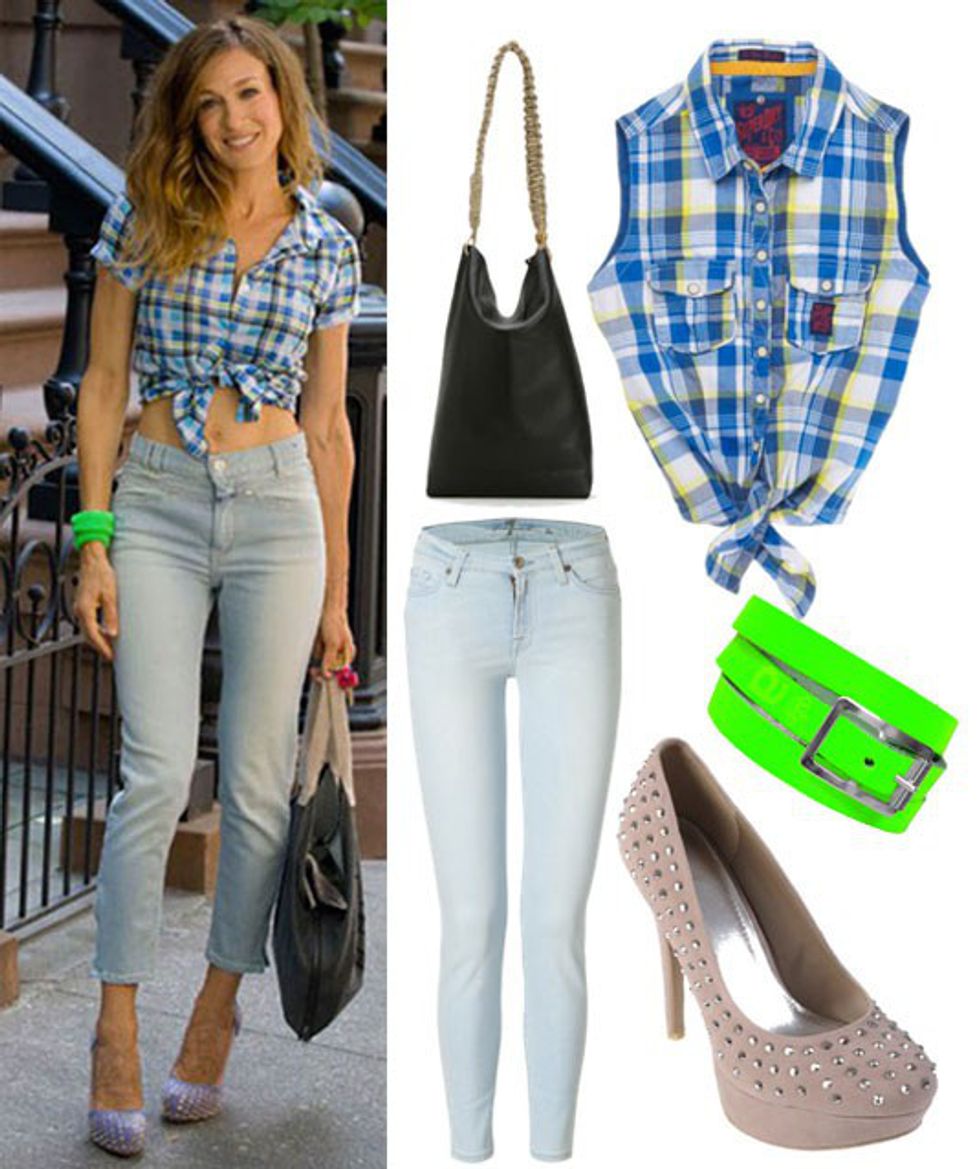 Who doesn't love plaid? I especially love this outfit, complete with the neon green wrap bracelet that doesn't seem like it belongs with the blue and yellow plaid, but it totally works for Carrie Bradshaw.
Carrie's Look: Black Tote Bag--Cold Picnic, $275; Plaid Tie Shirt--Superdry, $66; Neon Wrap Bracelet--Anna Lou of London, $15; Embellished Platform Pumps--Journee, $40; Faded Skinny Jeans--Seven For All Mankind, $255. Total: $651.
2. The Versace: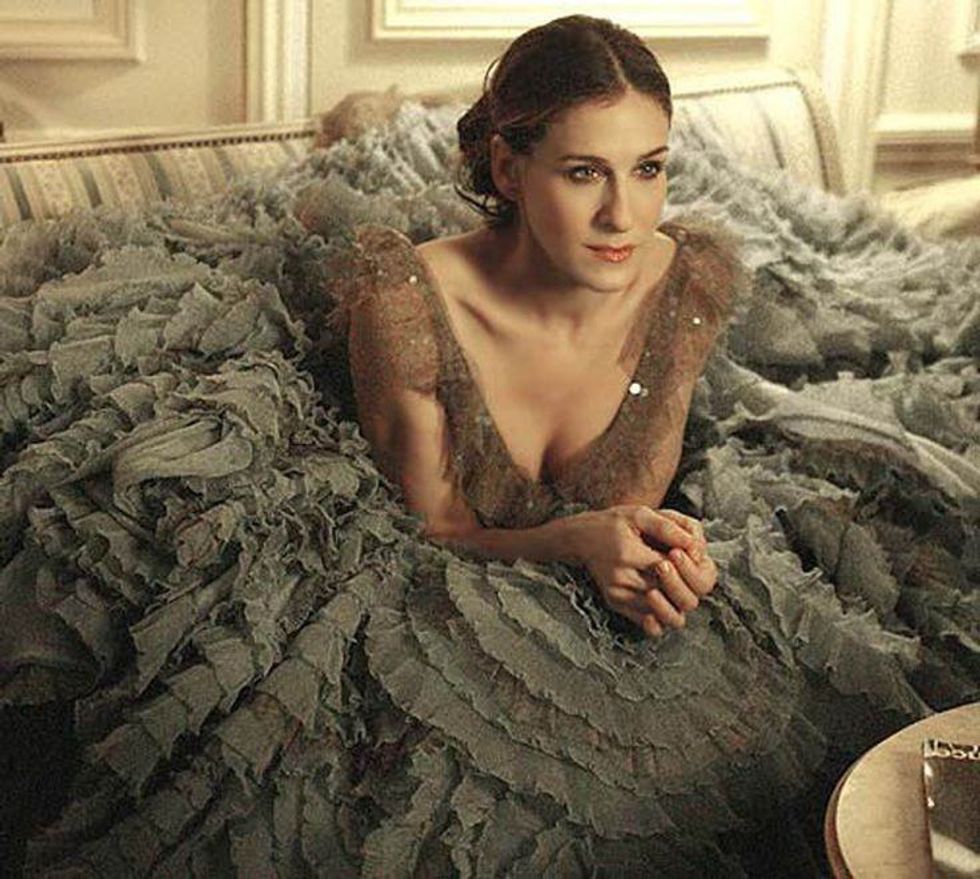 This gorgeous designer dress is the one that Carrie waited all night for Aleksandr Petrovsky to take her out to Paris in. This is the dress she was wearing when he slapped her. Even though this dress was wasted on the Russian, it is definitely one of my all-time favorite Bradshaw looks.
1. The Vivienne Westwood Wedding Gown: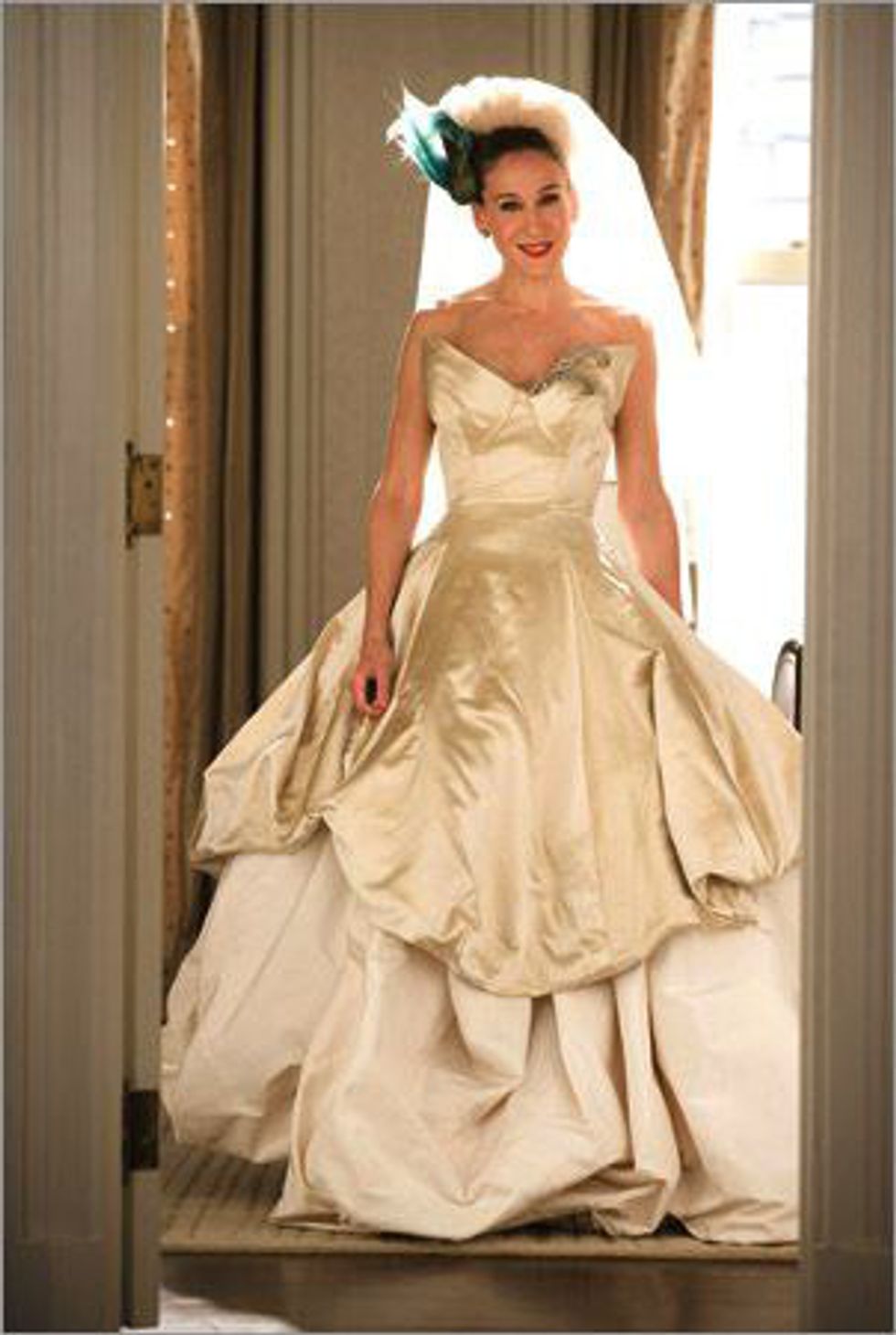 My all-time favorite Bradshaw look, this is the epitome of wedding dresses. This is easily one of the best Carrie Bradshaw looks. Too bad Big didn't show up. I mean, for God's sake! She put a bird on her head!