I love being a woman. I love being female. I love being feminine.
I read a poem called "Things Every Woman Should Have" and felt instantly empowered in my womanhood. I was enchanted by the independence. I was driven by the strength and embraced the fragileness. I was delighted by the sex appeal and encouragement to know one's self with surety, grace, and integrity.
Before I dive into this beautiful poem, I want to address some controversy behind this poem. This poem has mistakenly been called "Maya Angelou's Best Poem Ever." Praised by women like Hillary Clinton, this poem was actually written by Pamela Redmond Satran.
"Well, I don't know how Maya Angelou feels about this, but I'm pretty pissed off," Satran wrote in a July 2007 HuffPo blog, 10 years after her list first hit the pages of Glamour. "The truth is, this 'poem' was written not by Dr. Angelou but by me, and published under my byline."
With a goal of telling younger women about "the things [she] really wished [she] had and known by that important milestone" in mind, Satran created a piece that later became a phenomenon.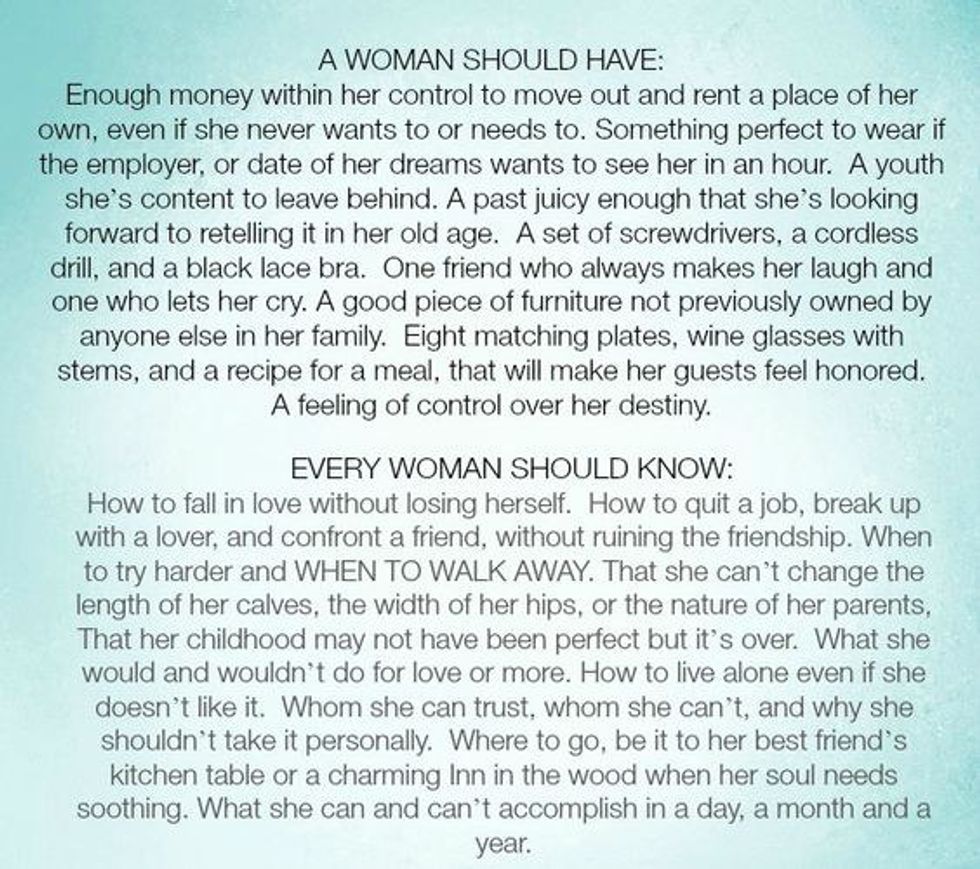 Things Every Woman Should Have And Should Know
By Pamela Redmond Satran
One aspect of the poem that stands out to me is the line, "every woman should know how to fall in love without losing herself." Being the helpless romantic that I am, this line hit home. Every relationship shapes a piece of you and having the foundation of your own being before entering into a relationship will bring it success and stability. It's transparent with the line, "a woman should have a feeling of control over her destiny." This sense of direction. This sense of understanding. This sense of an inner path that one creates while being open to the unknown. It's quite beautifully mysterious if you ask me.
I was also captivated by the line "every woman should know how to quit a job, break up with a lover, and confront a friend without ruining the friendship." Many of us have either encountered or will encounter at some point in life one or all of these circumstances. It takes courage and confidence to quit a job and be ready to step into the next chapter. It takes a great amount of strength to leave a relationship that no longer serves you. It takes love and patience to have a hard conversation with a close friend and to prepare for the unknown response.
Last but not least, I can't help but express how much I adore the line, "a woman should have a set of screwdrivers, a cordless drill, and a black lace bra." The contrast between the socially masculine and feminine items as a woman's essentials is bold and just down right sexy.
If this poem speaks to you, and you're inspired to pass it on, just be sure to share who wrote it… Pamela Redmond Satran.