I'll never forget the first time I got my first video game console in the mail. It was the summer of 1995, and my mom got a really good deal on a hot system that I remember having my eye on for a good while throughout all of 3rd grade. It was a Super Nintendo bundled with Donkey Kong Country, a game I still own to this day and part of my collection over 20 years later.
I have gotten a ton of mileage out of my SNES system, because Nintendo was all about making top quality products for its customers, and they still care to make a solid product to this day. So even if your today's college student that never got a chance to feel what it was like to get a SNES out of the box in the 1990's, you can be able to have your own experience with the SNES Classic.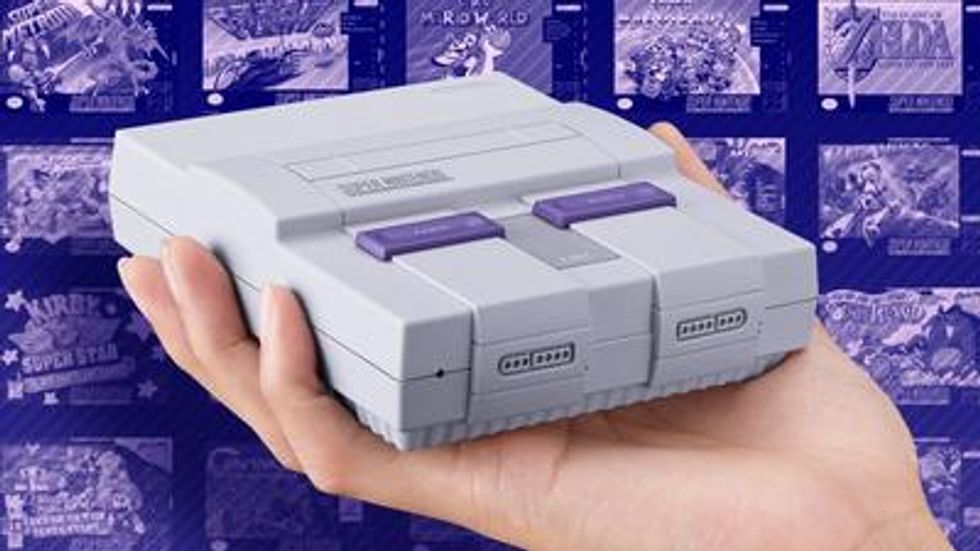 Nintendo is now releasing the SNES Classic, which is available through the UK, Japanese and American markets. It's more of a glorified emulation device, but if you have some SNES cartridge titles you can pop those bad boys into the system to increase your ever expanding library of retro Nintendo classics.
You can hook up the SNES Classic to any current HD TV through HDMI making these built in SNES titles look fantastic on your TV. They come with two controller ports so you can go head to head with some of the games bundled with the system if you ever wanted to know how Super Mario Kart or F-Zero played.
The list of games follow as:


Contra III: The Alien Wars
Donkey Kong Country
EarthBound
Final Fantasy III
F-ZERO
Kirby Super Star
Kirby's Dream Course
The Legend of Zelda: A Link to the Past
Mega Man X
Secret of Mana
Star Fox
Star Fox 2
Street Fighter II Turbo: Hyper Fighting
Super Castlevania IV
Super Ghouls 'n Ghosts
Super Mario Kart
Super Mario RPG: Legend of the Seven Stars
Super Mario World
Super Metroid
Super Punch-Out!!
Yoshi's Island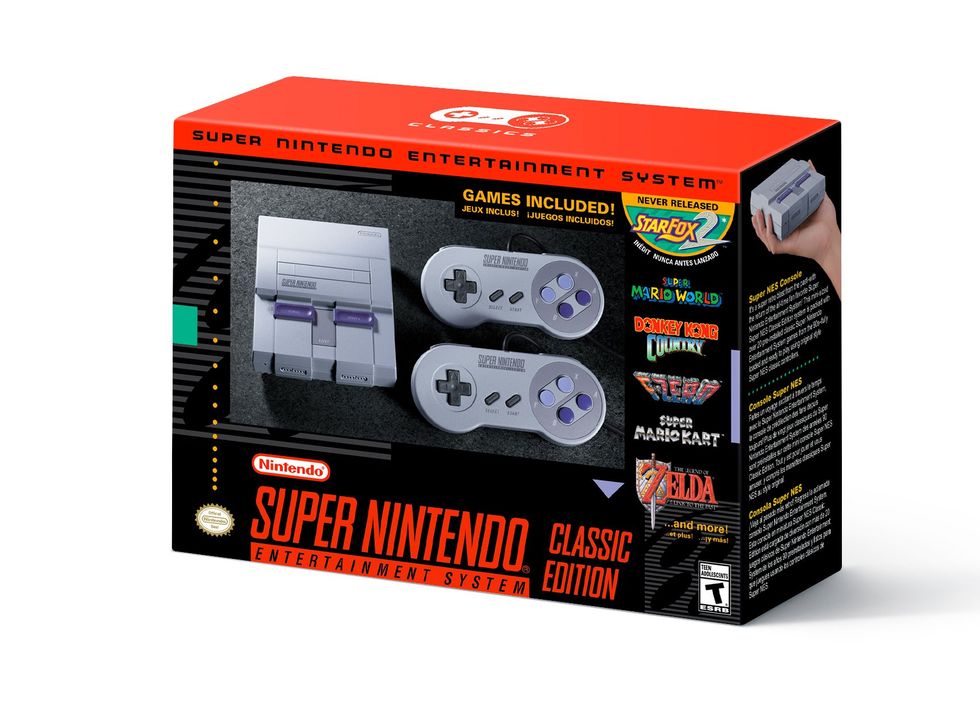 The biggest reveal to this is Star Fox 2, a title that was a completed game before being cancelled because it was going to be released right before the launch of the Nintendo 64 and its own Star Fox 64 game. I guess Nintendo felt that it would confuse consumers on what Star Fox is what, so its been hiding in a vault for over two decades at this point (minus the emulation files out there of Star Fox 2 that have been leaked for a long time, so gamers already knew about it). I have to say that list of games is really solid for people who are fans of the Super Nintendo that might not have them in their collection, or for people who have never played the Super Nintendo and want to try it out.
This contains racing games like Super Mario Kart and F-Zero; Role Playing games like Final Fantasy III (which is VI in Japan), Legend of Zelda, Earthbound, Secret of Mana and Super Mario RPG; side scrolling adventure games like Super Metroid, Super Castlevania IV and Contra III; fighting games like Street Fighter II Turbo and Super Punch Out; and the others which are Nintendo characters like Kirby and Yoshi titles. A very good mixture of games that were highly praised when they were released all within one system.
The price of the system is going to run at $80 plus tax depending on where you get one, and you can expect the scalpers on line to hike up prices once its released like they did with the NES Classic last year. But for $80 for titles that if you were to try and buy separately, this is a very good deal to get. Nintendo is kind enough to make these systems go till the end of 2017, so there is a couple of months for you to get one, since the release date of SNES Classic is on September 29th of this year.
If this system has peaked your interest, then go for it! If anything this can get you started into the world of retro game collecting since the market is very hot right now, of course titles are going to cost you a pretty penny depending on what your looking for. I've had my childhood nostalgia formed by Nintendo systems as long as I can remember, and it's never too late for people to hop on board and have their own experience with the Super Nintendo.