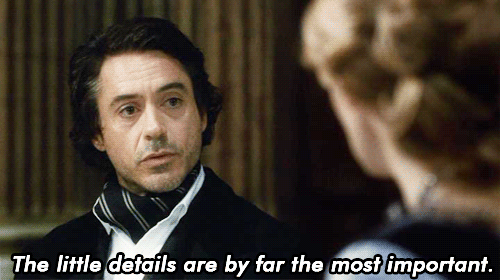 Deduction, simply put, is "a process of reasoning in which a conclusion follows necessarily from the premises presented, so that the conclusion cannot be false if the premises are true." Deduction consists of arriving to a conclusion based on the logical from of true premises or statements. All people use deduction to some extent in their lives.
A simple example of how we use deduction in our lives would be: "If It takes me an hour to go to work and work starts at 9 a.m. , then I must leave home at 8 a.m." Similarly, concluding that a friend is sad based on an eating habit or a change of character she normally exhibits when sad is a form of deduction.
This is where it starts getting more movie-like. What I described in the previous paragraph is the deduction used in logic and philosophy - it's very real and useful for all kind of things.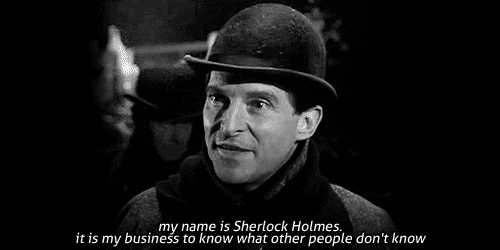 However, some people believe we can take deduction a step further and use it to read people, anticipate events, etc. This is where Sir Arthur Conan Doyle's famous character, Sherlock Holmes, comes in and all the different interpretations of the infamous character.
According to Benedict Cumberbatch's Sherlock website (the website of the fictional character portrayed by Benedict Cumberbatch):

This is what I do:
1. I observe everything.
2. From what I observe, I deduce everything.
3. When I've eliminated the impossible, whatever remains, no matter how mad it might seem, must be the truth.
- Sherlock Holmes (BC)
Therefore, in theory, the main aspect that allows for deduction to take place is observation. By observing as much as possible we are gathering "data" that will allow us to make a more educated and accurate deduction. Robert Downey Jr.'s Sherlock Holmes illustrates this well when he deduces his "captor's" identity by observing everything around him:
And as to who you are, that took every ounce of my not-inconsiderable experience. The letters on your desk were addressed to a Sir Thomas Rotherham. Lord Chief Justice, that would be the official title. Who you *really* are is, of course, another matter entirely. Judging by the sacred ox on your ring, you're the secret head of the Temple of the Four Orders in whose headquarters we now sit, located on the northwest corner of St. James Square, I think. As to the mystery, the only mystery is why you bothered to blindfold me at all. - Sherlock Holmes (RDJ)
He also brings up this skill to observe things in a conversation with Madam Simza:
Madam Simza Heron

: What do you see?
Sherlock Holmes: Everything. That is my curse.
- Sherlock Holmes (RDJ)
So the first step in developing your Sherlock-like deduction skills is to work on observing more. Take time to look for things you wouldn't normally look for and try to make a simple deduction from them.
It's actually quite possible to practice and develop these skills, it's not just science fiction (See: http://listverse.com/2014/08/14/10-incredible-stor...).
There's also a pretty good article on how to develop Sherlock-like skills here: http://lifehacker.com/5960811/how-to-develop-sherl...

Hope this was an interesting read and if you've read this far I can at least deduce that you found it interesting.
*cue Sherlock theme song*