I find it pretty funny when people say "Go back to your own country". If you are an immigrant, or from a family of immigrants, you know exactly what I'm talking about. This is one of the most ignorant statements I've heard from mouths of different "Americans". I put that in quotes because what is an American? Apparently an American is someone whose family has been here for generations, since the Thomas Jefferson days or even further back to the thirteen colony days. People who have came from other countries are not considered American by the people whose families have been here for centuries.
Here is something to consider for those who have used the line "Go back to your own country". The only reason anyone is even here in this country is because Christopher Columbus went on a quest to find India. Take this into consideration, if Christopher Columbus did not have the intention of wanting to find India, he would have never mistakenly landed on this land that we consider America. Yet, there are the people who have the nerve to tell us Indians that we should go back to where we came from. You would not be here right now if it wasn't for our gold enriched country. I say "our" because I am Indian, so I consider India as my motherland country. There is also the line "Speak English". Yes, it may be easier to live in this country knowing how to speak English, but English is not something easy to learn. Most people have taken some sort of foreign language in high school, and I'm sure you can remember how hard it is to actually learn another language. Yet, immigrants can learn English about five times faster than it takes another to learn a language. While you are still working on verb charts in Spanish, an immigrant is learning English without any structural chart to even help them. Bilingual people also have the advantage of knowing two different languages, and it is proven that someone who speaks more than one language is smarter.
Let's not forget, this country actually belongs to the Native Americans, who are called Indians. Not only did their land get taken away, but their actual ethnic names got taken away from them, and people referred to them as Indians, people from another country. They did not even get to keep their original names. This land actually belongs to the natives, but now the natives are the least populated group in this country.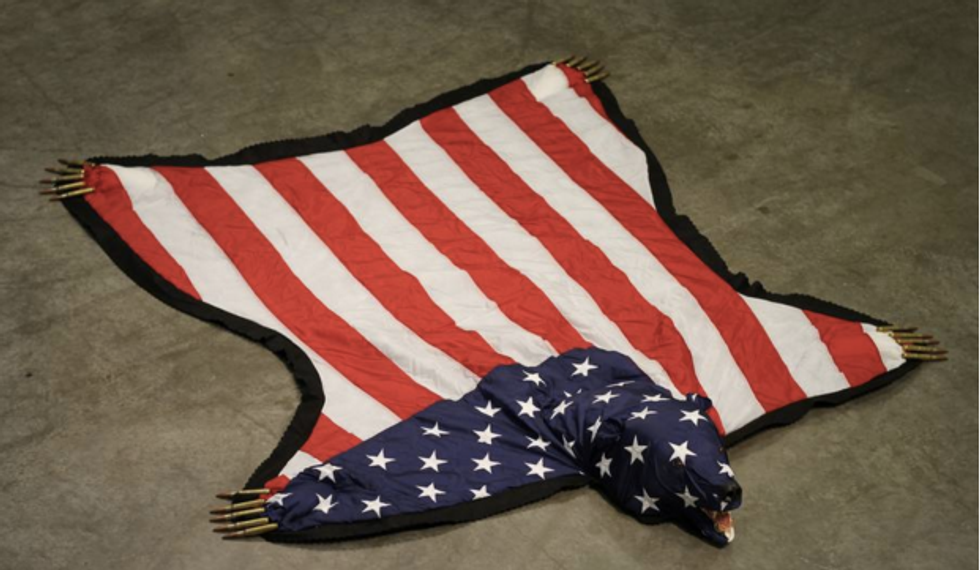 ( Photo: The American Dream Is Allie and Well by Nicholas Galanin. His work, he said, "comes from a place that has known 'America' before 'America' decided to call this land 'America.'" Source: MIC.com)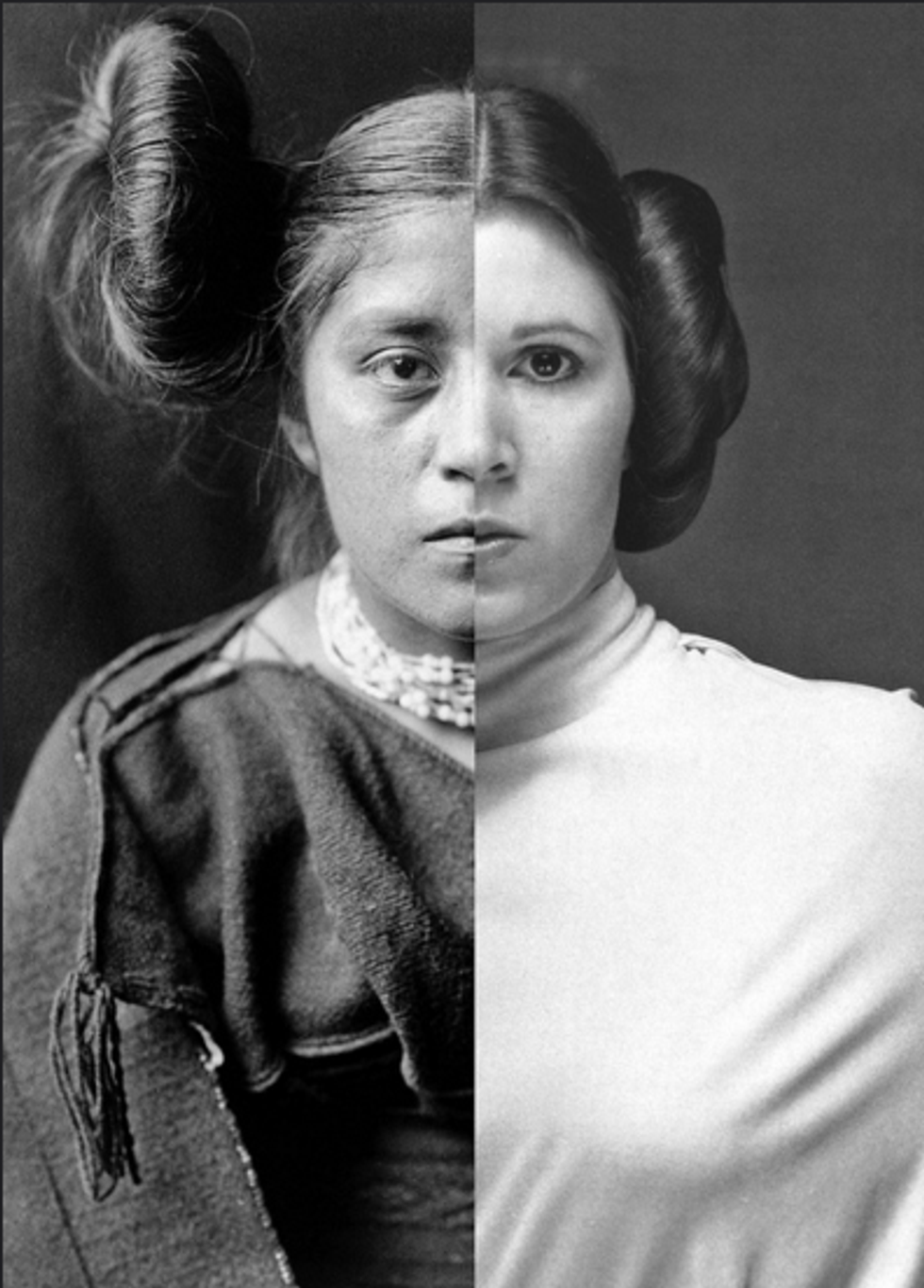 (Things Are Looking Native, Natives Looking Whiter by Nicholas Galanin)
Now let's fast forward to America in the 21st century. To this day, there are still certain groups of people being treated unfairly, specifically the African Americans and/or blacks. The reason I separate African Americans and blacks is because everyone identifies themselves differently. One may consider themselves as African American, and another might consider themselves as black. We live in a world where the most negative stereotypes are being applied to this group of people. There are still white supremacist groups out there, still not even considering African Americans/blacks as humans. I find it insane because there is still much hypocrisy existing in this country that people are not considering. For example, there is a negative stereotype that African Americans/blacks are lazy. However, rewind back a century or two, and these were the people doing all of the work for the whites. They were used as slaves, then at that being tortured and killed. The whites had them as slaves to do the work that they did not want to do, because they felt higher in power and they were also too lazy to do basic things by themselves. Yet now, this group of people are considered lazy. We are living in a country with a corrupt system, that places African Americans/blacks at the end of the spectrum. This system is constantly oppressing this group. One example of an issue is racial profiling. People are constantly racially profiling them, cops in particular, which causes them to be wrongfully accused, or receive penalties greater than the actual reason of why they might have gotten in trouble. This is why there is a Black Lives Matter organization, but of course, even this has to be questioned or ignored. People misunderstand the true meaning of this organization for being racist against white lives. So then White Lives Matter was created. However, they are missing the whole point. Black Lives Matter is not a hate group ruling that black lives matter more than other lives, but in fact it is trying to convey the message that black lives actually matter, like the other lives that matter. White lives have mattered since the Christopher Columbus set foot on this land. White people have not been oppressed, ever. They were not turned into slaves, lynched, criminalized, or racially profiled. White people were not taken away from their own land, they chose to come here. On the other hand, Africans were taken from their motherland, and they lost their original land. Is it me or does this sound like déjà vu? Remember, when I mentioned how natives were taken away from their land? I feel as if this is some cycle that this country is repeating. Africans were kings and queens in their own countries and continent. Yet, for some reason their power was not important. Natives also had important figures and leaders, but of course their power wasn't important enough either. It's sad to say, but this is the prime example of white power. Why is that the powerful figures for people of color could not overrule the powerful figures that were white. This is still happening today. We have our first black president, but he went through so much torment to keep his place as president. Many people tried to overthrow him by bringing up his birth certificate and questioning it. Would anyone be questioning anything about a white president? Or should I say, every single president before Obama. We thought that Martin Luther King and Medgar Evars were the powerful figures that tried to end racism, yet they were killed because of racism.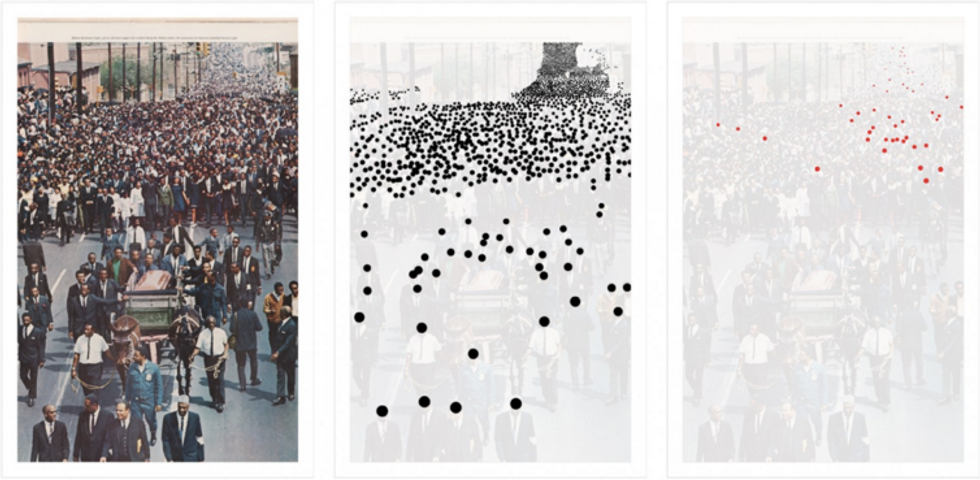 (
"Life Magazine, April 19, 1968,
" by Alfredo Jaar. Copyright Alfredo Jaar. "Alongside a reproduction of a photo of King's funeral that ran in "Life," Jaar graphically lays bare the nation's racial divisions at the time of the civil rights leader's death. In one frame, Jaar represents all of the African Americans at the funeral march with black dots. In a second frame, he shows the white people present as red dots. There are thousands of black dots and only a few dozen red ones."
Source: Washington Post )
So why is it that we even let ignorant people tell us to go back to our own country? These people have taken Africans from their countries and continent, taken Native Americans from their own land, and then use other immigrants for their resources and tell them to go back to their countries. This is why I say we live in a land of hypocrisy. It has been happening for centuries and it still happening. African Americans used to be criticized and teased for the texture of their hair and the different styles they wear their hair in, yet now there are white girls that think that it is "hipster or cool" to wear these styles, and they are appropriating it. This is another great example of hypocrisy. So why is that we let these people have a higher power than us, when we are the reason they have any sort of power to begin with? Do not take this wrong, and think that this is being racist towards white people. This is a message to establish equality of races, since that is still not the case. There is a huge difference of equality on both sides, and it is the job of anyone of color to stand up for themselves. No matter how long it takes, we have to strive for equal treatment, and not let others make ignorant comments towards us. This country was established on freedom, yet many of us are still trapped in the subconscious thought of not having power. This is also a message to everyone who has received ignorant comments or actions, to stand up to those who are being ignorant and to educate them about their wrongs. We are millennials, we know the history of this country, and we are smart enough not to repeat it again, yet history is still repeating itself. Will we stop it?