Some of us are not as lucky as others, by this I mean some of us do not have a father, or father figure in our lives to look up to. I personally do not have a close relationship with my father, and have not talked to him in a couple of years now. He has been in and out of my life over the years, but I will give him credit for trying to be a good Dad when I was younger. We did not see him often but when we did, we always had a great time. Although we did not hear from him often when we were not visiting him, there were a couple phone calls here and there but they never lasted more than a few minutes.
I am so lucky to have my grandfather to look up too. He is one of the strongest men I know. He has always been there for me and never left my side. He has always gone above and beyond to make sure my family and I are happy and have things we need. I look up to him because he does everything he can for our family even when he is at his worst he is still asking about my sister, aunt, and I. He always wants to know how we are doing and make sure everything is alright. He just wants us to be happy, as we want him to be too.
He will listen to my sister Kalei and I ramble on for hours about random and pointless things when we go to visit him. But he always sits there with a smile on his face and tells us how much he enjoys our stories. He is a huge supporter in our future plans and goals. He is always cheering me on no matter what I am doing and supporting my decisions even when he does not agree with them. (Like my tattoos, nose piercing, etc.) I know he will always love me even when i'm at my worst and think theres no way that things will get better, he always looks on the bright side of things and has something positive to say.
My Papa is one of the reasons I push so hard to succeed in life. I want to continue to make him proud to call me his granddaughter. I want him to know he has helped me get to where I am today. I would not be the person I am today without his constant support.
He is always telling everyone about Kalei and I and our accomplishments, whether they are big or small he is always so proud and more than happy to tell others about us.
If I am having a bad day I know he is only a phone call away and can always cheer me up. He can light up a room with his laugh and everyone who meets him ends up loving him. He has a great sense of humor even when he is not doing well, you can always catch him trying to crack a joke and bring light to a tough situation.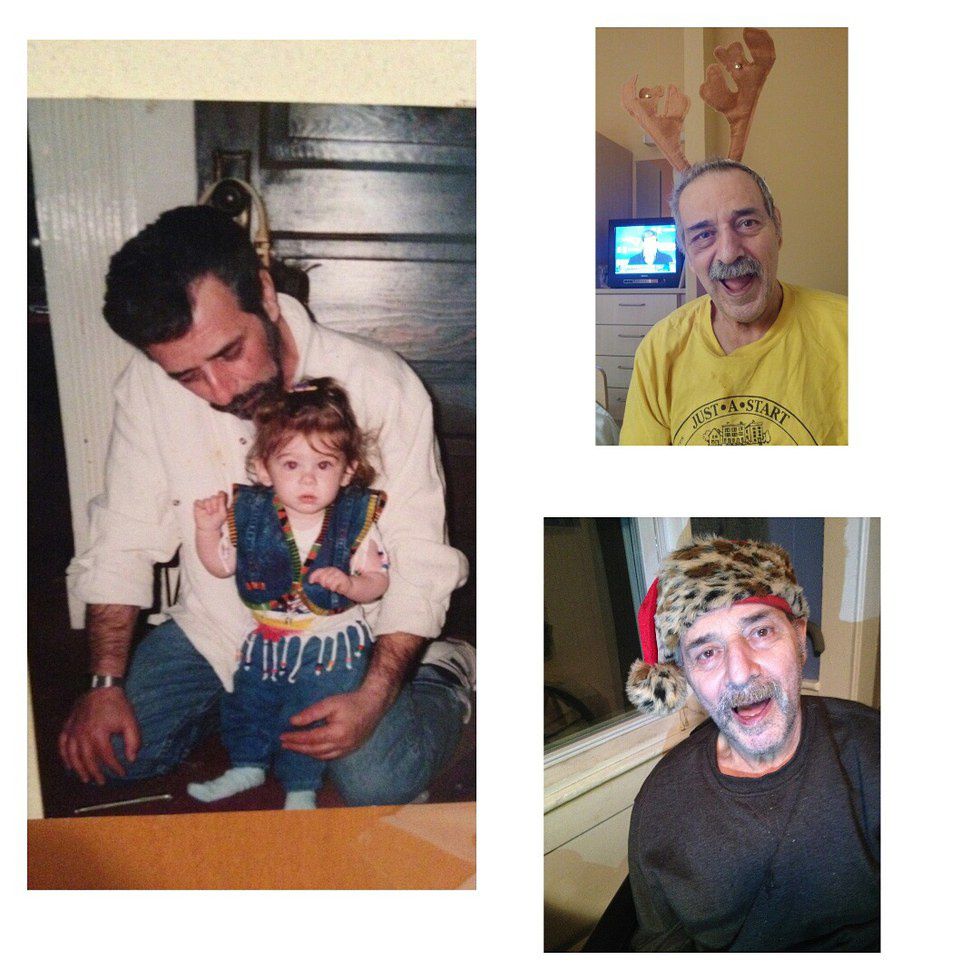 Papa, Thank you for never leaving me, even when times were tough and showing me what it is like to have a father figure in my life. Thank you for your constant care, support and endless love. Thank you for being you, and bringing many smiles, laughs and joy to my life daily. I would honestly be lost without you and all the life lessons you have taught me. I really mean it when I say, you are one of the best men to ever be in my life. I could not ask for a better Papa and I am more than lucky to have you in my life.