It's called the city of love for a reason. Anyone who travels there will fall in love with Paris. Last summer, I spent four days there and I've been feeling lovesick ever since I left. Very often, actually more often than I'd like to admit, I look at the pictures and videos to reminisce. Traveling is my greatest passion, but I have a love-hate relationship with it. When I'm not traveling, I hate how it's all I can think about but when I am traveling, I love the happiness and curiosity it inspires in me. Luckily, I get to suffer through this love-hate relationship alongside my travel buddy, Paige. Together, us two amateur travel enthusiasts, made the trip of a lifetime happen. Honestly, I'm still in shock that I was able to go to Paris, but I've heard that's what traveling will do to you. "Traveling — it leaves you speechless, then turns you into a storyteller." -Ida Battuta. I think it's time I shared the story of the time I spent in Paris.
Day 1
It began in London as we boarded the train to Paris. I later learned it's known as the chunnel, but I was calling it the channel the whole trip. (I'm a dumb tourist.) The train ride was relatively quick and surprisingly comfortable. When we arrived, we headed straight for our hotel in a taxi. One of my favorite parts of my time in Paris was that taxi ride. I was getting my first impression of Paris by observing the architecture, the people and the environment. It was love at first site. From the hotel, we were supposed to go on a dinner cruise on the Seine River, but neither of us spoke French or knew how to navigate Paris, so we got lost on our first day. Instead, we ate dinner at a cute cafe about five minutes from the Eiffel Tower with a friendly waiter who gave us a menu in English and told us about his favorite dishes.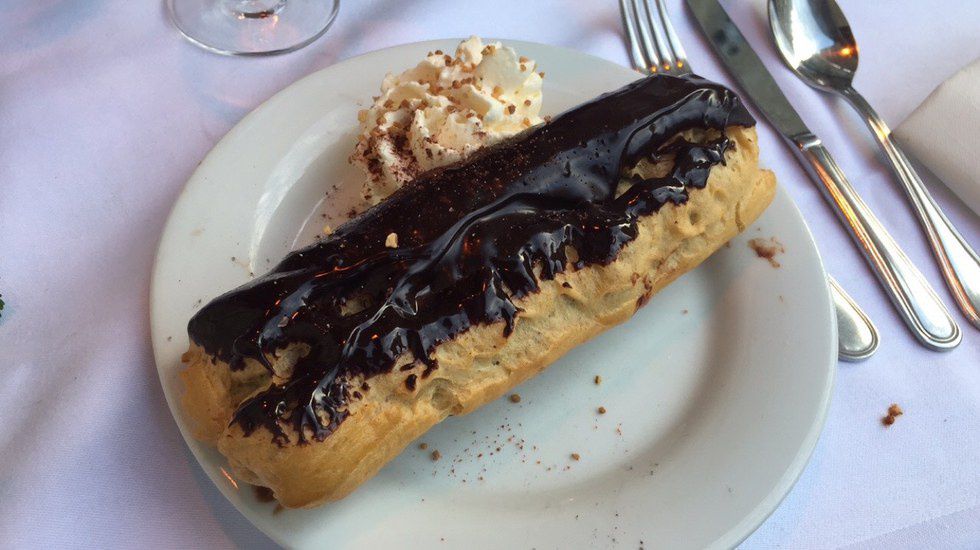 After we roamed the streets people-watching while frequently looking at each other saying, "We're in Paris" and laughing in excitement. Our last stop for the night was the Eiffel Tower. I distinctly remember walking through the park catching glimpses of it. Once it came into full view, I was speechless. I don't think there's any way to accurately describe the feeling of accomplishing a life-long goal, so instead, I'll show you a picture of what I saw my first time at the Eiffel Tower.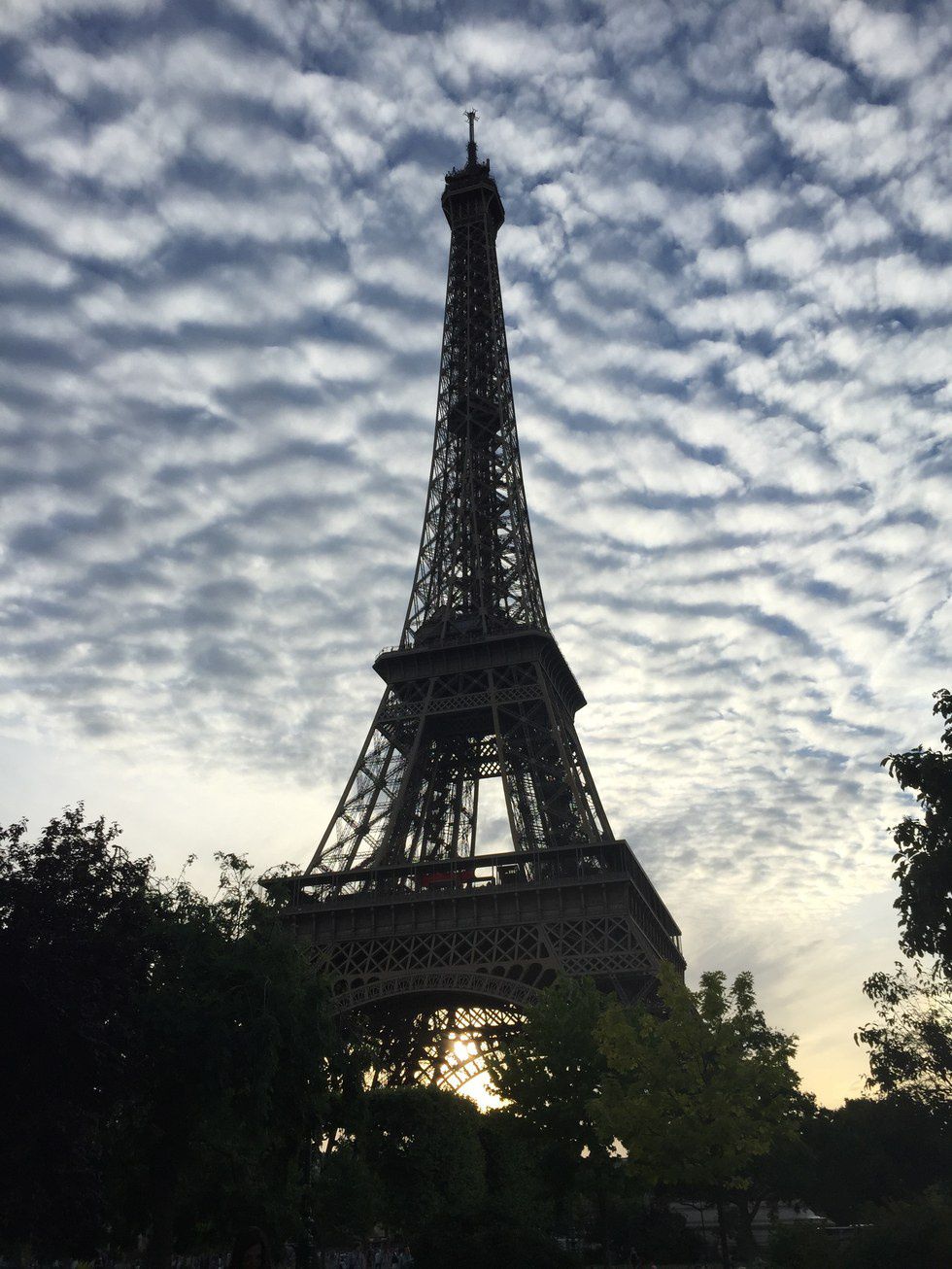 Day 2
Paige and I started the day off right with an Eiffel Tower Tour. (I highly recommend booking a tour in advance because by the time we got there in mid-morning, the wait was already three hours long.) Anyways, our tour guide was young, excited and well-educated on all of Parisian history. We all go headsets so we could hear her speak over the other tourists. Did you know that a woman is married to the Eiffel Tower? True story. Not only were the facts interesting but the view were even better. All of the different levels were unbelievable. But my favorite view was on the highest level facing the Seine River. Here's a panoramic view.


We spent nearly three hours on the Eiffel Tower: enjoying the views, taking pictures, dancing, learning and teaching an older woman to take selfies. After our Eiffel Tower adventures, we rented bikes. (It took us like 45 minutes to figure it out because it was in French.) Once we finally figured it out, we biked toward the Arch de Triomphe. Along the way, we crossed Pont Alexandre III Bridge and went through the Champs Elysées. When we reached the Arch, we took some pictures, people watched and then biked back through the Champs Elysées. We stopped for gelato, sat on the edge of the Seine River and enjoyed the wonderful Parisian atmosphere. To end the day, we sat at a cafe for dinner right next to the Eiffel Tower and talked about just how lucky we were to be there.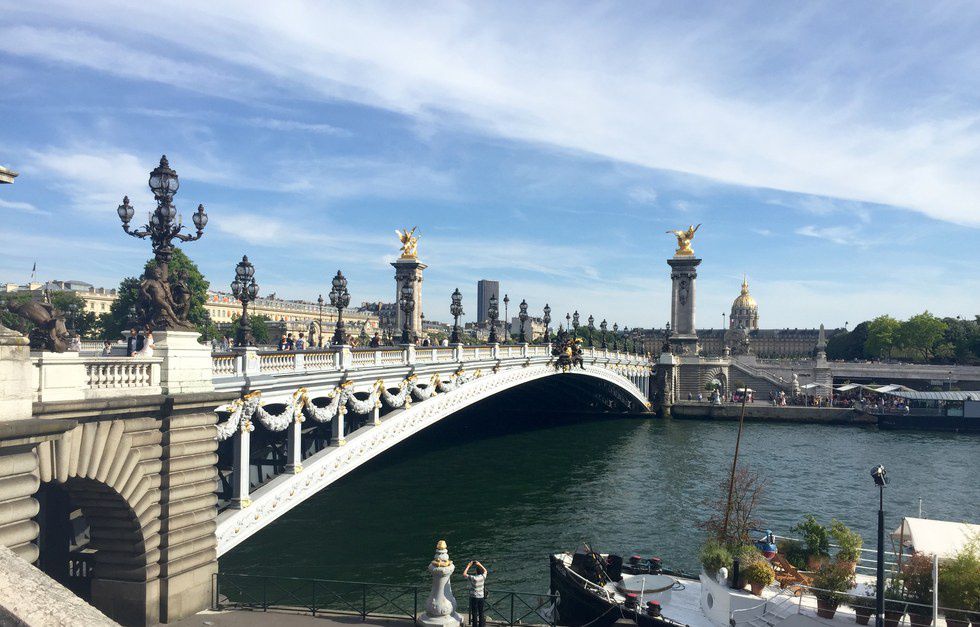 Day 3
On our last full day in Paris, we took a bus tour. With our tour, we were driven around Paris and told about the history and architecture. But at any time, you could get off to see the major attractions they stopped at. Our first stop was at the Notre Dame Cathedral. We spent two hours in Notre Dame listening to the mass, lighting pray candles and sitting in the pews. The whole experience was spiritual and unique. The rest of the day was non-stop visiting the Louvre, seeing the Mona Lisa, visiting the Love Lock Bridge (sadly most of the locks had been taken down), admiring the many flowers and enjoying everything Paris had to offer to us.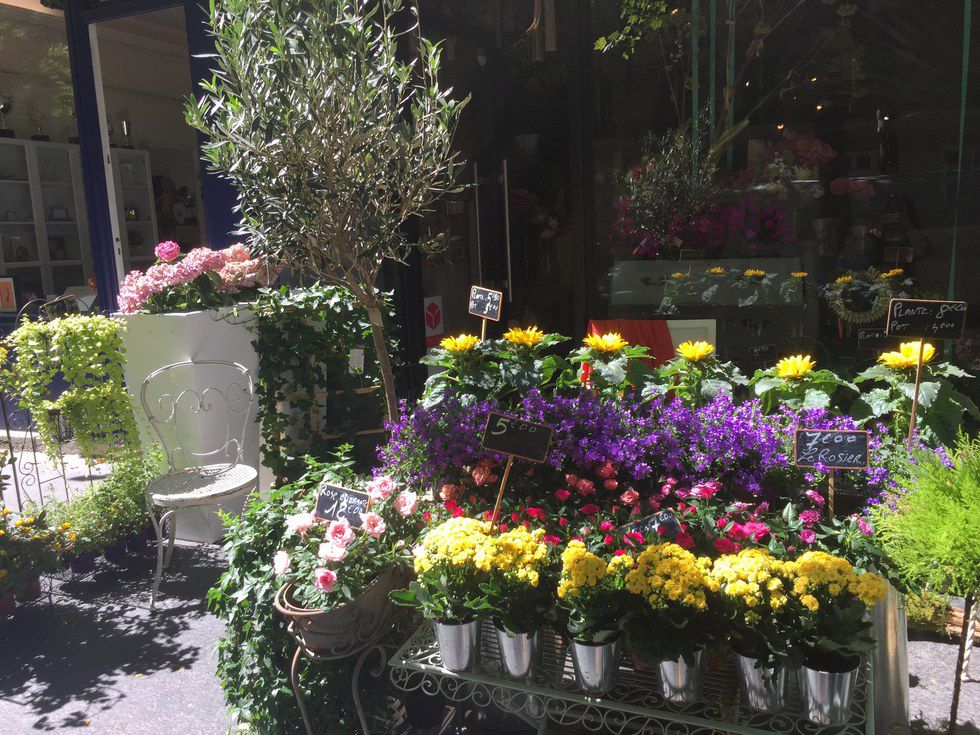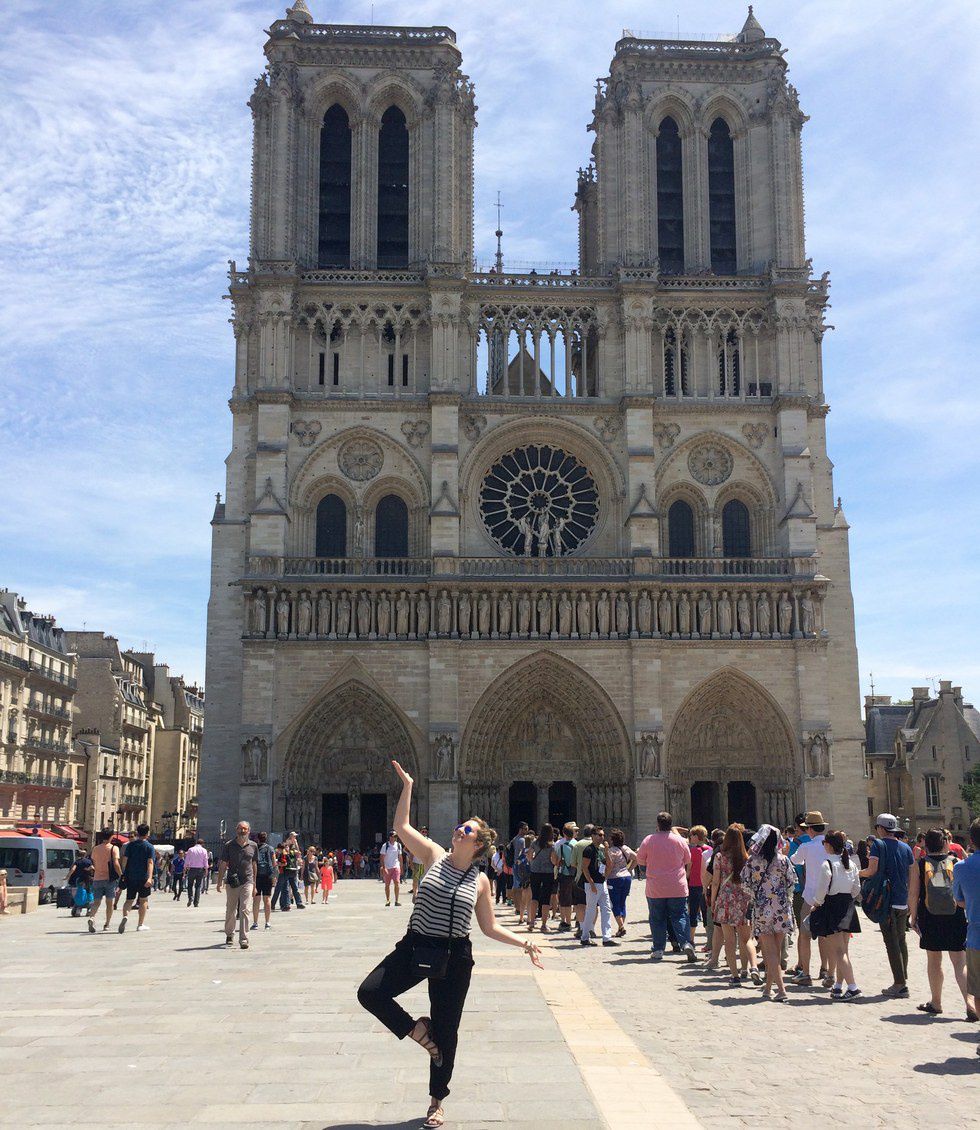 The day was exhausting but by far my favorite. After our naps, snacks (had the best orange juice ever) and showers, we went back to our favorite spot, the Eiffel Tower. We sat on the grass with the other tourists and Paris natives waiting for it to light up. Everyone cheered as the yellowish lights become visible. People drank, ate, danced and talked all around us. In the moment, my love for the city of love grew ever deeper. It was even better than the first time I say the Eiffel Tower. I never thought that could happen, but it did when I say it come alive at night.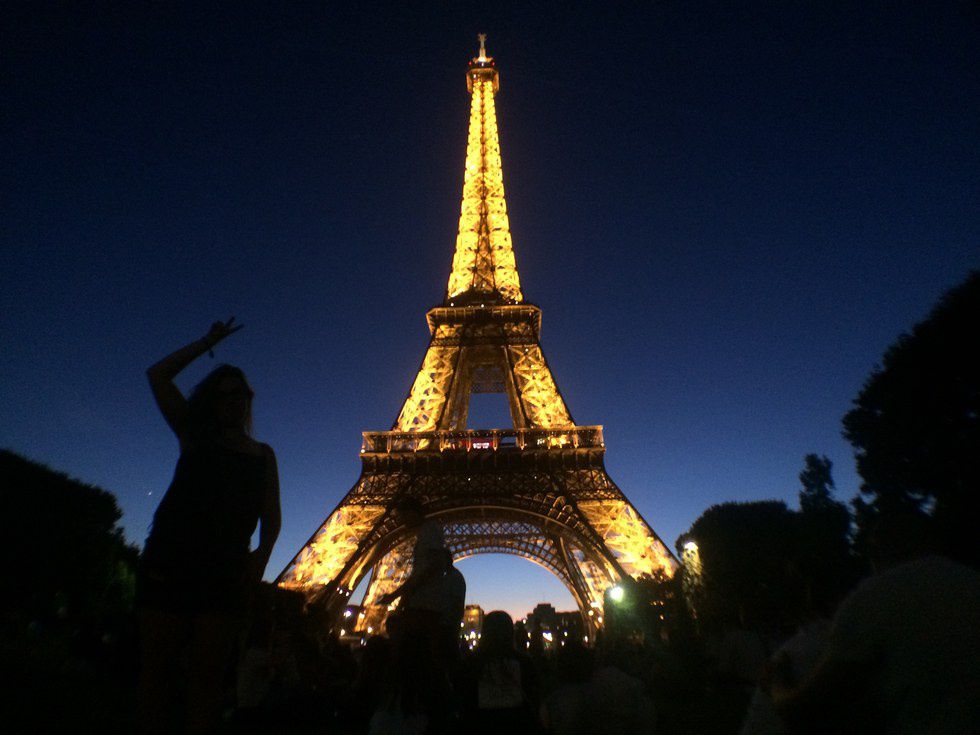 Day 4
On our final day, we went souvenir shopping for our family and friends. We roamed the streets and took in our last moments in Paris. Of course, we needed one last glimpse at the Eiffel Tower so we went to take our last pictures and even took selfies with some random French teenagers. On the way back, we stopped in a cute bakery to buy macaroons, baguettes and, of course, more orange juice. The taxi ride back to the train station was filled with sadness but also hope to return back to Paris.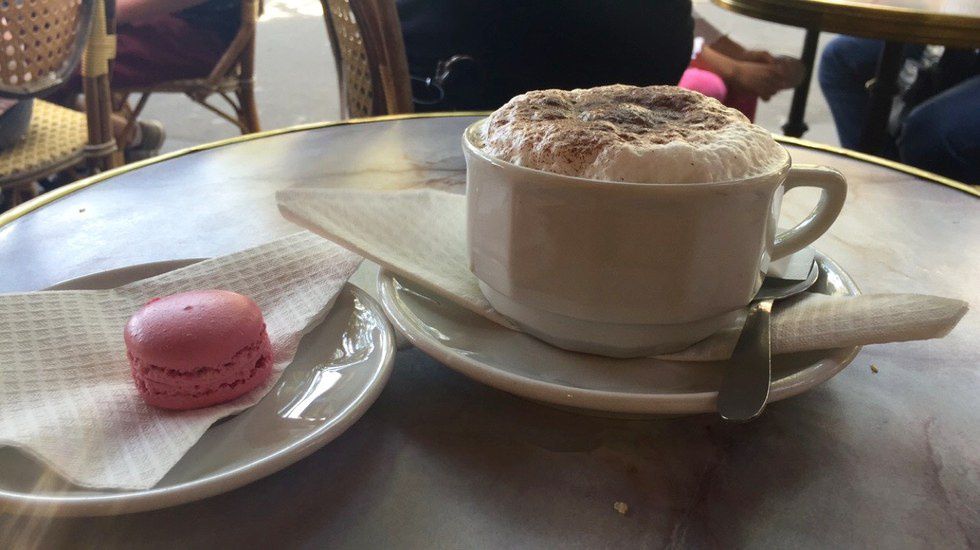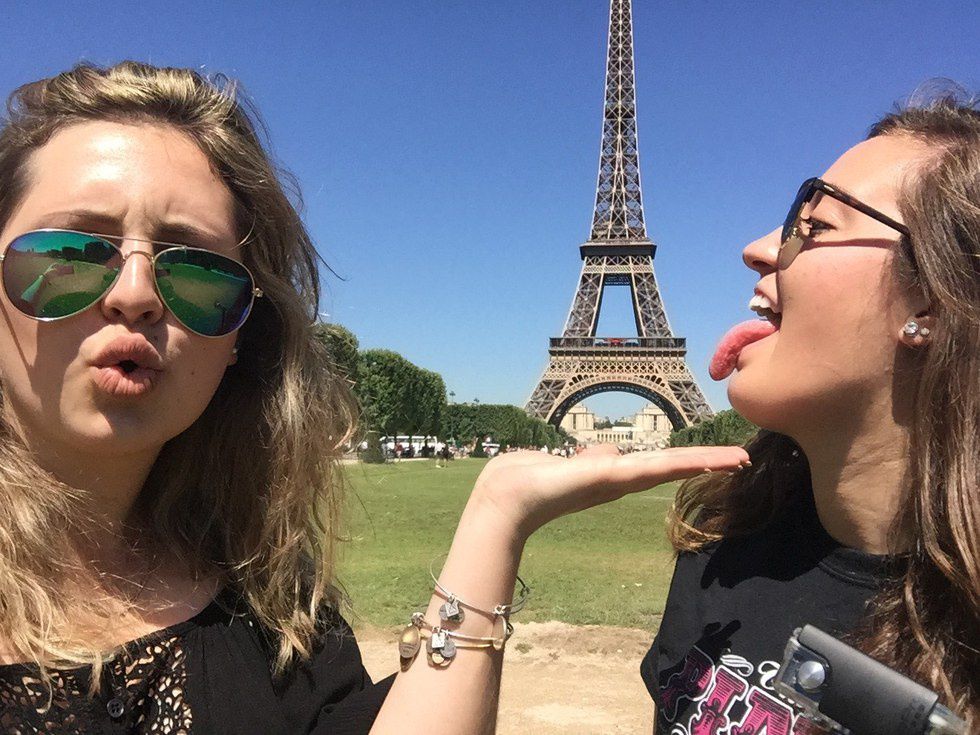 It was better than I even thought it would be because I got to travel with my best friend to a place on both of our bucket lists. Together we saw the famous sites, admired the art, learned the history, joined the culture and fell in love with the city. Paris is a city unlike any other. Along with its beauty, it holds its Parisian charm.