Disclaimer: this contains spoilers. Don't read this if you plan on seeing the movie.
"Moana" the new Disney movie is nothing short of fantastic. The score co-written by Lin-Manuel Miranda is catchy and amazing. It tells the story of the chief's daughter, who must travel across the sea with the self-absorbed demigod Maui. Moana must overcome various obstacles in order to return the heart of Te Fiti, the island goddess. The movie features jabs at Disney in general, like Maui assuming that Moana is a princess as she is a girl and has an animal sidekick, but Moana insists she isn't a princess. At one point, Maui thinks Moana is going to break into song and says that if she starts singing he's gonna barf. Maui even shapeshifts into Sven for a brief second. But, the movie also contains a deeper meaning.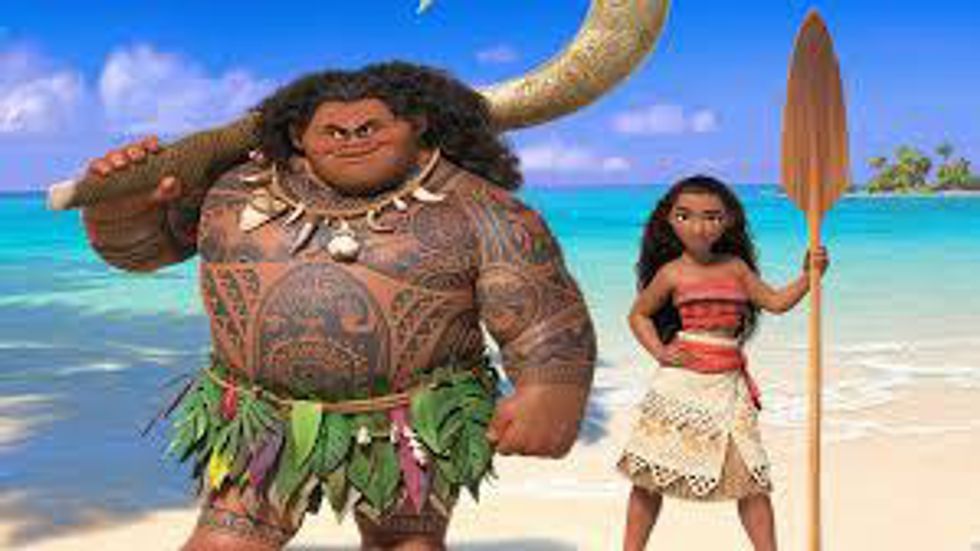 In the movie, Moana's grandmother tells legends about the origins of the island, about how Te Fiti's heart was stolen by Maui. This awoke Te Ka, a volcanic monster who also wanted the heart. This made the sea cursed, and slowly started killing off sea life. No one on the island believes the grandma, even when she turns out to be right. Even when Moana tries to get close to the water at all, her father, Chief Tui, prevent her. He says that it's not safe beyond the island and everything that she could want is on the island. Beneath the surface, this reads that her father wants to put limits on her freedoms. The village also isolates the grandma because they deem her "crazy" when she is actually right. Be careful who you call crazy.
[rebelmouse-proxy-image https://media.rbl.ms/image?u=%2Ffiles%2F2016%2F12%2F04%2F636164110138107800-526071175_open-uri20160812-3094-1pi4cdo_cf7134fe.jpeg%3Fregion%3D0%252C0%252C2048%252C885&ho=https%3A%2F%2Faz616578.vo.msecnd.net&s=434&h=70091bfd892ea4c2f1344c7e5c53398c8201b5958db1e27e96e8d158e7b9ac3e&size=980x&c=3006603972 crop_info="%7B%22image%22%3A%20%22https%3A//media.rbl.ms/image%3Fu%3D%252Ffiles%252F2016%252F12%252F04%252F636164110138107800-526071175_open-uri20160812-3094-1pi4cdo_cf7134fe.jpeg%253Fregion%253D0%25252C0%25252C2048%25252C885%26ho%3Dhttps%253A%252F%252Faz616578.vo.msecnd.net%26s%3D434%26h%3D70091bfd892ea4c2f1344c7e5c53398c8201b5958db1e27e96e8d158e7b9ac3e%26size%3D980x%26c%3D3006603972%22%7D" expand=1 original_size="1x1"]
The movie could also appear to have religious implications. Moana goes on the adventure because the sea "calls" her, something Maui thinks is impossible, after all, she is a kid and doesn't even know how to sail. Here, the sea could relate to God and Maui is just an unbeliever. At one point, Moana and Maui are attacked by Kakamora, killer coconuts, Moana depends on the sea to help her out, but Mai says that the sea can't help her, she can only help herself. Moana is relying on "God" to help her, when really God isn't there to help you out all the time. She claims that the sea is one of her friends and she'll be able to get through the mission because of this, but Maui retorts that the sea is crazy as many harmful creatures live in it. In this sense, people say that they are chosen by God, yet nonbelievers think this is bogus. Throughout the movie, Moana tries to find her purpose in life. When she gives hope, she tells the ocean that it picked the wrong person. In life, people are always questioning their purpose, and what God wants them to do.
Once again, Disney has done it, releasing a movie that is not only good but holds a deeper meaning. It's well worth the watch.
"If you wear a dress and have an animal sidekick, you're a princess." -Maui, "Moana"