"Harry Potter and the Cursed Child" is not coming to theaters near you. That is, unless you live in London! This new West End stage play, written with the help of the literary queen herself, J.K. Rowling, takes place 19 years after Harry's triumph over Voldemort at the Battle of Hogwarts. It continues the story of the boy wizard with his son Albus Severus Potter.
The cast has been rehearsing for months now to get this show perfectly magical for its premier at the Palace Theatre London on June 7, 2016. After the preview, it will be officially opened for the public in July 2016. Written by Jack Thorne, this play promises to deliver a magical story that will stay true to the spirit of the original book series, which is greatly appreciated by dedicated fans of the original Harry Potter series.
Major characters are the Granger-Weasley family, the Potter family, and the Malfoy family. The Granger-Weasley family has been cast and pictures were released last week of the actors who will be Ron, Hermione, and their daughter Rose. It may have shocked some who are used to the movie version of Hermione Granger. The actress is not white. However, this portrayal does stay true to the books, which never specified an ethnicity for Hermione.
She has only ever been described as having bushy curly hair with brown eyes and large front teeth, before she shrank them her fourth year. So this leaves a lot to the imagination, including her race. The casting has taken the artistic liberty to portray Hermione this way, and we should all be accepting of that.

In fact, it has paved way for exciting possibilities. Noma Dumezweni has won an Olivier award for her acting skills, and I would be very eager to see her performance as the brainy, compassionate adult Hermione. Jamie Parker will be playing Harry Potter and Paul Thornley looks like he will be a perfect fit for Ron Weasley.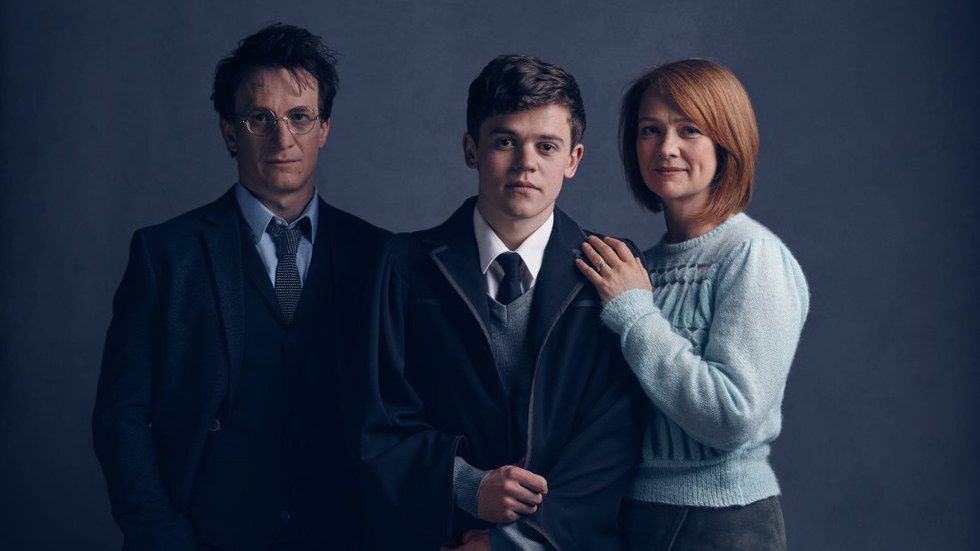 Some of the other major characters are Draco Malfoy played by Alex Price, his son Scorpius Malfoy played by Anthony Boyle, Ginny Potter played by Poppy Miller, Rose Granger-Weasley played by Cherrelle Skeete, and Albus Potter played by Sam Clemmett.

It will be so exciting for fans to analyze this new installment of an eighth canon story with this play. The synopsis is
It was always difficult being Harry Potter and it isn't much easier now that he is an overworked employee of the Ministry of Magic, a husband and father of three school-age children.
While Harry grapples with a past that refuses to stay where it belongs, his youngest son Albus must struggle with the weight of a family legacy he never wanted. As past and present fuse ominously, both father and son learn the uncomfortable truth: sometimes, darkness comes from unexpected places.
Every fact and new detail about what befalls the trio and their children 19 years later is information that will be relished by Potterheads all over the world. Thank you J. K. Rowling and all who made this possible for us to step back into the magic when we never thought we would. I can't wait to discover the mystery that befalls the Potter family in Harry Potter and the Cursed Child as well as the new movie coming out this year "Fantastic Beasts and Where to Find Them." The Harry Potter world is abuzz this year, and we are here for it!