My favorite holiday is Thanksgiving.

Most people hear that and think, "wait, why?" Most people's favorite holiday is either Halloween, Christmas, or Easter, and the reasons why are obvious.
Halloween comes right in the middle of fall, when the leaves change and look more colorful than a Monet. It's the time of apple cider and pumpkin spice-everything. You can dress up, get drunk, and eat all the candy you want.
With Christmas comes all the joy of the season: peppermint flavors, Christmas music, presents, Christmas trees, hot chocolate, ugly sweaters, and snowmen.
Easter is beloved by all the super-Catholics who go to the three hour long midnight mass. It's also the favorite of chocolate-lovers and people who love the renewing weather of spring.
But what's special about Thanksgiving? November is that awkward time when it's getting really cold, and the weather calls for freezing rain and slush, not perfect white snow. There are no presents or free candy involved.
But I love Thanksgiving so much for a multitude of reasons.
1. It's Blair Waldorf's favorite holiday.
I aspire to act like Blair in everything I do. So if Thanksgiving is her favorite holiday, then it's my favorite holiday, too.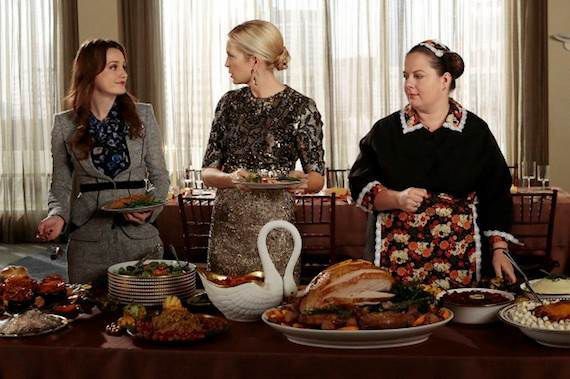 2. Black Friday
I know, I know, most people "hate" Black Friday, but I guarantee the people that rant on Odyssey about Black Friday's awfulness and the horrors of "consumer culture" are the same people picking up their $25 yoga pants and three for $30 Bath and Body Works candles. Black Friday means MAJOR deals, and I (mostly) only buy presents for other people, anyway. Back in the old days, me and my cousins got up at 5:00 am to get those doorbusters! Of course, nowadays the doorbusters start at 8:00 pm Thanksgiving day. But hey, shopping cardio burns off the pumpkin pie!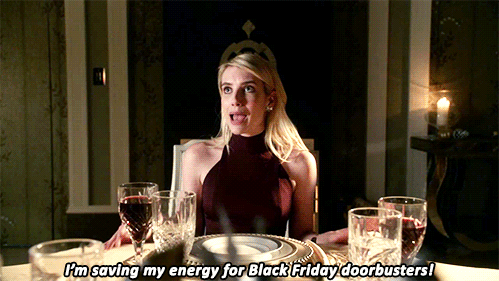 But my reasons for loving Thanksgiving aren't all shallow...
3. I love my family more than anything, and Thanksgiving gives me a few days off from college to spend time with them before the stress of finals sets in.
I love the heat that radiates from the kitchen and makes me feel warm and fuzzy inside. I love the smell of all the different flavors cooking: turkey, mashed potatoes, corn, pumpkin pie...all coming together into the perfect, cozy fall scent. I love gathering around the table with my extended family and catching up. I love sharing what I'm thankful for; it's a reminder that life is actually pretty good, despite my #collegestruggles.
After an amazing dinner, my family gathers around the fireplace. We flip through the ad booklets and plan our Black Friday strategy, play board games, and just talk. Honestly, this is my favorite part of Thanksgiving: the time we spend relaxing and enjoying each other's company.
Thanksgiving may not be filled with great weather, presents, and candy, but it is filled with love, warmth, and shopping. To me, there's no holiday more perfect than that.