I have always been very accurate on when I take my shots. "T Shot Tuesday" as I call it. And with the first week of January approaching, I new I had an appointment at Planned Parenthood to refill my testosterone, syringes and needles (which are used to draw up the testosterone). A common misconception is having one needle to draw up and also inject the testosterone, but this is false as the needle to draw up the testosterone is larger than the needle, I use to inject myself with.
Another common misconception is that Planned Parenthood gives me my prescription, and this is false. Planned Parenthood is solely the written form of my prescription; thus, I have to go to a pharmacy to get it filled. So, all in all, I have to make two trips to get my perception just as if I were to go to my primacy care physician (which I do not go to for testosterone, because it is not covered by insurance and my care provider cannot write me a prescription for T).
The Bad News
So, after my appointment I got my written prescription and headed off to my pharmacy to get it filled. I knew there would be a wait, so I headed to the gym. About forty minutes into my workout I notice a text message from my pharmacy stating, "WE ARE UNABLE TO FILL YOUR PERSCRIPTION". I immediately hopped up off the bench, put my weights away and went out the door as my mind began to race. The past two times I had my prescription filled, there were no issues. But, now all of the sudden with the Government shutdown there was one.
I got to the pharmacy, they told me I had to call my provider and have them rewrite my prescription so that it could be filled. What this meant I was not for certain, but apparently in the legal aspect of things, it could not be filled with how it was written. So, I called and there was no answer (of course), thus I left a rather urgent voicemail. Knowing I had work in 2 hours and Planned Parenthood is closed on Wednesday and Thursday, I did not want to be late on my shot as I had recently upped my dosage. Too, not only would I be a few days late it would be a week and a half late because I only do one shot every week, so it had been a week since my last shot.
The Good Before The Bad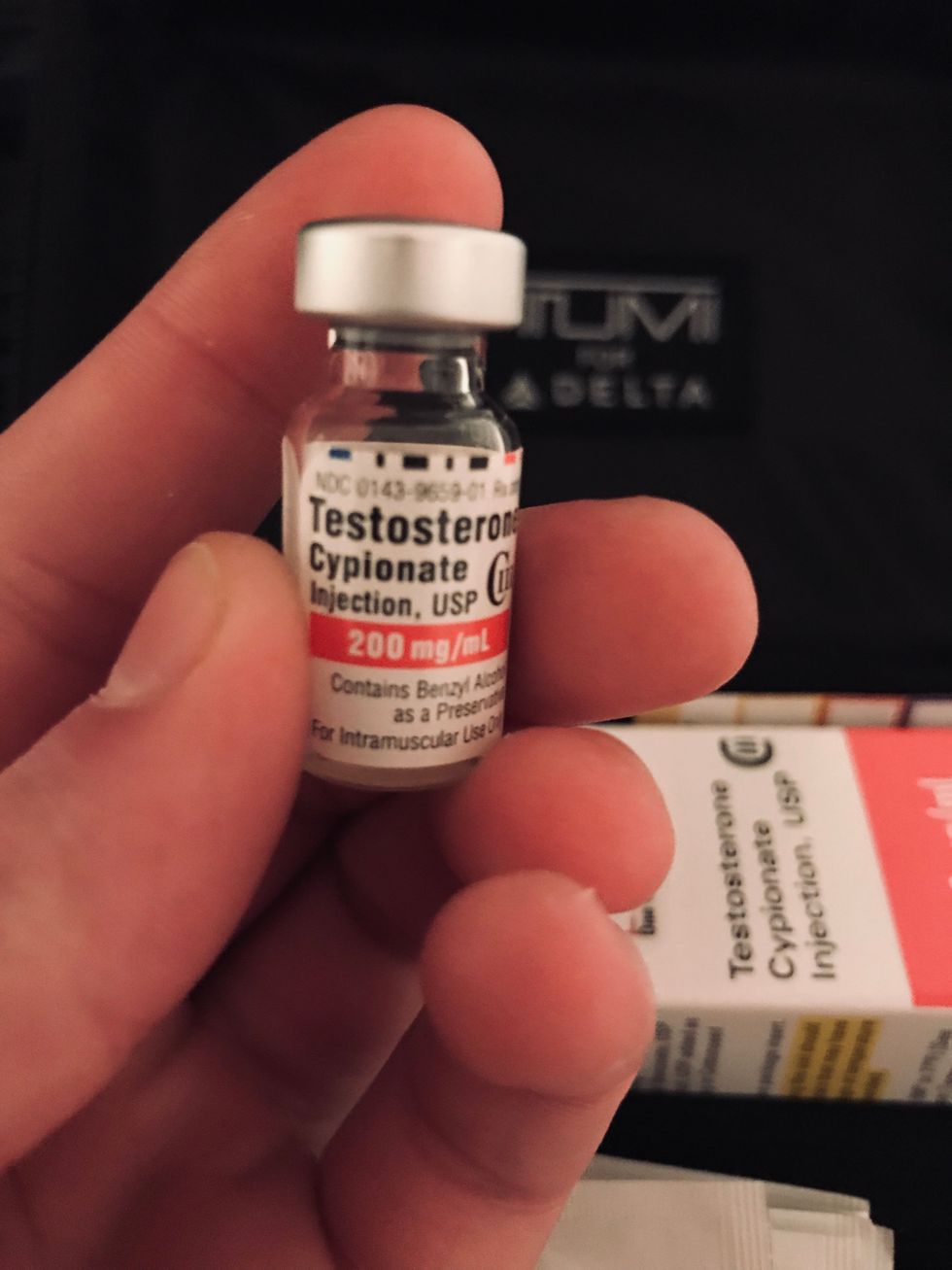 Currently injecting 0.50ml per shot
An hour before work, I go to my pharmacy because I got another text stating "YOUR PERSCRIPTION IS FILLED". A sigh of relief, right? Traffic was awful, so I knew I was going to be late for work but did not care as I needed this prescription since the pharmacy closed before I would get off work. I got there only to be notified that the testosterone could be filled but I could not receive the syringes or needles. So, how am I supposed to draw up or inject? Again, they told me to contact my provider and I did so. At this point, I am stressed, nervous, uneasy, and frustrated.
I get a call from Planned Parenthoods after hours services and they tell me there is nothing they can do except leave a voicemail as well since Planned Parenthood was closed for the day and didn't reopen for another two days.
The End Result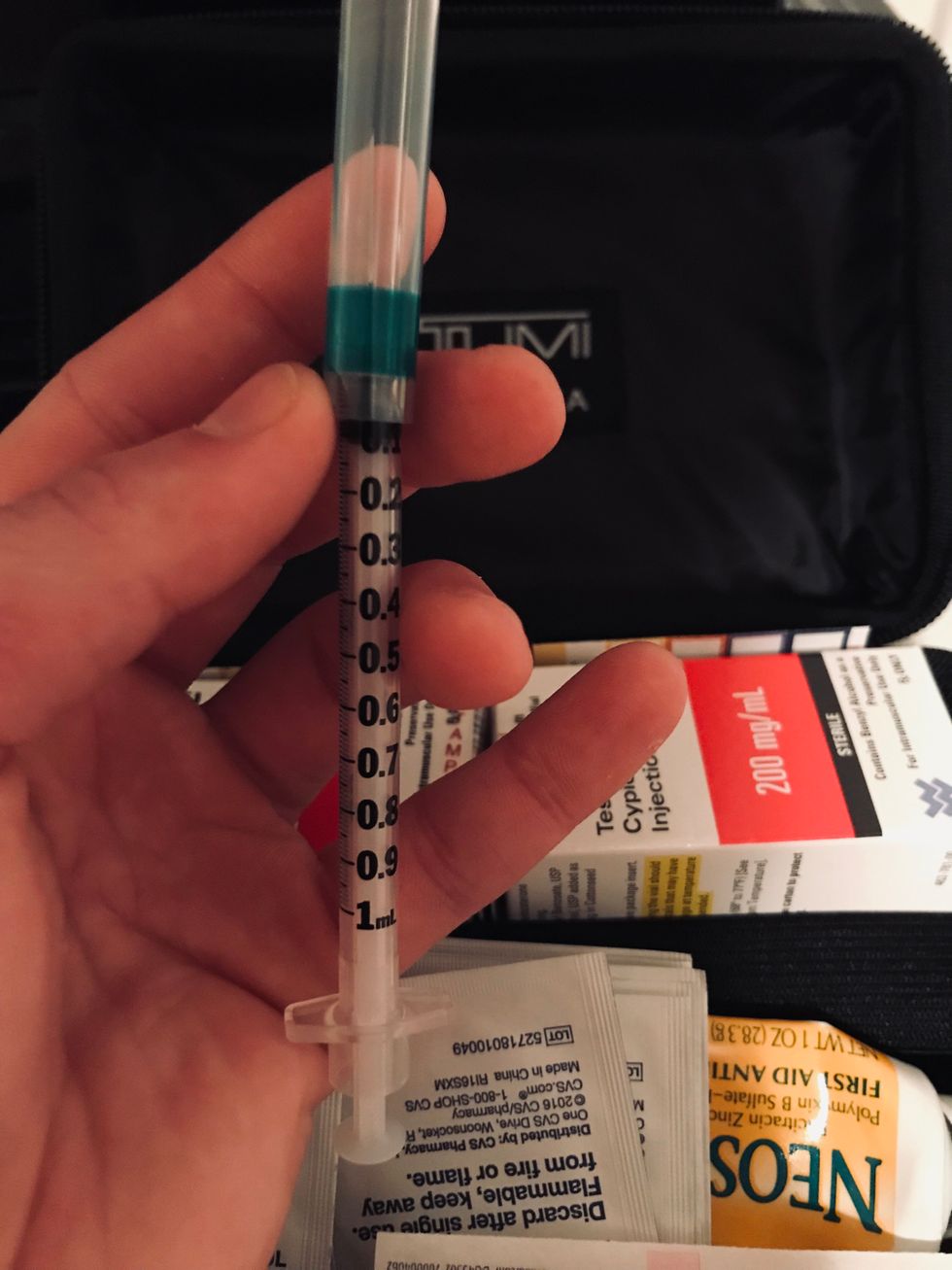 This is NOT the syringe to use to draw up testosterone.
I receive the call Friday and get a notification from my pharmacy that my "PERSCRIPTION HAS BEEN FILLED" so I headed back to my pharmacy. I get my prescription, head home and get ready to do my shot only to realize the syringes were the wrong ones. I was given a syringe that did not have the detachable needle, thus I could not draw up the testosterone.
Again, I contact the pharmacy only this time to speak to the pharmacist and they were luckily able to change the syringes that were originally given to me. So, I gave myself the shot two weeks late and I had some very unpleasant side effects. (To be discussed in a future article).
Whether the government affected my prescription or not, what I do know is the current president wants to stop funding for Planned Parenthood. However, it isn't that easy, but if the president is able to do it the LGBTQ community and various others can be affected in the worst way.