College can be hard. Actually, college is hard. Between the constant homework, exams, papers, meetings and much more, college is absolutely exhausting. It becomes even more exhausting when the social aspect of college is added into the equation. In college it almost becomes a necessity to go out or socialize with friends. There are parties, football games, and other social events nearly every weekend. These events aren't mandatory, but it seems as if everyone is there, so missing them would be tragic, right?
There is something that most college students just don't seem to understand: Doing everything is impossible. It is nearly impossible to complete homework the way it is supposed to be completed, prepare for exams, and also go out every night to socialize. There just isn't enough time. And even when college students do somehow manage to find the time to do all of these things, they definitely don't have the energy for it.
Some wise person out there in the world created a triangle that truly sums up the life of a college student. This "college life" triangle depicts the struggle that nearly every college student faces on daily basis.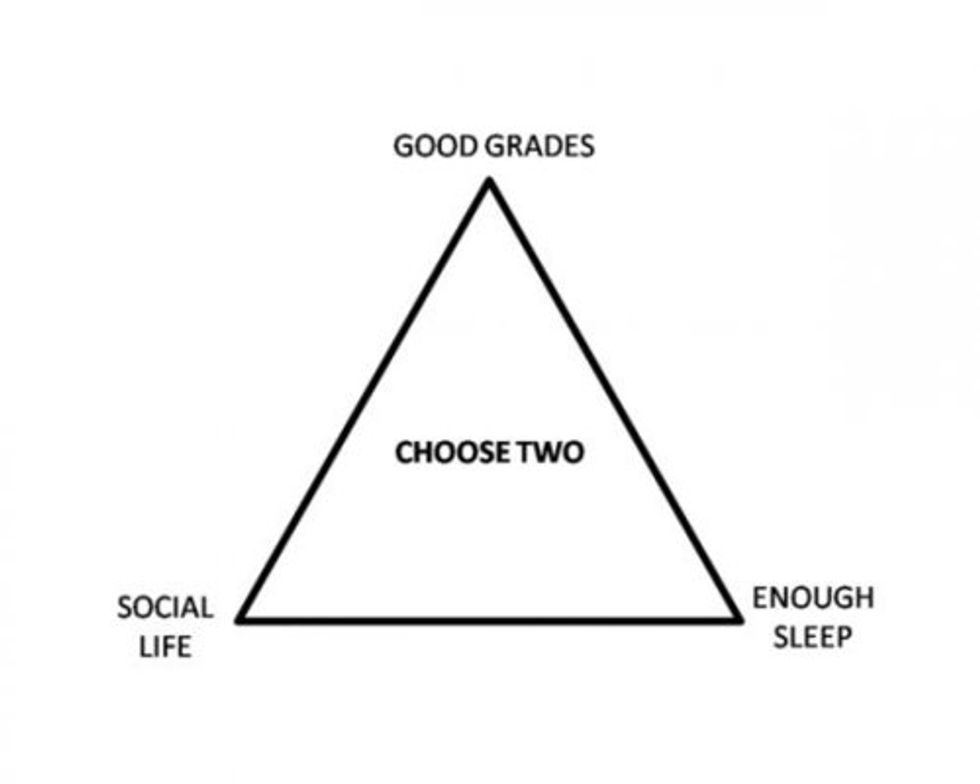 If you choose to have a social life and do well in school, there's a slim chance of getting enough sleep. Be prepared to have permanent dark circles under your eyes. If you choose to get enough sleep and have a social life, that's great, but your grades are most likely going to plummet. And if you choose to do well in school and get enough sleep, having a social life is very hard to do. Sometimes it just seems like a lose-lose situation.
Don't be discouraged, though, because there is a solution. All you have to do is find the best balance that you can between good grades, a social life, and enough sleep. Make sure that you always get all of your homework done and that you are prepared for any exams that may be coming up. After all, you or your parents are ultimately paying for you to get an education, not for you to party. However, don't spend all of your time cooped up in your dorm room or the library studying, either. Make time to go out every once in a while. Even if it means losing a little bit of sleep, sometimes socializing with friends is much needed.
Having a social life is one of the best things about being a college student. Everyone says that you meet your lifelong friends in college, so try not to miss out on this great possibility. Just make sure that you don't get so caught up in all of the social events that you forget to sleep or do your work. Like I said earlier, it is all about finding that balance.
If you are a first-year student and haven't quite found that balance yet, don't worry. Making mistakes and learning from those mistakes is what life is all about. The most important thing is to not push yourself over the edge. Don't try to accomplish everything at once. Accept the fact that you aren't going to have the perfect social life, straight A's, and a good night's sleep on a regular basis. Accomplishing all of this is simply not possible.
No matter how easy some people may make it seem, life as a college student is not easy. Being the perfect person and achieving everything in the "college life" triangle is not possible. All you can do is try your best. Find the balance between good grades, enough sleep, and a social life that works best for you, because once you do, things will become less stressful, and handling college life will seem much easier.