We live in a society full of grammar purists who are constantly nagging misusers of the most basic of basic words in the English language... "literally." It is undeniable that the grammar purists are correct; many times when speakers use the word, "literally," they really mean "figuratively," or "metaphorically." This is a fact of grammar that cannot be argued-- at least, not successfully. We all generally accept this principal even if we don't apply it, but there is an issue that I have with the word, "literally," that extends past the simple misuse of the word.
Even grammar purists overlook what I believe to be an even greater problem than the misuse of, "literally." The issue that I have with this word, is that not only is it misused, but overused. It is the reincarnate of our former overused word of choice, "like." Much to my horror, the 80s California valley girl has returned in the form of the 2010s basic, and her filler word of choice is, "literally."
Looking at the origins of basic-ness, one can clearly see the unfortunate evolution of the valley girl into the basic. The strongest indicator by far of this evolutionary fact, is the common linguistic trends as I mentioned. Pointless vocabulary such as the words "literally," and "transparent," work their way into the sentences of individual basics, just as "totally," "like," and more did in the case of valley girls. All of these words are used as crutches-- words spoken in an attempt to make a sentence sound stronger, more interesting, or more intelligent. However, the words don't function in that way. They are really only unnecessary crutches. Probably the most unusual way that the word, "literally," in particular is used, is at the end of a sentence. This makes for incredibly bizarre syntax. Don't use bizarre syntax. Don't use crutch words. Stop being basic. Stop saying "literally."

The counterargument that I hear the most is, "I can say the word as often as I please because I use it correctly." To that, I say...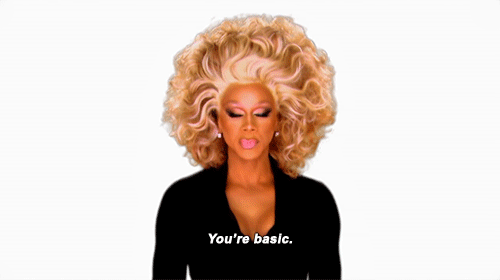 Yes. You're basic-- and that's undeniable based on the linguistic trends I noted.
Do you want to be basic? If not, you may want to reconsider how you use the word, "literally."
Think about it...
How often do you hear the word, "literally," on a daily basis?
What is the usage ratio of "literally," to any other word?
It is likely that over the course of an average day, you will hear, "literally," used at least 30 times.
There is no escaping, "literally." You hear it while eating breakfast, when walking to class, when in class, when eating lunch, in the library while studying, in your dorm room through the paper-thin walls, on the TV and all over the internet. I cannot understand why you feel the need to use this word so much. It's more than a simple annoyance. It's like a demon. It follows you wherever you go.
When every other sentence contains a common word, the idea of the sentence in general is lost. For example...
Your speech literally becomes less effective, as it is literally lost in the usage of tautological repetitive diction. Many basics literally claim that using, "literally" literally strengthens their sentence because it literally puts an extra emphasis on what they are literally saying "literally" happened. Literally.
Chances are, you need to reread that paragraph to fully understand what I said. Of course, this example is hugely overly exaggerated for the effect, but regardless, it raises this question:
Do you really need to put an emphasis on what happened?
If it's a genuinely interesting event, there isn't a need for an extra word. Contrary to popular belief, using the word, "literally," does not make the listener to your speech more excited about or more interested in what you're saying.
Whenever you hear a friend use the word, do you get more excited or interested?
Probably not.
Now, please don't take offense to my opinion. Opinions are subject to disagreement-- But around anyone who is like me and can't stand the word, "literally," please be respectful before they literally explode from your basic-ness.