#FaceYourBeast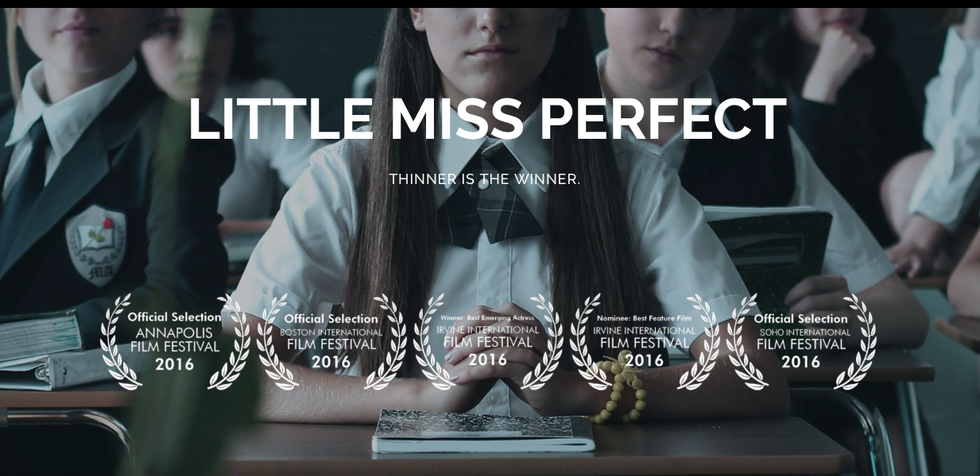 Little Miss Perfect written and directed by the naturally talented NYU Tisch alumna, Marlee Roberts on June 11, 2016 at 9:15 pm. A coveted prime spot so well deserved by the overall work of the cast and crew whose ultimate goal was to tell the truth about Anorexia nervosa, which is the most common cause of death among young women ages 15 to 24. Little Miss Perfect is a work of art carefully crafted for two years and the results are stunning. The story focuses on the character Belle, portrayed by the lovely Columbia University Film Student, Karlee Roberts, whom is an overachieving high school freshman, that stumbles upon an online pro-eating disorder subculture as cracks begin to appear in her seemingly perfect life.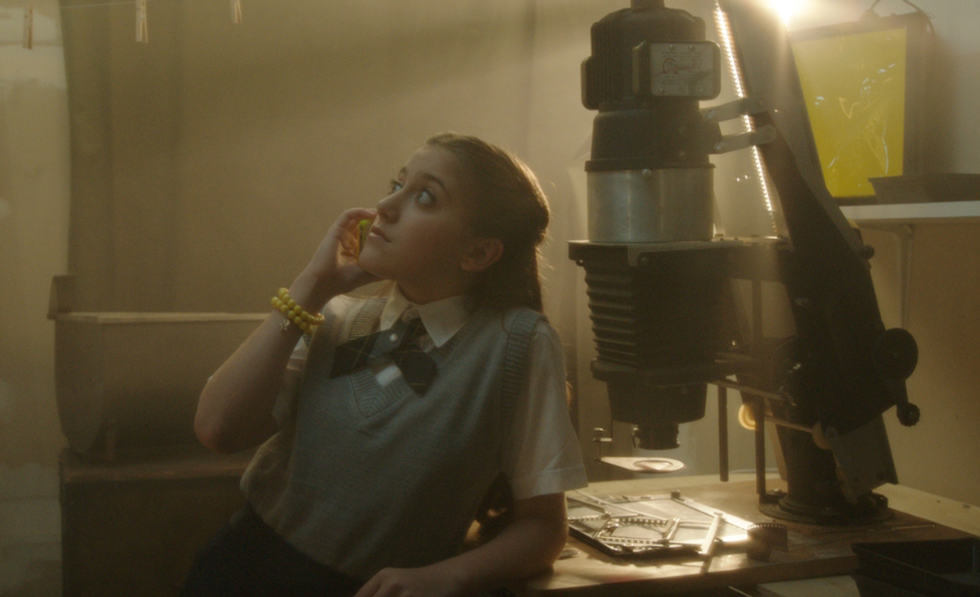 Actress Karlee Roberts as Belle in Little Miss Perfect
To set up the scene, it was a vivid night in The East Village as many huddled around the red carpet waiting for the stars to make their entrance into the robust Village East Cinema. Photos of the cast and crew were taken, as well as their honorable and esteemed guests all excited for the film's NYC Premiere. Grabbing my popcorn and bottled water, after the red carpet photos of course, this reporter made her way to her seat. As everyone was finally in their seats the night began with a short from our neighbors to the north in Canada called "Papa Pasquale". A perfect introduction to the film as "Papa Pasquale" told the story of Italian immigrants and their journey to a new world. The short was a beautiful portrayal of how many families left their homeland to find a better life and how they brought others to live with them as well. Then after a silent interlude, the film began.
Throughout the film, it was evident that the writer and director, Marlee Roberts, had really tapped into the good, the bad, and the ugly of what young girls go through when they are in their teenage developing years. Armed with a world class education, boundless natural talent, and thorough psychological research, Marlee Roberts, created a remarkable piece of art from paper to the screen all while entertaining and educating at the same time. In the film, one can notice how delicately crafted each scene was prepared in order to capture the exact tone of the performance needed to satisfy the audience of what they kept asking themselves "How far is Belle going to go?" or "How does this happen to a girl like her?". The truth is the disease of Anorexia nervosa can happen to girls like Belle, and the situations she goes through happens to many girls growing up in America. The societal pressures keep increasing with the access of technology that can connect friends and strangers, and even people who want to hurt us. It is becoming easier to be exposed to blogs that make even the most confident person doubt their worth to the point of starving themselves to achieve an impossible and unhealthy body type. So what does this film show? It shows the emotional impact that only a writer and director like Marlee Roberts can accomplish. What makes Marlee Roberts an incredible player in the film industry is the small choices she has made to make the film what it is and of course the awards she has won. Genuine is what the film industry will get when they work with Marlee, and after the film the cast displayed their love for their writer and director as she listened to them as well as guided them through difficult roles only the best in the business could have handled.

Writer and Director Marlee Roberts behind the scenes of Little Miss Perfect
Marlee Roberts, wrote the screenplay as a play on "Beauty and the Beast" with the "Beast" in this scenario being within the main character, Belle. Almost an anti-fairy tale of the modern age, Little Miss Perfect, is a film not just for those who want to learn more about Anorexia nervosa, but also for those who need to face their inner beast because we all have one. With that said, Hollywood needs to face their inner beast with how they portray women directors in the industry. Hollywood needs to stop running away from accepting women directors as key players for the sake of film itself. Gone are the days that women are not graduating as much from film schools than men are so why are there so few women directors? If anything, Marlee Roberts, a graduate from the prestigious NYU Tisch, is a testament to what the future of film needs to be and why Hollywood should face their beast and stand up to their old sexist ways.

When the film was over I was left with an empty bag of popcorn and a smile on my face. Much of the film is left up to interpretation to the viewer, which in my opinion is what makes a film even greater. To me, it reminds me that our lives are up to interpretation, we are the only ones who can face our beasts, and then look into the mirror and realize that we are worth something. You are your own beauty and your own beast who walks along life with a rose in your hand as a reminder that you do not have to be perfect, because you are already perfect the way you are.
As for writer and director, Marlee Roberts, this is only the beginning of many more works of art to come, so sit back, relax, and enjoy the ride.
For more information on Little Miss Perfect see the following:

Instagram #FaceYourBeast