With more than 5,000 years of history, China boasts a good number of holidays, festivals and celebrations. As a child, I always loved sitting with my grandparents and listening to the stories and legends behind the reasons we celebrate each holiday. I'd love to continue our storytelling tradition to pass our legends on to others. So, here are my three favorite Chinese holidays and the stories behind them!
---
1. Chinese New Year — Spring Festival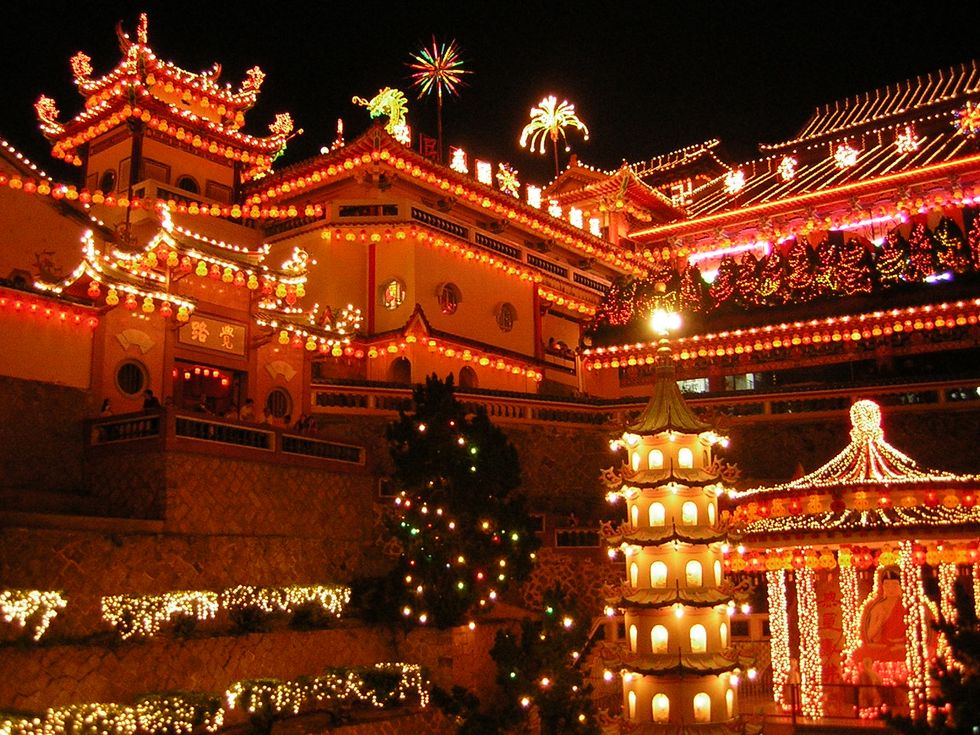 Chinese New Year, also known as the Spring Festival, is the mother of all Chinese holidays. Starting on the first day of the first lunar month, celebrations historically lasted until the 15th day, with each day bringing new customs and traditions. Chinese New Year plays a vital role spreading Chinese culture and traditions in larger cities where the celebrations are more common. Historically, the Spring Festival was a time to worship the deities, but today, things are a little different with families spending time together.
To celebrate, we clean the entire house to get rid of the previous year's bad luck and welcome the coming year's good fortune. We then munch on delicious treats like dumplings, fish and Nian Gao, a glutinous rice cake. Above all else, the most important part is decorating the house with red paper cuttings and couplets, setting off fireworks and wearing red, which can be traced back to the legend of the Nian monster. Thousands of years ago, the Nian monster was a monster with the head of a lion and body of a bull. Every New Year's Eve, the Nian would emerge from its slumber at the bottom of the sea and enter the village to terrorize the people. It became customary for the people to hide in the forest until he passed and finished destroying their village. One year, an elderly man claimed he knew how to scare away the monster, so he instructed the villagers to light lanterns, wear red, decorate their houses with red paper and set off firecrackers. When the Nian returned that year, he was scared off by the bright colors and loud sounds, so he returned to the sea. A new tradition was thus born and is now one of the most important aspects of the Chinese New Year!
In my family, because we are Chinese-American, there is no time off from work or school, so celebrations aren't quite so elaborate. It mostly involves us just having a nice meal together and sharing old tales like of the Nian monster.
2. Mid-Autumn Harvest Festival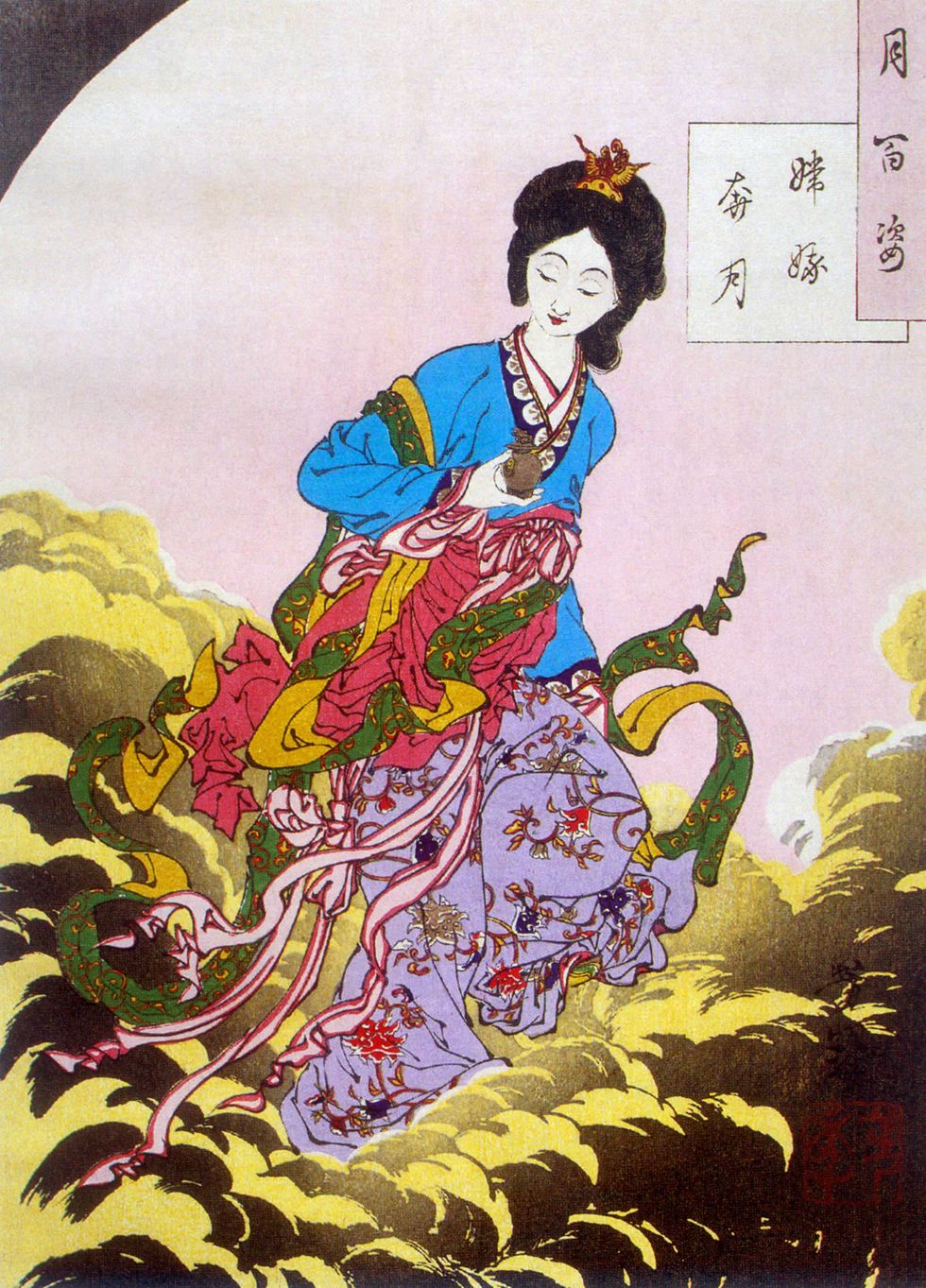 The Mid-Autumn Festival is our harvest festival meant to celebrate familial unity and togetherness. We worship the moon, a symbol of unity, during this time. It's said that on the Mid-Autumn Festival, the moon is the biggest and brightest. On the 15th day of the eighth lunar month, we leave offerings to the moon goddess, Chang'e. Her sad tale tells the story of love being ripped apart.
It's said that Chang'e's husband was Hou Yi, a legendary hero and archer. Chang'e and Hou Yi were alive at the time when there were 10 suns that baked the earth. Hou Yi was asked to shoot down nine of the suns by the emperor, and impressed by his work, a deity gifted him the Elixir of Immortality. One of Hou Yi's apprentices found out and went to his home to steal the elixir, but upon arriving, he came upon Chang'e who refused to let him take it. A small struggle ensued, and to prevent the elixir from falling into the wrong hands, Chang'e drank it herself. As soon as she drank the potion, she began to float into the sky. Not wanting to be far from her husband, she choose to go to the moon, where she became the resident goddess. Hou Yi was distraught upon returning and vowed that every year he would leave food offerings for her. Others felt sorry for their separation and began offering food and sacrifices to Chang'e as well, solidifying the tradition in our culture.
We also celebrate by eating mooncakes, which are delicious little baked goods filled with anything from taro to bean paste to salted duck yolks. A single traditional mooncake has an average of 1000 calories, and it's always shared with the family, symbolizing familial unity. My personal favorite is the lotus seed paste with salted duck yolk! I always try to get the piece with the most egg yolk. It's become a yearly family tradition to make our own mooncakes... and they're always horrible. But it's still really fun because we can spend more time together as a family, after buying a box of moonacakes from the Chinese market.We just end up buying a box from the Chinese market.
3. Dragon Boat Festival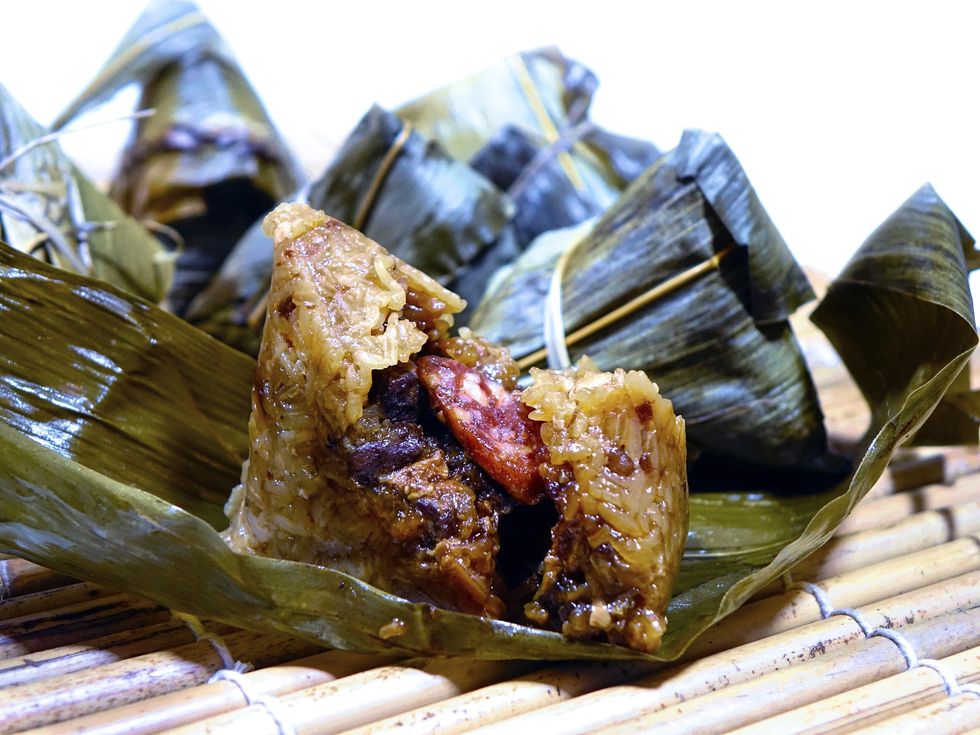 On the fifth day of the fifth lunar month, the Dragon Boat Festival is celebrates filial piety and loyalty to the people and country. This holiday has been declared as one of China's Intangible Cultural Artifacts by UNESCO. The Dragon Boat Festival is my personal favorite, mostly because it has my favorite Chinese holiday food, Zong Zi, packets of glutinous rice wrapped in bamboo leaves and filled with anything from peanuts and dates to salted meats. In the northern parts of China we always make sweet Zong Zi with dates nuts, dried fruits and beans, whereas in the south, they strongly prefer savory Zong Zi with mushrooms, pork and onions. Though I'm horrible at making Zong Zi, I love taking time with my mom to make some. My bamboo leaves always fall apart and rice spills everywhere and my mom says I'm just playing with rice and splashing the water, but hey, it's the taste that counts, right?
We feast on Zong Zi while watching the Dragon Boat Races. As the story goes, Qu Yuan was a great general chosen to lead the Chu army against the Qi army. However, after losing the battle, Qu Yuan was ashamed that he failed his country and people, so he threw himself into a river. The people of the Chu Kingdom loved their general and went out on the river in dragon boats to find his body to give a proper burial. However, after three days, they were still unable to find him, so they decided to throw packets of rice wrapped in bamboo leaves into the river to prevent fish from eating his body. Hence, this led to the dragon boat races and Zong Zi!