The tide is coming in on cannabis legalization. Public consensus has never been higher. It's time to legalize. One of the most important states may be next. California. They've had, for several decades now, a medical cannabis program. For better or worse, with fairly lax rules. Though access is still limited for many of the 39 million people in the state.
In the past 6 years or so, several legalization bills have come and gone. But, none have gotten as much collective support as the Adult Use of Marijuana Act. But, even with the support of groups like the National Reform of Marijuana Laws (NORML) and Students for Sensible Drug Policy (SSDP), people are still having concerns. Jake Plowden, co-founder of the Cannabis Cultural Association - a monthly meetup group to help bring more POC into the cannabis industry - sums up the dichotomy of emotions around the AUMA. "We're hoping that AUMA alleviates a lot of the judicial penalties that comes with cannabis. We're fearful seeing California become Washington, where patients are struggling to find and pay for medical cannabis. I'm all for access and legality, but if it's only about money and patients continue to suffer, then it's a pressing issue that we cannot look past," he said.
So, what is the AUMA, and why should Californian's support it? First, because it drops 9 different felony charges. As a 21+ adult you can possess, transport, or give away up to an ounce or 28.5 grams of flower cannabis or 8 grams of concentrate. The AUMA allows for 6 plants per adult to be grown at home - a provision not many states have. That'll currently land you 16 months - 3 years in jail. It also gives the opportunity for retroactive resentencing, releasing people from jail, and the total expungement of records. That's nothing to scoff at. Especially when the whole mission of reformation is to stop the criminalization (of mostly black and brown people), and to reach back and help heal the communities we've devastated with the War on Drugs.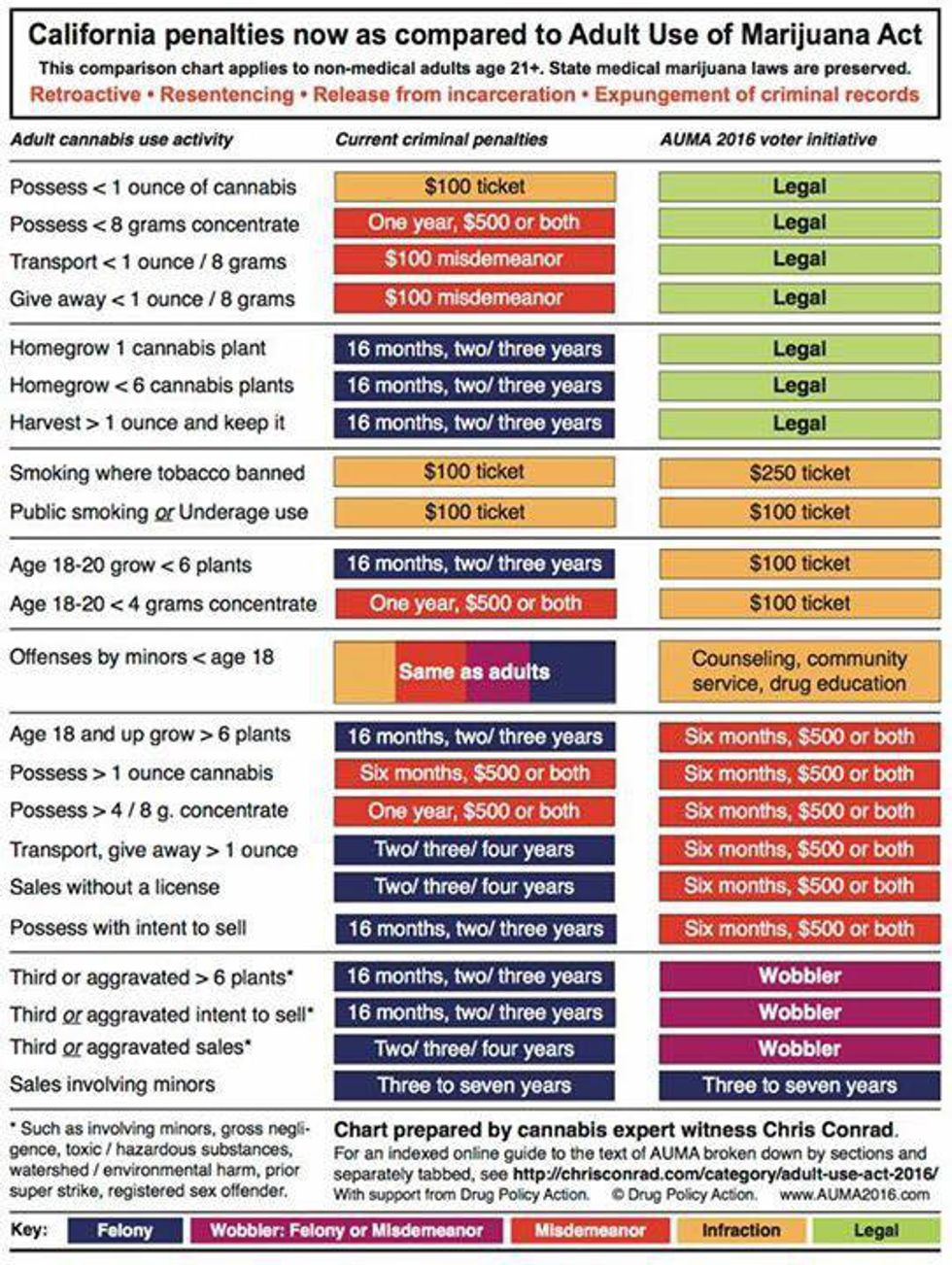 People are not so excited about, myself included, the penalties for minors. Growing, transporting, and possession can land a minor 6 months in jail and/or a $500 fine. But, take that into context. Currently, minors growing or transporting will find themselves two years in jail. Oh yea, even selling cannabis has been dropped down from a 2 year to 6 months and/or a $500 fine. Many are afraid of it conflicting with current medical laws, but it actually preserves the system in place.
It's not everything everyone wants. But, it's a huge step forward in stopping further criminalization, and healing those who have been. We'll still have watch how the laws will be applied to minors, but it does ease penalties. Remember, amendments are easier to make than getting an entire law passed. California is as large as a country. It's a blow to the War on Drugs we can't pass up. I urge you to vote yes. But, read the AUMA yourself, then cast your judgment in November.