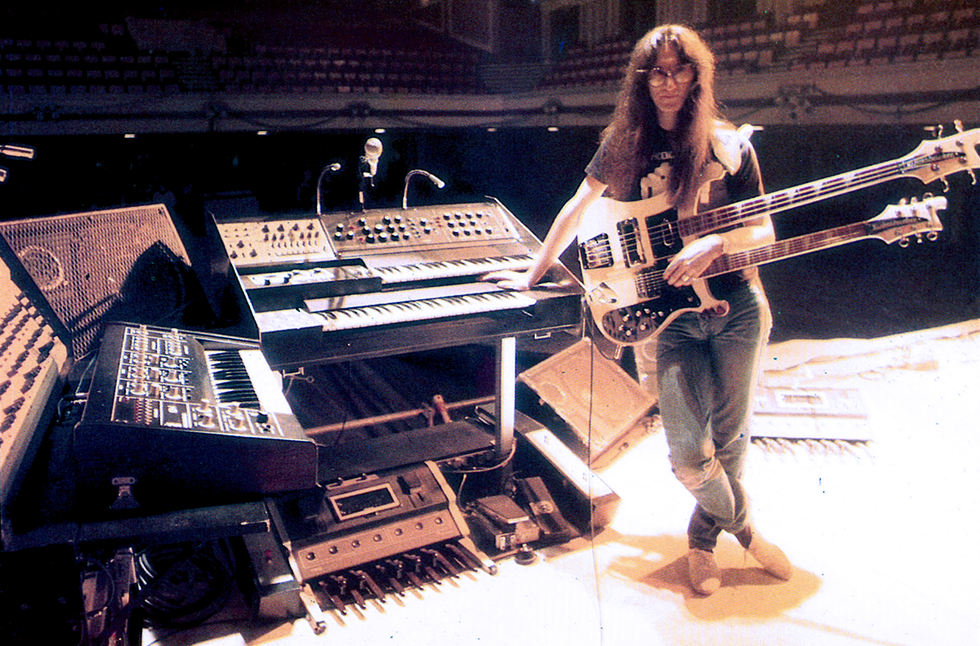 Moving Pictures is the eighth studio album by Canadian rock band Rush, released on February 12, 1981 by Mercury Records in the United States. Its total length is 40:03. The band's lineup included vocalist, bassist, and keyboards player Geddy Lee, guitarist Alex Lifeson, and drummer Neil Peart.
Rush's previous release Permanent Waves marked a shift musically to a more mainstream approach while maintaining progressive styling. Moving Pictures continues that trend with radio friendly tracks that still have a progressive feel to them. Rush may have made even more strides to make more radio friendly hits on this album, but definitely still have some very progressive moments like on the epic track "The Camera Eye." Moving Pictures is another perfectly balanced album with radio friendly rock and progressive rock.
Moving Pictures was the band's most popular release yet as it reached #3 on the Billboard 200 chart and the UK albums chart, as well as #1 on the Canadian Albums Chart. It has since gone 4x Platinum in the U.S and Canada, as well as Silver in the U.K. The strengths of this album are the progressive, but radio friendly style, the great musicianship, the excellent lyrics and themes, and the abundance of terrific catchy Rush hits. The only weakness on Moving Pictures is the final track "Vital Signs" that does not reach the heights of the rest of the album. Here are my thoughts on each track.
1. "Tom Sawyer" 4:34 (5/5)
"Tom Sawyer" begins with a cool synth effect and has catchy guitar and bass playing behind it. Geddy's singing is as good as ever and the bass playing is phenomenal as it always seems to be. I love the use of keyboards and synths in this song, they really add to the song and make it more interesting. Alex Lifeson has another fine solo and Neil's drumming is fantastic. "Tom Sawyer" is overplayed, but I can't deny its importance and greatness.
2. "Red Barchetta" 6:10 (5/5)
"Red Barchetta" begins with a fade in light guitar riff. It has a light soothing feeling about it from the start. Neil Peart's lyricism really is at its best in this song as his story telling is at its best. I love the main guitar riff, its so catchy and sounds really nice. Geddy's singing and bass playing are at their best. The song definitely builds throughout and demands the listener's undevided attention. The guitar solo is excellent and Lifeson plays with that usual pure emotion and skill. Overall, "Red Barchetta" represents everything Rush is about in one song. It is my favorite song from the album.
3. "YYZ" 4:26 (5/5)
"YYZ" is the instrumental of the album. It begins with chimes and then moves to a section of a repeated amazing guitar riff. Rush somehow manage to make a mainstream sounding instrumental, which is extremely difficult. Alex's guitars sound so good and Geddy's bass playing is fantastic. Not to mention Neil's fabulous drumming. Alex uses many different guitar techniques and executes them to perfection. The guitar solo is marvelous and sounds terrific. The synth breakdown after the guitar solo adds an awesome effect to the song. I love "YYZ" from start to finish, it is one of the greatest instrumentals of all time.
4. "Limelight" 4:20 (5/5)
"Limelight" begins with an iconic guitar riff from Alex that remains one of my favorites to this day. I love Geddy's singing and Neil's lyrics. Neil's drumming is great and Geddy's bass is very audible like it always is. The song is probably the easiest to sing along to on the entire album and is great for general rock fans and die hard Rush fans. The guitar solo gives me goose bumps as Alex plays a solo that seems to cry out to the listener with such great distortion and emotion to it. I absolutely love it. "Limelight" will always be one of my Rush favorites.
5. "The Camera Eye" 10:58 (5/5)
"The Camera Eye" is an epic that highlights the cultural differences of the city life in New York and London. It is Rush's last track to have 10 or more minutes in length.
I: New York
The song begins with sounds of car traffic and synth effects. I love the slow buildup the synths give this track, they really add to the atmosphere of a track that definitely should have a lot of it. Alex comes in with a booming distorted guitar and Neil is on point with his drumming. Then a keyboad is played with the same sound repeatedly and Alex plays another outstanding guitar riff. Geddy's bass playing is very audible and adds a nice element to the song. Geddy's vocals are very fitting for the song. I like the really calming nature his voice has at times on this track, but he raises it to add more emphasis on certain parts.
II: London
The same keyboad sound is played again to signify the beginning of this movement. It is played with the same guitar riffing as the last movement. Now Geddy focuses on the cultural environments of the city life in London. Alex and Geddy's playing is so well in sync on this track, it's so great to hear the two musicians show their chemistry. Neil's drumming is perfect as usual. The guitar solo is awesome, and has cool distortion effects and some of Alex's finest shredding moments where he shows of his speed as a guitarist. Geddy's vocals are so well suited throughout the entire track. "The Camera Eye" is an excellent Rush epic.
6. "Witch Hunt" 4:46 (5/5)
"Witch Hunt" begins with an eerie vibe, with chimes and other effects that give the listener the atmosphere of fear the song is supposed to impose. I love Alex's guitar riff on this track, it's terrific and very simple. Geddy's singing is perfect as his voice is unsettling at times. Geddy's bass is very audible and Neil's drumming booms and adds effect in the background. Rush is also at their best lyrically as the song describes the fear of mobs out on the hunt. "Witch Hunt" is easily the most underrated track on the album.
7. "Vital Signs" 4:43 (2.5/5)
"Vital Signs" begins with a promising start with very cool synth effects and a reggae guitar riff. Geddy's vocal delivery is very unsatisfying though and leaves us wondering what if he had changed his voice a little bit on this track. I hate the chorus, it's annoying and lyrically I think it's lacking. The bass work is very good throughout the track. Neil's drumming is also strong. "Vital Signs" is an experimental track that went slightly wrong.
My Verdict:
Rush definitely made their most mainstream successful album. Moving Pictures has both the progressive sound that made the band's existing fan base fall in love with them and a mainstream sound that added even more to the band's current fan base. Moving Pictures is definitely the most important album in Rush's history that propelled them to fame like no other in their catalog. Moving Pictures is one of the definitive Rush albums. It is the perfect mix keyboards, guitar, bass, and drums, as none of the instruments dominate the album and all have a huge effect on it. I absolutely love it.
Grade: A+