Whether it be during or after college, living with roommates can always be challenging. Learning the ropes of living with another person and catching onto their biggest pet peeves may never be easy, but here are a few tips to help smooth over the tension.
1. Keep your space clean and stay organized.
Even if you aren't the biggest "neat freak" in the world, it's always nice to have some sort of organization and tidiness in the room. It can also be a tad annoying to your "clean friends" when your clutter is overtaking their space. Pick up after yourself and try your best to keep a clean area.
2. Give each other alone time when necessary.
Making time for alone time is a super important part of living with other people. Sometimes you just need to step away for a moment and recollect your thoughts. Whether that be a solo study date at the library with your favorite Starbucks drink or a walk to your favorite place; be sure to remember that everyone needs their alone time every now and then.
3. Don't forget to ask before borrowing.
Nothing is more annoying when you go looking for your favorite shirt and it's nowhere to be found. Even if your roommates are totally cool with sharing and borrowing each other's things, it's always nice to get the go ahead before taking something that isn't yours.
4. Chip in with daily chores and tasks.
Not only will your room stay looking clean and tidy all year long, but it'll also feel so much better. Taking turns throwing out the trash, doing laundry weekly, vacuuming every so often, etc. Whatever it may be, accomplishing the small chores will make a huge difference in the end.
5. Deal with issues as they arise.
My roommates and I just came up with the "48-hour rule". The rule goes as follows; if you and another roommate have a small argument/disagreement and neither party brings up the issue within 48 hours, then it must be dropped and can't be brought up again in the future. This small rule will surprisingly avoid all the tiny, petty arguments that bring unnecessary tension to the room. Remember the way you'd like to be treated by your roommates as well!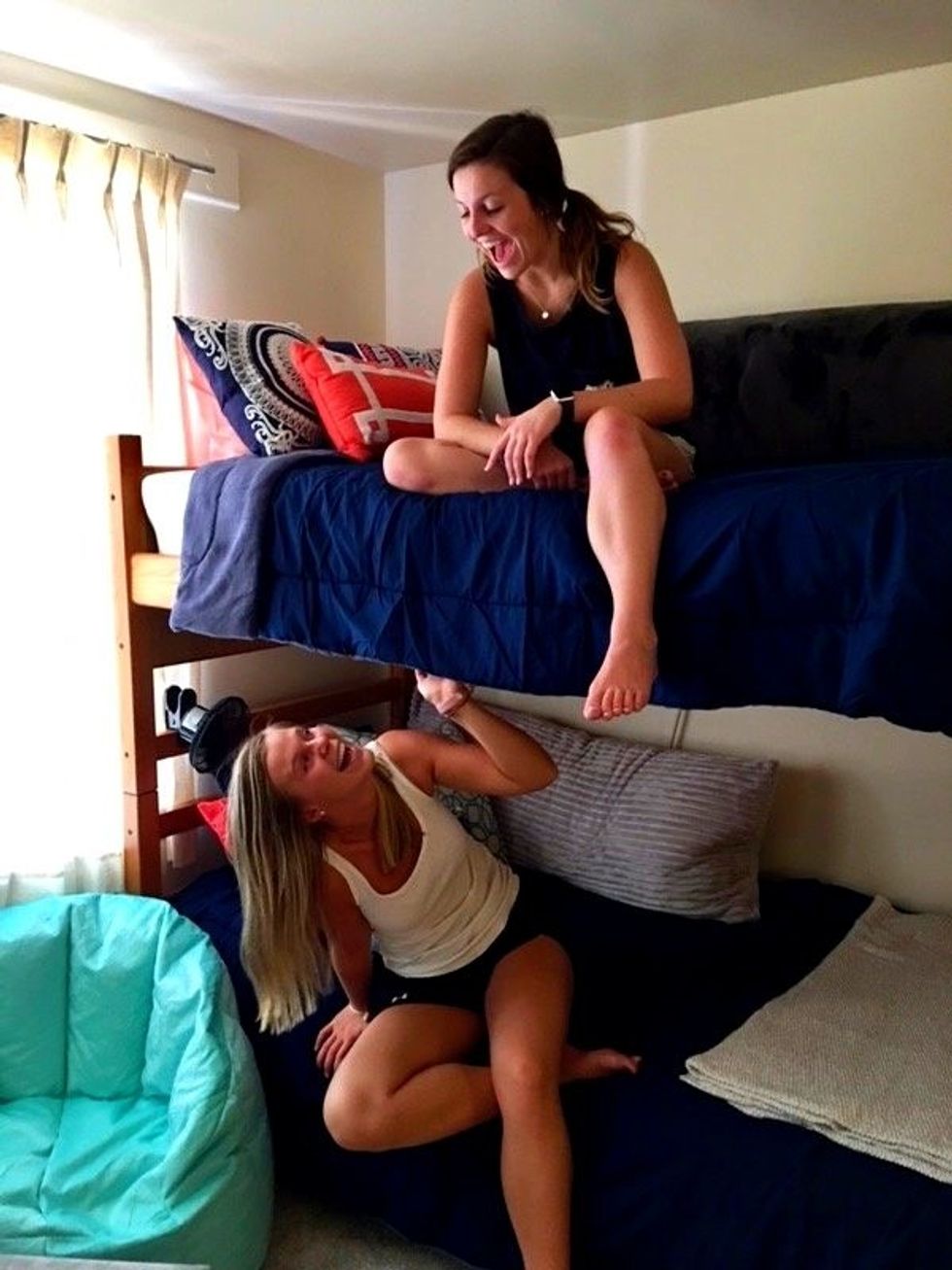 Personal Photo
These tips will save you from many common arguments between you and your roommates; might even save some friendships too! Whether your roommates are past or brand new friends, these pieces of advice are bound to be helpful when you find yourself living in a room with six other girls.