There is one thing that I love more than sleep (and trust me, I love sleep), and that's food. Thanks to my older sister, who is equally obsessed with food, I am always willing to try new things and experience new cuisines.
Of course, because my hometown is the Bay Area, there are several restaurants that I frequent often. Although it would be impossible to list them all, I would like to go ahead and include six of my favorites. If you aren't from the Bay Area (or you are but you haven't tried the restaurants yet) but you plan on visiting one day, definitely consider checking out a few of these restaurants!
1. KoJa Kitchen
KoJa Kitchen is a Korean-Japanese (get it?) infused restaurant with a variety of menu items that are all DELICIOUS. Granted, I haven't tried everything, but based on everything I HAVE tried, I love this place. Some of my personal favorites are the Short Rib KoJa (picture shown below -- check out my food Instagram @toriandfood #shamelessadvertising) and the Kamikaze Fries.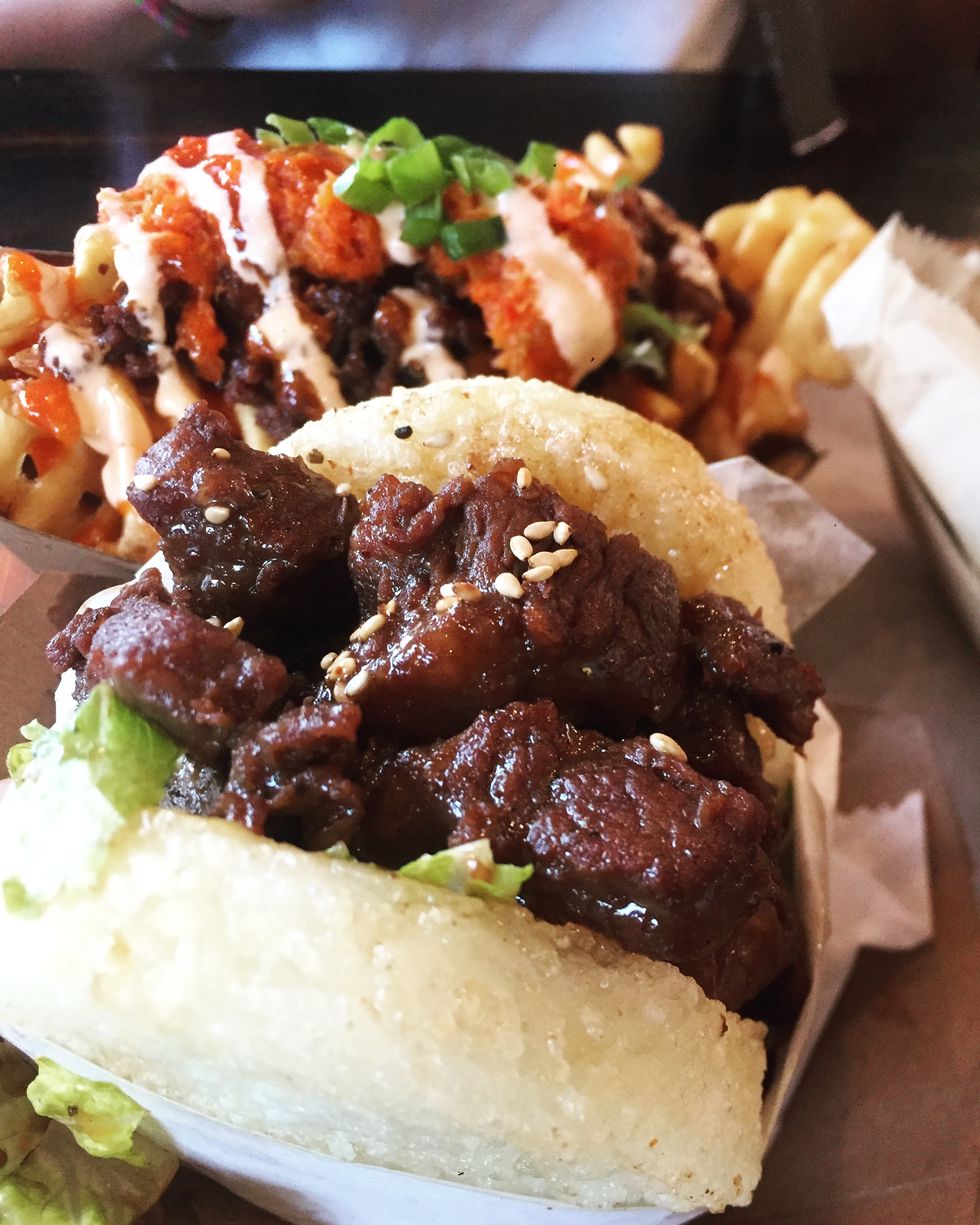 2. Vons Chicken
If you're from SoCal, you might be wondering... does she mean the grocery store?
No. No no. No no no. I do not mean the grocery store.
Vons Chicken, a restaurant introduced to my family by my brother, is known for their, you guessed it, chicken. They put a Korean-style twist on their foods and it is amazing. Whenever I'm back home, I always ask to eat here at least once or twice.
Shown below are my personal favorites -- the Crispy Fried Chicken w/ Honey Butter and the Boneless "SSAM" Chicken (shown in the order listed).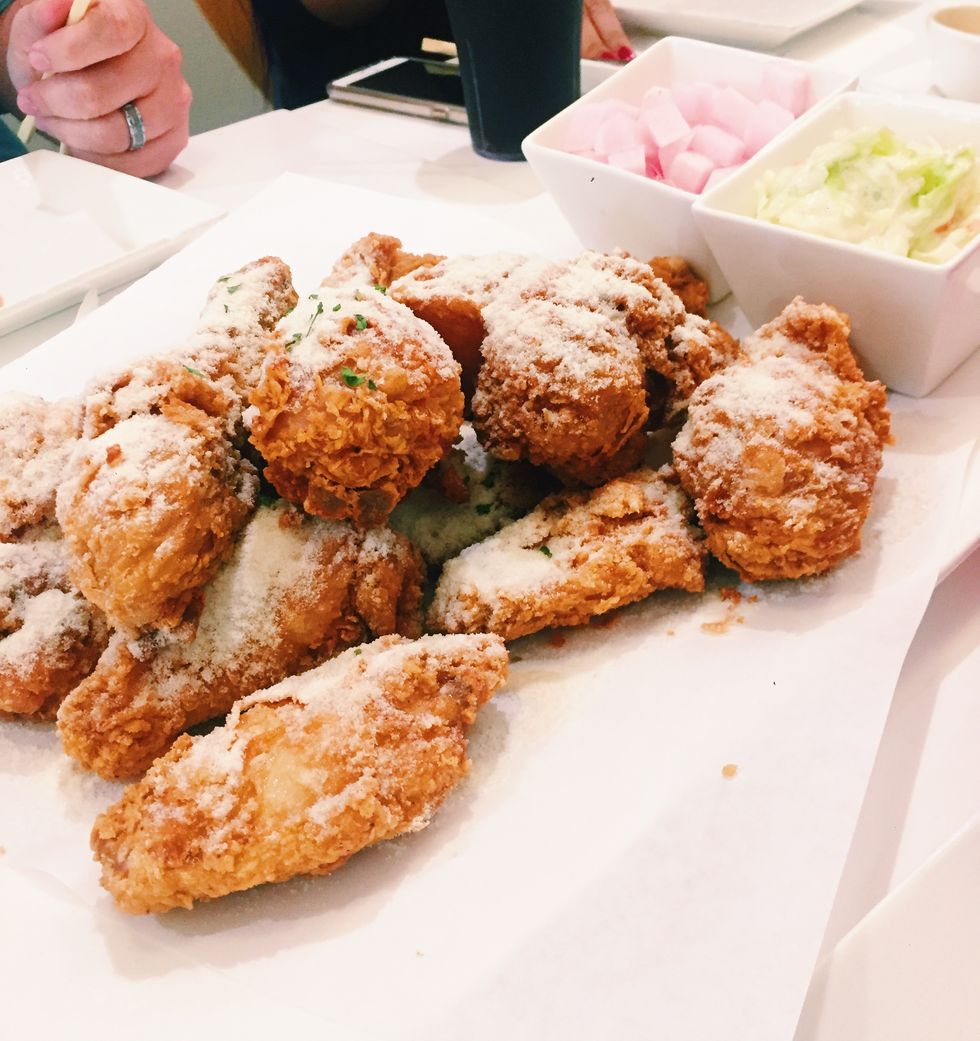 Once you try the chicken with the honey butter, your life will be changed. If you peep the first photo above, you'll notice that there's this powder sprinkled on top of the chicken. This is the flavoring and this will CHANGE EVERYTHING YOU BELIEVE IN. It is HEAVENLY. I don't know if it's made of fairy dust or immortal elixir (in powder form) or something but it is AMAZING.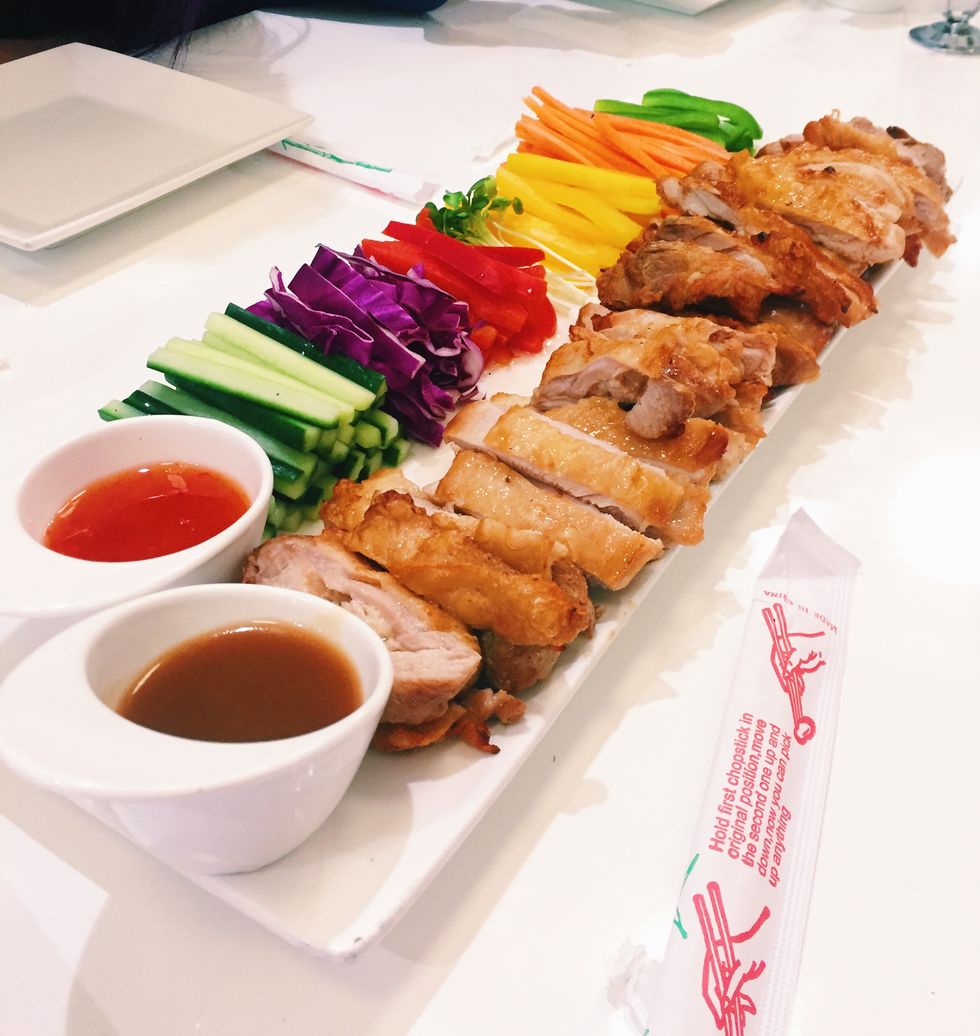 The Boneless "SSAM" Chicken is basically roasted oven chicken (which is delicious on its own, by the way) and assorted vegetables that you wrap in these really thin radish "papers." I HATE vegetables and this is something that I would eat every day if I could... even though it might not be that healthy... or maybe it is... I don't know.
Anyway. If you go here, DEFINITELY order the SSAM Chicken. You won't regret it!
3. Gen Korean BBQ

Okay, we can never go wrong with some classic Korean BBQ. It's basically a staple food at this point. So if you're in the area and you want to try some good Korean BBQ, Gen is the way to go!
There is definitely a gap between lunch and dinner prices, so make sure you try to go during the lunch hours! Don't forget that on the weekends, it's dinner prices the entire day.
... Unfortunately, I have no pictures of the food itself at Gen. However, in my defense, when it comes to KBBQ, I get too excited with waiting for the food to finish cooking that I don't have time to take any photos before I gobble it all down. I know I'm not the only one.
Some of my recommendations: Hawaiian Steak, Brisket (YESSSS), Pork Cheek, and the Spicy Rice Cake.
4. Pepper Lunch
A few weeks back, I went up to Orange County with a few friends of mine and I saw a restaurant that was called "Pepper Lunch." One of my friend's (who is also from the Bay) and I got SO excited because we thought it was the same Pepper Lunch that we both love from the Bay Area. However, unfortunately, it was not the same :( BUTTT, if you're ever up north, definitely check out this place!
This is a Japanese restaurant that's known for cooking its food (meats, noodles, etc.) on sizzling hot plates!
If you go here, make sure you order your food with the garlic butter. THIS IS A MUST. You can't NOT do this... unless you're allergic or something...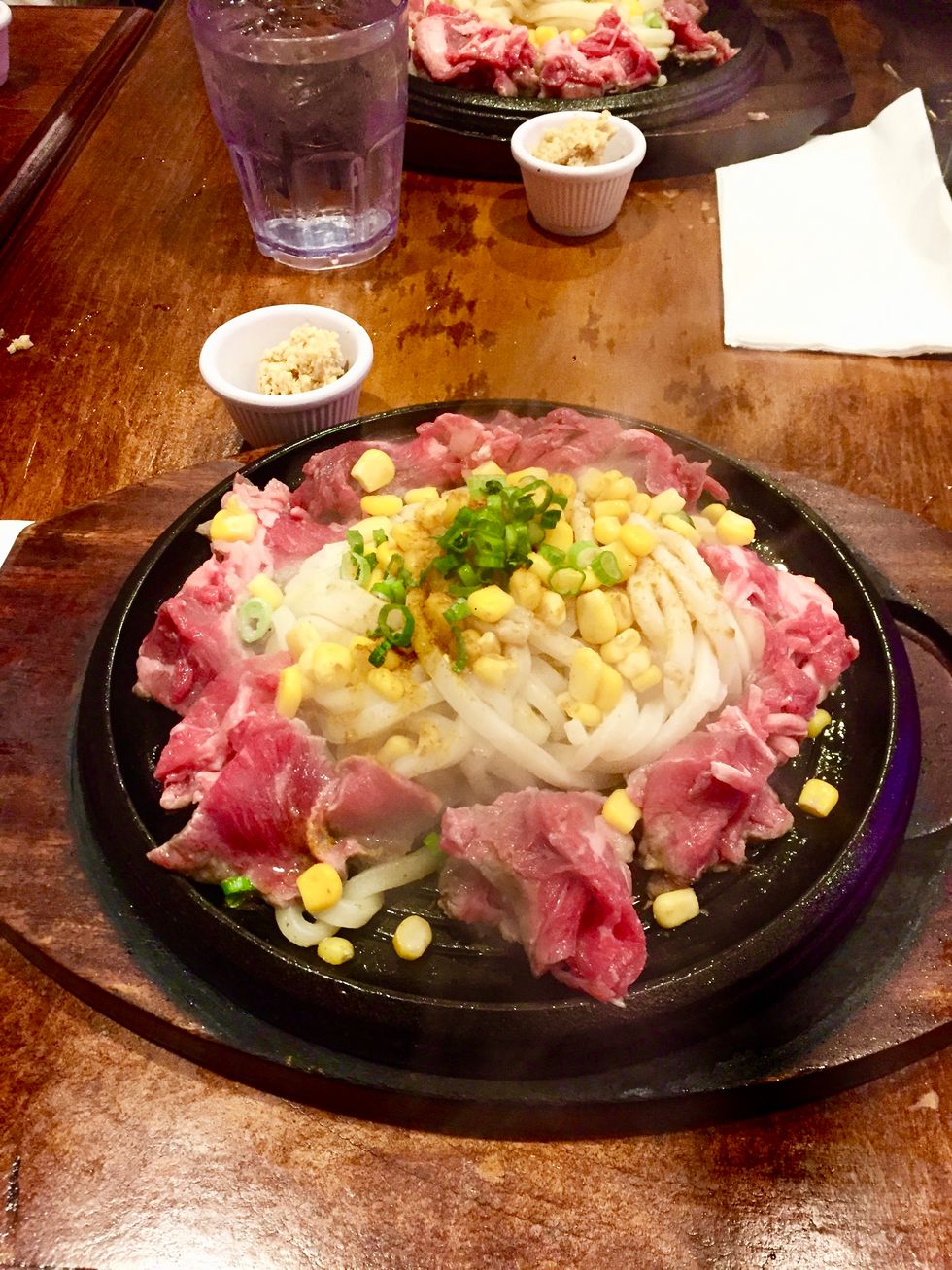 5. The Press
If you're looking for a nice breakfast/brunch/lunch place, The Press in Pleasanton, CA is definitely a good way to go! Also, for all those foodies out there, this place serves amazing AESTHETICALLY PLEASING foods. You can never go wrong with that!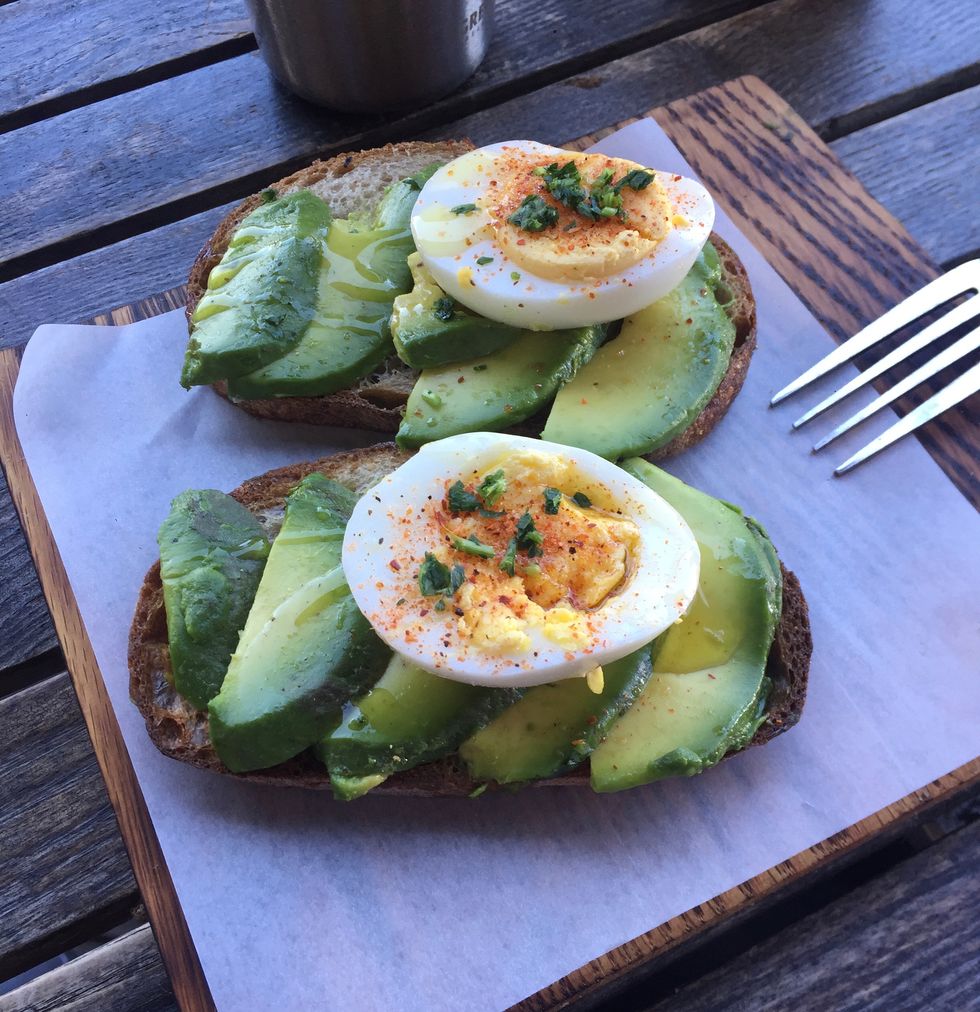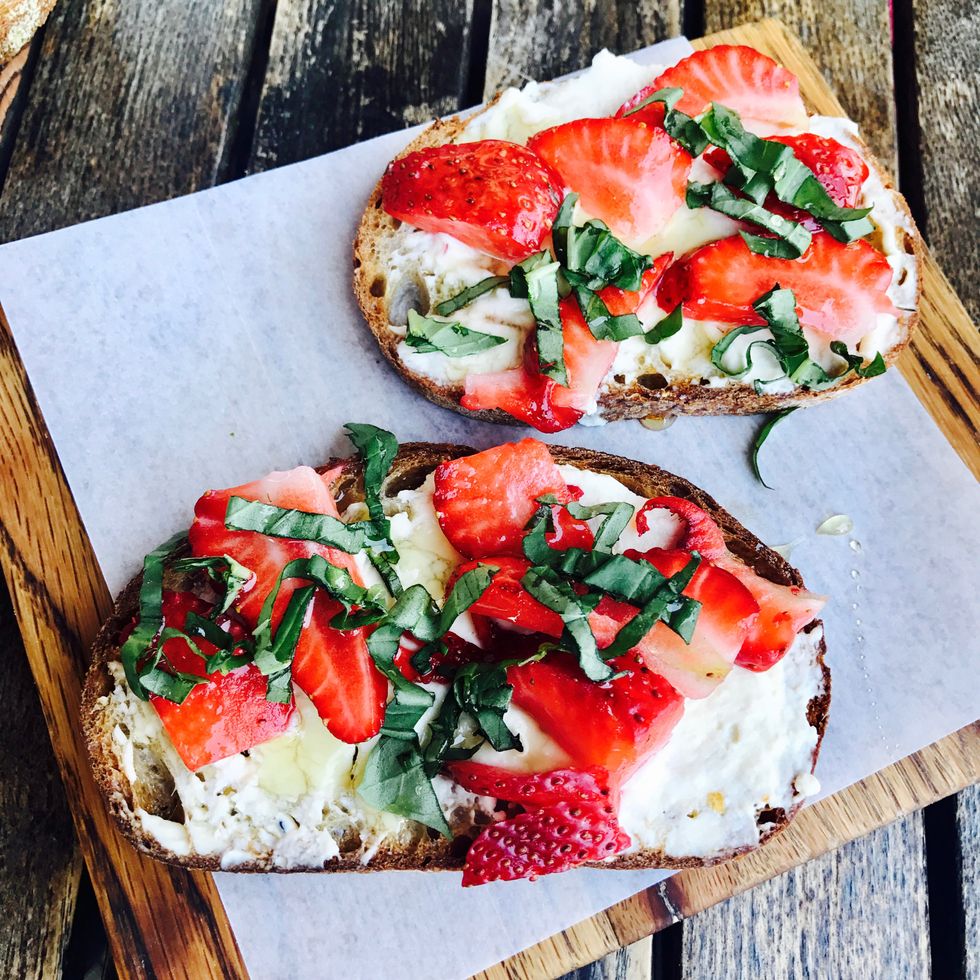 6. Mint & Basil
... Okay, so this might be some more shameless advertising since I used to work at Mint & Basil, but I assure you, this recommendation is based on my own honest thoughts!
Mint & Basil is an amazing restaurant to try out and they have a variety of locations throughout the Bay Area. They're known for their non-meat meat.
Wait, what?
At first glance at their menu, you might be under the assumption that this place is a "typical" restaurant that serves "typical" Asian food. That is actually not the case. Mint & Basil is a vegetarian/vegan restaurant that incorporates a variety of flavors from several Asian cuisines (mostly Vietnamese). The dishes that serve "meat" are actually served with imitation meat. Now, I know this might sound a little suspicioso, but it's really good! I come from a family of carnivores and meat is one of our biggest necessities, so trust me when I say this.
However, we were all fooled. The first time I ate here, I didn't even realize that the "meat" I was eating wasn't actual meat. But it sure tastes just like the real thing!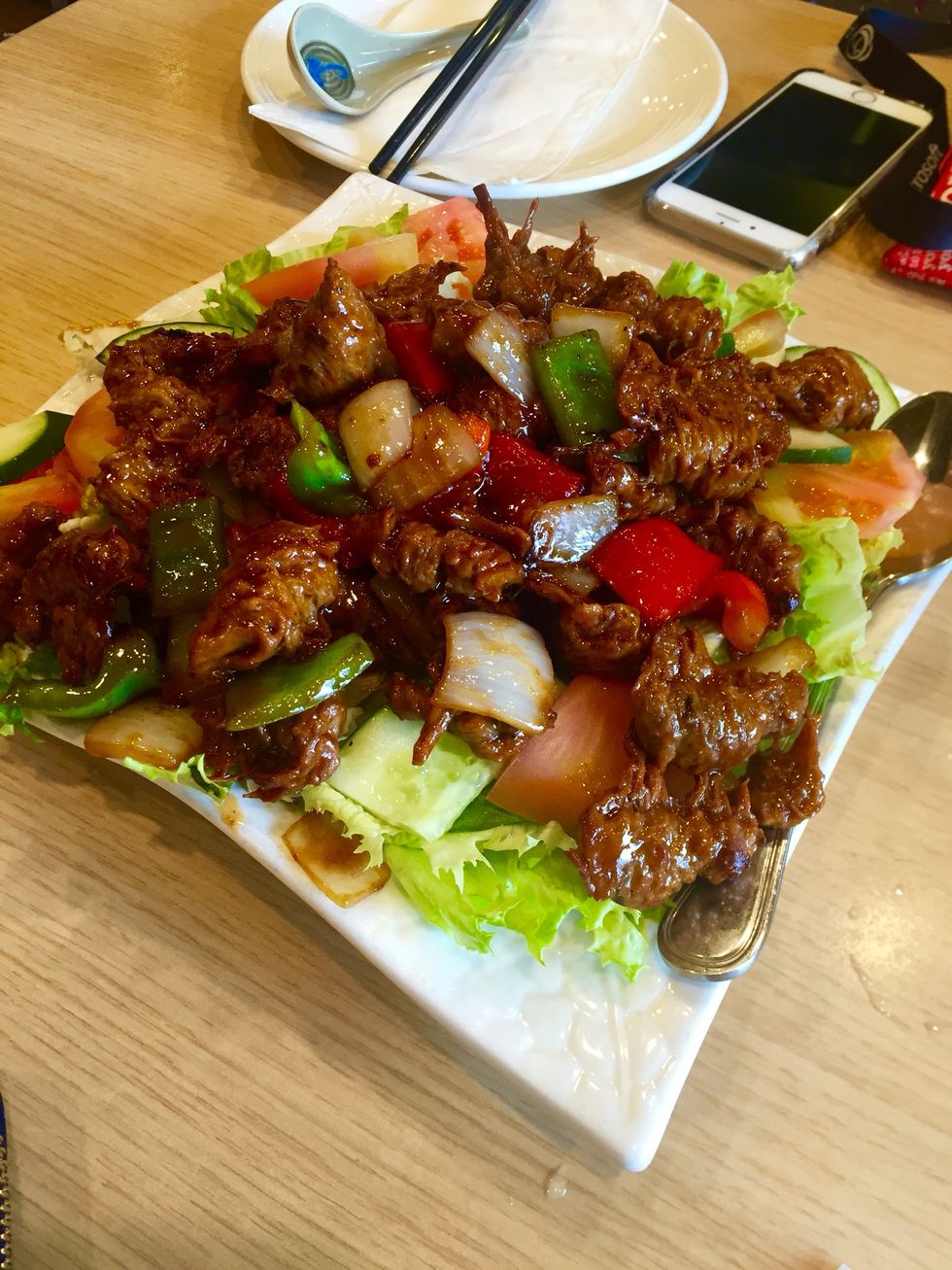 This sure looks like meat, right? WRONG. It's not.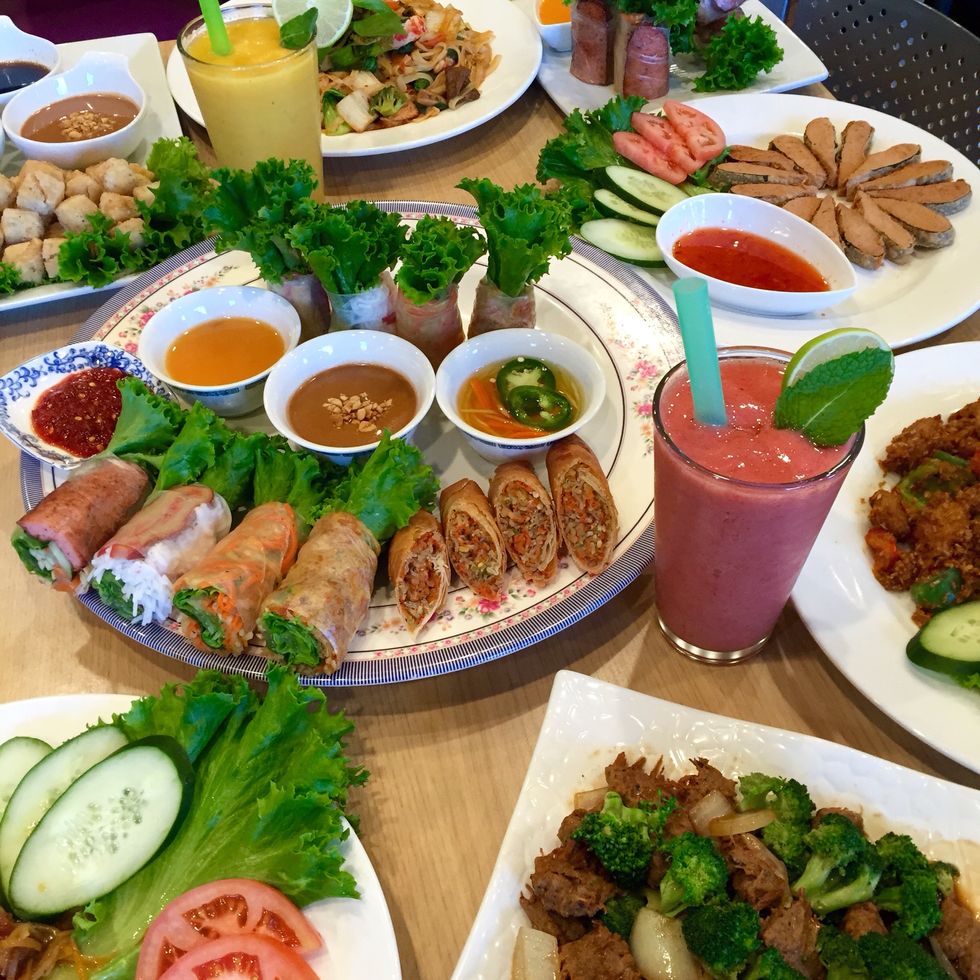 Once again, not meat. Even the fish isn't even fish.