"You never know when you're going to go."
"Life is too short."
"The good always die young."
I've heard these sayings thousands of times before, but until recently, they haven't meant much to me. Sure, I understood the overall meaning behind them, that we should appreciate our lives and live them to the fullest because we never know when the day will come that we'll cease to exist. But I never really realized the depth of this lesson until the day this world lost a remarkable human being.
On April 29, 2016, Nicholas Holt passed away after a five day battle for his life in the hospital. I should clarify some things before continuing on any further. I met Nicholas (who we all knew as "Nick") during my sophomore year at the High School for Construction Trades, Engineering and Architecture. We'd casually talk and joke throughout the years, but it wasn't until my senior year when I got to know Nick much better. We weren't "best friends" (if I must put a label on it), but we were close. We'd sit near each other during AP biology and make jokes to keep our brains going through Ms. Wong's rigorous course load. We got some serious conversations in there, too. Nick gave me advice from time to time, and I'd give him advice as well. I'll never forget when we both got accepted to Stony Brook University and planned to recreate the famous friend group from "Friends" — we wanted to share an apartment there with each other and the new buddies we'd been anticipating. He asked me if I liked cooking with cilantro, and then got upset when I admitted that I did because he wasn't a fan of it. I agreed to ease up on the cilantro if he'd be sharing any meals with me in Stony Brook.
On the day I got accepted to Syracuse University, I'd been sitting near Nick in AP Biology. I remember involuntarily shrieking in excitement; Syracuse was the school I wanted to attend more than anything. I shouted, "Syracuse accepted me!" My friends around me congratulated me, and I sat smiling from ear to ear. It was only then that my eyes caught Nick's face, which was looking right at me, only he didn't have a smile on. "So, we're not recreating the 'Friends' group in Stony Brook?" he said sadly. I frowned. It was then that his face lit up. He smiled, laughed and told me that, despite our plans being ruined, he was incredibly happy for me. I smiled back, admittedly a bit disappointed that things hadn't gone as planned, but I knew that Syracuse was the right place for me.
That memory is how I've chosen to remember Nick. There were darker times after that which I will not go into out of respect for him, but that is not how I (or anyone else) will remember him. I'll remember Nick with the smile he always had on his face. I'll remember all of the jokes he used to tell. I'll remember him picking on me near my locker before architecture class. I'll remember him randomly walking into my classes and me jokingly telling him to get out as he laughed.
Nick passed on the 29th, but it wasn't until the 30th that I heard the horrifying news. I'd been sitting in my dorm, and my phone lit up with a text from one of my best friends, Ashley. She asked if I remembered Nick from high school. "Of course," I thought to myself. "How could I forget Nick?" I replied to her, telling her yes, wondering why she was asking if I remembered him out of the blue. It was then that she told me he had passed.
My heart sank. I was in complete shock and disbelief. "Ashley. No fucking way. Stop," I told her. I couldn't believe it — my eyes filled with tears immediately, goosebumps rose on my skin. I spent that entire morning in tears and reaching out to friends who knew Nick as well. Everyone was equally as shocked and heartbroken; we all wanted to know how this happened. We needed answers. We dug through his Facebook profile, but rumors were all over the place. Some were saying he was in a car accident, others saying he got alcohol poisoning. We didn't know what to believe.
When the CBS News article detailing Nick's death was released, I was angry. Angry and sad. I cried hot tears as I read the horrible way that the article had been portraying the beautiful person I'd known. They made it seem as if Nick just drank himself sick, and should now be a lesson to all other young adults that underage drinking could lead to death. They failed to collect all of the facts before putting out information on the case. Nick's other friends were equally as angered — we all wished that the media would get its facts straight before portraying our friend in a way that none of us will ever remember him by.
But, no matter what the media has to say on the topic, we all know that Nick was an extraordinary human being. My high school was incredibly small — our graduating class consisted of under 250 students. In some shape or form, Nick managed to touch the lives and hearts of us all. Everyone had good things to say about him, mostly that he'll be remembered for his smile and positivity, which I couldn't agree with more.
It was only as I was writing this piece that I remembered Nick wrote something in my yearbook. My stomach dropped when the realization came to me. I tossed my laptop to the side and dug through my drawers, scouring for my yearbook that hadn't been touched since graduation. Reading it gave me chills and tears filled my eyes. "This is the last thing that Nick will have ever written to me," I thought to myself. I ran my fingers over the words, remembering the moment when he'd written them. It reads, "Nadia, I hate Syracuse but I liked you even though you flaked on Stony Brook. LOL, but you're an amazing, smart, well-credited chef and I enjoyed getting to know you this year."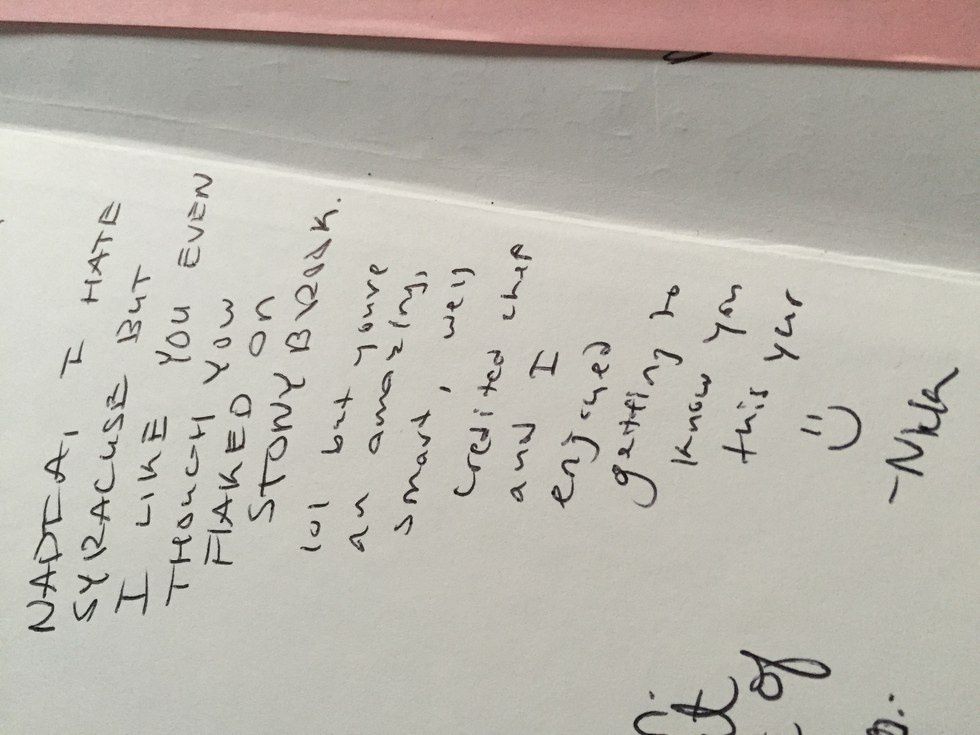 I smiled. Tears fell on the pages, luckily not hitting any of his words. I quickly wiped them off before they had the chance to bleed any further and smudge the ink. I picked up the note that I'd saved which had been attached to the candy-gram he sent me in senior year. "Happy Holidays! Bring me food!" My heart stung. Thank you again for sending me that candy cane, Nick. I now have this memory to carry forever.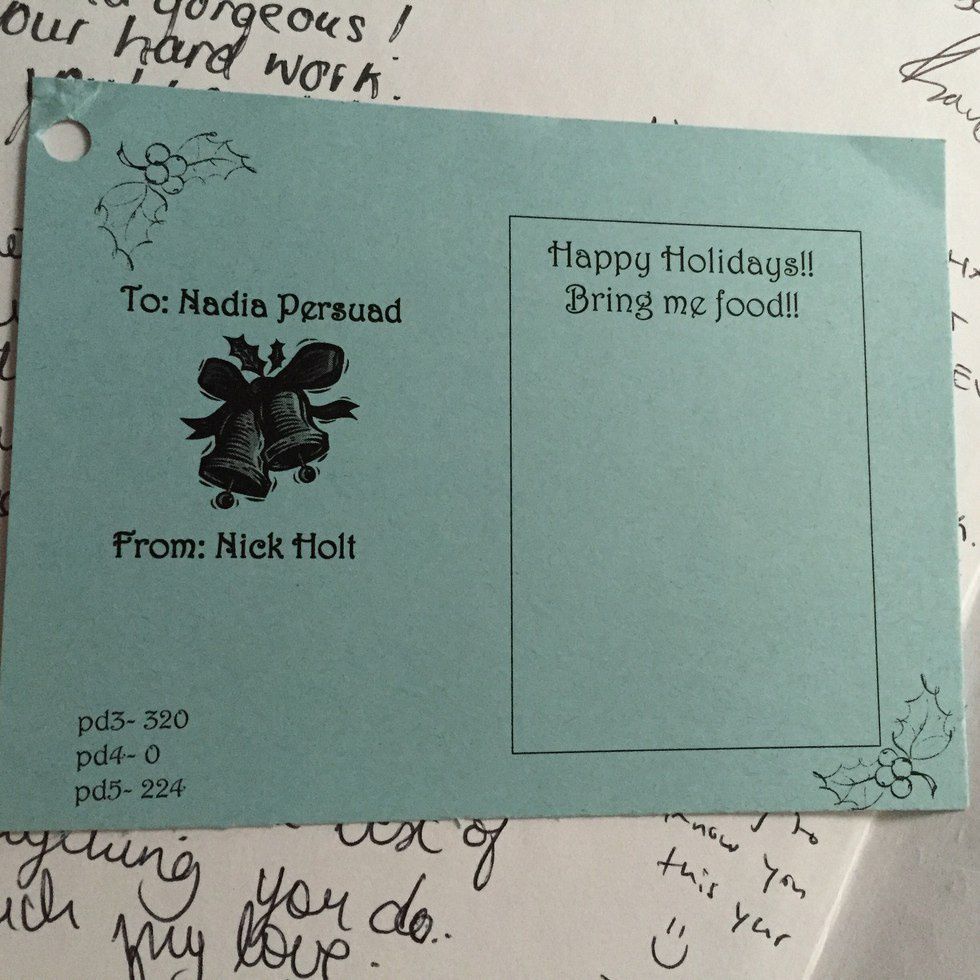 Nick, you will always be remembered. I am sad that the first time all of our high school's graduates will reunite is through your passing. You deserve to be right there with us, making us smile and laugh like you always did. But, I know you'll be there with us. You'll see us all, I just wish we'd be able to see you too.

Here's to one of God's brightest angels — I will forever keep you in my prayers, Nick. Rest easy.